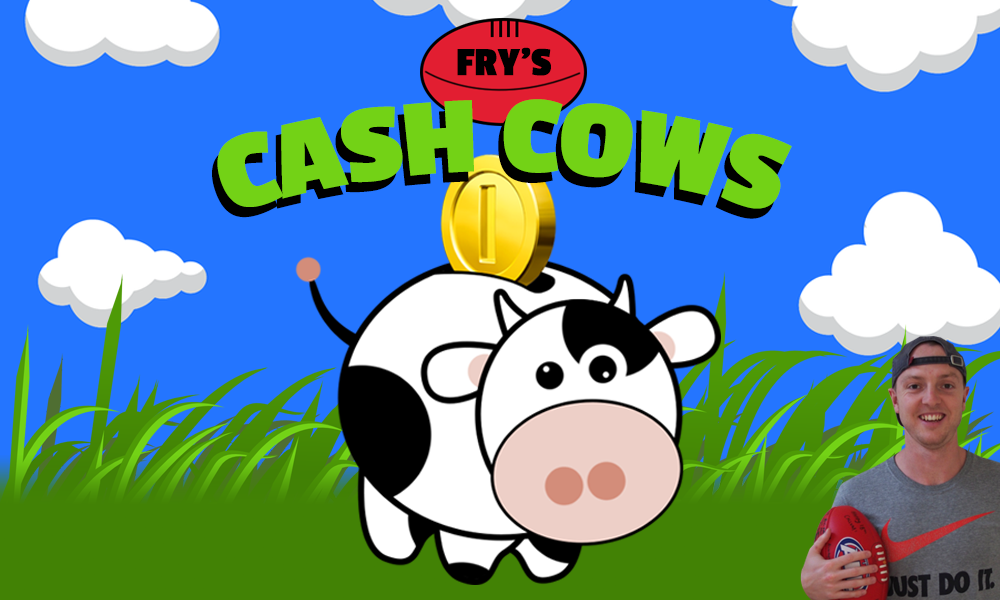 Back when Richmond and Carlton took to the field on March 19th a lot of people didn't even bother attempting to field a fantasy team. That first game feels like at least five lifetimes ago and as we still try to understand the new meaning of the word "normal" we've successfully reached the finish line for the 2020 season. A handful of the lucky bastards reading this claimed bragging rights and an all-important Grand Final victory, in what has been trying times to say the least, but every fantasy coach still making their trades and trying to better their team until the very end deserves a pat on the back. Successful rookie picks buoyed the teams at the top of the table so to celebrate their successes let's announce some cash cow award winners.
Rookie/cash cows are usually players who start the season priced at $300,000 or lower
---
It would be remiss of me to not take advantage of this space and highlight my highlight from the 2020 season. My final trade of Serong (101) to Rockliff (105) nearly backfired, but I was able to topple Warnie for bragging rights in the DT Talk Writers league thanks to the performance from the aforementioned pig and the underappreciated Robbie Gray! Let's be honest, a new car or a new hat would've been nice, but this is the consolation prize everyone wanted…
2020 hasn't always been fun but taking out the @DTTALK writers league by toppling @WarnieDT is definitely a highlight! #ThanksRobbieGray #AFLFantasy pic.twitter.com/0eUirEO09M

— Fry (@byalexfry) September 21, 2020
Just quickly, I usually sign off at the bottom of these articles, but I'm putting this thank you at the top of the page so more eyes are likely to see it. There aren't enough words to describe the thanks I have for the DT Talk faithful, because without you, there's a high likelihood I would've rolled over and given fantasy a miss until 2021. I tried my best to keep the Cash Cow info relevant and up to date as the complexity and confusion surrounding the fantasy season only grew as the year progressed.
I can remember multiple occasions where I was hustling to finish writing my weekly article on my phone (not a fun time) one time heading to Dunsborough, another while riding a bus to Mt Barker and of course, in the carpark at my local footy club before training (and more importantly another round of fantasy footy) began later that night! This isn't an acknowledgement of my work throughout the season though, this is a thank you to all the fans willing to tolerate my miscues and still come back week in, week out to provide their thanks and questions while perusing the weekly cash cow guide. Your support doesn't go unnoticed – yes, even the James Bell fans out there. Until 2021…
---
Game of the Year
Winner – Matt Rowell, Suns (108 in Round 2 vs. West Coast)
Caleb Serong threw his hat into the ring with a 100+ score in the Grand Final, but it's only fair that Matthew Rowell pinches at least one award from the Freo rookie. Rowell's huge effort came in just his second game of footy, helping shock the West Coast Eagles at the time to the tune of 44 points with the No. 1 pick collecting 26 disposals to go with 2 goals and 7 tackles. His season was cut short in Round 5, but more of these games will undoubtedly be on the way in 2021 as Rowell's fantasy pedigree only continues to grow.
Rookie Coach of the Year
Winner – Stuart Dew, Suns
The Coach of the Year vote was BY FAR the closest award race this season, with Stuart Dew narrowly beating out Justin Longmuir and Matthew Nicks with 33% of the total votes. Dew gifted us with some of the best rookies 2020 had to offer, with most sides buoyed by Izak Rankine and/or Noah Anderson for a big chunk of the season. Those same fantasy coaches likely had Connor Budarick and/or Matthew Rowell in their starting sides to commence the season with all four of those Suns youngsters earning a Rising Star nomination within the first 7 rounds. Had Rowell not gone down with an injury, there's a high chance he'd be winning most of these categories and awards, however, that doesn't take away from the success his fellow cash cow teammates had throughout a testing fantasy campaign.
Cash Cow King
Winner – Caleb Serong, Dockers
When adding the Round 18 tally to the mix, Serong easily claims this award from the rest of the field, with another nomination and another win likely cementing his status as the 2020 Cash Cow King. Once again, the ailing Matt Rowell could've made this a tight race, but Serong managed to separate himself from the rest of the cash cow class as the year progressed and he found his feet in Fremantle's engine room. Squaring off with heavy hitters like Patrick Dangerfield, Scott Pendlebury and Marcus Bontempelli and coming away with respectable scores indicates a bright fantasy future is in store for Freo's newest midfielder.
Defender of the Year
Winner – Will Day, Hawks
Hawthorn's top pick from the 2019 draft only took six rounds to burst on to the scene – hardly put a foot wrong for fantasy coaches once he arrived. Day went on to play every game bar one to close the year, averaging 59.2 points and providing most of the fantasy community with a playable rookie as carnage struck the rest of our backlines. Even though he played five fewer games than second-place defender Brandon Starcevich, Day still managed to outscore the young Lion, with just four rookies scoring more total points than the Hawks rebounding backman.
Midfielder of the Year
Winner – Caleb Serong, Dockers
The top-2 selections in the 2019 draft could've made a case for this award win, but Serong's success once again can't be ignored. Noah Anderson technically scored the most total points for all rookies this year with 1058 at an average of 58.7 while playing all 17 games. His teammate Matt Rowell didn't have the same lofty total, after a separated shoulder derailed his season, leaving Serong to run away with the award. The Fremantle midfielder started slowly, but 995 total points from 15 games for an average of 66.3 helps him swipe some more silverware from the Suns' duo.
Ruckman of the Year
Winner – Sam Draper, Bombers
Personally, I would've loved to see Darcy Cameron play more to make this a closer contest, but that wasn't the case. Being 'managed' twice during the season made it tough for a lot of coaches to trust Sam Draper, but Essendon's big man rewarded those that stuck with him when he was on the field. His Grand Final performance of 23 points won't be remembered too fondly, but that marked the only time Draper went under 40 points in all 8 of his games this year – which is a noteworthy achievement for a young ruckman.
Forward of the Year
Winner – Izak Rankine, Suns
Curtis Taylor and Max King pushed their claim as the best rookie forward this season, however, voters couldn't ignore the excitement machine that is Izak Rankine. Gold Coast's touted rookie was forced to wait for his debut, but he made his presence instantly felt – producing his two best scores of the season in his first two matches. Rankine failed to top 60 points after that, but he did play in the last 13 matches of the year, likely serving as the final rookie upgrade in a lot of FWD lines while providing us with a stable scorer in the meantime.
The Cash Cow Team of the Year
Picking a team of the year for the 2020 season was a tough task, with a lot of cash cows playing significant roles across the competition. A lot of the mainstream picks who played the large portion of games and scored the most total points were rewarded with a place in the side, but some eye-popping flashes in the pan were able to earn a spot for their small sample size of success. You can make the case for a few alterations, but here are my picks for the 15 players for the Cash Cow Team of 2020.
Honourable mentions: Dylan Stephens, Darcy Cameron, Jake Aarts
DEF: Brandon Starcevich, Will Day, Trent Rivers
MID: Matthew Rowell, Caleb Serong, Noah Anderson, Marlion Pickett
RUC: Sam Draper
FWD: Izak Rankine, Shane McAdam, Max King
BENCH: Curtis Taylor, Lachlan Sholl, Damon Greaves, Laitham Vandermeer
Finals MVP
Winner – Caleb Serong, Dockers
Special shoutout to Shane McAdam who scored 271 points in the fantasy finals this year, including an impressive 93 and 70 in Rd 16-17. Once again though, a Dockers midfielder takes the honour after scoring 333 points over the final four games – saving his best for last with a 101 on Grand Final day. Serong scored the same amount of points as Andrew Gaff over the fantasy finals while outscoring household names like Dusty, Macrae, Petracca and Brownlow favourite Lachie Neale. If Serong continues to develop at this rate another fantast star is well and truly in the making.
2020 Rookie MVP
Winner – Caleb Serong, Dockers
This has been enough of a Caleb Serong lovefest, but the first-year Docker well and truly deserves the credit and the accolades he is getting. As I mentioned above, he took a few games to find his mojo at the top-level – averaging just 44.7 points from his first 4 career games. However, from there the No. 8 overall pick went on to post an average of 74.2 in his final 11 contests, posting five scores of 80 or more in the process! It's a shame we didn't have a healthy Rowell to compete with Serong during the entire season, but the Fremantle junior made the most of the opportunity in front of him to walk away as the deserving winner of the 2020 Cash Cow MVP.
---