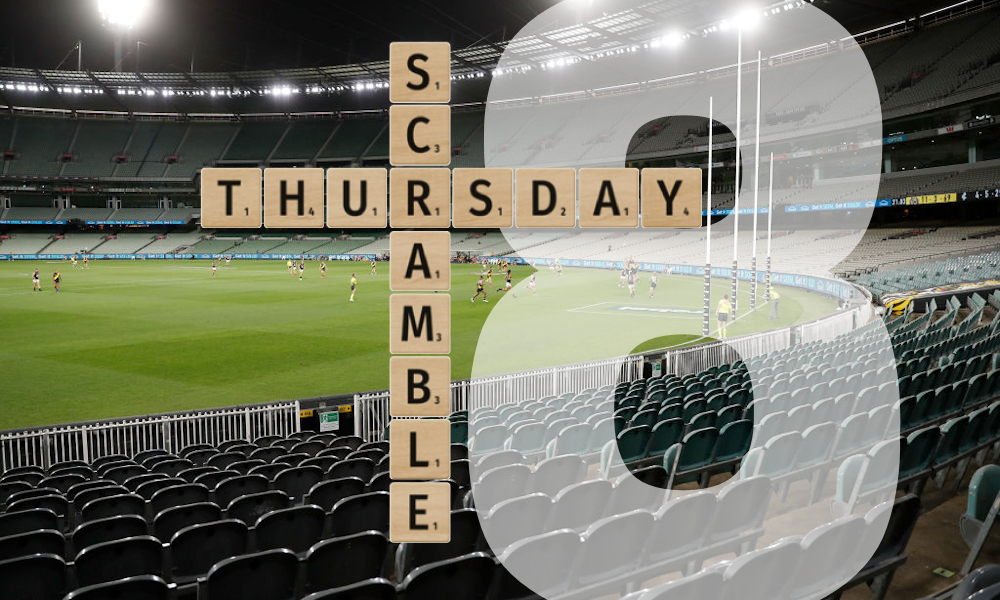 Wow, things are about to get crazy! So this week we have had the fixture released for rounds 9-12 and it is going to be a scramble every single day for us Fantasy coaches! But, as we always do, we will do our absolute best to get  our teams sorted and in some sort of shape to be able to compete each week. Throw into that some Byes and things start to get fun!  That's right isn't it… fun?  Anyway, all I know is that 33 games in 19 days means plenty of Scrambling!
Fixture
We finally have our fixture for rounds 9-12. But this is going to present some huge challenges for us. Not only will we have an extremely short turn around between rounds (less than 24 hours) we also have some byes to deal with!
When looking at the Byes we know that Melbourne and Essendon have already had their bye. So they are the only players that we know are going to play every round from here on out. The next batch of byes that we are aware of play out like so….
Round 10: Fremantle, West Coast, Hawthorn & Carlton
Round 11: GWS & Sydney
This means that after round 12 (which has no byes)  there are still 10 teams left to have a bye. Given the way they are set out here with four teams one week and two the next we have no certainty as to what that will look like and what rounds they will be in. So, as they say in gcquad golf, we just have to play it as it lies. There is nothing we can do about it but just play the best game we can. As we normally would in a regular season we will want to target those players who are coming off a bye. But since we have already had one we can now target Essendon and Melbourne players.
The other thing that this fixture tells me is, that since we are going to have each team have a bye now, there will be 18 rounds and not the 17 that we first thought. What that does to league play in each of the formats is yet to be seen, but just be prepared, we may have one more round than we think.
Game Changes
What do all of these fixture changes mean for AFL Fantasy, Real Dreamteam and Supercoach? Well here is what I know as at the time of publishing this.
For Real Dreamteam and Supercoach

Rounds 9 and 12 will have three trades available to use.
Rounds 10 and 11 will be a BEST 18 format and will also have three trades to use.
Total Trades will be INCREASED by 4 to make it so that we can have the three trades a week across these compressed weeks. This means 34 total trades now in Supercoach and 28 total trades in Real Dreamteam.
Now given that we are going to have byes coming later in the season (10 more teams to be exact) I suspect that the above rules will be implemented again when those byes happen. Don't quote me on that but for consistency I can't see anything different happening.
For AFL Fantasy we haven't had confirmation as yet. I suspect that we will hear something throughout the day. So just keep your eyes on twitter and the Traders as the boys will let us know as soon as they know anything.
Whilst we can deal with Byes, the biggest concern for us as coaches will be that each and every round will be spread over 5 days which means that the teams for the last day of the round won't be known before we have a lockout. The biggest issue for this is round 9 where there are two games on that last day of the round.
Strategy
Trading in the best premos vs trading for maximum bench cover

— James (@JamesPlaysFS) July 20, 2020
This is a great question and a timely one. Whilst we want to get our teams to some semblance of a full premium side, the compressed schedule is going to mean that teams are more likely to rotate players, in particular the rookies. The key for me is to get rookies off field as quickly as we can. So this may mean that you aren't getting in the best premo but you are getting in a good premo to allow you to keep upgrading. For example, this week in most forms of the game, Max Gawn is almost unattainable without a huge chunk of cash. Now you can get him and spend all that cash, but it may mean that you need to hold a rookie on the field for another week which will hurt you, particularly if that rookie is one that may get rested if there is a 4 day break.
So I think the answer lies somewhere in the middle. What you want to do is get as many rookies off the field as quickly as you can but if your bench is stacked with non-playing rookies you probably need to address that. In recent weeks a lot of coaches, including me, have had issues with their defence with players like Noble, Rivers and Brander.
To answer your question. There is no definitive answer but for me, I will try and get rid of my non playing rookies as best I can and use whatever cash I have to upgrade and move my playing rookies to the bench and replace them with premos or the closest thing I can afford.
Best Ruck options if you cant get to one of the big three

— Rob Drake (@AFLFantasyspud) July 20, 2020
I am going to assume that by Big Three you are referring to Grundy, Gawn and Goldstein? Well if that is the case there are really only two other options in my book and that is Tim English and Reilly O'Brien. Both of these young ruckmen are having solid seasons with English cracking 200 points in Supercoach this week. I am in the unenviable position in Supercoach where I have been running with Mr Worldwide Pittonet as my R2 hoping to get to Gawn. However, the big scoring differential this week means it would drain all of my war chest to get to him. Whilst I really want Max I think it would be more prudent to go with someone cheaper like English so that I can get two rookies off field this week rather than just one.
The other person that people will consider is Nic Naitanui but I am still concerned that he won't get the level of time on ground needed to be able to score at the same scoring level each week as these two guys.
RDT trades. Burn them or hold them?

— DJ (@glen20shuffler) July 20, 2020
If you are playing the same way I am at the moment then burn them, burn them all!  But really, I need to do something about this otherwise I will run out and fast! I think it would be prudent to wait for the Rookies to be a little closer to full fatness before trading them here given the fewer trades available. If you have been trading hard you probably only have about 10 left but as we now know, we have been given an extra 4 trades for the next four rounds with the promise of extra trades to come if we get further bye rounds or compressed rounds. With the bye rules now in place with extra trades I think you can still go a little hard on trading but just keep in mind we have no idea what the future will bring.  If the league split the remaining 10 bye teams over two weeks it will only mean an additional two trades available. I will probably keep trading for the next couple of weeks but only plan to use two per week across the byes if I can get away with it and then see what the rest of the season brings.
Things to Remember
This is going to be tough! Hang in there. Don't panic if your team struggles, it isn't just you.
Try and plan your upgrades around the byes where you can. Bring in those players that have had their bye.
More rookies are likely to get rested but with that should come opportunity for rookies that haven't played yet.
As we get into the compressed weeks I am not sure that I will be able to bring you a full Scramble each week so just sit tight and trust that those of us here at DTTalk will find a way to get you the best content we possibly can with the time constraints we will face. At this stage I plan on doing another scramble to go up next Thursday which will be after the Wednesday night Dogs v Tigers game, it is after that I don't know what we will do.
We are in the middle of the weirdest and strangest season we have ever faced. Some may think why play, but in the past everyone has always said that this game is getting too easy. This is the chaos that many people have always looked for in a season! So, see how you go. This is a huge challenge and I for one, am ready to see how I can go navigating it (not good if the season so far is anything to go by). Best of luck this week!