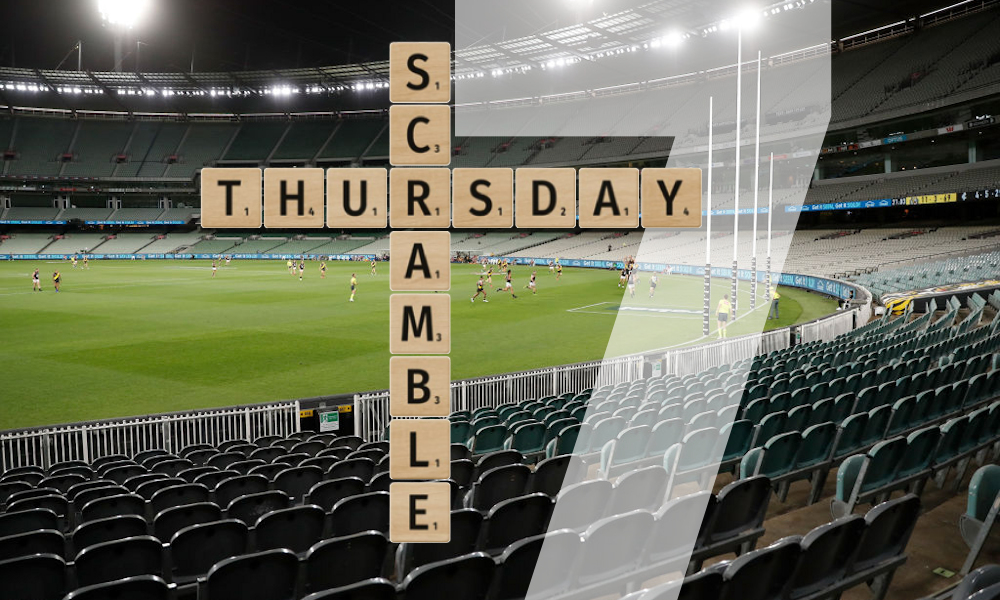 This has been a truly amazing season and the hits just keep on coming! Not only do we have fewer rounds, an unknown fixture and injuries left right and centre, but we now have something we have been screaming out for rookies. The only problem is that we have too many of them all happening at once. Nothing left to do but Scramble!
Rookie Rumble!
We have been screaming out for rookies for a few weeks now and then we get them all at once. This is just the kind of thing that we would expect 2020 to throw at us. Now we need to make a decision (assuming you didn't grab them in their first week). There are a couple of big questions that need to be answered first.
0, 1 or 2?
The first question this week is how many of the rookies you take. Remember that in RDT and SC their prices haven't moved yet so this is a key week for them. And for AF they have already had the one price increase (and some have had 2). This question is obviously very specific to your team, but here are some thoughts for you.
Given a choice I would look to double downgrade this week. There are some fantastic options that we may not see anytime soon. So based on that if you can, you should look to make a cash grab to set yourself up for the coming weeks. Obviously all of this will hinge on what happens at selection.
But who do I trade out?
Who do I prioritise to trade out? Do we trade out non-playing rookies, underperformers or fat cash cows? If your team is anything like mine you have had all sorts of problems in the last couple of weeks at selection with the backline rookies not getting a game. If you had guys like Brander, Rivers, Noble and Zerk-Thatcher you have had to do some serious trading to get a team on the field. So my priority would be to trade out the non-playing rookies first. These guys are the ones that are hurting your team week in week out. Over the last couple of weeks my upgrade plans have been thwarted by having to fix problems.
The other options you have would be to trade out would be your fattened cash cows. But I wouldn't prioritise them, at least they are scoring and playing. Far better to lose a couple of thousand dollars on them than to have a donut.
Fallen Premo's? No. I mentioned this on the SupercoachCoach podcast this week that you don't want trade out the guys that have the potential to score you a 100. Think back to Sicily from round 5. He scored a 36 that week and many wanted to trade him out. But he bounced back to score a 114 this week. You aren't going to get that from one of your cash cows. Until you have absolutely nothing else to do in your team. Hold those Premos.
Who do I trade in?
Well I am sure you have all read Fry's article form yesterday. He has broken down all the rookies for us there and that should help you make the decision. But here are a few of my thoughts….
For trade ins there are 4 key tarkets as I see it. Here are my thoughts on them.
Izak Rankine. This kid can play. He has good job security and should make you some great cash if he can keep scoring like he did this week.
Sam Simpson. He scored brilliantly and really benefited from Duncan, Narkle and Stevens being out. While they are out he should have reasonable job security. I would take him for the quick cash grab.
Will Day. Day is another great option. However, I am a little worried about his job security.
Andrew McPherson. He has great job security with the Crows playing the kids. However, I don't know that he will be a consistently great scorer.
Fixture Issues
We still don't have any clarity on the fixture. Which means that we still can't plan ahead too far for matchups. But the one thing we have some clarity on now is that things are going to be compressed and given the little chat from Gil yesterday it looks like it could be compressed more and for a bit longer to get through the minor round in a real hurry. This means that we will have games on from Thursdays through to Mondays, that is pretty much a given but now we have heard from the AFL just last night that there is likely to be 33 games across 19 days. The 'bonanza' as the AFL are calling it is set to start on Wednesday 29 July, just two days after the conclusion of round 8. This means that we will have even less time to consider things between rounds. But hey, less time to stare at terrible scores right! The article also talks about byes etc throughout that period too. At this early stage there isn't much in regards to details but just be prepared for absolute carnage at selection and quick turnarounds on lockouts. As we know more here at DTTalk we will obviously bring you the best analysis that we can (makes us sound like real reporters doesn't it). Sorry I can't bring you much more thoughts on this, it literally popped up in my twitter feed as I was writing this (well it may have been there for a while but that is when I saw it).
The only certainty is that as more rounds get released to us, the more we can work out who teams have left to play. We know everyone will play everyone once. So at this point we know that a team like Port for example (only picking on them as I know exactly who they have played so far off the top of my head) have only got Melbourne teams plus Sydney left to play as they have played every other interstate side. So if you have been keeping track of the fixture you can work out who has an easier run still to come and who doesn't (I think Port fall into that category of harder run still to come).
The need to have bench cover also makes using loopholes dangerous. The only 'safe' place to do it is in the rucks. Other than that you are playing roulette as to whether or not you will need cover. Not saying don't do it, but proceed with caution.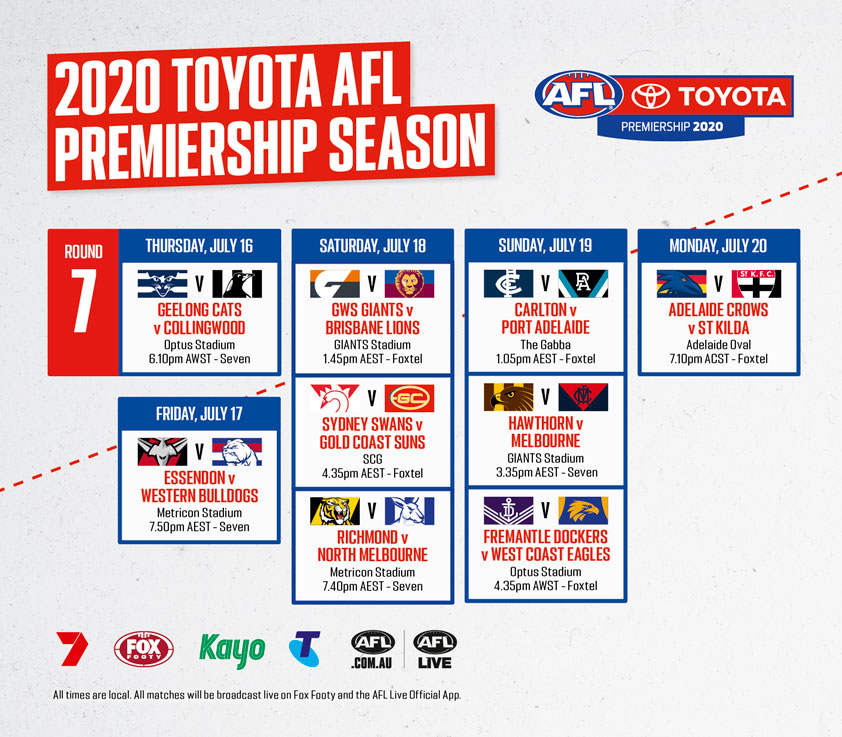 Fyfe Lyfe
So we all saw Fyfe return after just the one week off. He didn't have a big game and spent a lot of time up forward in the second half. There has been a lot of chatter around that he may well miss the derby. So just be ready for that to eventuate. He had further scans and apparently they didn't come up too well.
Things To Remember
Things are going to change this season and they are going to change fast. There is nothing we can do about it and very little the AFL can do, just roll with it.
With a compressed fixture we may be more of a chance to see rookies debuting as some others struggle to come up with short turn arounds.
Short turn arounds mean a higher chance of soft tissue injuries. Another reason to keep an eye on your bench.
Remember to just enjoy this season, at least we have one!
That's about it from me this week everyone, I hope you have a great weekend of fantasy footy and hopefully we have some good games to watch. Everyone keeps saying the games are no good to watch. But I am taking it the other way, at least there is some footy to watch.  To all my Victorian readers, stay home and stay safe. Hopefully you will all be back out and about again soon. Best of luck and see you all again next Thursday.