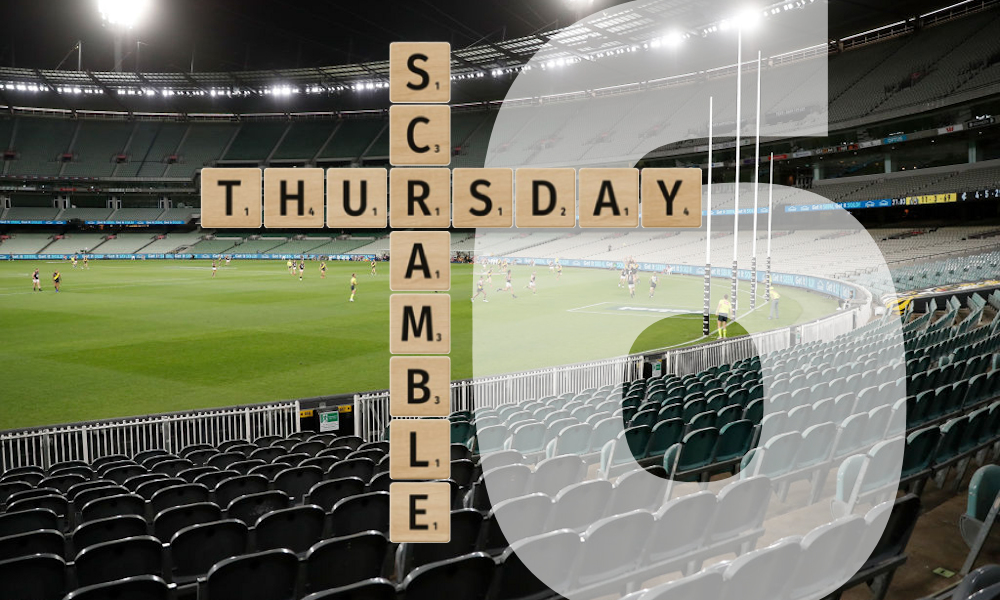 Well it isn't just us fantasy owners scrambling this week. With everything going on we have now seen the Victorian AFL teams scrambling to get out of Victoria! This has brought with it issues with our teams too. Add to that we had some injuries over the weekend and once again we have more issues with our sides than we know what to do with. Having lost the best rookie of the season we have nothing left to do but Scramble!
Fun Fact of the Week
So this week will see the first time in VFL/SANFL/WAFL/QAFL/NTFL/AFL* and any other league's history that NO club is playing in their home STATE! Not just home ground, but home state!!
*Well I think this is right for at least the AFL, and am fairly sure of the other leagues.
Rising Star, Falling Star
We had one certainty in what is a ridiculously difficult season. And that was that we had a gold mine by the name of Matthew Rowell. He is probably the most dominant rookie we have ever seen, and we thought we had seen everything with Walsh last season. But now we have to find a way to live without him for what is appearing to be up to 3 months. The main problem we have is that he hasn't quite reached enough value to straight swap for another premium. So you have a decision to make. Do you go up or do you go down?
A lot of this decision will be based on what you have in the bank and what you need to do with your second trade.
Now I am not going to say too much about who you should be trading in. But suffice to say that you should be looking for the best option to suit your team. Here area few thoughts on what you should do.
1. Look for Value
Given that he isn't worth enough yet to trade straight to a premium don't go and blow all your cash to get him to the top priced players. What I will be doing is looking at who the fallen premiums are and targeting one of them. The one thing you don't want to do is compromise the rest of your team. If you sell the farm to get in someone like Lachie Neale then you will be possibly compromising your side.
What a better strategy to do is to look for a way that you can continue to build your team by either trading him for another rookie that is on the way up and using the rest to upgrade a fully fattened cash cow. The other thing you could do is to straight trade him for a player of similar price that has a very low break even and will continue to appreciate in price.
2. Utilise your DPP
Given that Rowell is in the midfield he opens up plenty of options. So have a look at who is available in each line. Given that often the defenders and the forwards are cheaper than the mids you may find it much easier to upgrade him in one of those lines. The other option is to look at the rookies on those lines too and perhaps use one of them.
3. There may not be a quick fix
With the money that you get from Rowell you are unlikely to immediately be able to replace the points he has been getting you. There are very few players at that price point that are going to get you a 100 most weeks or even be a shot at being in Calvin's Captains. The great thing about this is that you are not the only person in this situation. 60% of AFL Fantasy teams, 80% of Real Dreamteam teams and 76% of Supercoaches are all in the same boat.
4. You don't have to trade this week
I hear you say, "what the hell are you on about?" As I have said here a number of times, not trading an injured player is always a valid strategy. The key is that their price won't change but others will. Now I will admit this isn't often a good strategy, but if you have much bigger issues that you want to trade out who will fall in price AND you have decent coverage for Rowell then you could wait a week to move him on. Like I said, this is not the ideal strategy as you should look to use his cash, but it is certainly a valid one in some circumstances.

Hub Life
No not that hub Roy, we are talking about the hubs that the AFL teams all find themselves in. The key thing here is to check on who is missing from the Hub. Probably the biggest name that is not going, that I know of at the moment, is Bachar Houli. Quite simply you need to trade him. The people that it hurts most is Draft owners. There isn't much that you can do about it because you won't be able to replace his points from the waiver wire. You may be best to look to package up one of your other premiums to get two players in return.
If we end up with the situation that looks most likely which is more games on more days, like Mondays and if the AFL get's what it wants which is something like 5 games in 32 days for teams, this is going to put stress on the lists. What it means for us is that we are likely to see some of our older stars perhaps rested or at least given limited minutes and we are likely to see some new rookies get a game as they try and manage their lists. Rather than seeing this as a problem for our teams it is a massive opportunity.
This would give us more options for downgrades and it would certainly make draft comps much more interesting! It will widen out the player pool with a bit of luck.  We are already seeing word of a couple of debutants for the Swans this week. And Richmond are certainly going to need some players with their injuries and a couple of their best 22 not heading north.
WATCH 🎥 Unless you've got a heap of cash, it's going to be tough to upgrade the injured Matt Rowell (MID $527k)… @WarnieDT wonders what you could do. #AFLFantasy pic.twitter.com/i94gi8tlOW

— AFL Fantasy (@AFLFantasy) July 8, 2020
Fyfe Life
There have been some rumours circling that Fyfe is a chance to be named and to play this weekend. If indeed they are true and I was not an owner of Fyfe, I wouldn't be bringing him in. I think if he does play his time on ground will be severlely managed and he is likely to be only going at 75% (which is arguably as good as most other players 100%). Hamstrings for an athletic and explosive player like Fyfe are not good and I really don't think it is ideal for him to play.
As a non Fyfe owner in some formats I actually want him to play and to have a managed game so that he misses his BE by a fair bit and falls to a level that means I can get him soon!
Things To Remember
After this round we are nearly half way through the minor round of the Fantasy Season!
Home ground advantage is going to be very scarce this year now so use previous year's stats carefully.
Lachie Neale plays Thursday night if you normally leave the C on him by default.
Max Gawn and Lachie Neale are getting too expensive to bring in. You may need to wait for one bad game to be able to afford them.
Another tough week of Fantasy coming up. It seems to be the norm this year. Hopefully the Warne Dawg has some good news for us for a change when he reads out the teams on the Facebook Live video later tonight. I know he certainly didn't do my team any favours last week. Thankfully Rivers held his spot otherwise I would have had a donut in all three forms of the game. I really think we will see more of these rookies that are on our benches getting a game now because of what I mentioned above and that is the tight turnaround in games and some injuries starting to find their way into the season.  See you all next week!