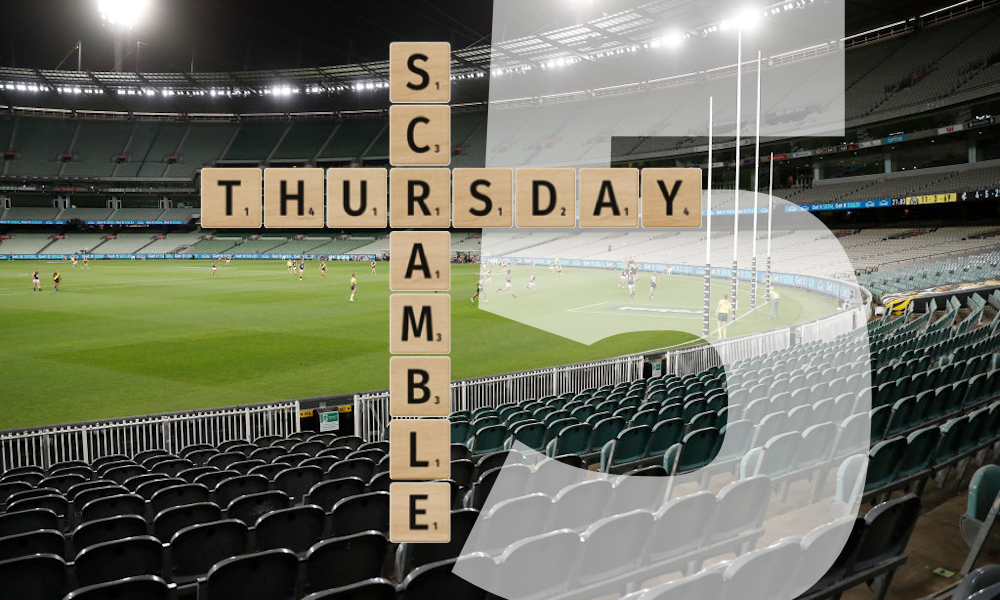 Could this season get any harder? What else can get thrown at us? Last week it was a postponed game, this week it is injuries as far as the eye can see. At least in AFL Fantasy we have three trades this week to try and sort this mess out, the other formats only have the two for us. I just hope for your sake that you haven't copped more than 2 of the injuries. I am moderately concerned as to what we will see this week at the selection table!  Let's Scramble!!
Guns Down!
Massive week for injuries. I will have a bit of a chat about each one here but for me here the key is prioritising the trades we have to make.
It seems simple, just work your way back from the most serious injury. But don't base your entire decision on this, seems odd I know, but the other part you need to factor in is who it means you have to play on ground. If for example you have a strong bench down back but a good mid bench then you may look to trade out Fyfe rather than Howe. You could leave Howe until next week. Whatever you do, the guys you don't trade out won't change in price. But, a third factor is, the guys you are going to bring in will change in price. So once again, use this information as a part of your decision. Check the break evens of the guys you are looking at bringing in and use that to help make your decision.
So there are a few factors that we need to take into account. This isn't just the case when we have multiple injuries like this, you should be looking at all three of these things each and every week when you need to make a trade.
Here are a few of my thoughts on the injured guys and what we should do with them this week.
While there were a lot of injuries to popular players this week there are a few that are more likely to cause trouble than others. The most impact will be felt by Nat Fyfe owners and particularly in Supercoach where he has been smashing it, and I suspect that many of them are new owners too. With his recent form he has been heavily traded in over recent weeks. And for those draft owners it is even worse as many would have spent a first or second round draft pick on him (I know I did in the DT Shiva). The first question is… do I hold or do I trade. For me this is not clear cut but I do lean in one direction more than the other. The intel tells us that it is likely to be 1-2 weeks, but history told us that last time he was out for a few more than that. I think this is going to be more like 2+ weeks than it is 1. With that in mind I am going to suggest that you trade him. In any normal season this is a hold every day of the week for a 2 week injury of a star. Clearly this isn't a normal season, it is a short one. In a normal season if he misses 2 weeks that is 8.6% of the season, but this year if he misses 2 weeks that is 11.7% of the season.
Now having said all of that you can also be forgiven if you are going to hold him. But just given the type of player he is and what we saw last time I am nervous.
Howe is the biggest issue of the round being out for the rest of the season effectively. Clearly a must trade. This is where it gets fun. As I said above, if you have a great bench you can afford to leave him for a week but I would be far more inclined to make a move on him now, we know that he is done for the year and he isn't any chance to play next week (whereas Fyfe is). So the big question is who to trade him to? Well on Friday night you were probably thinking Tom Stewart would be a good option, not anymore! Zac Williams may have also been on your radar. Well, nope he isn't either now. So you might want to look at guys like The Riddler, Jordan Ridley or Nick Haynes or even maybe Caleb Daniel. Whichever way you go you have a real opportunity to set your team up going forward down back. If you can go to one of the mid price/ cheaper guys you can do a bit of a cash grab to try and fix up other areas in your side too.
While we are talking Tom Stewart and Zac Williams, both of these guys are also automatic trades as is Dayne Zorko. They will be out for a while and you can't hold that sort of cash.
Steele Sidebottom is another guy you simply have to trade. At the time of writing this his penalty is 4 weeks, I don't know if Collingwood are going to appeal or not, but even if it drops to just 3, you need to trade. Who do you bring in? Well for Steele and for Nat you have two options. The first one is to find some cash and go up and go big, that means get to Lachie Neale if you can, the guy is on a tear, but you may be buying him at top price, something our People's Prince Calvin loves to do. Or you can use a bit of strategy and go for someone with a low BE and a bit of form. The obvious candidate here is Jy Simpkin, but others to consider would be Pendlebury, Oliver or McCluggage. These are all guys that can score and have a good BE. Bontempelli is one that I would certainly look at given his game last week and his ability to take over a game.
Zach Merrett is the other one we need to look at this week with his one week suspension. Normal rules apply here, hold him. He isn't injured and will be back after one week off with a point to prove.
Sam Naismith is someone that a heap of coaches took a punt on (including myself) at the start of the season and after round 1 we all looked like geniuses! But sadly that has changed for the worse with him now out for the season. The question here is do you have the cash to go to one of the big names like Grundy, Gawn or Goldy or do you go only a little bit up to Mr Worldwide himself Pittonet. This is going to be simply a matter of how much cash you have and what you can do.
Lots of thoughts there and some a bit random. Also those players aren't the only options of course, but they are just a few that I will throw out there for you to consider. Particularly that midfield role, you could go to a guy that is on the up or you can just go for the best averaging player you can afford. Heaps of options.
Everybody's Shuffling
The fixture! Wow, ordinarily a nightmare to put together, but even harder in this season. We have seen over the last two weeks that things can change in an instant. We saw a fixture change mid round and then this week things changed on Monday. This is the new normal for season 2020 and we simply have to be agile (I really dislike this term) and adapt to whatever is thrown at us. Just remember, it isn't just you, everyone in the game is facing the same dilemmas and rule changes. My take on all that is to just go with the flow and don't let it get to you.
Cal's scale of hardness is one of the things that all of us look forward to each and every year, but poor Calvin simply doesn't have the data and info available to him this season, so all you can do is look at some of the other stats that have been put up by the guys about who is easy to score against and who isn't and draw some of your own conclusions until we get a more permanent fixture (if that is even possible this season). I am sure if you ask Cal nicely he will teach you how to use different colours!
How do I plan for the rest of an unknown season? Simple, you don't. Matchups are out of the window and you just need to select the best all around team that you can. It means that you can't target players in the team playing the weaker teams in the Fantasy GF, you just need to get the guys that are going to get out on the park and give their all for you each week.
The other thing that has really come to the fore in the last couple of weeks is that our bench is so important this year. Firstly because we never know when a game will be postponed and we might need that rookie to score for us. Secondly we can have weeks like we just have had with a ton of injuries!
WATCH 🎥 Which MID cash cow should you be looking at this week? @WarnieDT talks through Caleb Serong, Tom Green and Mitch Hibberd as potential options. #AFLFantasy pic.twitter.com/ZNCkFCcFTo

— AFL Fantasy (@AFLFantasy) July 1, 2020
Things to Remember
Address the most pressing issues in your team first.
Luxury trades are allowed, after dealing with point 1.
The fixture can change at any moment. Make sure you have emergencies.
What a massive week it has been and I honestly don't think this will be the last of it this season. We are just going to be continually thrown curve balls all year and we simply have to deal with them. Best of luck this round and I look forward to being back to try and unravel what I am sure will be another wacky round of footy next week. And just before I go, good luck to all the local footy players in the Adelaide Footy League who kick things off with round 1 this weekend.  Great to see some local footy back when we thought there would be none at all.