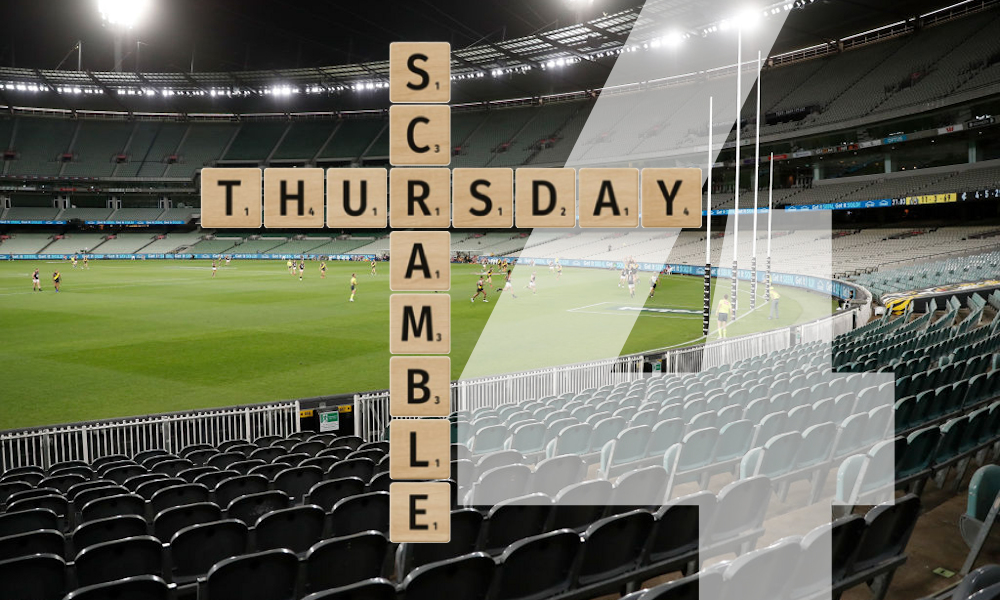 Wow! We all thought it could happen but I bet none of us thought it would happen mid round! That was simply unbelievable. Add to that some big injuries and as if this season wasn't hard enough we just keep getting thrown curve balls. Nothing more to do but Scramble!
Essendon v Melbourne
Now I am not going to go into what the best way to deal with it is and which formats got it "right" and which got it "wrong" because there is no such thing as right or wrong. As I have heard someone else say this week, no one set out to upset anyone or make things worse they did the best they could with the information at hand. What has happened has happened and what will happen will happen. Fantasy/Dreamteam/Supercoach are all games of fantasy footy and we play them for fun. It isn't worth getting upset. This season was always a weird/strange one, this is just another hurdle for us to navigate. So just sit back, have a bit of fun and let's just do our best with what we have in front of us. Everyone always says that the game is too easy (the only person that has any claim to say that is Selby), well you wanted the game a bit harder, here you go!  In the words of Calvin… Be the Butter Mouse!
Now….  A bit of strategy. We don't know how every format will treat the 'delayed' game at the moment and many are saying if the game counts we should load up on Ess and Mel players. But I want to throw something else in there that may make you think twice.
As Warnie said on the podcast (I reckon he heard me talking to someone about it on the weekend) they will probably schedule the two sides very early in one round and then very late in the next so they can play a mid week game. One thing that people haven't thought of though, when they get to that third game in say 9 days, they could be stuffed! And depending on the opponents they have at either end of that run of three games you may even find some of the premiums/fantasy relevant players actually rested. Think about it, do you honestly expect that Goody and the Melbourne brains trust will make Harley Bennell play 3 games in 9/10 days? I don't think so and even if he does his game time will be minimal. Also, I would almost bet that there is every chance that  they play a second ruck in at least two of the games to give Max a bit of a chop out. When they play Essendon who have Bellchambers I will bet that is where they may choose to restrict his game time.
SO before you go and jump all over these players, just have a think about it. The sooner we know where the game will be played and what games they have either side of the make up game the sooner we can make a decision. Until we know exactly when the game is going to be played just continue on as you would have normally. No point planning or worrying about it until you actually know what is going on.
This is a bit left field but as you guys and girls all know, I like to throw out a bit of an alternative view on the strategy.
Premo's Down!
As if the missing game wasn't enough, we had one premium go down in a game and another go down post round! Lachie Whitfield hurt a heap of teams when he went down very early in the game against the Dogs. We will know tonight if he is going to be selected but word when I was writing this is that he should be right to go. That was a big hit and he has to pass all the concussion testing. Even if he does play he has a Massive break even and we all know that players often struggle when they get back from a concussion, so you can certainly be excused for trading him out.
Then, on Monday afternoon we heard the news that Josh Dunkley would be out for six weeks with a syndesmosis injury. We simply need to trade him out. His season is basically cooked from a Fantasy perspective. So this will be a forced trade, but always looking for a silver lining, this will allow those of us (and yes, me too) that don't have either Neale or Fyfe to bring one of them in. The other option you have is to try and make your dollar go a bit further by picking someone that is a bit more value and hopefully get a bit of a two for one by upgrading a mid pricer with the left over cash.
Add to all that a few guys that aren't performing like we expected such as Danger who seems to be struggling down at the Cattery which is the opposite to what we expected. Do we trade him out? If you have no major issues then yes you could consider it. This season is one where trading out a falling premium is more acceptable. But, before you pull the trigger, let's look at his next three games. Melbourne, Gold Coast and St Kilda. That isn't a bad run for him and the games are at the MCG, GMHBA and Marvel. In this crazy season I don't mind the idea of trading him out but make sure you get some good value for him.
#AskDunny
What to do with Laird Houston Whitfield Jacobs?
Current thought for trades is Houston to Weller, Jacobs to McKenzie via dpp swap with BWilliams (then move to R3 where Pitt is) then maybe Whitfield to Simpkin or Wingard?

— Matthew #AtHomeYouMustStay Murphy (@MattM_78) June 22, 2020
Wow, lot's of options there Matthew. I guess I will break this down a bit.  In terms of the players you list there I am going to say hold Laird and Whitfield (especially if he plays this week) I think that Whitfield out is a very luxury trade and one that I wouldn't do if he plays. Houston is an issue. He has definitely had a role change from what we saw in the pre-season and from late last year. I think that the role he was going to have in the midfield has been taken by the youngsters and it even seems that DBJ has taken the rebounding half back role so that leaves Houston out a bit.  I think he is a valid trade out target for you. As for Jacobs, I have been disappointed with his scoring since the return and he could be one you want to move on if you have nothing else to fix up.
As for the ins, Not sure about going to Weller down back, he has played well but the Suns have played all three games so far at home and after round 4 they probably won't be as lucky. I would look for some value elsewhere and a bit more of an established scorer. LOVE that you want to bring in the Canon McKenzie, but I am not so sure I would get him in. I like the move of B Williams to R3 and Mr Worldwide coming onto the field but once again go for a more consistent known commodity down back.  I really like Simpkin, he should be a forward trade in target. Wingard has had a good few weeks but I really like Simpkin's role and he would be who I would target.
Why are we doing this to ourselves? 😂

— AJS Hawker (@AJSHawker) June 22, 2020
Bloody good question Hawker!  I would love to say it keeps me sane, but that would be a bit of a lie. Just super grateful that we have footy back and I am super excited that once the Power return to SA I will get to go and see them most weeks hopefully as the Adelaide Oval will allow 25,000 people in as of next week!! Just keep plugging along mate and have a laugh and some fun.
Things To Remember
Anything that can go wrong, will go wrong, just roll with it and have fun.
Be Bold with your trades.
There are only 10 more rounds before Fantasy Finals!  Can you believe that!!
In the Rolling Lockout games, hold your trades as late as you possibly can, you saw on the weekend why that is important
On top of all of this the AFL released the round 6 fixture last night and they told us that Collingwood and Geelong would be heading to a West Australia Hub after their round 6 games. This will mean they play each other in round 7 and the Western Derby will also be that round. After that we know their opponents for the following two rounds. The fixture is starting to take shape, the more that we know the more we can plan for.
Hopefully this week is a lot smoother for us than the one we just had. The forgotten part here is Connor McKenna's health, all the best to him and hopefully he recovers quickly (even though that last test was negative, who knows, he must have had it at some stage).