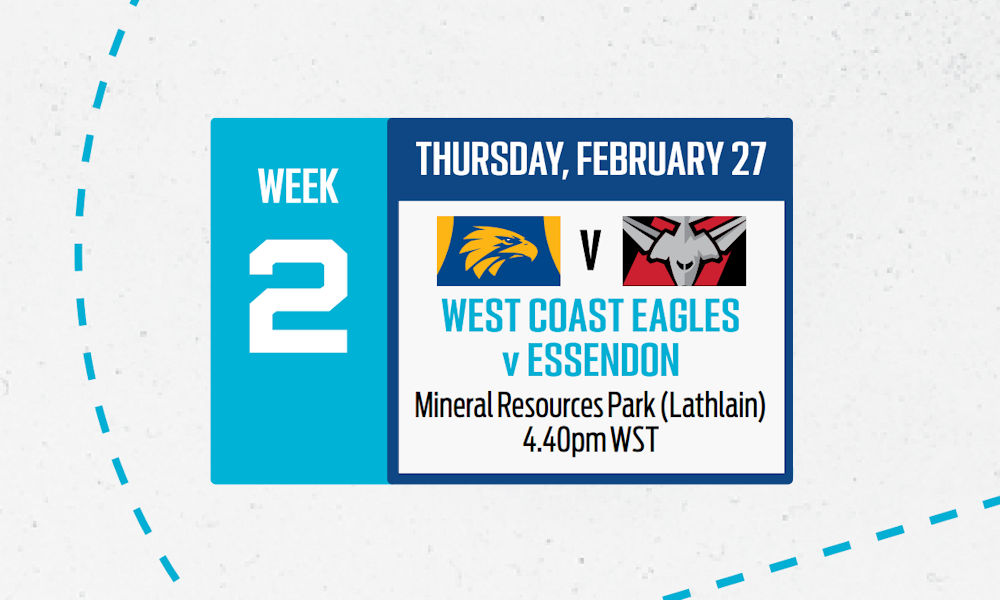 Essendon flew west, jumped West Coast in the wet and held them off for the win. In a game that was played in a thunderstorm, skills were down but the contest was high. Missing from Essendon's best 22 were Daniher, Heppell, Ambrose, Stringer, Bellchambers, Hooker, McKenna and Saad while West Coast went in without Yeo, Gaff, Sheppard, Allen, McGovern and Darling.

Listen to the AFL Fantasy Podcast with The Traders at Apple Podcasts, Spotify and Google Podcasts.

Team as named
B: T.Cole 28 W.Schofield 31 S.Hurn 25
HB: L.Jetta 23 T.Barrass 37 L.Duggan 14
C: J.Nelson 30 D.Sheed 4 J.Redden 8
HF: J.Petruccelle 21 J.Brander 10 J.Cripps 15
F: L.Ryan 1 J.Kennedy 17 B.Ah Chee 41
Foll: N.Naitanui 9 T.Kelly 11 L.Shuey – C 13
I/C: J.Waterman 2 T.Hickey 16 N.Vardy 19 H.Brayshaw 22 F.Watson 26 B.Williams 32 M.Hutchings 34 A.Treacy 43
Emerg: X.O'Neill 24 B.Ainsworth 33 B.Johnson 38 H.Edwards 42
Shuey (MID $749,000)
Shuey led from the front in his first hitout as captain. Finishing with 110 points from 83% game time. While the concern going in was that Kelly would be taking a bit of Shuey's first touch possessions ruck taps (more on this later) it looks like Shuey's workrate around the ground is more than making up for it. 1% ownership if you're looking for a unique mid.
Josh Kennedy (FWD $401,000)
Is a fit Josh Kennedy too cheap to ignore? Kicked 6 goals today and every time he went near it the commentators mentioned how he's had his 'first full preseason in years'. Finished with 93 points! Keep in mind when considering him that tonight he played on a first gamer and still has Darling to come back into this forward line. Currently sitting in 3% of forward lines.
Other notes
Jarrod Brander (DEF/FWD $217,000) did as promised, playing as a defensive wing. Finished with 45 points from 72% TOG. Unfortunately can't see him getting regular games in this position with Gaff and Yeo to come back into the midfield, might get games as insurance due to his versatility.
Bailey Williams (DEF/RUCK $170,000) 59 points from 70% TOG. Wasn't given a crack in the ruck till half way through the second quarter but played in tandem with Nic Nat from that point onward. If he keeps this up he's a certainty to jump Vardy and Hickey in the pecking order, could be our perfect R3.
Tim Kelly (MID $719,000) 91 points from 85% TOG. Started slow but worked into the game to finish with a decent score. Looked to be Nic Nat's preferred tap target but fumbled multiple attempts. Not sure if weather or nerves but if he held onto a few of those we'd be looking at a 100+ score. Rotated between midfield and the forward flank. Currently 8% ownership.
Nic Naitanui (RUCK $471,000) 64 points from 51% TOG. After a full preseason Nic Nat is still only playing in bursts off the bench. Still has an impact when on the field but I'm not convinced he's going to get enough game time to boost his score. If I were in the 15% of coaches with him I'd be shuffling cash around now!
West Coast @AFLFantasy Grades:
Shuey ?
Sheed ?, ?
Redden ?
Kelly ?, ?
Naitanui #️⃣1️⃣?, ?, ?, ⏱
Vardy #️⃣2️⃣?
Williams #️⃣3️⃣?, ?, ?
Waterman ?
Brander ?, ?
Ah Chee ❌2️⃣2️⃣, ?
Brayshaw ?
Watson ??‍♂️
Barrass ?
Kennedy ?, ?
Jetta ?‍♂️
Hurn ?‍♂️

— Tbetta (@Tbetta9) February 27, 2020

Team as named
B: A.Francis 10 M.Hurley – C 18 M.Gleeson 8
HB: J.Ridley 14 C.McBride 41 B.Zerk-Thatcher 30
C: D.Zaharakis 11 A.McGrath 1 M.Guelfi 35
HF: I.Mosquito 22 D.Smith 5 J.Laverde 15
F: A.McDonald-Tipungwuti 43 S.McKernan 44 O.Fantasia 13
Foll: A.Phillips 34 D.Shiel 9 Z.Merrett 7
I/C: H.Jones 23 J.Townsend 20 K.Langford 4 B.Ham 33 W.Snelling 40 D.Parish 3 N.Lockyer 49 B.Teakle 47
William Snelling (FWD, $420,000)
If he wasn't on your watchlist before he should be now. 113 points from 65% TOG. While the warning is that Essendon were missing a bunch of players from their best 22, Snelling did his chances no harm especially going at a tidy 85% disposal efficiency. Playing as a high half forward floating through the midfield Snelling has a brilliant fantasy game. 9 kicks, 11 handballs, 7 marks, 7 tackles and 2 goals. Snelling has enough in his bag of tricks to keep his fantasy score ticking over. At $420k Snelling is sitting at an awkward price point but could be worth the gamble. Currently 0% ownership! Definitely keep him in mind for the later stages of your draft!
Zach Merrett (MID, $803,000)
Here with a handy reminder to check 'Time on Ground/Minutes played' in relation to their score is Zach Merrett. At first glance his 68 points don't look very impressive but it's when we see he scored that from 65% TOG that it looks like business as usual for Merrett going at over a point a minute. Only 4% ownership could see this fantasy jet be a unique POD in round 1.
Other notes
Jacob Townsend (FWD $266,000) Popular selection finding himself in 22% of coaches teams, Townsend scored 42 points from 66% TOG. Looked to tick all the boxes needed providing a target and contest along the Bombers half forward line. Unfortunately looked to injured himself in the last few minutes, went off with trainers holding his arm/shoulder. Keep an eye on that.
Andrew Phillips (RUCK $507,000) 71 points from 85% TOG. Won his fair share of hitouts but gave away a few too many free kicks when worried Nic Nat or Williams would jump over him. Only 1% ownership and should definitely get more opportunity.
Devon Smith (MID/FWD $720,000) 84 points from 83% TOG. 6 tackles to go with his 20 disposals saw him lift his score but looked more interested in hitting players than impacting the contest tonight. Rotated between midfield and half forward, currently 15% ownership.
Andrew McGrath (MID, $554,000) Is this the year McGrath breaks out? 78 points from 83% TOG but was instrumental through the middle in setting up the Bombers win early. Looks to have put on more size and used it to get himself a team high 7 clearances, proving how valuable he is to the Bombers midfield brigade. Currently only 2% ownership.
Darcy Parish (MID/FWD $589,000) Lastly while we're talking about players waiting to break out, Parish scored 104 points from 65% TOG! While this should look very positive, his 48% disposal efficiency may mean he's the first on the chopping block when Heppell or Stringer want to walk back into the midfield. If he can keep taking his chances though he may be worth a spot late on your draft bench!
Essendon @AFLFantasy Grades:
Shiel ✅
Merrett ?‍♂️, ⏱
Parish ?, ⏱
McGrath ?
Zaharakis ??, ??‍♂️
Smith ?, ?
Langford ?
Phillips #️⃣1️⃣?, ?
Tipungwuti ?, ?
Hurley ?❓, ?
Townsend ❌?, ?, ?
Zerk-Thatcher ✅?
Mosquito ❌2️⃣2️⃣, ⏱
Fantasia ?
Snelling ⚡️?

— Tbetta (@Tbetta9) February 27, 2020