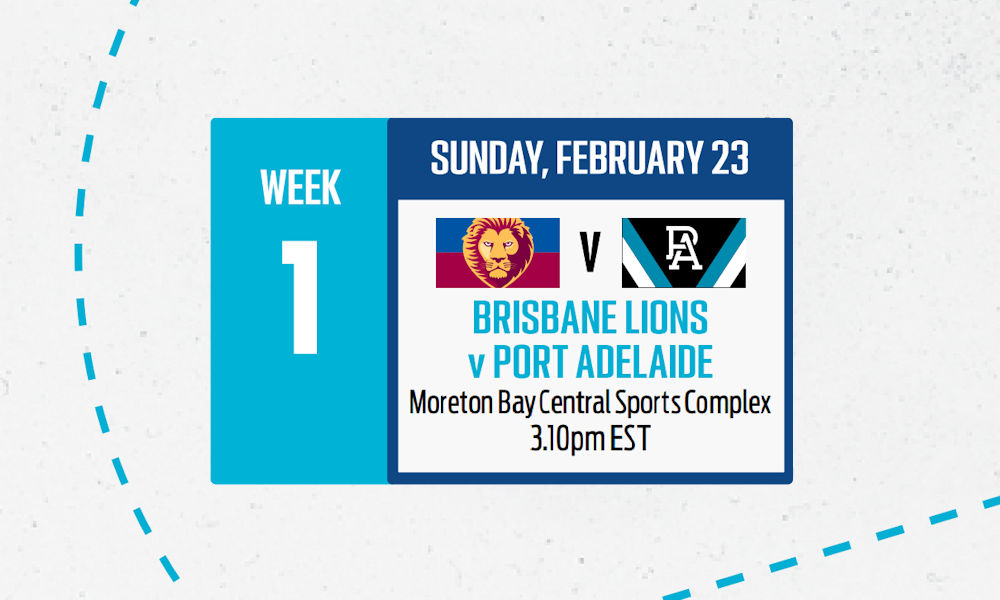 The scoreboard probably flattered the Lions a bit as Port Adelaide looked much improved at Moreton Bay. With Brownlow chance Lachie Neale and newly anointed midfielder Dan Houston both featuring in this match, it was a reasonably important first look at these two teams for AFL Fantasy Coaches, and there were some interesting takeaways.
Listen to the AFL Fantasy Podcast with The Traders at Apple Podcasts, Spotify and Google Podcasts.

Team as named
BRISBANE
B: D.Gardiner 27 H.Andrews 31 M.Adams 24
HB: G.Birchall 14 C.Ah Chee 4 D.Rich 10
C: J.Berry 7 H.McCluggage 6 Z.Bailey 33
HF: C.Cameron 23 E.Hipwood 30 D.Zorko – C 15
F: C.Ballenden 38 D.McStay 25 C.Rayner 16
Foll: S.Martin 12 L.Neale 9 J.Lyons 17
I/C: M.Robinson 5 E.Smith 8 L.McCarthy 11 C.McFadyen 26 C.Ellis-Yolmen 28 A.Witherden 29 B.Starcevich 37 O.McInerney 46
Emerg: R.Lester 35 R.Mathieson 36 S.Skinner 21 J.Payne 40
Lachie Neale (MID, $777,000)
With Midfield premium spots being hotly contested this pre-season, Neale has just put his hand up for selection in much more than the current 10% of teams that own him. Lachie had 47 disposals from 89% TOG, ending with 164 AFL Fantasy points. Neale was very clearly the Lions' first clearance option, getting in and under whenever he could, and he seemed to use the ball pretty well too. Hard to not pick him after last year's form is clearly being carried through to the start of this season.
Dayne Zorko (MID, $775,000)
Slightly less impressive but not by much. Zorko was strong and silky through the midfield too, producing 21 disposals and 108 Fantasy points from his 74% TOG. He laid 8 tackles, kicked a snag, and I'd expect that time on ground percentage to increase when there's premiership points on the line, so it could be a big season for Zorko. Still likely to be tagged, but if Neale is accumulating 40+ on a weekly basis it becomes hard not to tag him.
Other notes
A strong showing with 116 Fantasy points from 83% TOG means Hugh McCluggage (MID $678,000) could be a big improver this season. Although he played purely in the middle, he did sneak forward to boot three goals which definitely helped his Fantasy score a bit. If he had Forward DPP still I'd pick him, but as a pure MID it's unjustified.
Stefan Martin (RUC $629,000) put his hand up for the R2 spot, playing pretty much as the sole ruckmen for the Lions. His 37 hitouts helped him to 110 Fantasy points from 88% TOG and he did a number on poor Ladhams and Westhoff. Seems like a good way to save money, but quite risky.
Other mentions include Jarrod Berry (MID $591,000) who managed 50 Fantasy points from just 36% TOG whilst playing on the wing and half-forward flank. Disappointing performance by Alex Witherden (DEF $555,000) who had 48 from 57% TOG before going down with a head clash at the end of the third quarter. I've been waiting for Witho to fully breakout and this doesn't seem like the right role for him to do that. Also down back, value option Grant Birchall (DEF $428,000) went for 43 from 67% TOG which is nowhere near enough to consider picking him.
Brisbane @AFLFantasy Grades:
Neale ?⁉️, ?
Zorko ?
Lyons ??‍♂️
Robinson ?, ?
McCluggage ?, ?
Berry ?, ?
Ellis-Yolmen ?, ?, ?
Witherden ?, ?, ?
Martin #️⃣1️⃣?
McInerney ?, #️⃣2️⃣?
Rayner ?, ?
Rich ?, ?
Birchall ?, ?‍♂️
Ah Chee ?, ??‍♂️
Starcevich ?, ?, ?, 2️⃣2️⃣❓

— Tbetta (@Tbetta9) February 23, 2020

Team as named
PORT ADELAIDE
B: R.Burton 3 T.Jonas 1 R.Bonner 26
HB: H.Hartlett 8 T.McKenzie 12 D.Byrne-Jones 33
C: X.Duursma 21 T.Rockliff 11 K.Amon 15
HF: S.Powell-Pepper 2 B.Ebert 7 T.Cox 47
F: Z.Butters 18 C.Dixon 22 C.Rozee 20
Foll: P.Ladhams 38 D.Houston 5 T.Boak 10
I/C: T.Marshall 4 S.Motlop 6 T.Clurey 17 M.Georgiades 19 K.Farrell 24 S.Mayes 32 J.Westhoff 39 J.Lienert 40
Emerg: J.Watts 23 W.Drew 28 J.Atley 30 C.Sutcliffe 50
Dan Houston (DEF/MID, $596,000)
All eyes were on Houston for this game and he delivered. Missing a midfielder or two means Dan gets to play purely in the Midfield and he relished this role, with 22 disposals and 9 tackles giving him 95 Fantasy points from 71% TOG. Honestly Houston looks like a promising and valuable D1 or D2 option and I don't think you can afford to pass on him while he's playing this Midfield role. 38% of teams agree with me, and I expect that number to be a lot higher by Round 1.
Sam Powell-Pepper (MID/FWD, $559,000)
Another potential beneficiary of this vacant midfield time. SPP had himself a pearler, amassing 23 disposals, five marks, and seven tackles for 102 Fantasy points from just 65% TOG. At this price, I'd be interested in him if he were just a MID, but with the Forward DPP and the lack of lock-and-load Forward options I feel as though he might be an actual chance. Could definitely just be an MCS Hype team candidate but keep a close eye on the man.
Other notes
A few fringe options had a strong showing for the Power, but none impressed me more than Connor Rozee (FWD $539,000). The young Forward played in the pocket and had a bit of a run around the ball, scoring 2.2 and adding 8 tackles to help himself to 94 Fantasy points from just 57% TOG before leaving the field in the third after a head clash with Witherden. Could just be a one-off, but if Rozee is willing to apply that much pressure every week, I think a couple of goals is almost a guarantee and he could be a viable option, especially in draft.
Travis Boak (MID $784,000) was the highest scorer in a Pear uniform with 111 Fantasy points form 67% TOG. Whilst that's an incredible score for such a short time on the field, I'd say there are definitely better premium Midfielder options and Boak shouldn't be touched in Classic.
Probably not one to touch due to the awkward price bracket, but Peter Ladhams (RUC/FWD $414,000) was the primary ruckman over Westhoff today. He had 26 hitouts against the season and fit Martin and managed 17 disposals with it to bring him up to 74 Fantasy points (71% TOG). It's hard to justify him at that price, but Ladhams genuinely held his own and looked like an agile and solid player. One to watch for the future and should improve this season.
Young Mitchell Georgiades (FWD $236,000) got his first chance in 18 months and did okay off managed minutes. The rookie managed 37 Fantasy points from 49% TOG and looked pretty good despite a few wayward shots at goal. Unsure if he holds a spot in Port's 22, nor if he scores enough to warrant selection at his price, but I guess Rookies are mostly selected based on whether they play or not, so keep an eye on the green dot next to this kid.
Finally, the Pig Tom Rockliff (MID $737,000) had 20 disposals and 65 Fantasy points in just 62% TOG. Rocky never really looked to leave second gear and sort of coasted through the part of the game he played. He's reasonably expensive, but I can see the beloved Pig head back to the sty this season and bump up his average to proper numbers again. Wouldn't pick him in Classic just yet.
Port Adelaide @AFLFantasy Grades:
Boak ?
Rockliff ?, ⏱
Ebert ?
Houston ✅?
Powell-Pepper ?, ?
Ladhams #️⃣1️⃣?, ?
Rozee ?, ⏱, ?, ?
Georgiades ❌2️⃣2️⃣
Byrne-Jones ?, ?
McKenzie ?, ?
Mayes ⏱
Westhoff ?⬆️?, ⏱
Motlop ?
Dixon ?
Butters ?, ⏱

— Tbetta (@Tbetta9) February 23, 2020