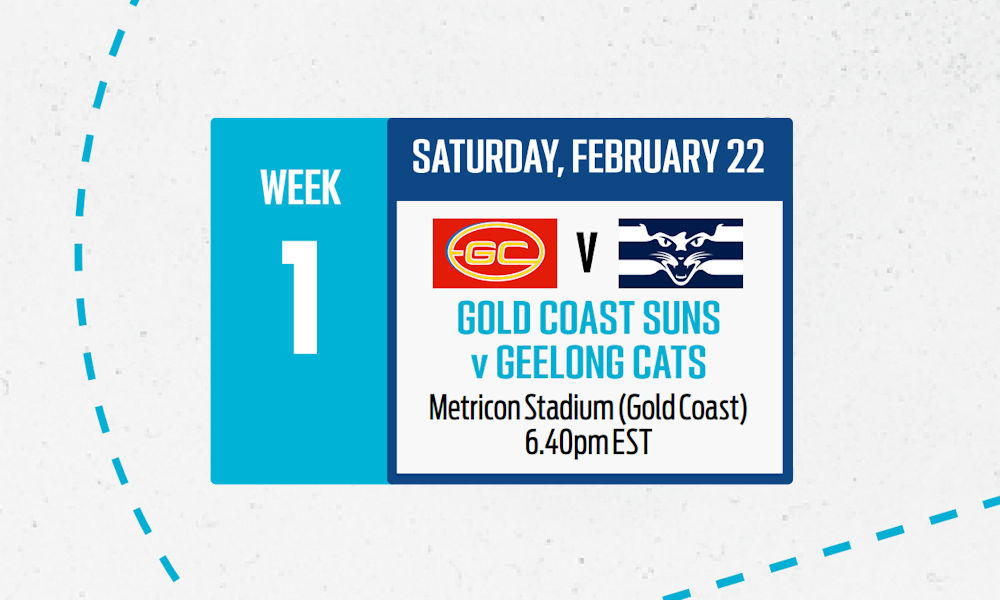 This game epitomises the reason I love AFL Fantasy… It makes watching the Gold Coast Suns interesting! I say that but credit where credit's due, the Suns looked extremely lively tonight and played an exciting brand of footy.
The Suns go into the 2020 season with a plethora of potential cash cows for round 1, with Rowell, Anderson, McLennan, Sharp & round 1 bolter Budarick ($170,000 MID / FWD) all getting the chance to stake their claim tonight. Hugh Greenwood played himself into a few teams tonight in his first outing for the Suns, and rightly so, the role is there! Don't be concerned about popular cash cow Izak Rankine the club is taking no risks after he copped a small knock to the shoulder in last weeks practise match (source). I'd have more concerns about popular cow Flanders (23% Ownership) though, who I'm struggling to see making the round 1 squad at this point.
Loading ...
Geelong was fairly undermanned tonight (notably in the midfield) and all eyes were on the vacant Tim Kelly midfield spot and the abundance of CBA's that becomes available in 2020. Geelong was throwing the likes of Narkle, Atkins, Parsons, and the rookie Cooper Stephens through the mids but we have to take the CBA's from tonight with a grain of salt. I'm hearing Jack Steven and Joel Selwood should play in the Cats second Marsh game so hopefully we get a better idea of the midfield makeup then.
Listen to the AFL Fantasy Podcast with The Traders at Apple Podcasts, Spotify and Google Podcasts.

Team as named
B: C.Budarick 35 C.Graham 46 J.Lukosius 13
HB: J.Bowes 3 S.Collins 25 J.Joyce 38
C: B.Ellis 4 H.Greenwood 21 N.Anderson 15
HF: A.Sexton 6 S.Day 12 B.Ainsworth 9
F: D.Swallow – C 24 B.King 34 D.MacPherson 44
Foll: Z.Smith 32 T.Miller 11 L.Weller 14
I/C: W.Brodie 7 C.Burgess 29 S.Lemmens 23 J.McLennan 43 J.Murdoch 31 M.Rowell 18 J.Sharp 37 P.Wright 30
Emerg: J.Dawson 45 C.Ellis 17 G.Horlin-Smith 33 J.Schoenfeld 36
Hugh Greenwood (MID / FWD, $581,000)
There were a few questions to ask of Greenwood tonight: what was his role at his new club? And would his TOG improve from his 70% he averaged at Adelaide? The role that we all wanted to see was there. He started at the opening center bounce and stayed in the midfield the entire game imposing his big body on every contest. Greenwood loves a tackle too, which is a key stat for consistent Fantasy scores. A few tackles resulted in a free-for so expect plenty of +8's (tackle, free-for, kick) throughout the year! Greenwood finished the night with 82% TOG too, which is enough of a bump on his previous game time to suggest he will push his 78 average into the 90's. He's currently owned by 11% of the competition, but this is about to spike. He finished the night on 114 points which included 9 tackles.
Matthew Rowell (MID, $270,000)
Just lock it in and throw away the key. I was very impressed with Rowell tonight. He was super composed with the ball in hand and he's got the build to mix it with the bigger bodies in the midfield. He ended the night with 82 points from just 67% TOG… And as for his Junior numbers in the NAB League? They were the best of any player in history, and we all know what Walsh did in his first year… Just do it!
Noah Anderson (MID, $268,000)
Like his buddy above, he was impressive. He started on a wing and plays a little more of an outside/receiving role which generally results in lower fantasy scores. He looks ready for the season opener though and Gold Coast will want to get as much game time into him as possible. You're paying for job security here which is invaluable in a rookie and he will still be a handy cash cow if you decide to fit both Anderson & Rowell. Anderson finished on 77% TOG and 55 points which included a really nice side step into a dribbling goal.
Other notes
Darcy MacPherson (MID / FWD, $648,000) had a night out and picked up exactly where he left off after a career best average of 87 in 2019 with 131 points from just 79% TOG. He has a good fantasy game for a forward but with the likes of Greenwood available in the forwards for $67k less could you do it? Definitely draft relevant.
Connor Budarick (MID / FWD, $170,000) is a name I hadn't heard a lot of going into this game, but the small defender did enough tonight finishing with 65 points from a reassuring 85% TOG. Budarick was the skipper of the Suns Academy, and had a 119 average in the NAB league from 5 games, so the kid can play. Could be a nice utility option with that DPP flexibility. Marsh Series watch for sure!
We didn't get to see Jeremy Sharp (MID, $218,000) until after half time, but he had an immediate impact with his first two kicks resulting in 1-goal-1 on the scoreboard. Finished with only 40% TOG and 43 points.
McLennan (DEF, $170,000) played the second most TOG for the Suns with 86% for a low 27 points. He averaged 56 points in the NEAFL last year which suggests a 27 point average is about spot-on, which means he's actually overpriced at $170k… 19% ownership currently. I'm jumping off.
Gold Coast @AFLFantasy Grades:
Greenwood ?, ?
Ellis ?, ✅?
Smith #️⃣1️⃣?, ⏱
Miller ✅
Swallow ✅
MacPherson ?, ?
Ainsworth ?, ?
Budarick ?
Weller ??, ⏱
Rowell ???
Anderson ?, ?
Lukosius ?
Brodie ⏱, ⛷
King ?, ⏱
Sexton 6️⃣?

— Tbetta (@Tbetta9) February 22, 2020
Team as named
B: J Bews, M Blicavs, J Clark
HB: T Stewart, H Taylor, Z Tuohy
C: J Parsons, T Atkins, Z Guthrie
HF: G Miers, B Close, G Rohan
F: T Hawkins, E Ratugolea, J Jenkins
R: D Fort, C Guthrie, P Dangerfield
I/C: R Stanley, G Ablett, B Jarvis, C Stephens, C Constable, Q Narkle, J Kennerley, L Henderson
EMG: O Brownless, J Tarca, B Schlensog, C Taheny
Patrick Dangerfield (MID, $798,000)
Never left first gear tonight for 52 points from only 57% game time (didn't play Q4) and 0 marks with Geelong opting to run a fairly new-look midfield. This is definitely a Marsh series #staystrong and wouldn't look into this score too much. He started at the center bounce and come season proper this where I expect him to lineup too with more support around him. I'm still bullish that he'll go back to a 110+ average this year, and really can't see him spending as much time forward with them bringing in Jenkins as a third tall.
Tom Atkins (FWD, $395,000)
Can hold his head up high after his 82 points from 85% game time performance. He played predominately through the guts with stints up forward, and didn't look out of place in the middle. It's hard to see him getting this midfield time when Selwood, Duncan, and Steven return though. He's only $25-26k more than Bewley & Patton.
Other notes
Quinten Narkle (MID, $497,000) topped scored for the Cats tonight with 99 points from a low 65% TOG and looked good going at 85% disposal efficiency from 26 disposals. As a mid only and awkward pricing… Pass.
The Cat defensive pair in Tuohy (DEF, $507,000) & Stewart (DEF, $705,000) were both fairly quiet tonight finishing with 58 points from 76% TOG and 52 points from 78% TOG respectively. Tuohy is priced around 20 points below his best average of 86 back in 2017 but there wasn't anything to suggest he would go back to those heights. As for Stewart, he overcame a preseason setback and is still warming up and will be better for the run. He improved his average by 20 points in his second year and then 15 points again in his third to become a regular feature in Roy's Rolling 22. Hard to see him putting many points (if any) on his current price though!
Cooper Stephens (MID, $240,000) had his first run in the Cats tee-shirts today and finished the day with 33 points from 64% TOG. Danger hyped up the Cats first round pick last years draft, stating he could debut this season (source) but based on tonights performance I'd suggest that might be later in the season.
Geelong @AFLFantasy Grades:
Dangerfield ?‍♂️, ⏱
Ablett ?
Stewart ?‍♂️, ?
Stanley #️⃣1️⃣?, ⏱
Fort #️⃣2️⃣?, ⏱
Blicavs ?
C Guthrie ??‍♂️, ⏱
Atkins ?, ?
Constable ?, ?
Narkle ?, ?
Close ❌2️⃣2️⃣
Stephens ❌2️⃣2️⃣
Hawkins ?

— Tbetta (@Tbetta9) February 22, 2020