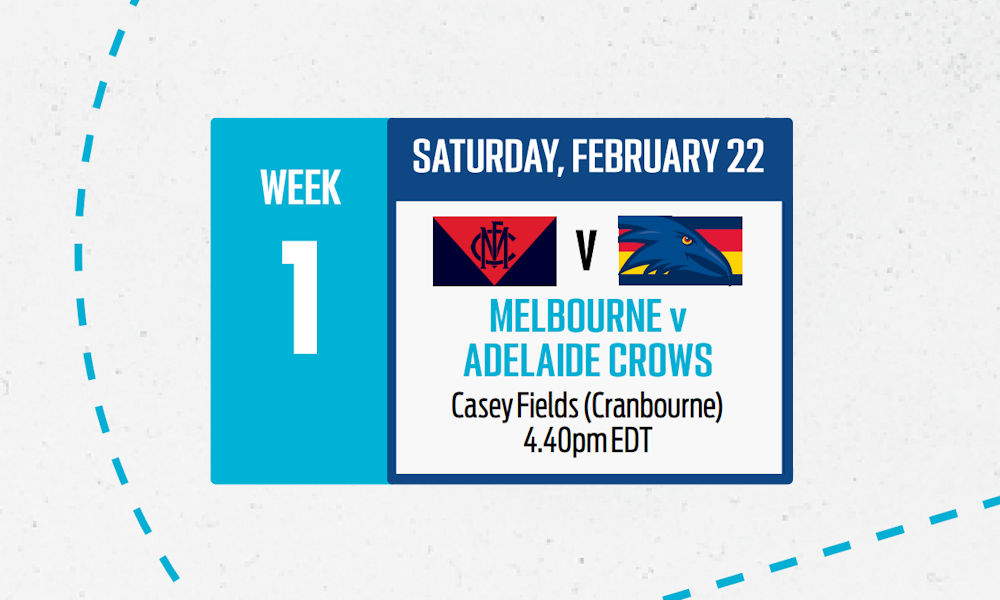 Melbourne and Adelaide were both competitive last year. Not in terms of contesting the premiership, but in regards to who had the most disappointing season.
The Demons somehow finished second last after playing in a Qualifying Final in 2018, while the Crows lost a coach, captain, and a heap of talent who fled the club with a bad taste in their mouth.
Fantasy coaches are licking their lips though. Which Demons are underpriced and due to bounce back this year? And which Crows will capitalise on the opportunity to fill a hole left by the exodus?
I trekked out to Casey Fields with my mate Nick who came 23rd last year, so at least one of us knew what to look out for.
Listen to the AFL Fantasy Podcast with The Traders at Apple Podcasts, Spotify and Google Podcasts.

Team as named
MELBOURNE
B: N.Jetta 39 O.McDonald 28 C.Salem 3
HB: N.Jones 2 J.Lever 8 M.Hibberd 14
C: E.Langdon 15 J.Viney – C 7 A.Tomlinson 20
HF: J.Melksham 18 T.McDonald 25 C.Petracca 5
F: B.Fritsch 31 M.Brown 38 A.vandenBerg 22
Foll: S.Weideman 26 J.Harmes 4 C.Oliver 13
I/C: L.Jackson 6 C.Spargo 9 A.Neal-Bullen 30 T.Sparrow 32 K.Pickett 36 J.Lockhart 41 J.Wagner 42 J.Smith 44
Emerg: T.Bedford 12 J.Jordon 23 J.Hunt 29 M.Hore 34
Clayton Oliver (MID, $786,000)
Clayton Oliver played in the guts and racked up disposals with ease. He stayed in second gear and managed 123 fantasy points with 31 disposals and a monstrous 11 tackles. He's only priced at 105.9, so his 5% ownership could rise.
Christian Petracca (FWD, $563,000)
Wow. Is this the year that Christian Petracca breaks out? He spent most of the game in the guts and was a force to be reckoned with. He pumped out 145 fantasy points from 38 disposals, 7 tackles and 3 goals.
His 1% ownership is sure to rise, although perhaps his midfield minutes will be impacted by Angus Brayshaw's return?
He's now Nick's F2.
Tom McDonald (FWD, $473,000)
I've included Tom McDonald because he averaged 107 from his last three and had the potential to be value if he could return to his best. He looked sluggish at centre half forward but improved as the game progressed, finishing up with 108 points from 3 goals. He was helped by Petracca kicking the ball inside fifty again and again – geez how amazing was he!
Other notes
James Harmes (MID, $698,000) played across half-back and looks certain to gain DEF status in round 6. He only scored 61 but could be a steal late in draft.
Meanwhile Luke Jackson (RUC, $266,000) shared the ruck responsibilities with Weideman in the absence of Max Gawn. He's athletic and covers the ground well, but will need to work on his ruck craft and ball skills to score better than 17. He's been dumped from Nick's team.
If there's another player you're keen on, feel free to shoot me a tweet at @BeaufortBeaus.
Melbourne @AFLFantasy Grades:
Weideman #️⃣1️⃣?
Jackson ?⬆️?, ?
Oliver ?, ?
Viney ?, ?
Petracca ?, ?,?
Salem ?, ?
Langdon ?
Tomlinson ?
Pickett ⚡️
Jones 3️⃣?, ?
McDonald ?

— Tbetta (@Tbetta9) February 22, 2020

Team as named
ADELAIDE
B: L.Brown 16 D.Talia 12 R.Laird 29
HB: W.Milera 30 J.Butts 41 B.Gibbs 6
C: M.Poholke 10 M.Crouch 5 B.Keays 28
HF: S.McAdam 23 B.Davis 40 T.Lynch 27
F: T.Stengle 18 E.Himmelberg 34 L.Murphy 4
Foll: R.O'Brien 43 B.Crouch 2 C.Jones 1
I/C: J.Kelly 8 R.Sloane – C 9 D.Mackay 14 B.Crocker 20 R.Atkins 21 B.Frampton 22 P.Wilson 31 N.McHenry 25
Emerg: W.Hamill 17 F.McAsey 35 L.Sholl 38 K.Hartigan 15
Chayce Jones (FWD, $318,000)
Chayce Jones looked lost on the wing and struggled to have an impact in the guts, but never stopped working. He finished the day with 64 fantasy points from 69% TOG, but I wanted to see more. I'm one of the 9% of coaches with him in my side and have a lot to think about, especially when Brodie Smith didn't play and Rory Sloane only played one half.
Bryce Gibbs (MID, $600,000)
Bryce Gibbs shared the half-back sweeper role with Laird and Milera and is another sure-fire DEF status by round 6. He took some of the kick-ins but only managed 69. He won't be increasing his 3% ownership.
Reilly O'Brien (RUC, $709,000)
ROB slowed down throughout the game but managed 83 points from just 69% TOG. He had no competition against Melbourne's depleted ruck stocks but I'll be surprised if the dominant ruckman doesn't increase his average from last year's 95.5. 15% of coaches will also be happy that Frampton stayed forward. Nick shuffled his team around to get ROB in as his R2.
Other notes
Rory Laird (DEF, $719,000) had reduced minutes because of the state of origin game, so his 38 points came from only 41% TOG. He comes with a hefty price tag so his owners will want to see more in their last Marsh Series game.
Meanwhile Patrick Wilson (MID, $328,000) looked completely at home in the midfield. He only scored 68 from 64% TOG but it's no wonder he averaged 114.2 in the SANFL last year.
If there's another player you're keen on, feel free to shoot me a tweet at @BeaufortBeaus.
Adelaide @AFLFantasy Grades:
O'Brien #️⃣1️⃣?, ⏱, ✅?
Frampton ?⬆️?
M Crouch ✅, ??‍♂️
B Crouch ?
Sloane ?⛑
Atkins ?
Gibbs ?, ?, ?
Milera ??, ?
Laird ?, ?, ⏱
Jones ?, ⏱
Wilson ?, ⏱
McHenry ?
McAdam ?
Butts ?, ❌2️⃣2️⃣

— Tbetta (@Tbetta9) February 22, 2020