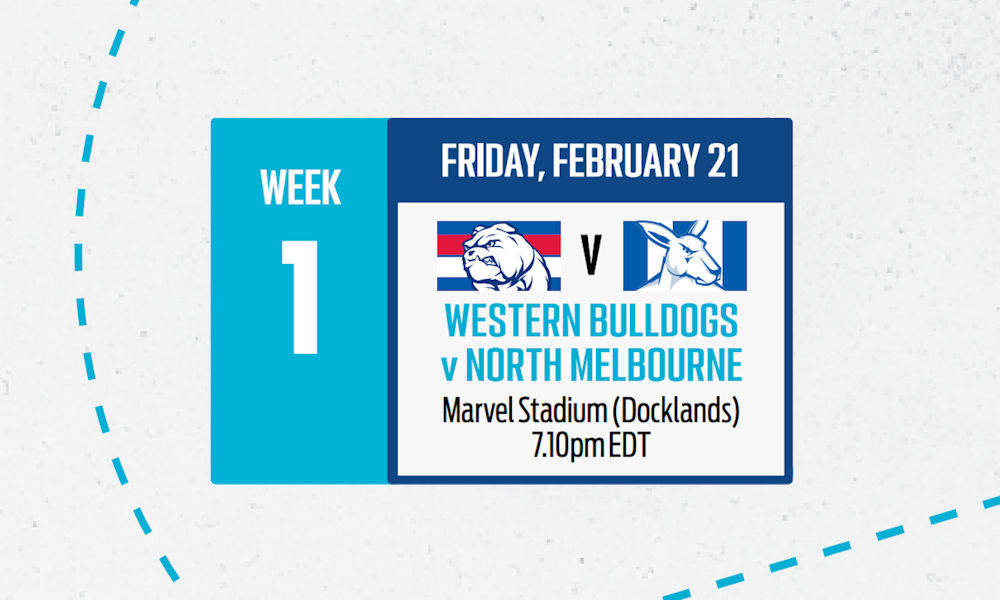 With the exception of English and Naughton who was a late withdrawal, this game saw a virtually full strength Bulldogs taking on a undermanned Kangaroos who were missing Higgins, Ziebell, Polec, Davies-Uniacke, Brown, Tarrant, Hall and Jacobs from their best 22.
Keeping that in mind, this game went as expected with the Dogs stacked midfield setting the pace while pumping up their own stats on the way to an easy victory.
Take these scores with a huge pinch of salt as the Bulldogs players were doing as they please and most Roo's players of note were given more scoring opportunity than they ordinarily would get.
Listen to the AFL Fantasy Podcast with The Traders at Apple Podcasts, Spotify and Google Podcasts.

Teams as named
WESTERN BULLDOGS
B: A.Keath 42 Z.Cordy 12 B.Williams 34
HB: H.Crozier 9 J.Johannisen 39 C.Daniel 35
C: R.Smith 37 M.Bontempelli – C 4 L.Hunter 7
HF: P.Lipinski 27 J.Schache 13 A.Naughton 33
F: T.Dickson 29 S.Lloyd 22 B.Dale 31
Foll: J.Sweet 41 J.Dunkley 5 J.Macrae 11
I/C: M.Wallis 3 B.Smith 6 T.McLean 16 E.Richards 20 B.Cavarra 25 C.Porter 28 W.Hayes 32 R.Gardner 43
Emerg: Le.Young 2 R.West 14 C.Weightman 19 L.Butler 18
Marcus Bontempelli (MID, $777,000)
There is no preseason rust on the Bont! Relentlessly hunting the ball from the first bounce to finish with 151 points from 81% TOG! While I mentioned this was against a undermanned midfield, the Roos did try send taggers to Bont at stoppages after half time but the damage was already done, Bont had his tail up and was in beast mode.
Josh Dunkley (MID, $824,000)
99 points from only 23 touches and 88% TOG. Slightly down from his average of 28 touches a game last year but no reason to be concerned. Played as an inside mid all night, just took a backseat to the Bont show. I wouldn't be making any reactionary changes if he's sitting on your field right now.
Other notes
Jackson Macrae (MID $858,000) with 126 points from 78% TOG and Lachie Hunter (MID $732,000) with 116 points from 87% TOG also benefit by feasting on the weakened opposition midfield while Patrick Lipinski (MID/FWD $634,000) made the most of his opportunity through the middle where he could. Ultimately he still spent too much time forward for my liking and his score suffered because of it, unless the dogs cop a few mid injuries I can't see him scoring reliably.
Also while he only scored 77 points tonight it looks as though Caleb Daniel (DEF $696,000) is firmly entrenched in the defence again this year. He teamed up well with his new intercept marking team mate in Alex Keath (DEF $498,000) who scored 77 points from 88% TOG and together kept repelling and rebounding Roos attacks.
Both worth keeping on your draft watchlist.
Western Bulldogs @AFLFantasy Grades:
Bontempelli ??
Dunkley ?
Macrae ?
Hunter ?, ?
Lipinski ✅?
B. Smith ?
Wallis ?
Daniel ?, ✅
Crozier ?, ?
McLean ??‍♂️, ?, ⏱
Sweet ?, ?
Johannisen ?
Richards ?⛑

— Tbetta (@Tbetta9) February 21, 2020

Teams as named
NORTH MELBOURNE
B: L.McDonald 11 M.Daw 1 J.Macmillan 34
HB: J.Pittard 17 J.Walker 19 S.Atley 18
C: B.Scott 8 B.Cunnington 10 T.Dumont 14
HF: T.Thomas 26 C.Zurhaar 44 J.Mahony 35
F: K.Turner 28 N.Larkey 20 T.Garner 6
Foll: T.Goldstein 22 J.Simpkin 12 J.Anderson 3
I/C: M.Williams – C 2 P.Ahern 15 A.Bonar 16 D.Tyson 21 S.Durdin 24 C.Taylor 31 T.Xerri 38 T.Murphy 40
Emerg: B.McKay 23 C.Comben 30 M.Wood 32 J.Crocker 36
Jy Simpkin (MID/FWD, $496,000)
76 points from 79% TOG, Simpkin had a hard day at the office but finished with his head held high. Played as an inside mid and could prove to be a handy forward option for us if he can keep those midfield minutes. Keep him on your watchlist for when the Roo's get their missing mids back.
Aiden Bonar (MID/FWD, $333,000)
One of the biggest criticisms on Bonar's development so far has been his lack of 'tank'. Tonight unfortunately has added to the evidence. In a game where his fellow mids averaged between 75 – 79% TOG, Bonar was only given 61% on the ground with that time split between playing midfield and forward. Finished the game with 71 points but will need to show more to be convincing.
Other notes
Both Todd Goldstein (RUC $656,000) with 108 points from 72% TOG and Tristan Xerri (RUC/FWD $170,000) with 99 points from 79% TOG topped the Roos scoring but it's worth noting that their opposition in the ruck was Jordan Sweet playing a lone hand. That said, Xerri showed what he could do as a back up ruckman as well as providing a target when resting forward finishing with 2 goals. Could be a handy option for our R3 if he can keep producing.
Former Lion Josh Walker (DEF $415,000) proved valuable in a Tarrant-less defence with 72 points from 77% TOG and could be worth keeping an eye on in your draft leagues.
North Melbourne @AFLFantasy Grades:
Goldstein ?, ?
Xerri ?⬆️?, ?
Cunnington ?, ?
Anderson ?
Dumont ?
Simpkin ??
Tyson ?
Bonar ?, ⏱
Thomas ?, ?
Walker ?, ?
Daw ?, ?
Mahony ?, ?
Ahern ⏱

— Tbetta (@Tbetta9) February 21, 2020