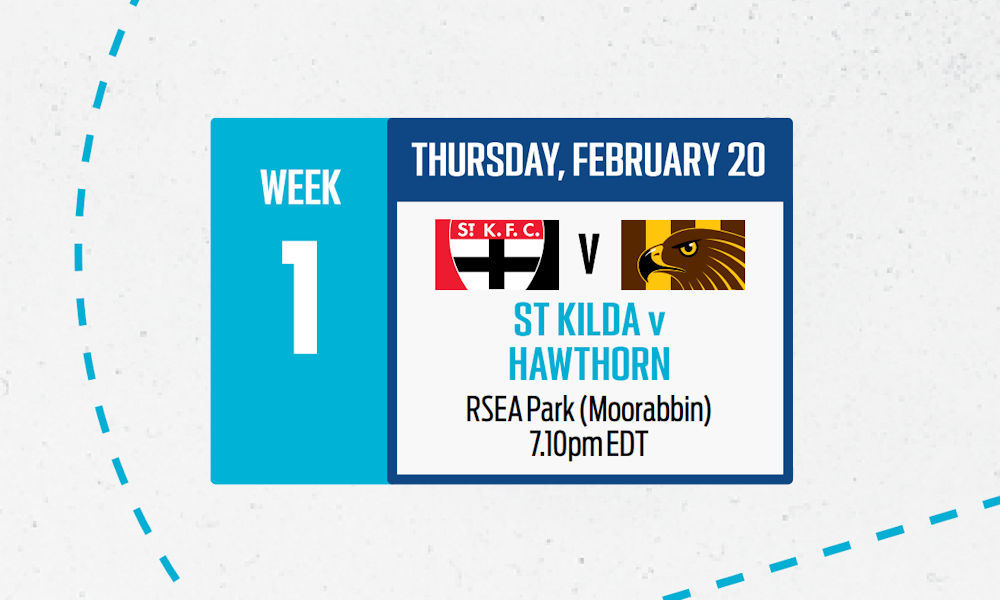 Footy was back at Moorabbin and a fairly free flowing game was played. With plenty of names on the watchlist, there was a lot to be looking out for from the returning Pig in Tom Mitchell to bargain buys up forward in Jonathon Patton and Ben King.
The Saints won by 21 points and racked up 1611 Fantasy points to Hawthorn's 1306.
Listen to the AFL Fantasy Podcast with The Traders at Apple Podcasts, Spotify and Google Podcasts.

Team as named
B: D.Howard 20 C.Wilkie 44 N.Coffield 1
HB: J.Carlisle 2 H.Clark 11 B.Long 21
C: J.Billings 15 S.Ross 6 B.Hill 8
HF: J.Sinclair 35 P.Ryder 18 D.Butler 16
F: T.Membrey – C 28 J.Lonie 13 M.King 12
Foll: R.Marshall 19 J.Gresham 4 J.Steele 9
I/C: J.Marsh 43 R.Abbott 27 S.Savage 5 D.McKenzie 36 J.Battle 26 B.Paton 33 L.Dunstan 7 D.Kent 25
Emerg: J.Bytel 23 D.Joyce 39 R.Byrnes 31 D.Langlands 46
Max King (FWD, $170,000)
Scored 40 from 7d, 4m and 1g. Basically played a full game inside F50 as expected (82%TOG). No one should be expecting big scores from a 19-year-old key forward, but if you didn't already make sure he was only on your bench, this reinforces it. The takeaway here though is that he's in the Saints' plans and he'll be good to go for round one.
Hunter Clark (DEF, $574,000)
Calvin copped it from some in his team reveal today for including Clark. While his 69 point return doesn't scream pick me, he looked so good in his role off half-back. Clark used his dash and moved the ball (and himself) up the field as outlined by his metres gained – Freako tweeted at HT to say this was 352 (a game high at that point). Finished with 22d (16k, 6hb) and 1g. Still worth considering, but will there be enough improvement on his 77? A certain draft sleeper.
Rowan Marshall (RUC, $736,000)
Ahh… yes, he's sharing ruck duties with Ryder, but the guy is a bloody gun. He kicked 2g and finished with 92 points. Marshall spent a lot more time as the main main than his co-rucks (Ryder and Abbott), but it's fairly clear there will be a split. Won't be 50/50, but enough to write him off an an 'improver' in Classic and too much risk for me to be wanting to target him in Draft anywhere near what his ADP will end up being because of his 2019 average of 99 sitting next to his name on draft boards.
Other notes
The forwards are hard to pick, especially in Draft but Jade Gresham (MID/FWD, $619,000) had 18 CBAs from just 59%TOG. He scored 65… he'll be high-80s at a minimum if he's rolling through the middle like he did tonight. Luke Dunstan (MID, $637,000) scored 88 from just 64%TOG as he rotated through the midfield and forward. Seb Ross (MID, $700,000) was another with a positive points per time on ground (65 from 63%TOG).
Jack Billings (MID, $731,000) played his typical outside game roaming the wing and getting behind the ball. He was able to do what he wanted with 10m, 27d and 106 (85%TOG).
Need to mention Tim Membrey (FWD, $532,000) and his 138 here. Looked dominant, clunking marks everywhere and having a pre-season day out (thanks Frosty). Took 12 marks and kicked four goals. Don't pick him.
Jack Steele (MID, $712,000) showed why he could improve his numbers and be a 100+ player this year. 25 CBAs and scored 86 from 78%TOG. Good one to consider in draft if he's not doing jobs. Ratten has already said that he would be free from tagging duties.
Don't hold your breath on Jack Bytel (MID, $170,000) being in the round one team. With my old mate Hannebery coming in and a few other bodies ahead of him, the 24% owned bench option may not be worth having in your side. On the otherhand, don't stress about Dylan Roberton (DEF, $327,000) and his corked knee. He'll play in the practice match next Friday and the second Marsh game.
St Kilda @AFLFantasy Grades:
Marshall #️⃣1️⃣?, ?
Ryder ?⬆️?
Clark ? ,?
Steele ?
Ross ?, ?
Billings ?, ?
Gresham ?, ?
Dunstan ?, ?, ⏱
King ✅?
Long ?, ??‍♂️
Hill ?
Battle ?, ?
Membrey ?, ⚡️?
Savage ⏱, ?‍♂️

— Tbetta (@Tbetta9) February 20, 2020

Team as named
B: B.Stratton – C 24 J.Frawley 12 D.Greaves 44
HB: S.Frost 8 B.McEvoy 7 H.Morrison 1
C: I.Smith 16 L.Shiels 26 R.Henderson 31
HF: O.Hanrahan 41 M.Lewis 2 T.O'Brien 23
F: L.Breust 22 J.Patton 25 P.Puopolo 28
Foll: J.Ceglar 18 J.O'Meara 10 J.Worpel 5
I/C: C.Jiath 29 C.Wingard 20 M.Walker 33 T.Mitchell 3 J.Cousins 46 D.Minchington 38 B.Hardwick 15 T.Scully 21
Emerg: M.Hartley 27 C.Glass 13 C.Nash 11 H.Jones 40
Tom Mitchell (MID, $671,000)
Biggest no-brainer of the year? I'm not sure what else we could have seen to throw away that key on the fifth most selected player. On that, why isn't he at two? Surely he and Pickett are the two easiest picks of the year? Oh, throw in Docherty as well. Anyway – getting back to what he did… Titch had a couple of tackles really early, like in a few seconds, and had no trouble finding the pill to have 21d (6k, 16hb) and 5t for 72 points from just 61%TOG (he wasn't sighted in the last quarter).
Jonathon Patton (RUC/FWD, $366,000)
What a fine specimen of a human. 'Sources' was right! I've been keen on Patton since his more to the Hawks, mainly for his DPP and how that could be used as a security blanket if I was to start with Sam Jacobs. Priced at under 50, he's got about 20 points upside which would make him a great pick in a position (forwards for me) that we can go with some of these mid-priced options. Finished with 71 from 79%TOG. Looked strong taking 6m and booting 3g. Played as a deep forward mostly, but he did head up the ground a bit to present and also chopped out in the ruck in some occasions. Not a lockable performance, but a good MARSH3 game could see him as an option, albeit risky.
Chad Wingard (MID/FWD, $582,000)
Roy was hot on Wingard and his role tonight. He attended 18 centre bounces, the second most for the Hawks (Mitchell had 20)… which was a massive effort considering he played just 51%TOG. Wingard's 53 came from his 15d and 3m. The Hawks' midfield looked pretty well what they'll be rolling with even if most of them played a lot less game time than they normally, but the mid clock looks like it will be a real thing after finishing last season with extended minutes through the middle.
Other notes
That backline role that has been talked up for Ben McEvoy (RUC, $618,000) was happening but a corked thigh ended his night super early. Jonathon Ceglar (RUC/FWD, $562,000) is  could be a great late ruck pick that should slide to being a bench pick. Numbers tonight didn't move him up the ranks, but he's their No.1 guy.
James Worpel (MID, $718) is still a gun along with other usual suspects in the midfield. Tom Scully (MID, $490,000) was looking good early playing a scabby outside role. Worth a shot on your Draft bench.
Hawthorn @AFLFantasy Grades:
Mitchell ✅?, ?
Worpel ?
O'Meara ?, ?
Wingard ⏱, ?
Cousins ?
McEvoy ?
Ceglar #️⃣1️⃣?, ?
Patton ?, ?
Frost ?, ?
I. Smith ?
Henderson ?
O'Brien ?⬆️?
Scully ?‍?

— Tbetta (@Tbetta9) February 20, 2020