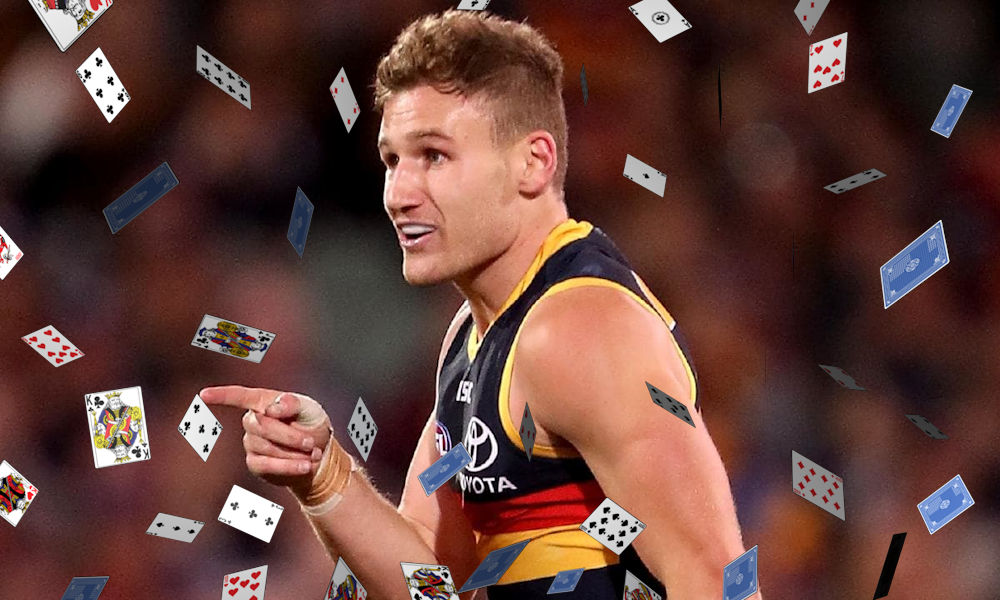 Name: Rory Laird
Team: Adelaide Crows
Position: DEF
Price: $719,000
Bye round: 14
2019 average: 96.9
2019 games played: 22
Predicted Average: 105
Draft Range: 10-20
Click here for 2020 Fantasy prices.
Why should I pick him?
Rory Laird is the very definition of an AFL Fantasy defence stalwart.  From 2017 to 2019, he has been the go-to player for many fantasy coaches in defence.  Let's have a look at his stats (see below). His fantasy average over the last 3 years (100,108 & 97) has kept him in the top 4 echelon of defenders. It was in 2018, that he claimed the top defender mantle which meant that at the start of the 2019 season, he was the most expensive defender ($778K).  This year, Laird is priced at $719K, behind Lloyd ($795K), Houli ($766K) and Crisp ($725K). Hence Laird comes this year with a notable discount compared to 2018.  Coaches that have followed Laird's fantasy form in the last 3 years will note a bargain. Pick me up!
Laird's endurance to play complete seasons has been consistent (22,20 &22).  Fantasy coaches can never predict injuries, but Laird's fitness record in the last three years always makes him the ideal candidate for a set and forget defender.  However, playing alone doesn't get you to that set and forget role.  Coaches will look for a consistent player.  Even after a somewhat "down" season for Laird, his fantasy score averages have been very consistent. Out of the 64 home and away games that he has played from 2017 (see picture below), only 18 games of 64 are lower than 90 points (28%), and only 10 (16%) of those games are lower than 80 fantasy points.
At the other end of the spectrum, Laird's fantasy scoring ceiling is another reason to consider him as your go-to DEF premium. He can certainly find the pill when he is on song.  His highest ever home and away fantasy score is 142 (2017), and he has hit that magical 110+ scores 36% of the time, over the last 3 years. In 2017 and 2018 he scored 110+ in 41% and 50% of total games played. It is important to note that he could only manage to repeat this feat in 18% games played last year.  Is Laird a "fallen" premium? Is he cheaper for a reason?  Laird is a quality player, and like all quality players, he is capable of bouncing back from his 'anomalous' form last year.
If coaches need further convincing to pick Laird as their premium defender, his first 10 games are against, Sydney, Port Adelaide, Brisbane, Richmond, Essendon, St Kilda, Gold Coast, Fremantle, Melbourne, and Carlton. History and statistical records in the last 3 years predicts that 44% of the time, Laird will score 100+ against these opponents.
Why shouldn't I pick him?
Which Rory Laird will turn up next year? Will coaches be happy with a premium defender averaging 97 plus?  In order to answer that question, we need to know how Rory Laird scores his fantasy points.  Let's go deep dive into his stats.   Last year, his average fantasy points were 97, that's lower than his 2017 (100) average and much lower than his 2018 average (108).  There was much discussion last year about the 6-6-6 rule. Many coaches were worried about how this will impact fantasy players.  Looking at the records alone for last year, there is obviously some merit for concerns about Laird. Laird's overall total possessions in 2017 and 2018 were above 30, last year, this dipped to 28.  Although his mark counts last year were lower than his 2018 average, the most telling statistic is his average goals.  'Why?' You ask? Stick to the top 100 @Ricontop!  Whether it be the Adelaide game plan, the new 6-6-6 rule, tagging, or maybe fitness, Rory Laird's score involvement last year was a measly 1 behind (0.1 Goals) against port Adelaide in Round 8 (see below).  Astute coaches will pick Laird in their team not because he is a goal kicking defender but because of his ability to accumulate possessions.  If he kicks goals, that's a bonus! The Laird that played in 2018 was a genuine ball magnet! Laird scoring only one behind for a whole season was a symptom and not the cause. Coaches that have seen him play know that Rory Laird's strength is that he can push up the ground and run from defence to attack. In doing so Laird gets that extra mark, and hardball/kick. Will it be different this year? Will the new coach push for the 2018 Laird?
Brodie Smith, Wayne Milera and Bryce Gibbs are all names that can take the pill away from Laird. Out of these players, Brodie Smith is again the most likely candidate to push up the ground (see stats below). A fit Smith will continue to affect Laird's score.  The Smith to Laird effect can be likened to the Birchall to Sicily issue last year.  Rory Laird's fantasy output will always be up there, even with a down season last year, he still managed to average 97 fantasy points. However, will this average be enough for 2020?
Rory Laird (DEF, $719k) dropped his average by 11 points last season. Would you pick him over the most expensive defender in Jake Lloyd?https://t.co/9iDAxEoDVE#AFLFantasy pic.twitter.com/QGbtx0fjBq

— AFL Fantasy (@AFLFantasy) January 2, 2020
Deck of DT Rating.
KING 
The Rory Laird of 2018 was a ball magnet, he was in the backline, the midfield and pushing up forward.  He is a proven scorer from defence and he offers consistency, a high ceiling and durability. If you are considering a defender that you can set and forget, it will be hard going past Laird.  He has been in the Vanilla defender for the top 100 #AFLFantasy coaches, and I can't see this changing this year. Can he replicate this in 2020?  Team structure, injury and the new coach will determine that this year. I have very little doubt in my mind that he will score upward from 105 this year.
FOLLOW US  ON TWITTER: @ricontop for all things AFL Fantasy (and more). Got something to say about the deck? Use the hashtag… #DeckofDT.