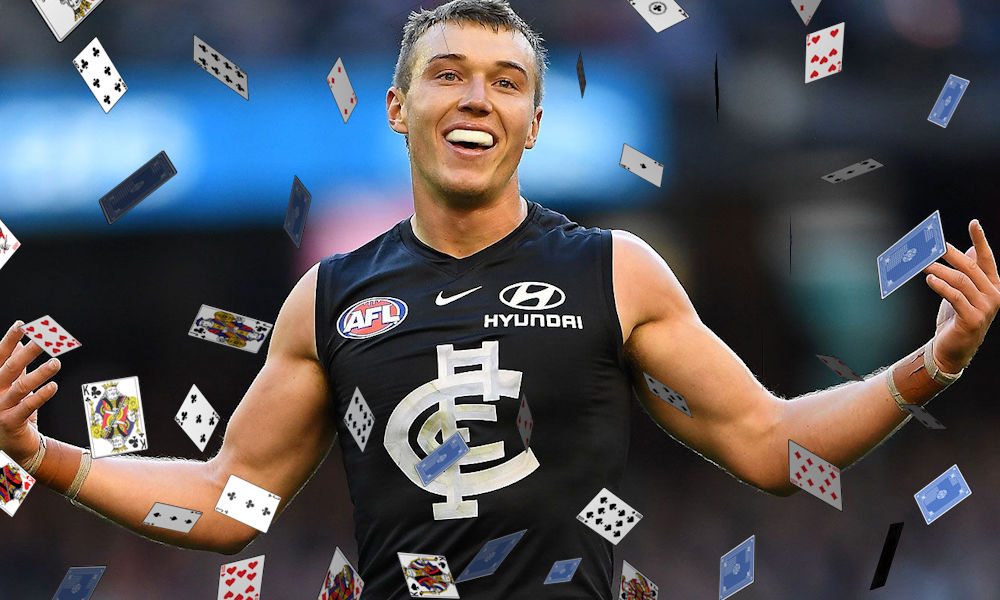 Name: Patrick Cripps
Team: Carlton
Position: Midfielder
Price: $753,000
Bye round: Round 13
2019 average: 101.5
2019 games played: 20
Predicted Average: 112.5
Draft range: Late 1st round – early 2nd round
Click here for 2020 Fantasy prices.
Why should I pick him?
Carlton captain Patrick Cripps is an elite midfielder of the competition, with room to improve on his 2019 fantasy average of 101.5. Given the fact we've seen the bluebagger produce a season just shy of 110 in 2018, it's certainly within the realm of possibilities that in 2020 we could see Cripps finally crack the 110 mark. It's remarkable to believe that Cripps is only 24 heading into the new season, with such high expectations on the young midfielder reflecting the genuine superstar of the game he has become. Over the preseason, Cripps has returned looking notably leaner and fitter, whilst also avoiding any hiccups or interruptions to this point in time. This should see him either slightly increasing upon his 90% average time on ground from last year, or maintaining his previous TOG percentages but with a bump in his points per minute stats.
The Blues midfield is shaping nicely, with the meteoric development of 2019 rising star Sam Walsh and the experienced duo of Marc Murphy and Ed Curnow being released back onto the ball under coach David Teague. More support in the guts is fantastic for Cripps, potentially freeing him up to collect more touches outside of the contest, as opposed of consistently having the be the one at the bottom of packs extracting the Sherrin. The draw of Cripps collecting extra uncontested possessions outside of the contest to add further polish to his exceptional inside work is simply salivating. Coaches are accustomed to the grunt work and subsequent monster contested possession tallies thrown up week in, week out by Cripps. This season presents as one where his scoring can be complemented with a stronger core of fellow midfielders who can help carry the hard contested workload, whilst flicking him out the footy for additional uncontested touches and a handy boost to his fantasy scoring output.
Watching Patrick Cripps play footy is a thing of beauty, as the 195cm modern prototype midfielder can do it all. He wins his own footy, can go forward and kick a bag, takes a strong overhead mark and loves a tackle. Seeing Cripps tick off each scoring category is wonderful, knowing that he can generate a strong score from all aspects of the game. This ability to spread his scoring across all columns was illustrated in a swashbuckling performance in round 12 where he led the Blues to an upset victory against Brisbane after trailing at one stage by six goals. In his match-winning performance, Cripps racked up a piggish 38 touches, seven marks, four goals and eight clearances for 151 fantasy points, polling three Brownlow votes in the process. A player who can build a score from all areas is heavily appreciated, knowing that they're never far away from the action and that they can build a huge total when everything comes together in the same fixture.
Why shouldn't I pick him?
In 2019, Patrick Cripps showed coaches that he is still susceptible to a tag from the opposition. Notably, in round nine he got absolutely de Boer'd for an underwhelming 45. Yikes. Unfortunately, it wasn't the only time in 2019 that we saw the blues skipper cop heavy attention from opposition taggers and score accordingly. He also dished up a putrid 55 against the suns when many coaches were expecting him to go ballistic and post a captain worthy score. These are the types of frustrating scores that can destROY weekends for fantasy coaches, especially those entrusting Cripps with the added responsibility of the (C).
Cripps played through a heap of niggles last season, always appearing strapped and bandaged like an under 16's player who's just discovered leukotape. This was a source of constant concern, with owners fearful of what impact his niggles would have on his matchday performance in any given week. Even though he'd manage to play through his array of ailments and tweaks over the course of the season, it was a frustrating sight for owners wondering when would he eventually get his body right and string together a group of consistent, niggle free performances. Unfortunately this hope never truly came to fruition in 2019, even after missing rounds 14 – 16. Whilst his ability to play through when struggling can be perceived as a potential point of positivity, his inability to have his body cherry ripe for a 22 game season is cause for concern.
Is there upside for Patrick Cripps in 2020?@RoyDT believes he is underpriced while @CalvinDT and @WarnieDT have some questions.https://t.co/ezorxQM9Fv#AFLFantasy pic.twitter.com/VEPeo8q7eU

— AFL Fantasy (@AFLFantasy) December 22, 2019
Deck of DT Rating.
KING
A true king in the 2020 Deck of DT rankings, Patrick Cripps presents as a premium midfielder with upside. Priced at eight points below his career-best fantasy season, a leaner, fitter Cripps appears ready to take his game to new heights this season. Aided by a stronger midfield unit and the predicted ladder rise about to be embarked upon by the old navy blues, many fantasy coaches are rightfully bullish that this year will be a new career-best for Carlton's captain Cripps. The West Australian has had a brilliant preseason to date and certainly deserves a spot in your initial midfield heading into the all-important Marsh Series.
FOLLOW US  ON TWITTER: @DTTALK for all thing AFL Fantasy (and more). Got something to say about the deck? Use the hashtag… #DeckofDT.