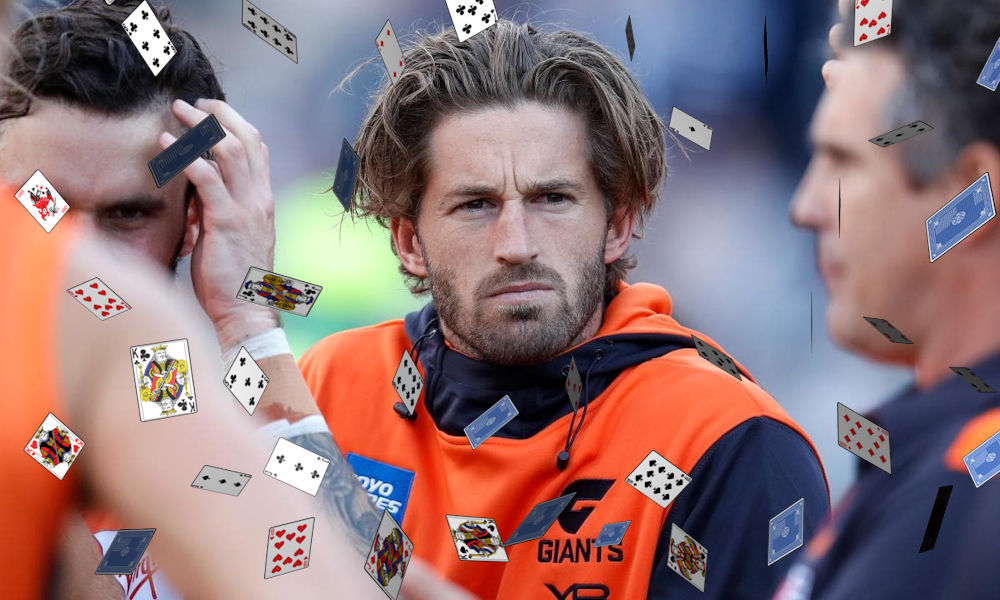 Name: Callan Ward
Team: Greater Western Sydney Giants
Position: MID
Price: $539,000
Bye round: 14
2019 average: 3
2019 games played: 1
Predicted average: 85-95
Draft range: Round 5-7
Click here for 2020 Fantasy prices.
Don't forget to check out the SBF Cash Cows Watchlist!
Why should I pick him?
Since arriving at GWS in 2012, Callan Ward has been a picture of consistency. The rugged inside midfielder played 149 of a possible 154 games in his first seven seasons as a Giant, averaging 96.7 fantasy points in that time and cementing himself as an important cog in the Giants' midfield. That was until he did his ACL.
Season 2020 was a non-event for Ward, rupturing his ACL just one kick into the year, leaving him to watch on from the sidelines as his teammates qualified for the first Grand Final in club history. Due to his injury, the former skipper enters this fantasy season at a discounted rate, priced at just 72.7, well below his career average of 89.3 from his 204 AFL games. There's no reason why Ward can't recapture his dependable form in the new season, especially if he is healthy and can give the Giants another ball-winning beast in a midfield where they're spoilt for choice.
Last season in Ward's absence we saw Tim Taranto become a true star of the fantasy world, boosting his scoring average by over 20 points and becoming a season altering selection. With Taranto's emergence, Ward's role as an inside midfielder could come under some scrutiny and alter his scoring ceiling. However, given Ward's strengths as a footballer, I can't see the Giants deploying him as anything other than an inside contested ball winner more often than not.
There are a lot of mouths to feed in GWS' engine room, but I expect Ward to be one of them and return to his 90+ average in no time. His lack of an enormous scoring ceiling might make him a more intriguing pick in Draft over Classic, but someone who is underpriced by 10-15 points is bound to garner plenty of attention from fantasy coaches. For that reason, Ward resides in over 20% of teams right now and if we see him chewing up heavy mid minutes throughout the Marsh Series, that number could keep growing.
Why shouldn't I pick him?
While an average in the 90's is well within striking distance for a healthy Callan Ward, I can't see him going much larger than that. Having posted just one fantasy season with a triple-figure average (barely – 100.4 average in 2015), there will come a time most likely before the bye rounds where Ward's price reaches its peak. Of course, I could be wrong and a rejuvenated Ward might prove me wrong, but I can't see that happening 13 years into his career.
Scoring output aside, there is the obvious injury risk associated with Ward after his knee ailments in 2019. As I mentioned before, he had been ultra-consistent and dependable before last year, however, his long term injury wasn't the only concern last year – missing the first three games of the season due to an LCL sprain he suffered in March. Did that contribute to Ward going down with an ACL tear? Maybe. Either way, seeing his name associated with multiple issues in the later part of his career isn't great news.
Of course, there's then the issue of Ward's role, which could fluctuate depending on everyone else's health. In the trenches and playing heavy midfield minutes is where he's excelled in the past and where I expect the Giants to use him, but there's no certainty that will be the case. Ward may be pushed into a similar spot Stephen Coniglio found himself in last year, splitting time between the middle and the forward line, where I can't see the Giants veteran having the same fantasy impact as Cogs did at times a season ago.
Cal Ward (MID, $539k) is a steal according to @CalvinDT. The Traders discuss his Fantasy value on the latest episode of the podcast.

Listen in full… ? https://t.co/iCqT7zYiB0#AFLFantasy pic.twitter.com/a8aMT9c2qe

— AFL Fantasy (@AFLFantasy) January 20, 2020
It's an understatement to say that GWS has a lot of talent in their midfield group, with their on-ball brigade right up there with the best in the entire AFL. Superstars of the competition like Josh Kelly, Stephen Coniglio, Lachie Whitfield and now Tim Taranto are ably supported by the likes of Jacob Hopper and Tom Sheridan. Their depth doesn't end there with young guns Tom Green, Jackson Hately, Nicholas Shipley and Jye Caldwell all out to dethrone some of the bigger names and carve out a regular role in the team, only further increasing the scrutiny on Ward's job security.
Deck of DT Rating.
QUEEN
In seven seasons as a GWS player, Ward hasn't averaged under 90 and while I think he'll return to those type of numbers, there are warranted injury/role concerns associated with the veteran mid. He's bounced in and out of my team throughout the preseason and I expect him to do the same for the majority of coaches until lockout strikes in Round 1. There is certainly merit in starting with Ward, but his lack of an elite ceiling makes it tough to justify picking him in a valuable midfield slot. Keep a close eye on his role over the Marsh Series and the health of the rest of the GWS players before you make up your mind.
Loading ...
FOLLOW ME ON TWITTER: @SportsbyFry for all things AFL Fantasy (and more). Got something to say about the deck? Use the hashtag… #DeckofDT.