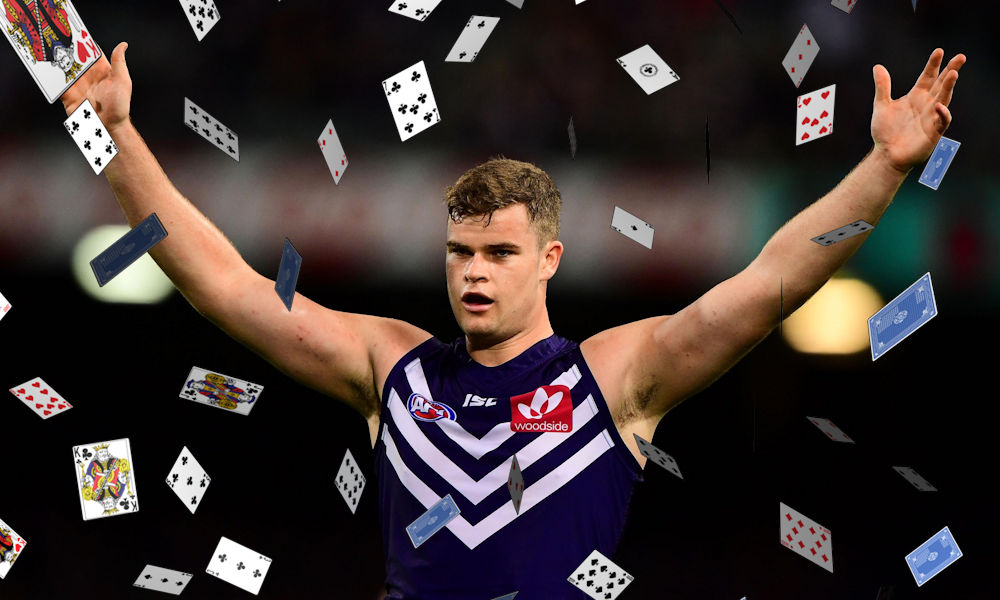 Name: Sean Darcy
Team: Fremantle
Position: Ruck
Price: $511,000
Bye round: 13
2019 average: 69
2019 games played: 11
Predicted average: 80
Draft range: Sneaky late ruck
Click here for 2020 Fantasy prices.
Why should I pick him?
1 – He is cheaper than Sam Jacobs
Darcy is priced at $511,000 and an average of 69. Many coaches are just locking in Jacobs without much thought, but maybe it's time to think again. Darcy is 21-years of age, and when the seasons starts, Jacobs will be 32 years old, and 2cm shorter. He also doesn't have a guy like Mumford looking over his shoulder, in fact, he has no one.
2 – He's unique
Sam Jacobs is owned by 22% of the playing public at the moment and even Nic Nat is at 15%, Darcy on the other hand sits at just 2%. This is amazing and if you are looking for something slightly left-field, then big Darcy could be the answer.
3 – Darcy can play and score
Darcy averaged 84 in his debut season. He played just 11-games last year but finished the season strongly with scores of 92 and 80.
4 – He's Fremantle's No.1 ruck
The No. 1 ruck role is his. Lobb came to the club to play as a forward but had to hit up in the ruck last year due to injuries to both Sandilands and Darcy. Darcy said recently, "I think (Lobb) will play a little bit more forward, so it might be 60-40, 70-30 (in terms of how much rucking I do)." Whilst Lobb himself backed him up saying.. "I came to the club to play as a forward." That's exactly what I just said. BINGO!
5 – He's fit
The thing is, Darcy is flying. Please remember this article over the Marsh Community Series. If Darcy plays (he should) and starts to score well, just watch his ownership grow. At the end of last year, Lobb stated "He's (Darcy) been destroying me in the ruck in the pre-season," Lobb told AFL.com.au. "He's definitely hard to move around in the contest and the hitouts. Once he gets around the ground a bit more, I'm sure he'll make his mark on the competition."
I know I'm really pleading a case here based on many many factors, but if he is fit… he must be considered.
Why shouldn't I pick him?
The obvious reason… he's always injured.
Since debuting, Darcy has played in just 39% of games. Yes, Sandilands was playing there too but Darcy is always broken. Which is a bloody shame because he burst onto the scene in 2017 with his 8-games and surprised everyone.
Having a player in your team at this price can be very risky. Imagine if he break down again. What would you do with a guy at this price? You're not dropping him to a rookie, which means you'll need to find a truck load of coin to make him someone with while.
I've also heard Lloyd Meek's name thrown up there as a possible 'assistant' and fall back guy to Darcy. Although he's a rookie and very unlikely to be used, I guess he could be used if Darcy did fall. Meaning maybe… he could be a bench option if you decided to roll with Darcy.
Deck of DT Rating.
JACK
Taking a gamble on a guy like this in all formats is very risky and not a move I am saying to take right now in the pre-season. BUT… what I am saying here is this, monitor this man. He's 21-years-old and Freo's No. 1 man in the ruck department. He's cheaper and he'll be 11 years younger than Jacobs when the season kicks off.
If he's is fit and playing well in the Marsh Series, and the Sauce isn't tasting as good as you hoped, then he is a legit option to help you to your bye rounds.
FOLLOW US  ON TWITTER: @DTTALK for all thing AFL Fantasy (and more). Got something to say about the deck? Use the hashtag… #DeckofDT.
Loading ...