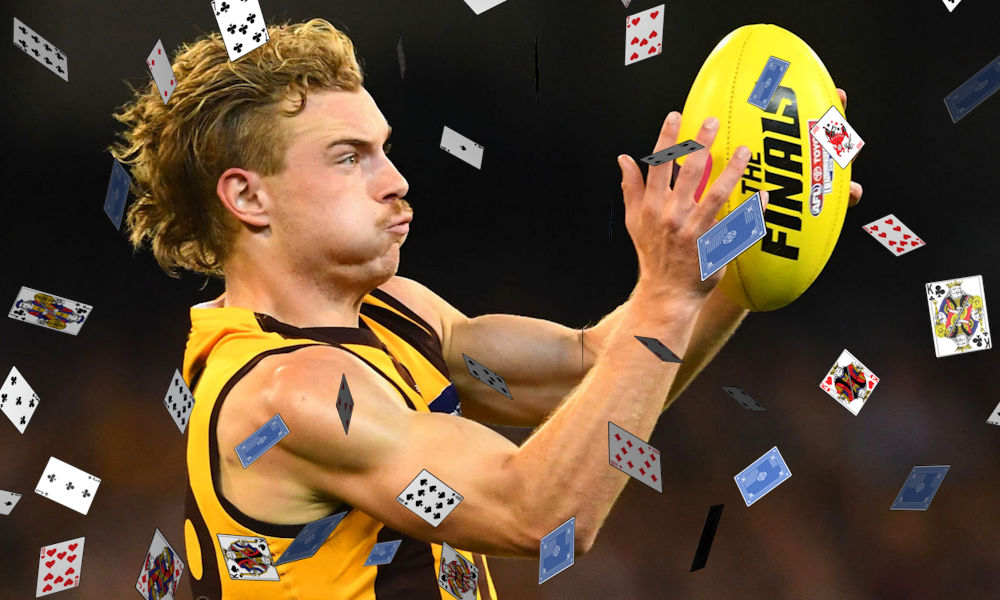 Name: James Worpel
Team: Hawthorn
Position: Midfielder
Price: $718,000
Bye round: 14
2019 average: 96.7
2019 games played: 22
Predicted average: 107
Draft range: Rounds 6-8
Click here for 2020 Fantasy prices.
Why should I pick him?
I haven't seen a single team with James Worpel selected yet, he currently sits in just 2% of squads. So why should you take a gamble on this midfield POD? My question to you is, why not?
We often write off young players after a breakout season, forgetting that they still have room for growth. Remember Tim Taranto? Last season he became the poster boy for selecting a midfield breakout, and I can see plenty of similarities in Worpel.
In the first half of 2019 Worpel was solid, averaging 90 with three tons. Considering it was just his second year in the system and his first year in the middle, his performances were solid. Then something clicked. I don't know what Worpel did over the break, but he returned in Round 13 a different player. I'm sure I wasn't the only person who upgraded him during his bye.
Over his final 11 games the Worpedo averaged 103. He reached triple figures seven times. Before the bye his PB fantasy score was 107 and best disposal count was 27. He had 30+ disposals 6 times in the back half, that's better than a 50% strike rate. He passed 110 on FIVE occasions, including scores of 126, 117 and 134 in Rounds 20-22. They are the three best scores he has managed in his career. His clearance count went from 4.8 per game pre-bye to a whopping 8.1 clearances per game in the back half.
I think I've made my point. Worpel had already transitioned into an uber premium midfielder by the end of 2019. Don't let his 96 average deceive you, he was a bonafide premium and 105+ mid come seasons end. The scariest thing is that he's only just turned 21, and by all reports he has returned this season in even better shape.
Sam Mitchell has given his pre-season work a big pump up, and he hit the nail on the head when it comes to Tom Mitchell. "Who's not going to be better for having Tom Mitchell playing around him?" There seems to be a concern that Mitchell will take away from Worpel's role, but I don't think that could be further from the truth. Worpel is a pure midfielder and he'll be lining up at the first centre bounce come round 1. Mitchell will only feed him more possessions! Take one look at Dunkley and Macrae, gun midfielders can thrive together.
With a third full pre-season under his belt he is as fit and as strong as he has ever been. It's interesting to note that he averaged 78% TOG from Round 1-17, before averaging 83% TOG for the remainder of the season. That may not seem like a big deal, but if an extra 5% on the ground leads to roughly 5% on top of his scores, that's a factor in taking his average beyond 100.
The sky is the limit for Worps, and there's no reason he can't replicate numbers similar to those that Taranto produced last season. I think it's almost a guarantee he averages triple figures, and the foundations are there for James Worpel to become an uber premium in 2020.
Why shouldn't I pick him?
This is where I'm really struggling. Basically, because you can't fit him in. $718,000 is an awkward price. There's not a huge amount of value there, so you'd need Worpel to take that next step and average 105+ for it to be a worthy selection. When you consider that someone like Coniglio is available for just an extra $50k, the pressure to perform will be on from round 1.
That's it.
Deck of DT Rating.
KING – This is a bold call, but I'm not here to sit on the fence. I honestly believe Worpel averages closer to 110 this season, he is an absolute ball magnet. He tackles, he won't get tagged, he's young, and his fantasy arrow is pointing straight up. Sure there may be the odd dud, but I think it will be worth it in the long run.
It may come down to your team structure, he's in and out for me. One good pre-season performance is all I need to see. You've got to make some big calls to win it, and Worpel is one of mine. All aboard the Worpedo express…
FOLLOW US  ON TWITTER: @DTTALK for all thing AFL Fantasy (and more). Got something to say about the deck? Use the hashtag… #DeckofDT.