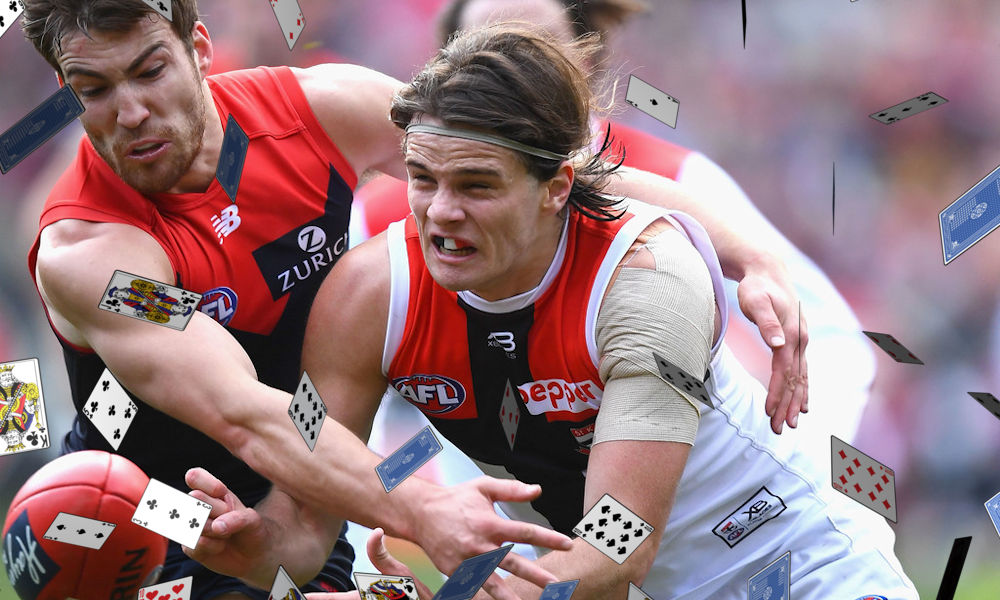 Name: Hunter Clark
Team: St Kilda
Position: Defender
Price: $574,000
Bye round: 12
2019 average: 77.4
2019 games played: 14
Predicted average: 90
Draft range: Take a stab as your 3rd defender
Click here for 2020 Fantasy prices.
Why should I pick him?
Hunter Clark is positively primed for a 3rd year breakout. Last year in his second season we saw a story of 2 halves. The first half took place pre-bye with Clark only managing to play 3 senior games, averaging 50 points per game before getting dropped to the VFL to try find some form. At the time it was mentioned he needed to find confidence in his ability. This seemed to work for Clark as evidenced by his efficient vs inefficient kicking ratio shifting into the positive, earning his chance back at senior level after the bye.
Post-bye Clark found his confidence and not only improved his form but was able to do it consistently. From round 14 – 23 Clark's scores were 71, 91, 78, 119, 105, 88, 84, 99, 73 and 71. This equals an average score of 87.9 points per game.
It is also worth noting that Ratten took over from Richardson as Saint Kilda's coach in round 18, right in between Clark's 119 and 105. Clark not only continued under Ratten splitting his time across half back and in the midfield but was able to maintain his scoring average during that time.
I have no doubt that with another preseason under his belt, if allowed to continue his role, Clark could be a 90 average defender which means he's currently close to $100k underpriced!
Another reason to consider Clark is that at the time of writing this he is siting at 4% ownership, making him a decent POD option in your defence. When compared to another breakout candidate in defence, I honestly think Clark not only stacks up, but is the better option. Currently 22% of the competition are paying $20k more for Dan Houston. When comparing their last 10 games as seen above, Clark's lowest scores were still over 70. Houston's last 10 scores include two in the 50's and one 48. Just something to consider…
Why shouldn't I pick him?
While usually a new coach is a reason to be weary of picking a player, we may have enough evidence to suggest Clark will play a similar role under Ratten considering we had 6 games with Ratten coaching. What we don't know however is how the changeover in personal could impact Clarks role.
In the off season St Kilda were one of the big players during the trade period. With Clark's role being split between midfield and defence we could see it as a positive that Armitage, Steven, Acres and Newnes have all left. However Brad Hill and Zac Jones were bother recruited to play midfield and we'd assume Hannebry will be best 22 if he's fit. While in defence Webster and Roberton are both best 22 players who missed significant game time last year. Clark should certainly be in St kilda's best 22 but it is his role that this influx of players could negatively impact.
Deck of DT Rating.
QUEEN
This is one of the shortest write ups I've ever given a player but honestly, I'm sold and still surprised Clark's ownership is only 4%!
Jump on with me now and you can tell everyone later you were ahead of the crowd!
FOLLOW US  ON TWITTER: @DTTALK for all thing AFL Fantasy (and more). Got something to say about the deck? Use the hashtag… #DeckofDT.