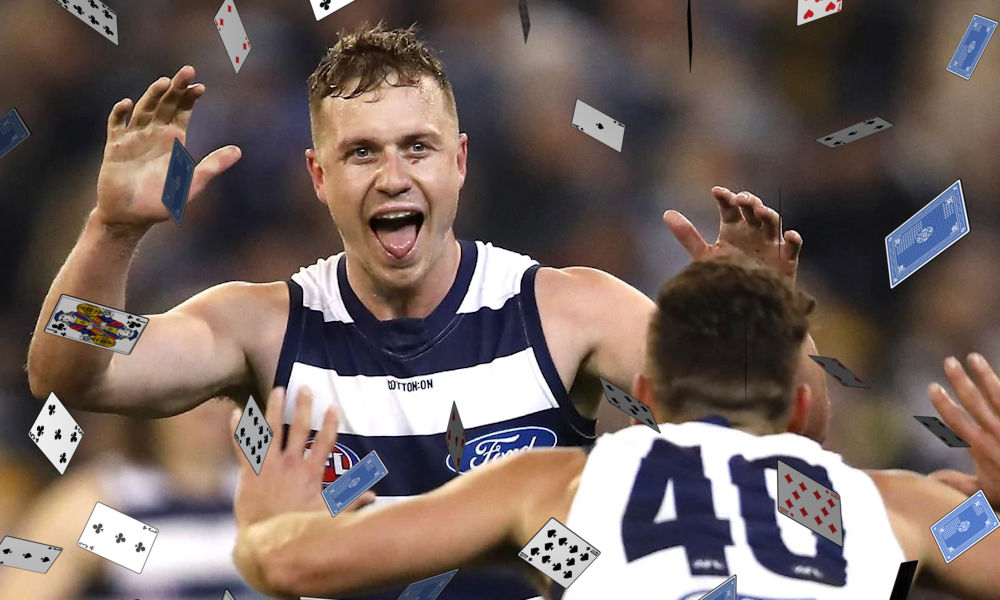 Name: Mitch Duncan
Team: Geelong
Position: MID
Price: $784,000
Bye round: 12
2019 average: 105.6
2019 games played: 22
Predicted average: 107
Draft range: Mid
Click here for 2020 Fantasy prices.
Why should I pick him?
One statistic worth noting with Duncan is – If the Cats win, he scores BIG. His average last year when Geelong won was 110.5. This included . When the Cats lost however, Duncan struggled. He averaged 92.6 points in the 6 losses the Cats had in 2019. His highest score in a loss was 114 points against Port Adelaide in Round 14. There is no question that Duncan can junk. When he gets going he is one of the biggest accumulators in the competition. This is shown by his hefty average in Geelong wins when he is allowed to float back and accumulate multiple +6s.
In the first 12 rounds last year the cats lost only 1 game. Duncan had 10+ marks on 6 occasions and averaged 112 points. After that point Duncan failed to get over 10 marks a single time, the Cats lost 5 and he averaged 90 points. Simply Win=Marks=Duncan junking. Speaking of junk, he reaches high levels. His scores from R6 to R14 last year alone show this with scores of 130, 120, 142, 125, 118, 82, 144, and 116. An 8 round average of 122. If he can do that through a season he would be a top 5 player.
With former fellow Cat Tim Kelly leaving for the Eagles. Does this improve his Midfield chances. Something that showed the last two season is that Duncan got less time in the contest than in 2017 where Duncan had 103 clearances for the season averaging 113 fantasy points. In the years that followed with Kelly in the side that decreased to 71 in 2018 and 52 last season. Tackles were effected too with 108 in 2017, but only 71 and 68 the last two seasons, his fantasy averages dropping to 102 and 106 with that. So the simple question is, with no Kelly, does he get more midfield minutes? Hopefully that is the case.
Finally let me remind you about Duncan's 2017 season, the last season the Cats had no Kelly. He averaged 112 that year. He didn't score below 90 a single time his lowest a 91 in a loss to the Bombers. He went over 110 ten times, scoring a high of 169 on the top of 18 tackles vs the Dogs in the week that followed the Bombers loss. This is a player who can score points. He just needs to be in the right spot to do that.
Why shouldn't I pick him?
At $784,000 he is one of the most expensive players in the game. His form towards the last end of 2019 would not justify the price tag attached to his name. Especially when there are bargains out there like Titch for 100k less.
The question also remains, will Kelly leaving increase his midfield minutes? Or will it just mean Geelong play more youth through the centre, throwing Duncan back into defensive or forward minutes like he was getting in the second half of 2019 when he scores declined. I'm not 100% convinced Kelly going will put a huge impact on Duncan's score improving, as other players like Fogarty getting increased mid minutes hampered him, and players like Dahlhaus are still going to eventually get increased minutes as they settle in the team.
Deck of DT Rating.
JACK
There is no doubt that Duncan is a gun, and that he knows how to find the football and how to accumulate points. Does Kelly leaving put Duncan back into the middle? Who knows. I suppose the bigger question, and more relevant one as Duncan's scores go is how will Geelong perform in 2020? If they play well, Duncan scores well. At his price you could comfortably leave him for the first few games to drop price and use as an upgrade target. But the ability is there to score well, and if he does that, and hits a purple patch like he did in 2017 he could be un-attainable assuming Scott gives him midfield minutes. I'll certainly be watching him in Pre-season to see where he plays.
FOLLOW US  ON TWITTER: @DTTALK for all thing AFL Fantasy (and more). Got something to say about the deck? Use the hashtag… #DeckofDT.