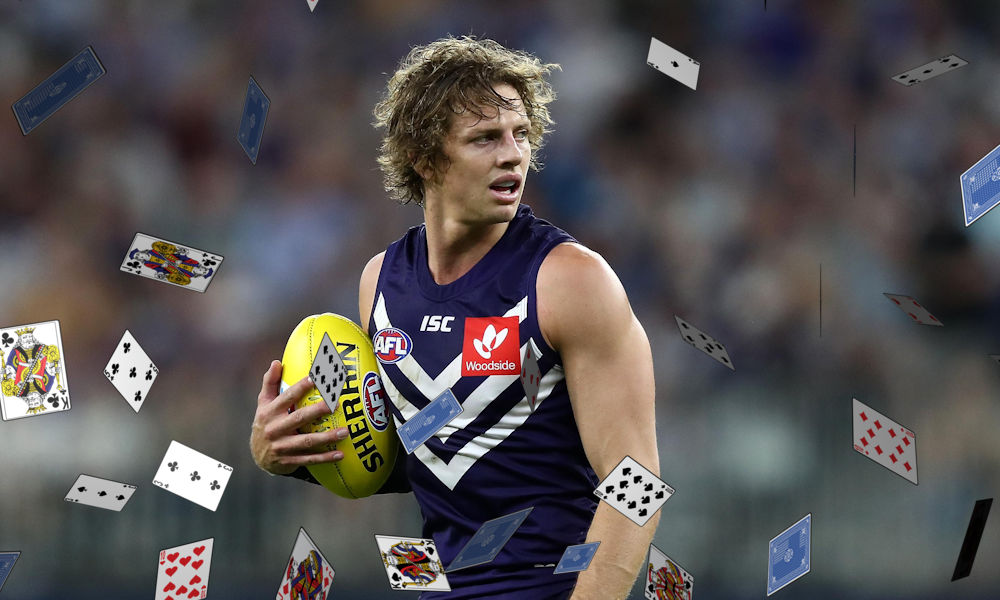 Name: Nat Fyfe
Team: Fremantle
Position: MID
Price: $779,000
Bye round: 13
2019 average: 105.0
2019 games played: 20
Predicted Average: 110
Draft range: Approx. 2nd-3rd round
Click here for 2020 Fantasy prices.
Why should I pick him?
This time last season, we were all wondering whether Fyfe could take his fantasy game to a new level and average 110, or close to it.
Fyfe equalled his highest career average of 105 in 2019 from 20 games but indeed improved his fantasy game despite his humble season average.
In an interview early in the season, Fyfe admitted he had adopted a new game style which lacked X-factor to prevent injury, which has corrupted his career to date. This was evident with his consistency, more accumulative approach, and the fact that he managed 20 games for only the second time since 2011.
Fyfe tallied 14 hundreds in 2019 (70%), including 7 (35%) games over 120, and of the 6 scores below 100, 5 were over 74 and his lowest was just 61. In round 3 vs St Kilda, he was knocked out on 78 early in the 3rd quarter and was benched for the remainder of the game. He doesn't rely on a single stat, averaging 29 touches, 5 marks, 4 tackles and just under a goal a game.
Fyfe's ability to break a tag is invaluable in a phase where almost every team has a tagger, and not many midfielders can consistently break a tag. Some teams don't even bother tagging Fyfe due to his triumphant record against them. Fyfe can go forward and kick goals, highlighted in his dominant 3 goal performance against the Hawks in round 17 after he suffered a minor injury in the first quarter. Not once in 2019 did a tagger breach his fantasy output, which adds a bonus and sense of security when picking him.
While other premium midfielders have clouds over their capability, Fyfe is a know-what-your-getting type player. He has no-one stealing his points, no threat of a tag, and his points can only improve as Fremantle rise up the ladder. On the occasions he goes forward, you know he'll be competitive and kick a goal or 2. He isn't as pricey as some of the other top 8 midfielders, but could easily produce similar if not better numbers. The only possible grey area is the new coach…although Longmuir has proposed their new disposal based game-plan and a clear focus on skills, which can only benefit Fyfe.
Fyfe is now a dual Brownlow medallist and despite only averaging 105 in both of his Brownlow years, there is enough evidence to suggest he can take his fantasy game to another level given he stays fit.
Why shouldn't I pick him?
The most obvious and compelling reason not to pick Fyfe is his lack of durability. Fyfe has never played a full 22 games in the season throughout his whole career, and in 2019, he was rested twice for slight niggles. Due to his history, Fremantle will not hesitate to give him a week off to recover and will act with caution regarding any possible injury. Fyfe's aggressive nature and heavy workload often see him get small injuries or even finds himself reported/suspended, and when picking premium midfielders, you'd hope for a bit of security when you're paying so much.
As Fyfe gets older and new, younger players are coming through, I am expecting him to spend a little bit more time forward as we began to see in 2019. And although he will provide a strong target forward and possibly kick a few goals, his stat accumulation could take a small dent in correlation to time spent forward.
Fyfe has also fallen behind other midfielders due to his ceiling, or lack of. His top score in 2019 was only 133, and although he was ultra-consistent, he isn't an accumulator and is more of an impact player who rarely produces massive fantasy scores. He's not like Tom Mitchell who racks up 50 touches week in week out, which often rules him out of being a captain option and is reflective in his fantasy scoring.
Deck of DT Rating.
KING.
At the end of the day, Fyfe is a dual Brownlow medallist and has been a consistent fantasy performer when out on the park. With clouds looming over many other midfielders, Fyfe could be a safe option who should be a season keeper. I'm not expecting Mitchell-type numbers, but an average of 110+ certainly isn't out of the equation and I do expect him to improve on 2019.
FOLLOW US  ON TWITTER: @DTTALK for all thing AFL Fantasy (and more). Got something to say about the deck? Use the hashtag… #DeckofDT.