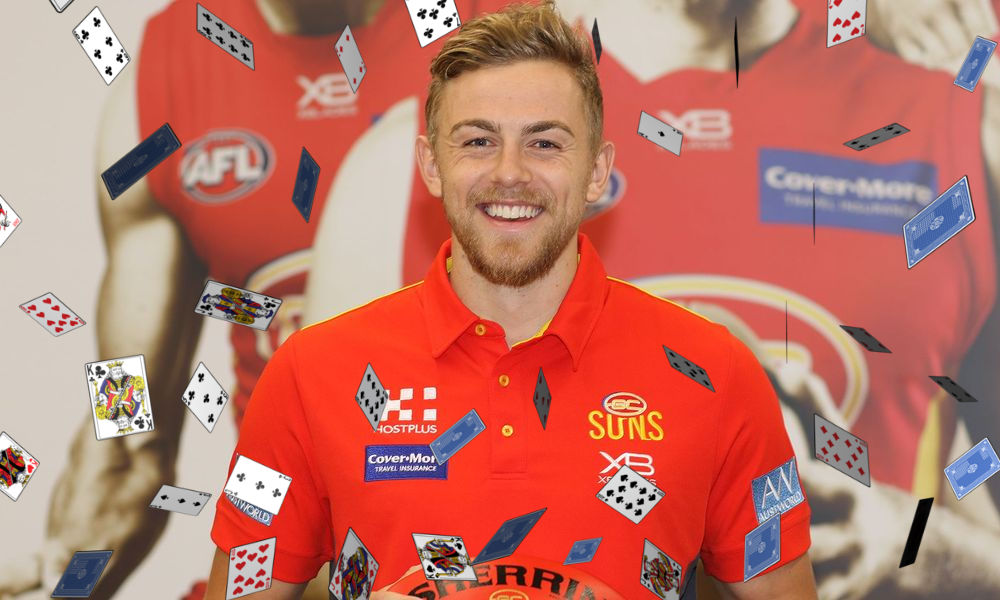 Name: Hugh Greenwood
Team: Gold Coast Suns
Position: Mid/Fwd
Price: $581,000
Bye round: 14
2019 average: 78.3
2019 games played: 14
Predicted average: 85
Draft range: Depends on size of league and players. Mid draft as your third or fourth forward.
Click here for 2020 Fantasy prices.
Why should I pick him?
Opportunity. It was the one thing that he wanted at Adelaide and it was the one thing that he wasn't getting. He has left the Crows where he played just 12 games in 2017, then 22 in 2018 followed by 2019 where he had just 14 but he wasn't injured, he was dropped by then coach Don Pyke. He played from round 5 through to 18 before being dropped only to reappear in round 23. In 2019 his average fell 4 points from his career best in 2018 where he played all 22 games.
While we are talking about opportunity at Adelaide we saw Hugh battling for ball in that midfield with Sloane, M Crouch, B Crouch, Gibbs and Laird/Smith on occasions as well. However, when we take a look at his new home he will be sharing that midfield with Fiorini, Swallow, Brodie, Rowell and Touk Miller. Not quite the same calibre of competition which should see Greenwood lift from last year's average of 17 touches per game. He has a 50:50 kick to handball ratio across his career and if he can continue that and increase his possession numbers then look for him to boost that average well up over 80 this season. I have him pegged for an average of 85 but that could be on the conservative side. I haven't gone higher because there is a lot of uncertainty with that Suns team for 2020.
On the whole though, the Suns haven't brought him up to the Gold Coast to play in the NEAFL. If he is fit he will play all 22 games, no question of this. With him as a permanent midfielder playing all 22 games he is a certainty to lift his average higher than his best ever of 82 and hence provides some great value.
Why shouldn't I pick him?
Gold Coast Suns. Can we actually trust any of their players to score on a regular basis? Generally we are only interested in Gold Coast rookies. If we look at the Suns from last year we saw Witts with a 104, Fiorini with 99 and Touk on 90 average. Apart from Witts you couldn't have any of these other guys in your side. Other GCS  players averaged 87 (Brodie, Swallow and MacPherson) and 85 from Miles. None of these are stand out players so there were really only three players that had an average you could consider. What this tells me is that there aren't too many scores to go around and if Greenwood wants extra ball and extra points he will have to take them by boosting the overall Suns possession count and not by taking them from other players on his team.
The other thing that I look at is the Standard Deviation of a player. This measures the difference between their best and their worst in a season. The lower the number the better. Of those high scoring Suns there is no surprise that Witts had the best standard deviation at 16.68 but when we look at the midfielders they all had a best score over 115 but their lowest scores are in the 40's apart from Fiorini who had a 63 and Swallow with 52. When we look at Greenwood he had a best of 115 and a low of 41, in fact 7 of his scores were under 80 and he had just two scores over 100. Both the wide range of the Suns players and the inconsistent scoring of Greenwood is concerning. I will give Greenwood a bit of a pass though as he was in a tougher side and wasn't in his best position a lot of the time.
Hugh Greenwood (MID/FWD, $581k) could be in the mix as a top forward,https://t.co/quzeGrY43e#AFLFantasy pic.twitter.com/RPne5QanXx

— AFL Fantasy (@AFLFantasy) December 18, 2019
Deck of DT Rating.
JACK
Anytime a player changes club for more opportunity it is a bit of an unknown. Greenwood has shown us in the past that he can score so with him in that midfield as the main man he is well worth a gamble. He is very awkwardly priced unfortunately which will turn a lot of people off of him. He is someone you might want to consider if you desperately need to save some cash to allow you to get a premium elsewhere, but he is not likely to be a keeper and could be a big risk. Having said that no one considered the scoring that Jarryd Lyons produced last year either so he could be a big risk/reward player.
At this stage he isn't in my salary cap plans at the moment but he could be a good pickup in a draft league as a F3 or F4, particularly if he spends the majority of his time in the midfield.
FOLLOW US  ON TWITTER: @DTTALK for all thing AFL Fantasy (and more). Got something to say about the deck? Use the hashtag… #DeckofDT.