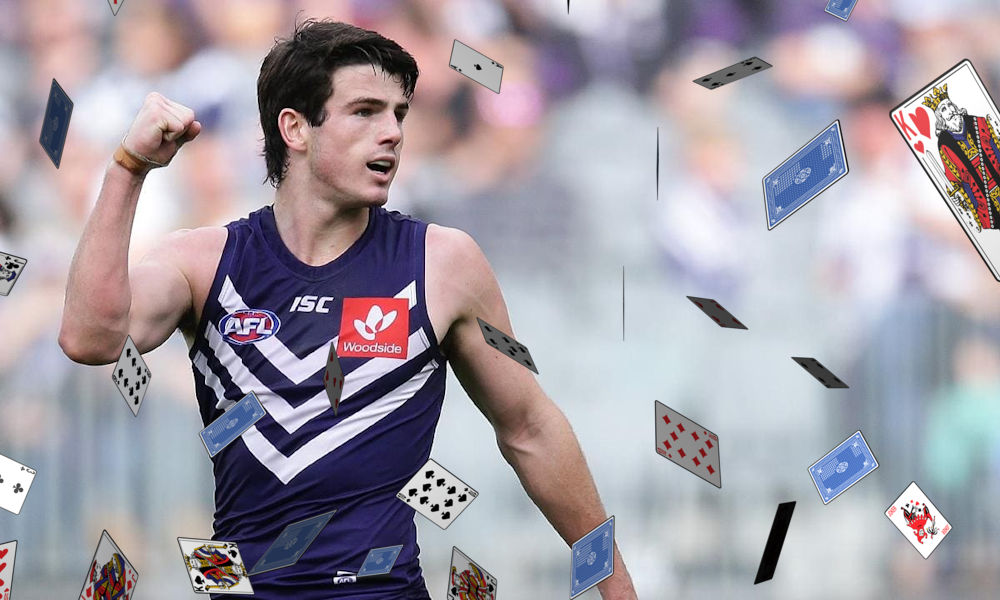 Name: Andrew Brayshaw
Team: Fremantle
Position: MID/FWD
Price: $516,000
Bye round: 13
2019 average: 70.5
2019 games played: 22
Predicted average: 80
Draft range: If he's still on the board when you're drafting your last bench spots, he's worth a speculative pick.
Click here for 2020 Fantasy prices.
Why should I pick him?
If you're picking Brayshaw this year you'd be doing so on the belief that this year is his 3rd year breakout year. In case you're not familiar with that term, the idea is that most midfielders take until their 3rd year to really have an impact. This can be due to a number of reasons but they tend to culminate in a perfect breakout storm. It's their 3rd preseason, they get added midfield time and responsibility, more time on ground, less managed etc etc.
Brayshaw is following this trend and ticking the boxes needed that others before him have ticked off.
First we look at his scoring trend.
2018 saw Brayshaw average 60.5 points per game. 2019 saw Brayshaw average 70.5 points per game. If we were to plot that on a graph his next logical plot line would land on 80.5 for this year.
Of course AFL is more than just numbers but it's just a starting point.
Next we look at Brayshaw's TOG (Time on Ground)
2018 saw Brayshaw play an average of 66% game time. 2019 saw Brayshaw lift to an average of 71% game time. Steadily increasing game time means together with another preseason of building his fitness base could mean Brayshaw will be kept on the ground for longer stints. Other Fremantle midfielders generally average between 80 – 90% TOG which is what you'd expect to see Brayshaw push to if he can cement his role.
History suggests that if given that role we should see Brayshaw increase his scoring by 10 – 15 points per game.
Other factors to consider is whether Brayshaw has shown that ability previously. In his draft year during the TAC cup Brayshaw played primarily as an inside midfielder. He averaged 100+ points per game without being an accumulator. He averaged roughly 24 touches per game but boosts his scores with 7 tackles per game and drifts forward to kick goals.
At AFL level we have seen glimpses of Brayshaw's scoring potential when given added midfield minutes and time on ground. Last year for instance, Fyfe missed the game against against Sydney and Brayshaw reaped the role plus 80% TOG. Brayshaw scored 101 points from 20 touches and 8 tackles.
As a midfielder we possibly wouldn't be considering Brayshaw this year but as a forward he could be worth a shot.
Why shouldn't I pick him?
If you google Andrew Brayshaw and AFL Fantasy you're bound to find a bunch of articles from last year saying '2019 will be Brayshaw's breakout year'. With Fremantle losing Lachie Neale, Brayshaw was seen as the logical replacement on their list for an inside mid. Unfortunately that didn't completely come to pass. Brayshaw was given a little more time but was also still camped on the half forward flank for long stints. So our first concern is that Brayshaw isn't given more midfield time and instead stays spending his majority of time on the forward flank.
The next concern is that Fremantle has a brand new coach talking up a whole new game plan. While we can hope that a more attacking game style means Brayshaw gets more ball if he is trapped forward, the worry is in the unknown. We don't know what Justin Longmuir has planned for Fremantle. Where does he rank Brayshaw in their midfield pecking order? Longmuir has also repeatedly talked up the importance of skills in Fremantle's future. While Brayshaw isn't a terrible decision maker, his disposal efficiency by foot hovers around 65% where as his possible competition in other developing midfielders like Cerra and even Bewley are both consistency over 75% by foot.
Midpricer's are always risky and you'd want to be sure. At $516k there are plenty of Forward options around that mark with similar upside you may want to consider. Bailey Smith for instance is hovering in the forward line at about that price along with Brayshaw's new team mate Acres. At that price point you'd really only have room for one in your forward line and as mentioned, there's a lot more unknown with Brayshaw than with others.
"More midfield time" is what we're hearing for Andrew Brayshaw (MID/FWD, $516k) in 2020.https://t.co/5tL3DitPyq #AFLFantasy pic.twitter.com/Oz1tcZ8TBM

— AFL Fantasy (@AFLFantasy) December 28, 2019
Deck of DT Rating.
JACK
If given that pure inside midfield role, I have no doubt Brayshaw is capable of pushing a 100 average. He'd be a no brainer if that were the case but unfortunately there are too many question marks around him. One thing to consider however is the possibility of starting with Brayshaw as Mundy is set to miss the first 6 rounds. Watch Fremantle closely during that period, if Brayshaw has that role, I'd think about locking him in, riding the price rise and then bailing when Mundy comes back. That strategy could also be worth considering in draft leagues. Draft him late or even pick him up off the waiver wire then trade him out before Mundy comes back if his average is looking healthy.
FOLLOW US  ON TWITTER: @DTTALK for all thing AFL Fantasy (and more). Got something to say about the deck? Use the hashtag… #DeckofDT.