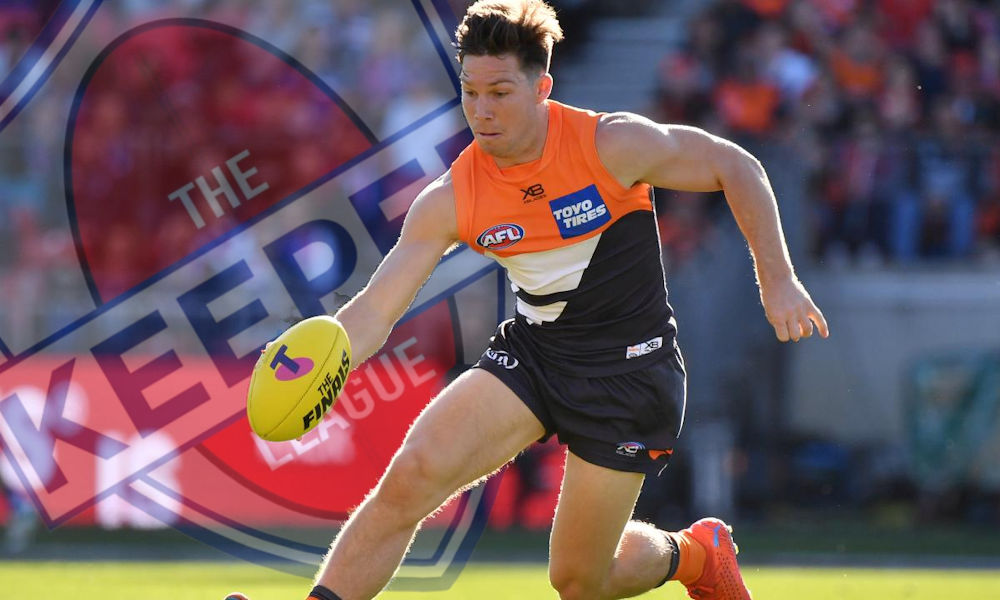 Season averages don't always tell the full story when looking at a players fantasy scoring, so The Keeper League Podcast has developed a new resource that allows users to view player averages from last 3, 5, and 10 games of the 2019 season (you can view it here).
The tool also allows you to compare these late-season averages with their overall season average by giving you an average differential.
The purpose of this exercise is to find players who performed better than their average suggested in the latter stages of 2019. We can then use this information to find players that could continue their form into 2020, helping us identify breakout candidates or underpriced players.
Note that the data includes scores from finals, so season averages may differ to those posted elsewhere.
Using this data, we have identified players who performed better during the back end of the 2019 season than their season average suggests, and could provide value to your AFL Fantasy teams.
Click here to access the late season average and differentials.
Our brand new #AFLFantasy resource 'Late-Season Averages and Differentials' is now available from our website. pic.twitter.com/oxXELHpczF

— The Keeper League – AFL Fantasy Podcast (@keeperleaguepod) January 1, 2020
Chad Wingard
If you followed Chad Wingard closely last year, you'd know he missed a large chunk of the season through injury. He also had an injury-interrupted pre-season and as a result, his early-season scores were abysmal for a player of his calibre. These scores heavily attributed to a lowly season average of 78.4.
However, Wingard rallied in the latter stages of the year to put together a run of decent scoring games.
His end to the season was outstanding, scoring 100+ AFL Fantasy points in each of his last 3 outings. His last 3 game average was a whopping 113 points – +34.6 points above his season average.
These last three games may seem like a flash in the pan, but upon looking at his numbers overall his scoring dramatically improved towards the end of the season. Wingard averaged 98.2 points from his last 5 games, and 82.9 from his last 10.
His large numbers at the end of the season were a result of more midfield time, and with Tom Mitchell returning, there are no guarantees that this role will continue. I do believe Wingard is best played in the midfield, despite his ability to be a damaging forward. I hope Alistair Clarkson thinks the same.
With a starting price tag of $582,000 for season 2020, Wingard is by no means bargain basement. But when looking at his late-season numbers, I do believe he offers value here.
Seb Ross
This time 12 months ago, we were all sitting here licking our chops at the prospect of Seb Ross jumping into that elite category of fantasy scoring. But how wrong we were. His 2019 average was 13 points lower than the previous year, finishing up with an average of 94 points per game.
Luckily, Ross put in some good late-season performances to reassure us going into 2020. His last 10 game average was +4.1 points better than his overall season average, going at 98.4 across those games.
However, the major talking point came closer to the end of the season. To finish the year off, Seb Ross averaged 111.4 from his last 5 games (+17.1 points more than his overall season average).
This scoring run coincided with the sacking of Alan Richardson, and care-taker coach (now head coach) Brent Ratten taking the reigns. I'm not 100% sure this indicates a significant role change, but you can't ignore the difference in scoring under the new coach.
I'm expecting Seb Ross to improve his output next season and return to his 2018 scoring. Priced at $700,000, he could score as well as some players worth $100,000 more this season and help with your salary cap squeeze in the midfield.
Stephen Coniglio
To preface this one, we have decided to remove Congilio's last injury affected the score of zero from his late-season averages, as it doesn't give us a true representation of how he was scoring towards the end of his 2019 campaign.
Now that we've got that out of the way, Stephen Coniglio is close to a must-have in the midfield this season.
When I look at his average of 103.7 from 2019, I find it hard to believe it's not higher.
Leading up to his season-ending injury, he was on fire. To give you an idea of how reliable he was in terms of fantasy scoring, he went at an average of 111.7 from his last 10 games.
But it was his numbers towards the end that make him an even juicier prospect. In his last 5 games, he averaged 129.8 points, which is +26.6 points above his season average. He did have a score of 192 in round 11 against Gold Coast to inflate these numbers, but that just goes to show the scoring power this guy has.
His last 3 game average was also through the roof, going at 122.3 for these games before his season ended prematurely.
As for his 2020 potential, I can see him clearing an average of 110 with ease and should be strongly considered.
Toby Greene
Toby Greene really should be a no-brainer this season with the lack of forwards available, but I thought I'd mention his late-season numbers just to reassure you all.
As you're probably aware, a number of GWS midfielders went down with injury last season, meaning Greene spent considerably more time in the midfield towards the end of the year. This attributed to his last 10 game average being so high.
He had an average of 112.8 from his last 10 games, and 103.6 from his last 5 games. This equated to differentials of +15.3 and +6.1 respectively.
The big question mark next to Greene's name is the amount of midfield time he will reeceive in 2020 if GWS's midfield is fit and firing.
With all that said, I'd expect Greene to go close to the 100 average mark this season, making him a must-have in your forward line.
Josh Dunkley
There might be some coaches out there second-guessing Dunkley's selection without forward status this season. But I'm here to convince you with some of his late-season fantasy numbers.
If we look at this objectively, we'll see that Dunkley matched his fantasy scoring with the top midfielders in the competition, so you can pick him as a midfielder with confidence.
But if we take at his late-season numbers, we could make a case for him improving his scoring output in 2020 (as crazy as that sounds).
He averaged 110 for the 2019 season, but he had a slow start with Luke Beverage playing him the forward line in early parts of the year. But when he moved into the midfield full-time he really hit his straps.
He averaged 120.3 from his last 10 games which was a +10.3 point differential from his overall season average. Additionally, he also went at +5.8 points ahead of his season average from his last 5 games, and +4.3 from his last 3.
As we saw last year, Josh Dunkley is capable of some huge scores. The price tag of $824,000 could be considered quite hefty for a player we're used to thinking of as a forward, but I feel it's going to be worth it.