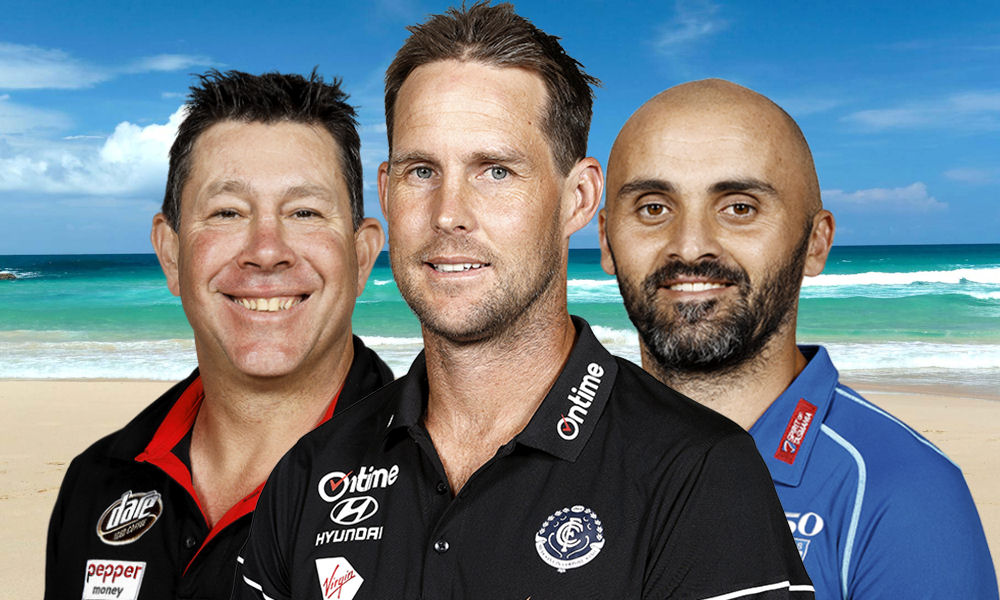 Three coaches were sacked during the 2019 season and there were instant scoring boosts to some of the players they left behind. I've had a look at how Carlton, North Melbourne, and St Kilda fared under their new coaches, particularly those who won't be receiving a discount for playing less than 10 games.
The beauty is that we already know these blokes are in the new coach's good books and they can score big if given the right role. But the trick will be predicting if they'll be given the same opportunity next season now that the new coach has a whole off-season to rejig the team's structure, rather than making minor tweaks on the fly.
Carlton – All Aboard?
Player
Position
Price
2019
Avg
Teague
Avg
Diff.
Ed Curnow
MID
$667k
89.9
99.9
+10
Marc Murphy
MID
$712k
95.9
105.1
+9.2
Levi Casboult
DEF/FWD
$485k
65.3
71.9
+6.6
Charlie Curnow*
FWD
$482k
65
70.7
+5.7
Michael Gibbons
FWD
$463k
62.4
68
+5.6
*only played 3 games under David Teague (81, 122, injury-affected 9)
David Teague took over the reins at Carlton from Round 12 onwards and introduced some radical ideas to the boys in blue, namely that scoring more points than the opposition could be fun to try.
Two guns who had first-class tickets aboard the Teague Train were Marc Murphy and Ed Curnow. After Teague threw them back in the midfield, the pair averaged 105.1 and 99.9, which is 9.2 and 10.0 points better than their overall 2019 averages.
Curnow averaged 105.0 in the 9 games after the bye and would be a lock if he maintained his Forward status, but could be $112k under-priced if he scores at that clip throughout 2020.
Carlton recruited Eddie Betts (small forward) and Marc Pittonet (ruck), neither of whom will affect Murphy or Curnow's midfield time. Pick 20 Sam Philp might get games next year but it's hard to see him being thrown into the guts right away.
North Melbourne – Shaw Things?
Player
Position
Price
2019
Avg
Shaw
Avg
Diff.
Ben Brown
FWD
$534k
71.9
80.1
+8.2
Jack Ziebell
MID/FWD
$666k
89.7
96.4
+6.7
Jared Polec
MID
$654k
88.2
91.1
+2.9
Luke McDonald
DEF
$431k
58.1
60.2
+2.1
Marley Williams
DEF
$411k
55.4
56.7
+1.3
Rhyce Shaw was at the helm of North Melbourne from Round 11 onwards and means we can forget the name Brad and never get the Scott brothers confused again.
Jack Ziebell retained his Forward status and his 89.7 season average is the sixth highest of the players starting 2020 as Forward-eligible. He managed an average of 96.4 under his new coach but watch out because his scoring suffered big time whenever he wasn't near the ball.
North Melbourne were quiet during the trade period but recruited Aidan Bonar, who's been training as an inside midfielder. Ziebell shouldn't have too much competition from Pick 31 Charlie Comben (tall forward/ruck) or Pick 34 Jack Mahony (small forward), but Pick 35 Flynn Perez (midfield) could get some midfield minutes if he can recover from his ACL injury and build on his 2018 juniors form.
St Kilda – Rat's Pack?
Player
Position
Price
2019
Avg
Ratten
Avg
Diff.
Seb Ross
MID
$700k
94.3
106
+11.7
Tim Membrey
FWD
$523k
70.5
81.8
+11.3
Jade Gresham
MID/FWD
$619k
83.4
93.3
+9.9
Jack Lonie
FWD
$493k
66.4
72.2
+5.8
Nathan Brown
DEF
$251k
33.8
39.4
+5.6
Brett Ratten was only in charge from Round 18 so we're working with a sample size of just six games. Saints fans have extrapolated a looming premiership from their three wins in that period though, so perhaps we have enough to work with.
Seb Ross has displayed piggish tendencies in the past and was back to his best at the end of an underwhelming 2019. He pumped out a 106.0 average from his last six games, which would be $87k under-priced if repeated for the whole of 2020.
The Saints recruited like crazy over the trade period, but the two players of note are Bradley Hill and Zac Jones. Hill will play mostly on the wing but Jones will probably be used for bursts through the midfield. Meanwhile, Hunter Clark looked great at the end of 2019 and could be ready for a breakout if given more midfield minutes.