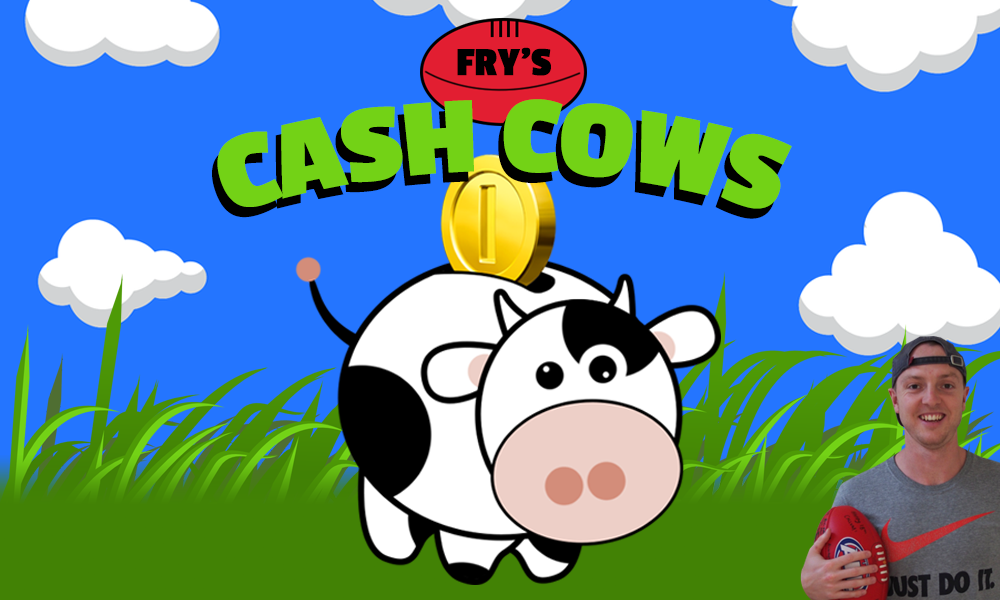 Last week we were seemingly spoilt for choice with gettable downgrade targets. Oh how quickly this game can change. As the injury lists around the league start to pile up there is hope that we can continue to see basement priced rookies filter through, but there are no certainties whatsoever.
With one month left until the fantasy finals begin a lot of coaches will be looking to move cash cows priced in the $350K-$400K mark on to another reliable downgrade. Be warned though, not all cheaper rooks can be relied upon. Make sure you do your homework in the players you're investing in to avoid purchasing a one-and-done rookie.
Regular readers will be familiar with the players who have been stuck at reserve level for the whole season so far, but if not, I penned an article late last week looking at a handful of players who could be selected in the final few months of the season. Check it out here.
Feel free to comment your questions below, but the general rule of thumb is no mention for a player = not in the frame to play anytime soon.
---
DEFENDERS
Get 'Em
N/A – No relevant rookie/cash cow DEF's land in the "Get 'Em" category this week.
Hold 'Em
Xavier Duursma, Power ($533K, 53, BE 102)
We hadn't seen Xavier Duursma drop a 50 since way back in Round 5 against the Eagles and he can be cut some slack given the crappy weather conditions around the country. As a result, a lot of fantasy players failed to record a lot of +6's and unless you're landing a true upgrade I'd hold Duursma and expect him to repay the faith in the Showdown vs Adelaide.
Sydney Stack, Tigers ($500K, 92, BE 56)
A move up forward saw Sydney Stack star on the weekend, bagging four goals and his second straight score over 90. I won't go expecting him to finish with four snags every weekend, but Stack doesn't need to be traded out for those coaches still fielding him anytime soon.
Griffin Logue, Dockers ($334K, 42, BE 23)
Damn. We all knew that Logue was going to look like a fantasy rookie any week now and it only took him three games to post a sub 50 score. Alarm bells aren't exactly screeching, but that confidence we all had fielding Griff has evaporated. He'll be stuck at D6 for a lot of coaches moving forward, so hopefully he can bounce back against West Coast. Gulp.
Watch 'Em
Jordan Clark, Cats ($424K, 96, BE 48)
Sometimes I get it right, sometimes I get it wrong. Jordan Clark continues to test my reputation, religiously posting an impressive score the week I tell everyone to trade out the young Cat. Now that I've moved him out of the "drop 'em" candidates expect a 40 against the Bulldogs.
Jordan Clark set GMHBA Stadium alight under the Friday night lights and has earned himself a @NAB Rising Star nomination for Round 15!

Congratulations Jordy! ? pic.twitter.com/344Kb3CF4c

— AFL (@AFL) July 1, 2019
Callum Wilkie, Saints ($413K, 70, BE 48)
Another solid 70 from Wilkie will see him stick around for a little longer in plenty of fantasy outifts. Should a defensive downgrade target present themselves, there's no reason to persist with the Saints' backman, but until then, let him keep ticking along and gradually (hopefully) rise in price.
Corey Ellis, Suns ($309K, 73, BE 12)
Little owned Sun Corey Ellis is too expensive now to be chased, which is a shame because his numbers are pretty impressive. Starting out at over $250K meant a lot of us didn't even bat an eyelid when he came into the side to play the Saints and there will be a lot of eyes on Ellis against Richmond to see if he can string three good games in a row together.
Joel Garner, Power ($229K, 40, BE 17)
Garner broke out of the gates like a bull in a china shop last weekend, recording 24 points in the first quarter. Unfortunately, he managed just 16 points for the rest of match, which isn't great news for those clinging to hope he'll stay in the side. With a slew of players lining up for inclusion at Port, Garner's hot start won't save him come team selection time, but I'd still hold him until a downgrade target emerges.
Drop 'Em
Marty Hore, Demons ($450K, 50, BE 86)
I know as soon as you trade out Marty Hore he'll go ahead and drop another 80, but his time has come. He was the second-most traded out player behind Patrick Cripps last weekend and I won't be shocked if he's again one of the most discarded prospects ahead of Round 16.
Noah Answerth, Lions ($314K, 64, BE 40)
As long as Brisbane keeps winning they might not make any pressing changes. While this is good news for Answerth's job security, his lacklustre scoring punch could see him axed by coaches with 3,500+ pulling the trigger and moving him on last week. If you can get a viable downgrade target for him, I say go for it.
On The Outside Looking In
Sam Collins (Suns, $298K) – Any hope 5.8% of coaches had of seeing Sam Collins returning has gone, with the key Sun ruled out for the rest of the year with a troublesome hip injury.
Isaac Cumming, Giants ($262K) – Posted an impressive score of 109 with 27 touches, however, there were six tons in the Giants' NEAFL side.
Josh Rotham (Eagles, $246K) – Rotham still faces an uphill battle to get recalled, but 80 points from 23 touches will keep him in the mix.
Isaac Quaynor (Magpies, $246K) – After being rested with a groin complaint last weekend, Quaynor will almost certainly line up in the VFL again if he's healthy.
Patrick Naish (Tigers, $245K) – 19 touches on the weekend probably won't see Naish return to the AFL anytime soon.
Callum Burgess (Suns, $193K) – 42 points and 11 touches mean Burgess will line up in the NEAFL again for Round 16.
Harrison Jones (Hawks, $170K) – Led the Box Hill Hawks in fantasy points (112), disposals (29) and tackles (8) on the weekend. Maybe.
Hugh Goddard (Blues, $170K) – A team-high score of 101 from 21 disposals and nine marks will keep Goddard right on the verge of selection.
MIDFIELDERS
Get 'Em
Nick Hind, Saints ($252K, 64, BE -6)
I still have some doubts about Nick Hind and his long term scoring/job security, but while I keep doubting him, he keeps producing and rising in price. Playing out of his natural position hasn't seen Hind struggle by any means, but I know that he could be capable of more. Costing over $250K now, Hind is still a viable trade target, but given the way he's increasing in value, he won't be for much longer.
Hold 'Em
Sam Walsh, Blues ($633K, 125, BE 63)
There is an extremely likely scenario that by this time next week Sam Walsh will be Carlton's most expensive fantasy player. That statement may be hard to believe for some coaches, especially after Walsh's lack of huge scores throughout most of May. Over the past month though the Rising Star sensation is averaging 116 and might have to be considered a trade in target for those of us who bailed on him early.
Dylan Clarke, Bombers ($403K, 69, BE 36)
Dylan Clarke continued his gradual rise in price and production against the Giants, posting his third straight score in the high 60's. He won't keep trending upwards for the rest of the year, but if he can nudge his way closer to $500K, moving him to a premium level character gets a whole lot easier.
Oskar Baker, Demons ($381K, MID, 52, BE 41)
Baker has decreased his scoring output every week for the last month, not exactly a stat you want to be associated with a popular cash cow. However, with a breakeven still in the 40's and a matchup with Carlton on the horizon, we could see Baker right the ship this weekend and drop another 65-70. His time is coming, but for now, he's worth holding on to.
Watch 'Em
Jay Lockhart, Demons ($418K, 67, BE 53)
Much like his above-mentioned teammate, it's wise to hold onto Lockhart this weekend given his fantasy-friendly fixture. Much like a lot of the $400Kish players in this article, it's not blasphemous to consider a trade out, but I wouldn't be doing it with Lockhart until after the Blues contest.
Jackson Hately, Giants ($355K, 69, BE 12)
It was a long time between drinks for Jackson Hately (54 days to be exact), but he did his job for those coaches who are still clinging on to him. While Hately probably deserves to hold his spot in the side, after a loss to the Bombers I wouldn't be surprised if he was left off the team sheet come Thursday, even if it is unfair.
Brett Bewley, Dockers ($298K, 54, BE 20)
Bewley continues to plug away in the Dockers outfit, doing the bare minimum to survive the axe. He might not be so lucky this week, with Ross Lyon potentially eyeing some changes to his 22-man outfit following their shock loss to the Blues. If Lyon opts to make some moves, there's every chance Bewley will find himself in Peel colours this weekend.
James Rowbottom, Swans ($283K, 79, BE 20)
Owned by just 1% of the competition, Rowbottom probably isn't in a lot of coaches trade plans. However, he looked impressive in his fourth game of the season, chalking up 21 possessions in the Swans' latest W. It did come against the Suns though, so it's wise to temper expectations against the Bombers in Round 16.
Drop 'Em
Bailey Smith, Bulldogs ($457K, 108, BE 66)
An unreal 14 tackles from Bailey Smith in Adelaide last weekend saw him score the first fantasy ton of his short career. As impressive as that performance was I'd still be making upgrade plans if I was still an owner with a move from him to Dan Hannebery almost a straight swap.
Michael Gibbons, Blues ($421K, 79, BE 54)
While Gibbons' score against Fremantle was a nice boost for a quarter of the competition, he still failed to move out of this section. No matter if you have Gibbo in your forward or midfield line, given his lofty price tag, I'd be looking to cash him in before he loses any of his value.
Willem Drew, Power ($402K, 47, BE 71)
It was worth giving Willem Drew another life after he earned a recall from the SANFL. The bad news for 23% of coaches is that his stay in the senior side will be brief after recording just 10 touches against the Bulldogs. Still sitting around the $400K mark, you can downgrade Drew and make a boatload of cash, which is a move I advise you make.
Tom Atkins, Cats ($373K, 48, BE 61)
Still floating around in 14% of teams, Tom Atkins should be moved on sooner rather than later. He'll still throw up the odd decent score, but I don't expect him to top $400K again in 2019. A downgrade move to Hind is a great trade IMO.
On The Outside Looking In
Charlie Constable (Cats, $500K) – A toe injury kept Constable out of action last week.
Patrick Wilson (Crows, $278K) – Even though Wilson remains a long shot to earn a gig, I can't not mention the ridiculous TWENTY-TWO tackles (finishing with 167 points) he recorded for Adelaide in the two's last weekend.
Rhylee West (Bulldogs, $220K) – 20 disposals, 73 points and another week in the VFL.
Will Snelling (Bombers, $207K) – For the first time in a while Snelling looked mortal against Werribee (72 points, 20 touches and a goal).
Nick Shipley (Giants, $170K) – Keeping himself in the selection frame thanks to 31 disposals and 116 points.
RUCK
Get 'Em
N/A – No relevant rookie/cash cow RUC's land in the "Get 'Em" category this week.
Hold 'Em
Reilly O'Brien, Crows ($650K, 128, BE 50)
I was tempted to almost place ROB in the get 'em category, especially if Max Gawn's ankle injury is as bad as we fear. Still nestled in close to 15% of teams, it's not insane to consider trading O'Brien in if you're chasing production for one of your starting ruck spots. That's a sentence I'm sure no one expected to hear this season.
Peter Ladhams, Power ($216K, 64, BE -4)
Ladhams had a decent outing last weekend, but it won't be enough for him to string back-to-back games together. With Dougal Howard returning from suspension, Ladhams will almost certainly make way for him, but I wouldn't go moving him on unless another viable bench ruckman presents themselves.
Watch 'Em
N/A – No relevant rookie/cash cow RUC's land in the "Watch 'Em" category this week.
Drop 'Em
N/A – No relevant rookie/cash cow RUC's land in the "Drop 'Em" category this week.
On The Outside Looking In
Noah Balta (Tigers, $374K) – Balta only had 12 touches against Sandringham in the two's, so he'll likely stay at VFL level for a few weeks.
Zac Clarke (Bombers, $280K) – With Tom Bellchambers going down Clarke could be in line for a senior recall. If you're one of the 13,544 coaches who own him you can hold him with confidence…for now.
Darcy Fort (Cats, $253K) – With Geelong spoilt for choice in their ruck rotation I don't expect to hear Fort's name again in the near future.
Archie Smith (Lions, $242K) – Concussions concerns for Oscar McInerney could see Archie come back into the side. However, 64 points from 19 disposals and 21 hitouts doesn't scream 'pick me'.
Darcy Cameron/Michael Knoll (Swans, $170K) – Thanks to Callum Sinclair's dislocated shoulder, we could see Cameron and/or Knoll get a chance to play in the back third of the season. Cameron is expected to miss at least the next two with a quad complaint, but if either of them make Sydney's final 22 in the next few weeks I'd advise getting them in.
Jordan Sweet (Bulldogs, $170K) – Sweet made the most of the hitouts on offer recording 60 of them in his 132 point outing.
FORWARD
Get 'Em
Oliver Hanrahan, Hawks ($178K, 39, BE 18)
All three of the basement forward rookies that took to the field last weekend for their AFL debut failed to top 40 points. With that being said, Oli Hanrahan did show glimpses of promise against West Coast, potentially enough to hold his place for at least another week. I wouldn't go trading him in unless he's named, but Hanrahan seems to be the best of a bad bunch when it comes to cheap FWD downgrades.
Mabior Chol, Tigers  ($245K, 106, BE -29)
Chol had a HUGE game on the weekend for Richmond, topping 100 points and rising nearly $60K in price. With a stupidly low breakeven, a lot of coaches will try and bring the Tigers' versatile tall into their teams this week with hopes that he can rise another few hundred grand in price and be a solid money maker to end the season. Don't rule him out being a DPP candidate for RUC status come Round 18 either.
Jarrod Cameron, Eagles ($232K, 29, BE 20)
Cameron wasn't as impressive in career game number two as his owners would have liked and as a result, he could be cut from West Coast's Derby outfit this week. With Petrucelle still under an injury cloud, he may be given another life, but I wouldn't be trading him in on the back of his score last week.
Hold 'Em
Connor Rozee, Power ($470K, 78, BE 63)
For a lot of coaches, Connor Rozee would be one of, if not the last rookie sitting on your field and there's no pressing need to trade him away. Of course, if you can net an upgrade to someone in Roy's Rolling 22 go for it, but Rozee should keep pushing 70's/80's out for at least the next fortnight at Adelaide Oval.
Will Setterfield, Blues ($440K, 80, BE 41)
While it's not wise to consider trading Will Setterfield into your team, those who are 'stuck' with the Carlton youngster are in a luxurious position. With three straight solid scores to his name, Setterfield has all but locked his spot in out fantasy sides for another few weeks until he shows signs of regression. Don't wait too long to cash in the precious trade chip, but this week isn't the time.
James Rose, Swans ($299K, 68, BE 5)
Now that Rose is priced a hair under $300K, I wouldn't go advising anyone to trade him into their sides. For the coaches that do own him though, Rose should continue to trend upwards, consistently scoring a few 60's and give you a heartbeat option along the bench.
Watch 'Em
Gryan Miers, Cats ($434K, 89, BE 62)
Miers rebounded strongly from a bad outing against Port Adelaide with a solid 80+ score that included 20 touches and a pair of goals. He isn't a pressing must-trade thanks to this big score and with a few decent opponents in his sights. I wouldn't go holding onto Miers for much longer though or you may dread it (pun intended).
Drop 'Em
Zak Butters, Power ($399K, 49, BE 65)
Seeing Butters go up $8K was a nice bonus for a lot of owners over the weekend, but it's still wise to move the cash cow along. Two scores under 50 in the lead up to his last outing meant that a lot of people would have moved him on already, but if he's still holding down a spot in your MID or FWD bench you can cash him in whenever you'd like.
Shai Bolton, Tigers ($372K, 40, BE, 73)
A return to Richmond's senior side didn't really go as expected for Bolton as he only managed to score 40 vs. St Kilda. There weren't too many VFL Tigers who put forth pressing cases for a recall, which is the only saving grace for the small percentage of teams who still own Shai Bolton.
Matthew Parker, Saints ($371K, 59, BE 43)
Parker has made all the money he's going to make, so my advice would be to cash in the St Kilda forward if you have the opportunity. He's not exactly a pressing issue, with his price set to fluctuate between $350K-$400K for the rest of the year and having a playing emergency in your forward line is always handy. If you can find the right trade package that helps you get an upgrade at another position, by all means, pull the trigger on Parker.
Dylan Moore, Hawks ($337K, 32, BE 60)
Moore picked a bad time to post his worst numbers of the year, failing to record a single mark in Hawthorn's loss to the Eagles. A lot of coaches jumped off last week and another batch of them will do the same this week, especially if his he's sent back to the VFL, which appears likely.
Nick Larkey, Kangaroos ($316K, 29, BE 64)
Larkey's second score under 35 in three weeks has all but sealed his fate. The Roos young key forward has managed to string nine games together in a row, so it's clear he has decent job security. However, you can't afford to have a player losing value and throwing up these types of numbers, so I'd look to move him on ASAP.
Ben Davis, Crows ($171K, 27, BE 25)
Only managing just seven touches in his first game of senior footy, Davis will likely be a one-and-done player sent back to the SANFL next weekend. It's a shame because Davis had shown enough signs in the lower grade to warrant selection, but with Adelaide's pressing inclusions, I expect his to fall victim to the 'last in, first out' motto.
Kyron Hayden, Kangaroos ($171K, 27, BE 25)
Just one game into his AFL career, Kyron Hayden is already facing an extended stint on the sidelines. Last weekend's debutant suffered a serious Achilles injury in the third quarter and won't be taking the field again in 2019. Glass half full, he did still go up a thousand dollars in value so for the 8% of the comp that moved him in.
Shoutout to Kyron Hayden who got to make his #AFL debut last night in North's win, but suffered an Achilles year in the third quarter. Wishing you a speedy recovery mate ? #AFLPiesRoos #BeAShinboner #North150 pic.twitter.com/m2247m3128

— SportsbyFry (@sportsbyfry) June 30, 2019
On The Outside Looking In
Liam Baker (Tigers, $511K) – After just 64 points with 18 disposals for the Tigers' VFL side, Baker's no certainty to get back into the AFL side this week.
Jack Petruccelle, Eagles ($316K) – A hamstring complaint kept Petrucelle out of West Coast's side last week and he'll likely miss the Derby at this rate too.
Mitch Lewis (Hawks, $308K) – Was one of his side's best on the weekend playing a combination of forward and ruck. Should Clarko want to add some of the VFL players to the senior side this week, Lewis is my tip to be first picked.
Josh Corbett (Suns, $298K) – Six goals and 13 marks for a 120 point outing could see Corbett earn an instant recall to the senior team. My guess is he still misses, but he's edging closer.
Izak Rankine (Suns, $266K) – He didn't light the world on fire (eight touches for 1.2 and 38 points), but Suns fans will just be happy to see Rankine playing. I'm calling it early, Round 18 debut.
Brayden Ham (Bombers, $207K) – 10 touches + no scoreboard impact = another week in the two's.
Robbie Young (Saints, $203K) – Only managed seven touches at reserve level on the weekend. Will likely be stuck there for the foreseeable future.
Ben Cavarra (Bulldogs, $182K) – Four goals and a 94 point game. Could that be enough to get Cavarra into the senior side?
Jackson Ross (Hawks, $170K) – Only managed four kicks against Casey last weekend.
Cash Cow King – Round 15
Four fantasy tons from rookies in Round 15 meant that I was spoilt for choice this week. The race for Cash Cow King of the season is heating up, with Sam Walsh no longer the only cash cow in contention. For that reason, I'm giving Reilly O'Brien my vote this week, who may even emerge as a trade in target if Max Gawn fails to get up for this week's game. Kudos ROB.
Ranking Rookies
Taking all fantasy aspects into consideration, here are my top 3 rookie/cash cows you should own/make a move for in each position.
Defenders
Patrick Naish*

Hugh Goddard

Harrison Jones*
Midfielders
Nick Hind

Will Snelling*

Rhylee West*
Ruck
Michael Knoll*

Archie Smith*

Zac Clarke*
Forwards
Mabior Chol

Oliver Hanrahan*

Ben Cavarra*
* = if named
---
Feel free to shoot your rookie/cash cow questions through on Twitter at @SportsbyFry for me to answer in the article. If Twitter isn't your preferred domain hit me up on Instagram or Facebook and I'll get back to you as soon as I can.
Good Luck for Round 16!
✌️