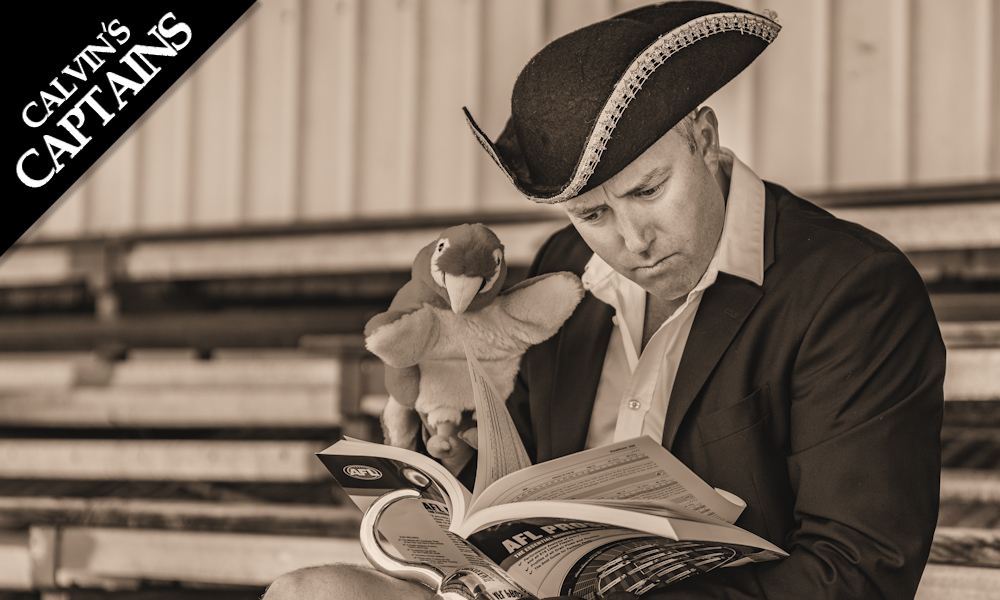 Welcome back you bloody legends.
The byes are gone but the Thursday night isn't… we'll get to that shortly.
Last week my top 6 captains options averaged a huge 136 between them. But this week, if our VC fails on Thursday night, you will have a difficult decision to make. That's why I am here though… follow me and I'll guide you through in a time of need. #inthepiratewetrust
Who gets flagged ?‍☠️ tonight as Calvin chats all #AFLFantasy and captains. https://t.co/mn2Ceqk4WQ

— Calvin (@CalvinDT) June 26, 2019
THURSDAY NIGHT LOOP
Essendon v GWS @ MRVL
We all will have some options for this one, however… you need to hear me out.
Dylan Clarke will tag someone. I believe the tagging order will be Kelly and then Coniglio. I can't see Taranto being tagged at all and therefore he will be my #1 option here with the VC. You see, when tagging Clarke is equally effective to DeBoer and will have a role this week.
I recent weeks Clarke has taken the best midfielder for the other team. Cripps (63), O'Meara (74) and some are saying he even spent some time with Gaff (92) last week, although I don't think he did. The thing is, he will tag and most likely it will be Josh Kelly.
Josh Kelly is ranked as the #1 most inform player in the game and loves playing at Marvel where he has scored 153, 110, 107 and 111 in his last four games. He didn't play the Bombers in round one, but posted 93 on them last year.
In that round one game, Coniglio pumped out a huge 161 and before that he went 123 and 120. He could be in line for a tag as he also loves playing under the roof with scores of 144, 112, 88 and 115 in his last four.
For the Bombers, Zach Merrett is worth a shot, but don't expect much. Despite DeBoer being out, the Giants are very hard to score on averaging just 79 from the top 3  midfielders since round 9, compared to the Suns who give up 119 to the top 3 midfielders over that time. Only Matt (117) and Brad Crouch (101) have scored over 100 against the GWS since round 8.
But as I said before Tim Taranto will get the tick here for me. He will be my VC as he will not be tagged and despite Kelly so good in recent weeks. Taranto has outscored him in three of their last five games with 156, 137, 75, 130 and 155.
BEST VC RANKINGS – Taranto, Kelly, Coniglio, Merrett
VC LINE: I'll be taking anything 115+
FOR THOSE WHO LIKE PLAYING MONEYBALL… use this info to help you cash in on the big $40k they have on offer in this one. JOIN
Loading ...
CAREFUL OF THE TALL TIMBER
After dominating basically for the entire season, Max Gawn and Brodie Grundy have served us very well but this week it will be much tougher.
Gawn is up against Stef Martin and although he is ranked as the #2 man based on form, Max's record against Stef isn't great with 0x100+ scores coming his way in their last three games.
Although Max has scored 120 or more in his last five this year, Stef has nullified him in the past, just like he has opposition ruckman this year. Get this… Rowan Marshall (107) is the only ruckman to have hit triple figures against Stef this year which ranks Stef at #2 as the hardest to score against
Grundy on the other hand meets Todd Goldstein on Saturday night. Coming off a huge 168 against the Dogs last week, at Marvel (where this one is), Grundy's history against Goldy isn't great with scores of 104 and 103. Just like Stef, only one ruckman has toned-up against Goldy this year and that was McEvoy (127) in round 3.
Based on form alone, both should be pretty good, but their match-ups this week, aren't as easy as they have been.
Listen to the AFL Fantasy Podcast with The Traders at Apple Podcasts, Spotify and Google Podcasts.
"OLD'S COOL" PARKER
Talk about turning back the clock. Luke Parker has been on fire. He scored 157 last week and now averages 128 in his last three games and meets the easiest of them all to score against, the Gold Coast Suns. They're a team he has scored 119, 117 and 121 against in his last three games as they sit as one of his favourites to dominate.
Parker hasn't averaged over 100 since 2016 but the way he's going, he hold his average of 104 as he shows everyone that he still has it.
DANGER! DANGER! DANGER?
Remember when Dangerfield was my #1 captain in round 7 and he scored 38. On that day I made a promise, to never have him in my top 5 again… we'll rules are meant to be broken, but can YOU forgive and forget?
He plays the Crows, a team he has met seven times in his career for scores of 132, 151, 121, 112, 131, 118 and 129. That is bloody incredible. Five of those scores, you'd be pumped with as your captain. The other two 'just' a pass.
He plays at home, and although he's been rather hit and miss there this year, but you'd prefer him playing there than away.
The other big tick I give him here is… it's Friday night football. Under the lights, in front of a huge TV audience and he knows it. Last Friday night game, Danger posted a huge 162. In fact, across the last two years, Danger has played five games on Friday night to average 121, never going under 100.
His form has been solid with 110, 162 and 108. He should dominate the Crows like he has in the past and let's not forget at the moment, the Crows rank as the #2 easiest team for midfielders to score against with 5×130+ scores coming against them in the last four weeks.
THE OTHERS…
Once again, these present in order of when these guys play, just for those who like to Loop Hope in Draft.
Matt Crouch v Geelong @ GMHBA – Geelong are tough and Matt only managed 101 against them earlier this year and 94 before that. Tough match up.
Brad Crouch v Geelong @ GMHBA – Brad is averaging 121 in his last five games and posted 128 on the Cats earlier this year which was his 3rd best score for the year.
Tim Kelly v Adelaide @ GMHBA – Could be anything here, against a team that gives up truckloads. Playing away this year, Kelly has scored over 100 in 86% of his games but at home he struggles with just 1×100+ score from five. That's 20% for those dumb ones out there ha ha. No wonder he wants to leave Geelong.
Mitch Duncan v Adelaide @ GMHBA – Should be huge! Suits him perfectly! Had 103 against them this year already.
Andrew Gaff v Hawthorn @ the MCG – Last year against the Hawks he scored 154, a career-high. Doesn't like playing away though with just 1×100+ score in his last four at the MCG.
Shannon Hurn v Hawthorn @ the MCG – Only here for those who traded him in the rest easy. A big bounce back game coming for him against the Hawks who give up plenty to defenders.
Brayden Fiorini v Sydney @ the SCG – Averaging 95 in his last three. Pass, despite the Swans giving up a bit to midfielders.
Jake Lloyd v Gold Coast @ the SCG – Should dominate them right? History says NO with 0x100+ against them in his last 6 games. In fact, out of all teams in the AFL, the Suns are the only team he hasn't scored 100 on. Add to that, no medium defender has scored triple figures against the Suns since round 8. Holman went to Whitfield not too long ago and this could happen again.
Adam Treloar v Kangaroos @ MRVL – Loves playing at Marvel where he scored 128 last week and 120 and 130 before that. Posted 103 on the Roos in his most recent which was back in 2017.
Travis Boak v Bulldogs @ AO – From his five games at home this year, Boak's lowest score is only 109 with a top score of 138.
Jack Macrae v Port @ AO – Since round 9, only 4×100+ scores have been had by MIDs against Port, but two of those were 140s. Macrae is coming off huge scores of 180 and 140 and had 112, 44* and 149 in his last three against the Power. Could cop some attention from Houston who ran with Tim Kelly at times last week.
Josh Dunkley v Port @ AO – Sits #4 based on form with 118 last week. Scored 116 last year on the Power. Machine!
Dusty Martin v St Kilda @ MRVL – No Steele tag like there has been in the past that held Dusty to 90 and 82. Had 140 on the Crows in his last game which was his 5th straight 100+ score.
Clayton Oliver v Brisbane @ the GABBA – Brisbane are easy for midfielders to score against and Billings (117), Cripps (151) and Walsh (137) proving that over the last two weeks. Oliver scored 125 on the Lions last year which happened to be at the GABBA.
Dayne Zorko v Melbourne @ the GABBA – Since round 9, Melbourne have given up 6×120+ scores. Zorko scored 109 and 125 against them in his last two.
Lachie Neale v Melbourne @ the GABBA – Too taggable at the moment and managed just 59 on the Demons last year.
Nat Fyfe v Carlton @ OS – Should be huge v the Blues at home. However, Carlton now sit at #7 easiest for midfielders to score against and they have only given up 1×120+ score (Macrae) since round 10. Fyfe scored 125 on them last year and has had 5×100+ scores in his last six at home this year.
Patrick Cripps v Fremantle @ OS – 102 and 109 are his last two scores against the Dockers. This battle v Fyfe will be epic but I'm expecting Conca to run with him a little as well on Sunday arvo.
Loading ...