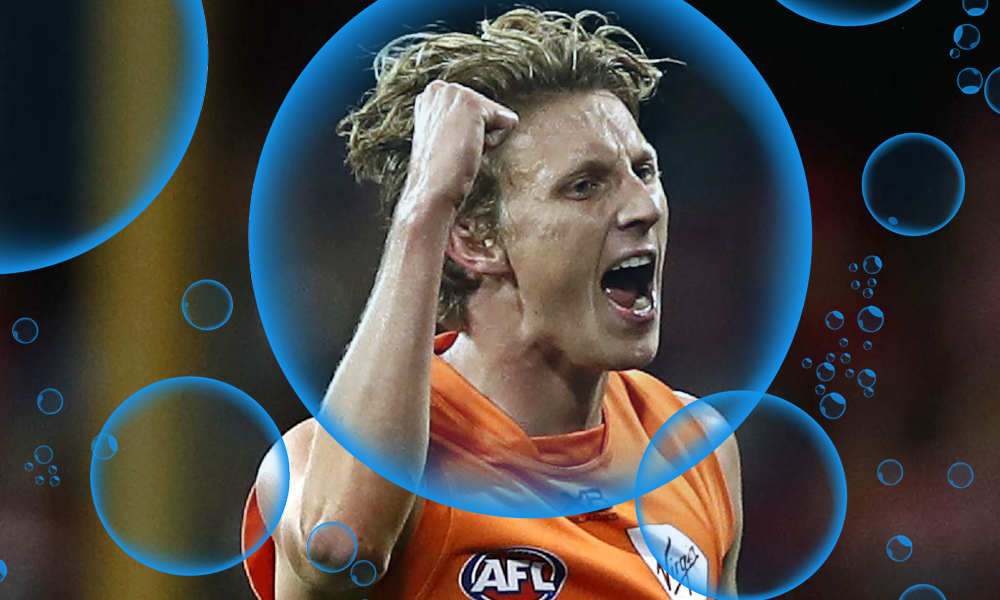 You'll have to forgive my absence last week, it may have been more entertaining for the masses but Round 7 took it out of me. A couple of injuries later and I wanted nothing to do with anything 'Fantasy' for a good week. That spell on the sidelines did me wonders, as did Carlton. One game changed everything in Round 9, and it was a win for team hold your premiums. It's time to get bye ready. It's time for the weekend wash-up…
Legends
Yeo (140) – It was only a matter of time before Yeo went bang, his interrupted pre-season is well behind him now. Capable of averaging 110+ for the rest of the season and teams can't stop him tackling. Great pick.
Hurn (137) – Not in my wildest dreams would I have imagined Shannon Hurn scoring like this. He has gained 5 disposals and 15 points per game from the kick-in rule, we really should have seen it coming!!! Lock and load.
Sheed (133) – You put Sheed in the guts, he gets leather poisoning. It's as simple as that. A 22/11/12 triple double without a single tackle sounds about right. If only he could lay 3-4 hugs per game, he'd automatically become an uber premium. He's value at $630k, but an average of less than 1 tackle per game puts a cap on his ceiling. Still, a great POD to chase this week.
Gaff (126) – Standard Gaff really. It will be interesting to see if teams continue to let him roam free or whether the tags shut him down. For now he's untouchable as the best scorer in the game.
Gawn (125) – Since Round 1 we've got exactly what we paid for. Thankfully the Witts debate can be binned, get Grundy and Gawn and throw away the key.
Grundy (152) – What a man. Any struggles he may have had during pre-season are behind us now. Grundy's two week average sits at over 150 and he plays Callum Sinclair this week. Good lord. The ruck pig is oinking…
Crouch (132) – Forget the fact that Brad Crouch started as a midpricer, he's well and truly in the fight for the top 8 midfielders. Apparently some people were looking to trade him?! Pull your head out of your ass people, Crouch is here to stay.
Zorko (118) – Not many players would ton so easily with just 20 disposals. In fact he had just 8 touches at half time for 73 points!! Zork has ignited once again and looks to be on one of his classical tears. The ship has sailed now, I'm just gutted I didn't make it on board this season. Enjoy the ride!
Duncan (125) – Mitch Duncan has always had a brilliant fantasy game about him, however it sadly never amounted to much more than a consistent average of 100. Thanks to Geelong's dominance he has suddenly bumped that number up to over 120, and look out. 130, 120, 142, 125 are his last 4 games… What's he going to do to the Gold Coast…? *shudders*
Merrett (125) – This was looking like a 150, Merrett is a bonafide fantasy star and anyone who got him for under $700k deserves a standing ovation. He's too expensive to go chasing now, but we'll all want him at some point. Legend!
Mundy (125) – His 303rd game was just about as good as any he had played before that. How's this for a stat. Mundy is averaging 109.5 in the past 6 rounds. As a forward. His ownership? 2%…… Riddle me that.
Ziebell (155) – Just let me triple check that score. This is Jack Ziebell's second highest score of his career (156 v Bulldogs), and I had to dig all the way back to 2011 for the last time he even scored over 140. Getting a move back to the midfield is one thing. Scoring over 150 is completely another. Part of me says his best ever season is 95, don't get sucked in. Another tells me I was saying the same thing about Boak. Regardless he was superb value last week and I commend anyone who had the balls to do it!
Lloyd (112) – Welcome back, Jakey. This was a much needed score having hit the wall over the past month. Legend.
Fiorini (144) – He will not be denied! The 30 kick club is an elite fantasy members only group, and Firoini fell one short. He remains at M5 for the season and looks a serious chance to be in the top 8 midfielders come the end of the year. Stand and applaud.
Boak (110) – Just another day at the office for the second highest scoring player in the game. Travis. Boak. The world is officially ending.
D.Martin (135) – Real or not real? Only Dusty knows the answer. All I know is that for the first time in 2 years, I can truly say that he looked back to 2017 unstoppable Dusty. I also know that he's classified as a forward and priced at $591k. You can't go too wrong. Either he bombs with 70's and 80's and you trade him on his round 14 bye for a similar price, or you get the bargain of the year. Even something in between works, an average of low 90's is a good win here. I think the reward outweighs the risk and I'm on board!
Ellis (130) – I put a lot on the line for Brandon, advising many readers to jump on board 3 weeks ago. Watching his score crawl to 46 was one of the toughest scenes I've experienced, not only for my team but others as well. This is justification! He has an awesome role on the wing and while he's capable of the odd shocker, he's also capable of this. Great value.
Houli (117) – Yeah, Houli is doing it as well. But he's also even less reliable than Ellis, and that says a lot. I know who I'm taking. It's good to see Richmond playing Fantasy again though!
Worpel (107) – Welcome back Worp! We need him to keep averaging his 90 until the byes are completed, and he looks on track to do just that. Good man.
Kelly (120) – Josh Kelly's score in this game was rightly overshadowed, but it's still a great return nonetheless. If only his body could stop letting us down, he's such a gun.
Shaw (128) – Don't do it, but I just wanted to get Heath Shaw's name relevant one last time. That's back to back 120's, we love you heater.
Taranto (155) – Wow. Taranto had been a brilliant pick regardless, but this score is a game changer. It takes him from an upgrade just after the byes to a season long keeper. He's currently the fourth highest averaging midfielder in the game!!! Thanks for coming. 26 kicks, 12 handballs, 12 marks makes for very pretty reading. In any other week he takes home the stubby… But not this week.
Whitfield (190) – WOOOOOOOOW. I'll admit I often like to think of a best case scenario for my Fantasy team, where it often wins the round with a score of 2700. One day… I don't think even then I would have had Whitfield scoring 190. ONE HUNDRED AND NINETY. Not only that, it was his first game back after the wise coaches held him for 2 weeks. I'm sorry, but if you traded you will get no sympathy from me! He's the highest averaging player in the game, and it could be even better. Without his injury affected score he's averaging 137. You read that correctly, Whitfield is entering Tom Mitchell territory. 18 marks. 40 disposals. 3 goals. There's not much more I need to add here. At least you can get him after his price drops… Oh wait. L.E.G.E.N.D.
Losers
Hickey (39) – Tom's 140 can safely go down as one of the biggest anomalies in AFL history. I can't sit through another game of Vardy and Hickey.
Sheppard (68) – Hurn's form line was real, Shep's unfortunately was not. It was worth a punt, but it backfired big time. That's the way it is.
Brayshaw (65) – I just had to take a second to compose myself. One thought of that helmet and I feel sick. I really don't know what else to add here, I'll save a special bake for Gus later on. Priced at nearly $600k, I think we're just in it for the long haul now. Hopefully Melbourne wake the f**k up.
Ross (71) – This is so satisfying. Welcome back Seb Ross, we didn't miss you.
Answerth (21) – REALLY. I was told this kid was solid and can be safely penned in through the byes. Now I feel as though I'm about to have a deadweight next week. Vomit. Rank performance.
Rayner (16) – I just thought I'd throw this one out there. The number one draft pick having 3 disposals for an entire game?! Imagine if he was a key forward, we'd be tearing him to shreds. Appalling.
Dunkley (77) – I felt like I was re-watching Round 1. There was Dunkley in the middle, doing sweet f**k all once again. Let's put this one down to the Geelong effect, but next week is massive for my sanity. I'd have to create a list worse than 'never again' if Dunkley doesn't pull his finger out.
Bontempelli (72) – The Bulldogs are a shambles at the moment, nobody knows what their midfield will look like. Bont dominated the first month in the midfield, so it reads true to form to see him shunted up forward a month later. You just can't win. Not sure if Beveridge or Longmire.
Liberatore (63) – Honestly, if you told me Tom Liberatore was plucked last week from the 4th grade amateurs team to fulfil his dream of playing an AFL match I could believe you. He looks awful. Seriously. That bloke shouldn't be getting a game in the VFL at the moment. His 5 round average is 60 and that says it all really. He averaged 81 and made $100k for me having been priced at an average of 55, so it's not my worst ever pick… I just feel for anyone who got him in a month ago. Shameful.
Kelly (56) – Sometimes we have to be careful with how we judge our players. Tim Kelly had a shocker for us, untagged for 56 points. However he still had 14 contested disposals, 10 clearances, 8 inside 50s and got coaches votes from the guys that know the game better than any of us. So considering the fact that he scored 140 the week before and plays Gold Coast next, we let this one slide… Just.
Constable (44) – You can bet your life savings that Charlie is going to be dropped after this effort. Scott clearly didn't want to play him, the 63% TOG says as much. Just shake your head and move on, he's done more than enough for us! Hopefully he can get out of Geelong…
Daniel (63) – This game was just a horror show. That's consecutive 60's now for Caleb Daniel, and he should be on his last chance this week. Unfortunately you've made your bed, I think you have to sleep in it until the byes are over.
Fyfe (74) – I'm not sure who's doing the tagging duties at Essendon, but someone must be and they're doing a brilliant job. Fyfe had 24 disposals, 22 were contested! He had just TWO uncontested disposals in a full match of footy, even both of his marks were contested. As a coach looking at Dusty Martin this week, I'm a little concerned…
Murphy (10) – Certainly NOT what his draft owners needed. Setterfield got more midfield time after he went down though so screw it, cheers Mummy.
Williams (43) – That's a burn, and it would have hurt even more if Zac was your only GWS player. We all know this game can be unfair and this is one of those times. On a positive note, Zac has done his job and can be upgrades to a premium. Ideally Whitfield. Silver linings… Kind of. Sorry. This sucks.
Mumford (66) – Thank you so much for getting injured. Sincerely, every former Mumford owner.
Cripps (45) – What is this. I don't care if De Boer was piggy backing you all game. I wouldn't care if he was playing on one leg. That's the most gutless performance I've seen since Scott Lycett scored 8 in a fantasy semi-final (Still not over it), this even surpasses Libba's horror show. You'll find more use in a screen door on a submarine than this score. Get out.
Call it sad, but I was at the A-League Grand Final on Sunday and for a good 30 minutes, all I could watch was Lachie Whitfield's score ticking over. Someone grab the highlights of his game and post it on Pornhub for me because I have to see it.
21 kicks, 19 handballs, 18 MARKS?! There is triple doubles and then there's that. Russell Westbrook may have been the first man to hit 20/20/20 but this is probably as close as we'll ever get in AFL Fantasy. Glorious. Beautiful. Have the stubby Lachie, just take it.
This Game Sh*ts Me
Role changes. Some things in life are just impossible to explain. What was the big bang? How big is the universe? Why has Angus Brayshaw turned into Chris Masten? It just doesn't make any sense. Sure he has moved out onto a wing, but that should still be a role in which you can score well, especially for a player of his (apparent) ball winning ability. He scored 160's playing on a wing last year… In the first 6 rounds he scored 100 in every game he wasn't tagged, including playing as a wingman against Richmond. So why is his 3 round average 68? More to the point, WHY is he playing purely on a wing in the first place?! I'm clueless.
What was even more baffling was West Coast sending Mark Hutchings out tag him. As if we needed more pain, Hutchings will offer you below zero out there. More concerning was the fact he doesn't look like he's trying. I had to watch that abomination first hand and Gus completely refuses to go near a contested footy, even though he came third in the Brownlow doing exactly that in 2018.
I give up. How are we meant to take this game seriously when players manage to do this to us. There's no logic to it, but that doesn't make it any less real. He's broken, and so am I. This game sh*ts me.
The Other Bits and Pieces
2254. Sunday saviours Ellis, Whitfield and Taranto take a bow. I was (literally) staring down the barrel on Saturday night, my team was a ruin. Liberatore has completely forgotten how to football. Hayes embarrassed himself in trying to cover Crouch. I could have replayed Dunkley's effort on Saturday afternoon and lined it up with what I saw in Round 1, and there wouldn't have been a single difference. Do not get me started on Danger, and I've raved my rant on Gus Brayshaw.
There's holes everywhere, but nothing that isn't fixable. Mumford going down two weeks ago saved my season, just look for the silver linings…
My trades completely depend on the rookie outlook come Thursday night. I have a terrible feeling we're getting nothing but duds at the moment, and it's going to cause chaos during the byes. I got Garner last week but do I think he'll survive until Round 14? I doubt it. I see nothing reliable. Parker has overstayed his welcome and goes, and if there's no solid midfield rookie, Robbie Young can come in. I can then get a midfielder for under $685k, which would have been absolutely perfect a week ago with Yeo and Zorko ripe for the picking. This week, there's donuts. Sometimes this game is all about timing… Dusty works for my bye structure and can go forward when I upgrade Miers, so screw it he's in. Compared to Wingard last season, it's worth a gamble.
Parker -> Rookie (?)
Liberatore -> D.Martin
It's time to get your team bye ready. There's only so much preparation you can do, and sometimes it's out of your control as I found out last year. However you can get your team setup to be as best prepared as possible, so look beyond just the numbers playing each week. Are they all reliable players? Then 18 or 19 should suffice. Are there some seriously dodgy rookies or players that could be dropped? Play it a little safer. 95% of good teams will be automatically starting Round 13 with 20 players, so I'm being extra careful there. One thing is for sure, your trades should be determined by the byes for the next month. Figure out which bye player will best help balance your structure and make them a priority.
Most of all, keep downgrading/upgrading! At least for the next couple of weeks. Short term pain for long term gain, and sometimes if your name is Lachie Whitfield, the wait might not be long at all… Good luck legends, let's make it a high scoring one!