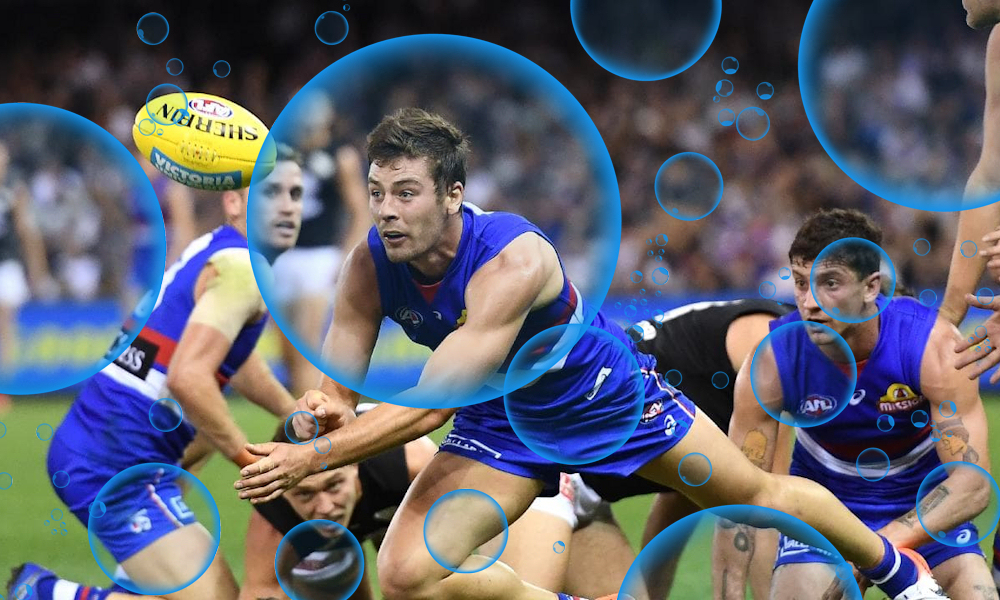 You wanted me angry? You wanted very little thought and a whole lot of pointless complaining and raging? Be careful what you wish for, because now you have it. You sadistic people… What was that? What just happened. I have played Fantasy for a decade and I don't think I've seen anything like that 48 hours of football. I've heard of the saying when it rains it pours, but this was nothing short of farcical. It actually got to the point where my players were SO bad I'd moved well past the point of anger and just found myself laughing hysterically. Sh*t game. Don't want to play it anyway. It's time for the weekend wash-up.
Legends
Why even bother? I'll try…
Treloar (120) – Adam Treloar with Taylor Adams is barely a middle of the road premium. Adam Treloar without Adams is in the top 3 midfielders in the comp. It shouldn't make sense, but it does.
Boak (108) – At least one of our Port Adelaide mids can say they tried. Nothing and nobody looks like stopping Boak, welcome to Fantasy in 2019.
Gawn (121) – After a sluggish start, the Max Gawn train is rolling. Since round 1 Gawn has basically reached the ton every game and averaged 113. Preuss who?
Lockhart (100) – Our premiums were rookies, and our rookies were premiums. A few blokes could take a long hard look in the mirror and learn from Lockhart's performance. At least he showed some heart.
Z.Williams (112) – Can getting rid of Williams for Lloyd be considered a blunder? All I know is Zac has been killing my ranking the last few weeks. He has hit form and looks awesome, patience is a virtue.
Taranto (105) – You don't need 130's every week. Just get me 100 and I'll be happy. Thank you Taranto, hold your head high.
Marshall (113) – Rowan Marshall is a disgusting name, but he's actually scoring which is more than I can say for most premiums. This is his third ton and takes his average to 96, if only he was originally listed in the rucks like he should have been…
Zorko (136) – *Bargain alert* Neale's form was always going to warrant attracting the tags, and it should let Zorko off the leash. We know he's capable of averaging 110+ when not tagged and he's currently priced at $656k. Consider it.
S.Martin (125) – Yes Stef is cheap, but he's currently priced at under $600k for a reason. One good score against Callum Sinclair does not maketh a good option.
J.P.Kennedy (127) – JPK is averaging 108 and seems to be sliding under the radar this season. Those numbers put him in the top 8 midfield mix at the moment. Shameful, but unfortunately the truth.
Daniel (125) – Wow. I could have upgraded to Daniel in either line, I chose Ellis instead. What a howler. I wasn't sure he had the ceiling to average much more than 90, I was wrong. He scored 92 in the second half and looks a lock as a top 6 forward OR defender. Gun.
Dunkley (145) – FFS. I gave him every chance. He had over a month to prove himself, and showed literally nothing. After Billing's last year we couldn't hold a guy playing forward, and you could hardly call it playing. Well now he's back in the mids and is underpriced. I guess we go again?! If I hadn't picked him to start I'd be all over him this week, so it's time to swallow my pride and get him back. I know the Doggies midfield is a lottery, but after a win and performance like that Dunkley has to stay. Don't listen to me though.
Stack (89) – Thank god for our rookies this week. I was a Whitfield holder, and Sydney Stack did me proud. My team will be taking a leaf out of Stack's book next week, I've had his tape on repeat during review.
Yeo (146) – A Liberatore to Elliot Yeo trade last week is looking real pretty right about now. Yeo's price is only going up from here, 12 tackles helped him to this monster score. We know he has the ceiling, hopefully he can do this against a team of players and not witches hats.
Gaff (144) – The captain we all wish we had. You pay a premium for Gaff, but you also get what you pay for. An actual premium. If only the game was always that easy.
Miles (115) – Yeah, no.
Cripps (111) – On a week like this, I feel I need to congratulate Cripps for reaching his average when few others could. Well done mate.
Kelly (113) – Thank you. Thank you so much. Kelly is saving my sanity up forward this season. If not for his ankle injury he would be looking at an average of 105+. Must have.
Ablett (116) – Geelong overload? Maybe not. The little master is averaging 111 in his last 3 and his forward DPP is making him a no brainer. Gaz is hard to pass up on at the moment, the fear of injuries remain but when I'm staring at Danger's 38 and Billings 70, taking on that risk suddenly seems worth it.
EDIT: Ablett got a week. Cheers Chrisso, way to kick people while they're down. We all know there's no way Gaz intentionally elbowed him, but if it was Dylan Grimes I'd want his head. So sadly I think it will stand.
Guthrie (114) – I picked him up in draft and I'm still not buying it. His TOG% is low and there has been a lot of junk time. I couldn't even tell you his role. Still, he was an absolute bargain. I'd be nervous every week with him in my team, but I've got a few of those players anyway! Why not.
Fyfe (124) – If Fyfe stays fit and out of suspension trouble, this is the pick of the season. I truly believe that. He's an absolute gun, but you already know that.
O'Brien (120) – This score takes ROB from being an annoying one to miss out on, to a critical cog in winning fantasy in 2019. His price is over $450k and with an average of 86, he could be pushing close to $600k soon enough. Remember, he was an extra $60k… That will inflate by 600% soon enough. Well done to those who had the inside word on Jacobs knee. You win.
Crouch (120) – Does champion data have a different criteria for tackles for Matt Crouch to the rest of the competition? The +8 he received after the siren is the minimum I think he deserved, and yes I'm fully aware of how they count tackles. I've been frustrated with Crouch's low 100's, especially as captain a couple of times. Well now I'm appreciating what he offers. Week to week effort! As the rest of my team crumbled, Crouchy stepped up. LEGEND.
Losers
Let's save the best for last shall we.
Beams (64) – Not worthy of standing in Beamer's shadow. Next.
Adams (49) – Seriously. Have mercy. There is no DT god, and if there is it's the god of hell. If you traded in Adams this week that is simply unfair. I strongly advise you don't look at your team until 7:30pm Friday otherwise you could find it deleted.
Ebert (31) – Christ almighty what is this game. Brad Ebert was averaging 100 and a fantastic pick, instead you got 31 points and a probable out next week. Try and convince me that winning this game doesn't involve a huge amount of luck. Good luck. Side note, I think you hold Ebert and hope for the best. There's no point in a quick patch up job, we've got leaks everywhere.
Wingard (57) – Hawthorn's midfield couldn't get much thinner and still Wingard sits forward. I don't know if I'd have the guts to ever pick him again. Trashcan.
Sicily (65) – Ah, magic of the Sic Dawg… Sometimes you're going to get a Sick Dog. It happens from time to time, as long as he doesn't hit anyone you can move on. He's still on my shopping list, what can I say I'm a sucker for spuds.
O'Meara (83) – His hot start aside, that second half was alarming. Two touches in over half a game of football after you get tagged? Hopefully that's not a sign of things to come. His first quarter and a half shows what he can do if allowed to roam free. You'd suggest that won't be too often anymore.
Coniglio (82) – Taggers can politely go and get F**KED. There's a few no name flogs popping up at every club. Jack Steele has always had this kind of behaviour on his resume, but it's frustrating nonetheless. Howe will probably go to Cogs next week, you just can't win at the moment.
Wilkie (31) – Way to step up in our time of need Callum. Huge effort to be this bad.
Witherden (65) – Useless. He's usually good for his 20 disposals, 5 or 6 marks and f**k all else, this week he did even less.
Neale (84) – Is he a gun? Yes. Was he worth $800k? No. His 3 round average is at 89, not even close to good enough. He better make the most of his next few matchups because it gets ugly after that. I was about to say glorified Titch, but he'd be lucky to tie Mitchell's shoelaces.
Cunningham (41) – Sometimes weird picks can pay off. This wasn't one of those times. Amongst all the carnage, there's not a lot of sympathy from me towards anybody carrying Harry Cunningham.
Heeney (67) – Heeney has gone from the one of the most consistent players in the competition to Christian Petracca v2.0. Not pretty. The way this season is going he probably drops 140 next week. Or 40. There's no in between.
Macrae (99) – It seems Macrae has been transformed from potential pig to serviceable premium in a matter of weeks.  Can we just have our pig back. The real pig I mean. Please. Gone are the good old days where you get what you pay for.
D.Martin (79) – Yeah good performance Dusty. He has filled Trent Cotchin's boots of contributing absolutely nothing seamlessly.
Masten (48) – Chris Masten gives the rest of us with very little ability and no job prospects hope. If he can do it, anyone can.
Fiorini (76) – This may have answered our question as to what happens when Gold Coast inevitably turn to sh*t. Did Hutchings tag him? I didn't see the game. I doubt it. He's still better than a few of the losers to come.
McKay (3) –
Murphy (57) – People often ask me if I believe in miracles. I simply reply that Marc Murphy averaged over 110 in 2017. Argument settled.
Gibbs (53) – SANFL specialist.
T.Walker (36) – Gun to your head, do you take Taylor Walker or Jesse Hogan? Answer, trick question. You cut your losses and go to the mid-season draft.
Taberner (57) – Matt Taberner has rolled his way out of the rolling 22 and into the basket of biggest midjudgement of ability since Cale Morton was drafted ahead of Patrick Dangerfield. Cale Morton was that much better.
Mumford (64) – Do you know what? At least Mummy showed some ticker. Sure his 64 points from 49 hitouts against Rowan Marshall makes me want to grab a noose. However his 9 free kicks against is exactly what I want to see from my players in a week like this. If you're going down badly, at least knock a few c**ts out while you're at it. My spiritual leader.
Rockliff (69) – Now we get to a little group of players I like to call the f**k up five. Rocky has looked so good at stages this season. He backed up a 178 in the JLT with a 166 in Round 1. Multiple times he has been on target for a huge 130+ score before being tagged. This week, the c**t looked like he was 50 years old. Slow and quite frankly pathetic.
Brayshaw (65) – Angus Brayshaw's decline over the past month is like nothing I have ever seen since Liberatore the day after. You don't need the helmet mate if you're not going to win a contested footy, never mind a single tackle. It was all cozy when the Demons were doing it easy. Fair weather fuckhead footballer.
Ellis (46) – How? Why? I should never have trusted a lesbian. Seriously, it takes a lot of skill to be this bad. One more bad week and he overtakes Michael Walters as the biggest f**kwit to ever step foot in my team and that is some achievement.
Liberatore (39) – Honestly, I'm surprised the Bulldogs didn't pull Liberatore out of the game and run a concussion test because he genuinely looks brain dead.
It's Monday arvo. I've had time to walk away, re-asses my heat of the moment thoughts and write a more considered opinion. But I can't. This score is that bad. How can you possibly be THAT bad? One more performance like this and his ACL can feel free to do us all a favour. Too far? Thank you.
Also, I'd like to apologise to Mark. I made a political comment last week referring to Donald Trump's complete lack of ability to govern a country let alone be the President of the United States and leader of the free world presidency. And that was wrong of me. Liberatore is WAY worse. Next time I'll use a better example.
Dangerfield (38) – Praise Satan, my captaincy choice didn't end up being that bad. Fear not everybody, Geelong didn't want to risk any further damage to Dramafield's vagina and rested him for next week.
FYI – The stubby can go and get f**ked this week.
This Game Sh*ts Me
Seriously. F**k this game. Why do we play it? Why do I play it? I honestly don't know. What I do know is I have been in a bad mood all weekend and I don't have the guts to tell anyone why. It's that pathetic. We play a fantasy game where we make virtual selections and allow ourselves to be negatively affected by blokes with lives better than our own in every single way. Brilliant. I actually thought this year was going to be different. I thought I had a good team and strategy together. Like f**k I did. It's not worth any more time and energy complaining. This game sh*ts me.
The Other Bits and Pieces
Has anyone seen Ricky Gervais' After Life? If not, do yourself a favour. If you have, that's about where I'm at right now. I can just be mean to everyone, not give a single sh*t, and if I need to I can always just kill myself and be done with it? I'll be disappointed if I don't get a complaint this week…
1841. Haha. This is my worst score of the season by 300 points. It's probably one of the worst non-bye scores I've had since playing Dream Team. I'm not rage trading. I'm not even looking at my team. They make me sick to my core. I'll probably downgrade a rookie and upgrade Drew, and dropping Dunkley hasn't really worked for me so why not bring him back.
After last week I'm not sure what my advice is worth, but rage trading probably isn't a great idea. I know Liberatore might as well be in a wheelchair out there, but guys like himself, Ellis, Dangerfield, Billings, Rocky, Brayshaw, Witherden, Sicily, Heeney and 100 others could all play football no more than 2 weeks ago. They have to come good. If they don't it's going to be a long season…
Now if you'll excuse me I'm going to go and cry for the rest of the week and I'll decide on Saturday whether this game is even worth my time. Good bye.
*This article is in no way over exaggerated to try and give the Fantasy communtiy some release in a time of immense frustration. Just in case you don't speak sarcasm, the opinions of the writer should in no way be taken as those of himself, rather his alter ego stemming from a multiple personality disorder*