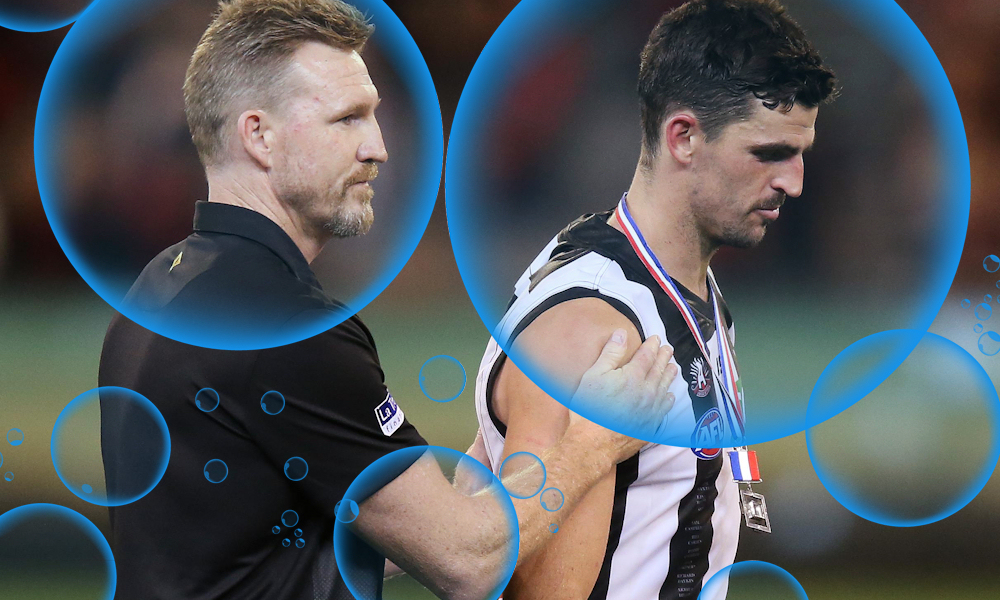 One corkie later and the rankings have been thrown into disarray. It was another solid week for most coaches, but we still can't put it all together. Upgrade season begins now and the sooner we don't have to get our rookie bench decisions wrong, the better. Let's recap who's hot and who's not, it's time for the weekend wash-up.
Legends
Houli (125) – This takes Bachar's average to 103 from his 3 games this season. He was forgotten after an early hamstring setback, however he's still priced under $600k and looks back to his best. I like it, but I like a teammate of his just a little more.
Ellis (111) – 2015 Ellis is back! It's easy to forget his breakout 2014 where he averaged 96, then upped that to 103 a year later. He has a fantasy game about him. Exactly why his form dropped off so dramatically is impossible to say, but he's back on the wing and thriving. It's a contract year for him and he shows no signs of slowing down. I'm on board and I can't recommend it more! Still a bargain at $605k, gun.
Pendlebury (148) – Pendlebury has been bitterly disappointing this season, averaging just 91 until ANZAC day. This was a timely reminder that he's still a gun. Sadly he he has lost that invincibility to bad scores with so many gun Collingwood mids. Can we also agree to never cry about Eagles fans booing again, it's like we want the footy to be boring!
Shiel (136) – This score takes Shiel's 5 round average to 114.4, making him one of the most inform midfielders in the competition. I'm still not touching him in Fantasy, but his form is great news for Merrett's prospects. With Essendon's midfielders all firing, their opposition have a much tougher task trying to tag them out of the game. Perhaps I'm missing out here, but you'd think Shiel now has to be tagged.
Grundy (123) – Never in doubt. A couple of average scores have held him back from completely dominating this season, however he's as cheap as he will ever be. As a non-owner I can tell you it's a nervous wait every week watching Grundy's scores tick over, get me to Round 14 ASAP.
Boak (127) – I'm speechless. Boak's best EVER disposal average is 26.8, and his best fantasy average 100.2. We're talking about a player in his 13th season here. A move back to the midfield rightly set him up to push his average back towards 100, but he's the highest scoring player in the game. The entire competition. In the 5 games he hasn't been tagged he's averaging 127 and 35 disposals. How much longer will Rocky cop the attention? Either way Boak is reaching must have territory, and at this rate getting him won't be easy. What a pick. What a legend!
Fiorini (137) – … Once again it's a shame that I never put myself through actually watching Gold Coast's games, so I can't really give you an educated opinion on his prospects. However I do know he tackles well, wins a lot of the footy but doesn't kick the footy that well. Basically, he's a perfect fantasy player. Gold Coast's downward trend is concerning, but Fiorini is in the top 8 mix for sure. Owned by just 1% of the competition, this selection was nothing short of genius.
B.Smith (108) – Boom! Brodie Smith's first month wasn't exactly inspiring, however his last two weeks lift his average to 85 which is all we can ask for. He should continue to gain cash and become an easy trade up to a fallen premium around the byes. Great success.
Ross (122) – I'm not willing to call him a fallen premium, however after a shocking start to the season Ross has averaged 117 in his past 3. How he struggled at home in games against Gold Coast and Essendon is still a head scratcher, but he looks to be back in form.
Taranto (130) – Go on then, trade Taranto out. I called him a must hold last week and there's good reason for that, he's a gun. Did you like my Tom Browne impression? When a dart hits you better make it count! I love a tackler, and Taranto is averaging over 7.5 per game. Looking at his fixtures, there's absolutely no reason why he will dip under his average of 110. Awesome pick!
Mumford (113) – It's a mixture of relief and ecstasy, but we're not there yet. There's still 7 weeks to go.
Coniglio (115) – Unfortunately Coniglio's first quarter was too good, just like Rocky's. After a 60 point Q1, he crawled his way to 115. His ability to beat a tag is still concerning, he had just 6 touches and no tackles after the 5 minute mark of the third quarter, and two of them were goals. Steele may go to him next week, but if he doesn't you can pen Cogs in for something disgusting.
Jones (104) – Fine, Zak Jones is looking a solid option in defence. He's playing in the guts and averaging 96, but it's Zak Jones. Do you have any dignity?
Mundy (119) – Mundy3hundy was only ever ending in a huge score for this gun of the game. His 3 round average is now 109 after a slow first few rounds. I'm still a hard pass, but if you bought low in draft then kudos to you!
Fyfe (124) – Primed. Sure Fyfe is a huge risk, but the upside is too much to ignore. $715k for a bloke who will average 115 is he stays fit. Let's play a hypothetical game and say I didn't have enough cash to upgrade a rookie and Liberatore's time was up, I'd be looking no further than Nat. He's unstoppable and Freo winning can only be a good thing. He's a lock to be a top 8 midfielder in my book, sadly how many games he plays is another question entirely. Worth the risk.
Shiels (145) – If you're even more strapped for cash, Liam Shiels is a great pick as the random scorer of the week. Coming off the back of an injury affected 26, his price now bottoms out at $624k. Considering he averaged 100 last year and Mitchell will miss the entire season, you could do a whole lot worse than Liam Shiels. Consider.
O'Meara (134) – I gambled on O'Meara early in draft, and checked to see if he was currently in the top 8 midfielders. Is he ever?! He's the highest scoring "midfielder" in the entire game! Does he have to worry about a Hibberd tag this week? I wouldn't have thought so… He has always been a gun, now he's an uber premium fantasy midfielder. Racking up disposals, laying hugs, he can do it all. LEGEND!
Sicily (116) – I love me some Sic Dawg, and once again he's having a brilliant season. He'll hover around the 100 mark all season and is a certainty to be among the best 6 or 7 defenders this season. He remains relatively unique and I see no reason not to bring him in. Get on.
Dangerfield (138) – Dangerfield was on notice at half time, I guess a 100 point second half is a reasonable way to answer those questions. He's just an easy set and forget player for the rest of the year, through every up and down. Would I have the guts to ever captain him? Absolutely not. One Danger is plenty for me.
Duncan (130) – If only Duncan had been gifted defensive DPP… You can bet he'll be solid all year, averaging 100-105 with ease. That's elite as a defender, as a midfielder however… He just gets the job done.
Ablett (108) -Fancy a piece of Gary Ablett as a forward? I don't blame you. Injuries are a concern for me, but I'd sleep so well at night with Gary nestling in a forward pocket on my squad.
Hurn (109) – If the Eagles are going to be continually belted this year, I guess Shannon Hurn is going to be an elite premium! I don't like it at his current price tag, but you can't argue his form. Gun.
Hickey (141) – Massive WTF moment. Gladly didn't see the game but the one positive to come from it was Hickey's dominant performance as a solo ruck. It's Tom Hickey at the end of the day, but he's a great get off the draft waivers this week. Worth a punt.
Tom Stewart (124) – Call me sick, but I turned the radio on for the final quarter of my Eagles humiliation, and I couldn't have cared less. Listening to that late junk from Stewart had me like…
Losers
D.Martin (68) – When you're getting tagged out of a game by Michael Hibberd, we've skipped past alarm bells and have reached DEFCON 1. Why he sat at full forward where Hibberd is most comfortable while Richmond are short in midfield is beyond me. It worked for Richmond, which is even more concerning. Priced at around 80 as a forward, Dusty almost becomes a must pick at some stage even with his struggles. Every club seems determined to tag him though, so my thoughts last week have gone out the window. Dusty poses one of the greatest fantasy dilemmas of all time, surely he comes good… Does he? I'm back and fourth changing my mind every hour. For now I'm happy to sit back and wait to pounce.
Gray (58) – If you need any proof that there's no floor for how badly a former premium can fall away, just ask Robbie Gray. His 3 round average is 57 and now looks set to miss a month with a hand injury.
Salem (76) – Thankfully he saved some respectability with a 40 point last quarter, but Salem falls into the same bracket as Jack Crisp for me. Most of the time they look awesome and can post some massive scores, however they're just as capable of scoring 40… Too much sleep lost for my liking.
Petracca (46) – Remember when we thought this guy might become a fantasy gun? Hilarious. Melbourne's forward line is so bad that Petracca is probably their best target!
Hibberd (44) – If he hadn't announced himself as dead to every fantasy coach in Australia, he now has. Mission complete.
D.Smith (41) – This is a tough scene for anyone who gambled on Devon Smith early in drafts. Hopefully his mysterious knee injury isn't too bad, a week off won't hurt him. If he can get back next week he should be ripe for the picking as we upgrade our final forward in a months time. Fallen premo incoming.
McGrath (71) – I'm getting really sick and tired of McGrath's inability to score anything over 80. He had just 15 disposals on ANZAC day, and may as well be playing at half back. I'm still waiting to see this gun midfielder we were all promised…
Bowes (54) – All good things must come to an end, and Jack Bowes came to a grinding halt on Saturday. His 14 point second half goes to show why owning Gold Coast players can be so difficult. It's hard to score if they don't get their hands on it.
Witherden (71) – Witho we need to chat. Either you want to be a top 6 defender, or you peaked in your first year. The constant teasing is doing nobody any favours. Having put together three great weeks in a row, Witherden was hardly seen in the Q clash and takes his average score back to 88.5. His 3 round average is 89.7 and 5 round average 89.6. Maybe this is as good as it gets.
Whitfield (39) – What a f**king disaster. Get tagged to 80, fine. Have a quiet week, fine. However a corky that must put him in doubt for next week, while scoring just 39 dragging his average down by 14 points and lifting his break even to 173 is a kiss on the d*ck to anyone who doesn't own him. Whatever you do, under no circumstances do you trade Whitfield. Even if he misses two weeks I'm holding, keep upgrading elsewhere. It's just a massive kick in the d*ck.
Heeney (78) – Heeney has traditionally relied on his consistency throughout his career, and he has been anything but that to start 2019. It doesn't matter how he gets there, Heeney should average mid 90's. However our dreams and hopes of him becoming a fantasy star seems to be dissipating in front of our eyes.
Macrae (91) – It's feasable that Macrae just got extremely hot last year and put up unsustainable numbers. There's not a lot wrong with his 110.5 average at all, this was the first time he has dropped under 100 all year. It's just his price tag that puts him in the losers. He has to put up a huge score against Richmond at Marvel next week, or it's serious alarm bells. I'm expecting owners to be rewarded with a 140. Patience is a virtue in this game and Macrae is a gun. He's also becoming affordable…
Bontempelli (85) – I let him off the hook last week, but The Bont has gone back to back trash. It's no surprise to see him getting extra attention, however he has laid just 5 tackles in the past 2 weeks. That ain't gonna fly. You're in it for the long haul if you've already got Bont, he's going to be awesome. However non owners are going to have a second bite at the cherry in no time at all. He's still averaging 109, it's not all doom and gloom.
Liberatore (57) – Bont's struggles have been mirrored by Liberatore and it has owners at panic stations. Let's relax. Make no mistake, his performance was as useless as a Trump in the Whitehouse. However it's one stinker. Two weeks ago Libba was still a bargain, averaging 103 and a solid hold until after the byes as our final upgrade. A couple of tough games later and people are pulling the trigger? Don't come crawling back when he scores 100 against Richmond next week. Libba attended 20 centre bounces so there's no need for too much concern, he'll be back. This is a case where you ignore breakevens.
Henderson (73) – That hurts. His last quarter salvaged what was looking like a rookie score, perhaps we got a little ahead of ourselves. It's Ricky Henderson after all. Let's just accept Ricky for what he is, a weapon who should never be near our actual Fantasy teams.
Newman (66) – I think my biggest success this season has been correcting my howlers. And there has been a few of them. I actually traded Nic Newman in! In fairness he was on target for another 80-90, but he's not exactly setting the world on fire. If he's out for an extended period, feel free to upgrade him to a premium.
Simpson (45) – Rest in peace sweet prince. When he's back, fit and priced around $550k, you can guarantee I'm going to do something stupid. I do love a big name, but Kade turns 35 next week. Sometimes you just have to let it go.
Sheed (60) – Gutless. With Redden out this was Sheed's chance to prove himself as a must start midfielder in the Eagles side. He has left this one onto middle stump.
Petrucelle (35) – GAWN.
Cripps (35) – WAFL.
Darling (27) – WAFL!
Schofield (6) – Retirement.
Sheppard (46) – Whoops. 

It's nominations time…
T.Hickey – Why not? 25 disposals, 7 marks, 12 clearances, 38 hitouts, 5 tackles… He took the genuine p*ss.
J.O'Meara – Jaeger's third 120+ score came on the back of 42 disposals and 8 marks. Imagine if he hit his tackle average of 7! The highest average midfielder (Not including Boak) in Fantasy. His 4% ownership must be laughing.
B.Firoini – Back to back nominations is no mean feat, but Firoini deserves every accolade coming his way at the minute. 31 disposals, 6 marks, 8 tackles, 1 fantasy gun!
T.Taranto – Taranto is showcasing his massive ceiling, mainly thanks to laying another 10 tackles. He also had 30 disposals and a goal for his second 130+ score of the season. He currently sits amongst the top 8 midfielders and goes into a coin toss with O'Meara for my vote.
D.Shiel – Consecutive 120+ scores is rare territory for Shiel, you feel he was one Essendon goal away from an ANZAC day medal. 34 touches, 5 marks, 7 tackles and 7 clearances is a sign of his current form.
Who gets your vote?
This Game Sh*ts Me
I nearly blew my lid at taggers, but it's probably a bit much to ask our best players be allowed to run around and have 50 touches. No, what I want to know is why there's ALWAYS something going wrong. Most weeks it's rookies. If not rookies, the best Fantasy 'defender' in the comp gets corked and scores 39. The 63% of the competition who don't have him have just had their seasons saved.
Sure he may have been tagged to 80 eventually, but there was no way you were getting Whitfield for much under $800k. Now you're getting a gift served on a platter in a matter of weeks thanks to his BE of 173. I had to spend half the season watching Dochery and Laird dominate before I got them in at a premium, I finally get one right and it goes tits up. I'm furious.
If you just traded in Whitfield recently, my heart goes out to you. This game sh*ts me.
The Other Bits and Pieces
2169. What else did you expect? I said consistency was key but this is taking it a little too far. I lost 12 points after the final siren blew, thanks a lot champion data. We've taken the Alastair Clarkson next man up approach, and not even Whitfield's 39 could stop the Jeff's from reaching their par score. Rain, hail or shine we'll put up 2150. Rank is now 800 and the team is looking pretty.
It's upgrade time, and I've got my first real dilemma of the season. Upgrade a forward rookie to get Dustin Martin, or play it safe with Brandon Ellis? This is how I'm sitting early:
Parker -> Larkey
Duursma -> Ellis
I've held Setterfield and I have a sneaky suspicion he can come back and average 80s. He has always put up solid fantasy numbers and certainly has a point to prove. Given that Gryan Miers is apparently the third coming of jesus, I'm happy to wave goodbye to Duurs on good terms. Wingers are having a field day this season and Ellis can average close to 100 with ease. I just need to see a sign of life from Dusty first.
If anyone trades Whitfield, even if he misses a week or two I'll come and strangle them. Two weeks ago Libba was going to average close to 100 and be a hold until after the byes, a couple of tough weeks and you want him gone? Forget his BE, he's priced at just over 80 and he could easily bounce back with a ton next week. Get those dud rookies off your ground first.
Good luck legends, maybe next week I can crack 2200…