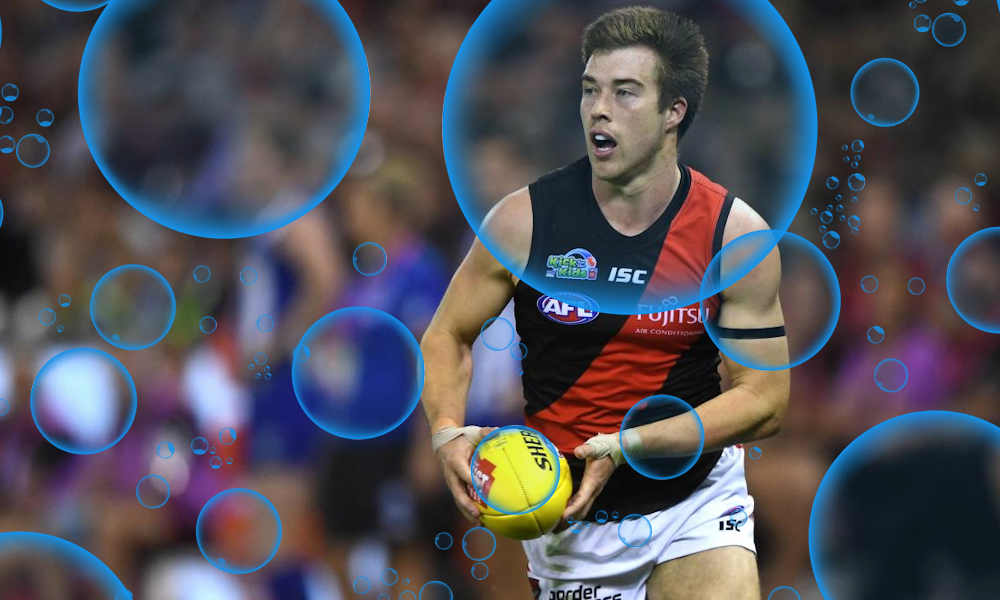 One day off and we're back into it again tomorrow! I can't complain, it's the season of football. Even better, those that had a shocker of a week only have to sit through one day before making amends! This round it was our rookies coming to the aid of our under performing premiums, just as many of us make our first significant upgrades. It's almost time for Round 6, but for now it's time for the weekend wash-up…
Listen to the AFL Fantasy Podcast with The Traders at Apple Podcasts, Spotify and Google Podcasts.
Legends
Witherden (106) – Witho has been consistent if not spectacular, but this score takes his three round average to 100. We have the big two in defence, then it's the best of the rest. Witherden comfortably sits amongst those names.
Merrett (143) – The ship is leaving the harbour. Zach's back and we all know he has the capability to average 110-115. We may look back with regret at not grabbing him for under $700k, let's not forget he has previously been in the pig conversation! He looks back to full fitness and is set to take the season by storm. All aboard.
Shiel (127) – Essendon's sudden change in fortunes has brought the best out of Dylan Shiel. He racked up 36 disposals and 7 marks against a lacklustre North Melbourne side, but his succeptability to a tag and lack of tackles still concerns me. Regardless, he should average triple figures this season.
Heppell (123) – It doesn't matter how he gets there, Heppell will get to his standard average of 105. With Merrett and Shiel ahead of him in the tagging order, there's nothing getting in his way. Safe as houses.
Hurn (122) – The Eagles gameplan involves getting the ball in Hurn's hands, however there has been extra cheap stuff the last couple of rounds. This makes it back to back 120's for Bunga and he's putting up disposal numbers similar to Jake Lloyd. The problem is it hasn't worked for the Eagles, the only reason he's seeing more of the footy is that they're struggling to move the ball up the field. Is it sustainable? No. However a top 6 defender he most certainly could be. Safe pick.
Sheppard (110) – Shep is in a similar boat to Hurn. His numbers the last 2 games are inflated, however the Eagles love to switch the ball and they seem to look for Sheppard a lot. He has also improved his intercept game out of sight. I would never have seen this coming, but this is the real deal. Feel free to pull the trigger!
Petrucelle (115) – Speaking of not seeing it coming, Petch was the Eagles shining light on a dark Easter Friday night. Expect similar scores to Rozee after his big 5 goal performance, however the price generation this gets you is invaluable. If you fielded him to cover Setterfield, bonus! What a gun.
Coniglio (126) – That's more like it Cogs. He's at his best when impacting the scoreboard as well as racking up disposals and did it all on Saturday. In the 4 games Coniglio hasn't been tagged he's averaging 127. If he avoids the Hewett tag this week it's only up from there. Conilgio is going huge. $773k is value.
Taberner (128) – Matt Taberner has shown glimpses in the past that he can be a DT asset, but surely nobody saw this coming! He's averaging 8.6 marks per game to go with 2 goals, if only he could kick straight… The ship has well and truly sailed but what a draft waiver!
Walters (113) – Walters has had a few good games in a row, it's almost as if he has done this before? Do it, I dare you.
Langdon (118) – The perennially underrated Ed Langdon continues to put together a great season out on a wing. You could never do it, but a late draft pick that didn't get the attention he deserved.
Salem (117) – There seems to be a lot of distrust and I rarely hear his name in the conversation, but it's time to take Christian Salem seriously. He's now averaging bang on 100, making him the third highest averaging defender in 2019. If it wasn't for his inconsistent past we'd be all over his role this year. With just one score under 90 and the ability to win 30+ disposals, he's a bargain at $644k.
Billings (105) – Lock and load. Billings is dominating so much the tags might start coming his way! Richo has cracked the code to coaching, which is apparently tough for some. Get your best players in the middle of the ground and not the forward pocket. Criminally low ownership given his consistency and role, move on people!
Hore (99) – This is the last you'll have to hear me cry and complain about Marty Hore, he's in for me this week! For $120k more than I sold him 2 weeks ago… Anyway, he looks at home and Neville Jetta has been ruled out for a few months. It's Hore's spot to lose.
D.Martin (110) – DPP ALERT. Dusty was an intruging pick regardless, he was back to his best on the weekend even with George Hewett running with him. Crucially Dusty has faced some of the best taggers in the game over the first month. Greenwood and De Boer sat on him as well, but now he faces a run of Melbourne, Bulldogs, Fremantle, Hawthorn, Essendon, North, Geelong and Adelaide before the bye. Who's tagging him there? Priced at around 80 as a forward, this is almost a no brainer for potential alone. A priority target for me next week!
Lloyd (135) – Lloyd is clearly the Swans best ball user and it makes sense for them to get the ball in his hands at every opportunity. However it's not working, and even I have to admit he gets some really cheap kicks where the team should probably be going forward. Not sure what I'm even on about here, stuff it, go for your life Jakey. The finest seagull around.
Cunningham (120) – Cunningham had another 30 disposal performance on Saturday, and now has defensive DPP? It's a shame I know absolutely nothing about him or his role, but it must be good. Sydney hate having their best players in the midfield, but it's freebies at half back. He's still cheap at $614k… If you know more than I do, or just love a punt, go for it!
Walsh (113) – There aren't enough superlatives to describe how good Sam Walsh is playing right now. Michael Barlow eat your heart out, the first year rookie is averaging over 100! He's headed for the best first season I've ever seen from a rookie (Not mature age), imagine not wanting to pay $270k for this kid… LEGEND!
Sloane (125) – As a frustrated Matt Crouch captainer on Sunday, Rory Sloane looks the goods. Mainly because he doesn't spend half the game on the bench. He does it all from a fantasy perspective and taggers aren't the concern we thought they might be. He has gone under 110 just once, but runs into Jack Steele this week. As long as he's cashing in every other week, Sloane will remain one of the picks of the season.
B.Crouch (114) – Brad Crouch had one bad game? That was rectified quickly. Absolute ball magnet and a strong hold until very late in the season!
O'Brien (77) – I wish we'd known how severe Jacobs' injury was initially, ROB was a genius pick on your ruck bench. With Jacobs out for a prolonged period you've just made yourself an extra $250-300k and if he can survive until the Round 13 bye, well that has just solved all your problems. Awesome pick.
Fiorini (126) – AGAIN. That's four scores above 110 in 5 rounds, Fiorini is no longer a player with huge potential. He's a genuine uber premium midfielder. If Gold Coast go downhill that will be a concern, but for now ride the wave.
Witts (123) – The Suns are a fantasy gold mine! Even when they're being belted, which is a nice change. His first 5 rounds were as easy as it gets and the next few rounds will tell the true story, but it's a massive win so far.
Henderson (141) – Ricky Henderson is a weapon. This score makes it four consecutive tons and takes his season average above 110! I see no reason why he can't keep up this pace, we knew someone was going to get a bigger share of the ball with Tom Mitchell out. We didn't know that man was going to be Ricky Henderson. Wow.
Kelly (121) – What ankle injury? Tim Kelly eased any doubts coaches may have had over his place amongst the top forwards. When not tagged this season he has averaged 108, and the only reason he went under 100 was because he injured his ankle early in the 4th quarter. I was slightly nervous bringing him in on the back of a 50, but I'm just glad to be on board. He's a must have, it's as simple as that.
Ablett (110) – Reminder, Gary Ablett is still very good at football. How ironic for Jesus to be resurrected once again while we celebrate Easter. Gary picked up forward status and has to be on the watchlist, however he's not the fantasy force he once was. It's a pass for me.
Losers
Grundy (78) – Thank god Brodie Grundy bullied Tim English like he was in junior school because this weeks score was a disgrace. His current season average of 110 isn't what we paid for, and these 70's and 80's need to go. Bellchambers should help to get him back on track next week, and he better.
Adams (56) – Many coaches faced the 50/50 choice between Taylor Adams and Zach Merrett 2 weeks ago. Now that is a tough scene.
Lyons (37) – There I was foolishly thinking it couldn't get any worse? He'll struggle to crack 100 in the NEAFL at this rate. We should get to see if he can next week.
S.Martin (55) – It's always sad to see a former fantasy force fade away. Nobody would've thought Stefan Martin could ever be relevant when chipping in the ruck at Melbourne, look how far we've come. Now we've got draft coaches across the country searching for the nearest bridge.
Neale (76) – Collingwood are a tough gig for your midfielders, and if anyone traded Lachie Neale in for over $800k then they need their head checked. His owners shouldn't be too disappointed, his average of 117 is still brilliant.
Scott (43) – In, Luke McDonald. Out, Bailey Scott (Sh*thouse).
Goldstein (66) – Praise Satan I traded Goldy 3 weeks ago. A shocking pick but a good save.
Darling (18) – I hope Jack Darling has taken a keen interest in the Eagles new WAFL team, he'll be joining them next week. What an utterly disgraceful performance and season he's having. I tipped him for the bloody Coleman. I don't what possessed him midway through last year but I like that Darling a lot more.
Yeo (74) – More like Elliot No. Am I right? His price is tumbling towards $600k, it's about to get to the point where you can't go wrong. As soon as he puts a couple of games together, get on.
Taranto (84) – Harsh, but fair. You simply cannot be scoring 4 points in 50 minutes of football. Let's put this down to a minor blip and hope he bounces back in the derby. GWS have great fixtures and he's a must hold.
Hopper (55) – Anybody getting excited about Hopper due to Ward's injury can kindly show themselves to the door.
Liberatore (72) – Luke Beveridge can also be shown the door, and I hope it hits him on the way out. Bailey Williams, BAILEY WILLIAMS was at the centre bounces for the majority of the game instead of Libba. How does that make any tactical sense? Your best clearance player playing at half forward? Granted Libba didn't have his best game, but he still finished with 9 clearances. Just get him in the guts Bevo.
Macrae (100) – I may have just officially lost my mind. I've put a bloke in the losers column who hasn't dropped under 100 all season! However his role on Sunday wasn't great, and he made sure the coach knew he wasn't enjoying his time out of the middle. I want to say he did it well, we'll see next week. Given Macrae's owners paid nearly $900k for his services, they'd want a big captains score against Freo next week.
Hunter (65) – If you're going to get extra praise for your better performances, then you have to stand up for your poor performances. The Bulldogs were a shambles against Carlton and Lachie Hunter would have struggled to find the footy if you stuck it in front of his face. Not good enough.
Milera (43) – This game sucks sometimes. A lot of the time. It's the unique injuries that hurt the most, I found that out the hard way last year. The only consolation you can take is if you can turn Milera into a gun defender. Problem is the two must haves are closer to a million dollars. I've got him in draft, no good comes out of this. Sh*t game.
Burgess (24) – Really? 2 disposals. Two. T.W.O. Burgess was gifted to the Gold Coast as part of a special assistance program to help the Suns. Somebody needs the help of a special assistance program here and it's not Gold Coast.
Cousins (44) – The chirpy Cousins owners seem to have crawled back down their holes. Six disposals only just beat Burgess! This score didn't make his breakeven and took his average to 72.6. He made a nice $120k, but you could've gotten that from blokes costing $150k less. Ross or Hayes is your answer this week, dilemma solved.
Clark (48) – Thanks for your service Jordan, but it's time to cash in. Pen him in for a 90 next week the way some of our rookies are treating us, but Zach Tuohy has to be coming in after returning to the VFL last week. G.A.W.N.
There weren't many outstanding scores last round, so there's some fairly rogue nominations this week…
R.Henderson – I love a triple double, and Ricky is just loving his current role. Draft owners unite, he will have been best on in many leagues!
Z.Merrett – Did anyone trade in Zach last week? Smug bastards. Now your chance to vote, after an 11 point first term Merrett went super saiyan with 15 disposals in the second term. Gun.
B.Fiorini – It's about time we rewarded consistency, and Firoini's draft and fantasy owners must be loving life. 30 disposals, 5 marks, 7 tackles… He does it all!
R.Sloane – It was a tough week for captains, and Rory Sloane was the best of the popular options. He's now averaging over 115 after this 32 disposal, 7 mark and 6 tackle performance. Bargain of the year contender and well worth the nomination!
S.Walsh – Surely the bargain of the year winner. Maybe even the bargain of the decade. Sam Walsh made it three consecutive tons with another 113, and gets my vote in a canter. Hopefully my other midfielders can take note next week, Walsh nearly outscored them all.
Who gets your vote?
This Game Sh*ts Me
Nic Newman… I mean Marty Hore. Bloody Marty Hore. 40 twice in the JLT series. 40 on debut. Dropped. How has he gone from a lockdown defender, VFL bench warmer to one of the rookies of the year. It's happened again. There's very little logic to it, but it doesn't surprise me in the least. The rookie roulette is in full motion and it's doing my head in. This game sh*ts me.
The Other Bits and Pieces
2149. Not once have I been excited with my weekly score, and not once have I been left disappointed. Maybe it's making for less flavoursome wash-ups, I do apologise! I'm living in the 22nd century, no more than 65 points of deviation over 5 weeks. Next week is the week we break 2200!
My first butchered trade of the season was Hore over Burgess, and it's an expensive one. I should have a kitty of $300k this week for the upgrades to come, but instead I'm left with $90k. It hurts. This is a good week to double downgrade, there's quality rookies all over the place!
Clark -> Hore
Burgess -> Hayes (Stack DPP)
Nothing overly complicated about these trades, but I couldn't be happier with my current rookies and future cash generation.
Repeat after me. No. Sideways. Trades. If you do, you may as well write off your season now. Hayes looks awesome, Ross has plenty of cash to make, Gibbons has a new lease on life, Hore is dominating and new rookies continue to pop up each week! If you can make an upgrade, go for it.
Quite honestly I've got no idea why there's an ANZAC eve clash tomorrow night, but my VC will be running around and I'm not complaining! Good luck this week legends, can we PLEASE make this week a high scoring one…