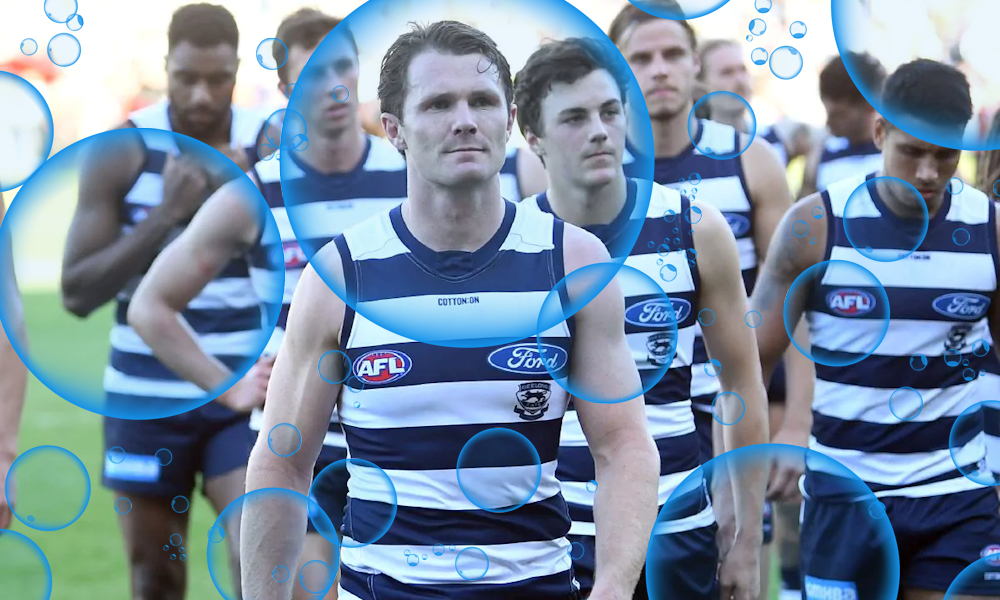 A week off means I have double the rants on my mind! Most of the sporting community in Australia was running on next to no sleep, and when you combine that with the horror show of fantasy scoring we saw over the weekend, there's probably some short fuses. While I'm dozing in and out, it's time to rant. It's time for the weekend wash-up…
Legends
Cunningham (128) – Never thought I'd be kicking off the legends with Harry Cunningham. This takes his average to 90.8, and he did it impressively with 25 disposals, 8 marks and 10 tackles. Don't do it, but a great late selection on draft day .
Lloyd (122) -Allllllllllllloyd is bringing his own footy this year. That's 120+ in every game so far, bloody legend.
Gawn (125) – The big fella hasn't let us down, at least after his Round 1 debacle. He's monstering everyone in the ruck and is only benefitted from Preuss being in the team. Forget those concerns, he's going 110+ again this season. Gun.
Heeney (105) – Who's welcoming Issac back this week? I can't be the only one. It was extremely short sighted of us to trade him out, he's still going to be high 90's and a lock for our top 6 forwards. If he can keep this 60/40 midfield role three figures isn't out of the question, and he's currently underpriced.
Hore (93) – Please do not be Nic Newman 2.0. Please.
Grundy (153) – How's my bye plan going? It's… a tough wait. Luckily Grundy doesn't play Tim English every week, 58 hitouts to 6 is nothing short of a disgrace. Nobody had capitalised yet, just leave that to the ruck pig. Paying up for those 2 big rucks saved a lot of weekends, patience is a virtue!
Adams (116) – At $680k and 1% ownership, you could do a lot worse than getting Taylor Adams in if you're after a premium midfielder. His ability to tackle should mean he can still score well even with Collingwood's plethora of midfilders. Great option.
Bontempelli (116) – REAL DEAL ALERT. No I'm not referring to Bontempelli being a great AFL footballer, we've known that for years. Now he's a legitimate fantasy force. Bont is playing as a full time midfielder this year, and his ability to rest forward allows his TOG to push 90%. He had another 36 disposals and 6 tackles, I think he can average close to 110 this season. What a pick.
Liberatore (108) – I shouldn't have to add anything here? We knew he was a tackling machine, but his disposals are at PB levels. Now he's almost a bankable ton. Averaging 28 disposals and 6.5 tackles per game, the Libba train isn't slowing down. Boom!
Suckling (108) – The Doggies are potentially overusing the ball, but Suckling's fantasy and draft owners alike won't care. He's probably too expensive, but his average of 96.8 looks achievable, which has him in the running for the top 6 defenders. 1% ownership is just disrespectful.
Daniel (105) – That's Caleb Daniel. Yes, take note. Daniel has moved to half back and the Bulldogs are playing a high possession brand of football. He racks up plenty of uncontested +6's and also has a fair share of kick-out duties. He's a lock to get FWD/DEF DPP come Round 6, is averaging 27 disposals per game and has posted a 3 round average of 100. Priced at $606k, he's sitting at the same value as Dunkley. If you didn't have any cash lying around, I'd take that trade. Huge smokey.
Whitfield (124) – Lock, must have, legend, pig… Call Whitfield what you want, if he's allowed to roam free it's one of the most beautiful fantasy experiences you'll ever have. GWS want the footy in his hands, and importantly HE wants the footy in his hands. Some other players could take note. Only tags will stop Lachie averaging 120 this year.
Taranto (116) – Taranto does it all. He will average close to 30 touches, loves a +6 and tackles like a machine. I would go as far to say he knows exactly how the tackle stat is recorded, because he pins the arms like no other. Keeper.
McDonald-Tipungwuti (139) – There's probably some rogue blokes in a few draft leagues around the country that select and start Tipungwuti. Maybe they even made him captain. And you probably still beat them. Regardless, good on him.
Merrett (128) – Zach's back. This seems like deja vu. Merrett has a shocker in Round one, slowly works himself to full fitness then goes bang. He has definitely bottomed out and is an absolute steal at $673k. If you're after a premium midfielder, look no further.
Neale (139) – Astoundingly Neale was allowed to run free again, but this time Brisbane lost. I can't imagine coaches will continue to allow Lachie rack up 40 disposals every week, but he's finally beyond that phase where he can't breakthrough the 110 barrier under any circumstances. Lock and load.
Rockliff (132) – How good! It's easy to forget Rocky was tagged in the second half in Round 2 while he was headed for a second consecutive 150+ score. As long as he doesn't get knocked out, Rocky is back in pig mode. Genuine chance to average 120+. He was my captain last week and will be my number one go to more often than not!
Ellis (116) – The Tigers gameplan may not be fantasy friendly, but Brandon Ellis has it in his locker. He's back on a wing and is certainly capable of averaging 90s. Value.
Boak (109) – This goes to show how big a difference a game plan can make. Boak has never been a huge ball winer, yet has had 33+ disposals in every game this year. Every. Game. You would be arguing his case to be a top 8 mid, and he's classified forward only… He's looking better than Danger! Must have, eventually. *Hutchings could be headed his way this week.
Laird (115) – Anybody doubting Rory Laird long term can re-evaluate their coaching credentials. Whitfield and Lloyd may be all the rage, but they also cost a small fortune. Laird isn't going to get much cheaper than $700k, and he's still a top 3 defender. All aboard.
Gaff (134) – Shockingly Gaff hasn't forgotten how to find a football over his 6 months out of the game. He looked fit and hungry and should walk into the top 8 midfielders.
Hurn (124) – The Eagles did what they pleased off half back and the skipper took full advantage. The way our defenders are travelling outside of the big 3, Hurn isn't out of the running for the top 6. Amazing.
Sheppard (113) – It's legit. Brad Sheppard posted a triple double and is possibly the draft waiver of the year.
Cripps (163) – This bloke is from another planet. Cripps put Carlton on his shoulders and it still wasn't enough, but it was more than enough for his fantasy owners. It's hard to see him ever being held to under 100, and he's capable of 160's. You cannot go wrong, LEGEND!
Murphy (135) – If only teams could play Gold Coast every week.
Miller (149) – God this week sucked. What am I meant to say here? If only teams could play Carlton every week!
Walsh (119) – We've been blessed with Sam Walsh. He looks like he could be a generational player, I think we can agree the $270k premium price tag was worth it. Some of our more expensive options could take notes.
Witts (126) – I'm still baffled as to how he didn't dominate Tim English in a similar manner last week, this score was much needed with the big boys going bang in the ruck. Great pick so far.
Fiorini (114) – I rarely get the pleasure of watching Gold Coast on a Sunday afternoon, but I know there's some Fiorini lovers out there. This makes it three scores of 110+ in four games, but you couldn't get an easier month of fixtures all season.
Billings (124) – Significant. He has a perfect role on the wing this season, lock him in the top 6 forwards. Jack Billings is a go. Newnes is also having a party on the other wing, welcome back to relevancy St Kilda!
Listen to the AFL Fantasy Podcast with The Traders at Apple Podcasts, Spotify and Google Podcasts.
Losers
Brayshaw (79) – Considering he copped the Hewett tag, Brayshaw's score was respectable. Better than Cogs anyway. I'd still love to see any premiums getting tagged having 8+ tackles. Find a way to make an impact, you're on notice Gus. One day I'll nail a VC.
Dunkley (67) – An early contender for loser of the season. The sad reality struck me like a ton of bricks early watching this game. Dunkley just isn't very good. In fact he's sh*t. Not only did he not attend a centre bounce, that's not the reason he can't find it. He just doesn't try! Lachie Hunter had no problems finding the footy from the opposite wing. Absolute must trade this week. I'm not having another Billing's scenario! At least he scored us one ton…
Elliot (60) – Shocker. He was an expensive rookie…
Crisp (65) – Can this bloke just make his mind up? How do you find so much of the footy one game, only to not be seen in the next two. Confirmed himself on my never again list, without ever pulling on the boots for my fantasy team. That could be a first.
Treloar (82) – Tough scene this one. Treloar's scores with and without Taylor Adams are nothing short of alarming, and there's a clear correlation between the pair and how they play their footy. You simply have to stand by this pick, he could score 150 any given week. That's not to say he's not going to give you headaches. 9 kicks and 2 marks is deplorable.
Clark (33) – I don't want to look when the Thursday team selections come in. Our rookies are suddenly spudding it all over the place, for the first three quarters I couldn't tell you Jordan Clark was playing. Straight to my pine this week.
Dahlhaus (44) – HAHA. I mean… What a damn shame. Dahlhaus is playing a pressure forward role, and unless he averages 10 tackles per game he won't be near the top 6 forwards. Take nothing away from how sh*t his 44 was, that's unacceptable for anyone with 4 limbs.
Dangerfield (66) – Thank god Tim Kelly was tagged in the first half, otherwise Danger could have scored 40. Let's not pretend that Matt De Boer is the second coming of Jesus, Danger belonged out on the field at half time with the Auskickers. Soft.
Kelly (58) – Ankle injuries – Huge red flag. It was surely overkill for GWS to tag him, but Kelly's flying start to the season was always going to attract plenty of opposition attention. Regardless I can't find any excuses for his second half. He's still going to be a top 6 forward, but if his ankle isn't 100% he could bleed cash for a few weeks. You have to back him in.
J.Selwood (73) – Draft burn but otherwise irrelevant. I hope.
Menegola (37) – I want to say that Sam Menegola is going to turn it around and will soon be a value pick… However, if any premium ever dares to score me 37 points in a full game of football I'll see to it personally that they never take the field of play again.
Williams (53) – What a disgrace. Turning Williams into Lloyd has not only saved my season, it has saved my sanity. Zac just jogs around for 20 minutes, then decides it's time to actually run and get himself a quick one-two. Afterwards it's back to the deckchair. Everything points towards Williams being able to average 80 so you just have to tough it out, that doesn't make these scores any easier to swallow.
Smith (79) – Essendon are back in form, sadly Devon is not. He's still a top 6 forward in my book and I'm monitoring his break even closely. If you paid $765,000 for Devon Smith though, I have no sympathy.
Lyons (64) – I guess two AFL clubs and coaches saw what we didn't. Jarryd Lyons is just a spud. Nothing more.
Rozee (44) – Not fair at all, the losers are anyone who spent nearly $400k on a rookie who isn't a huge scorer! He has been brilliant, but his new owners will have unrealistic expectations. Hopefully he bounces back next week, however West Coast will be a tough gig.
Sloane (77) – He did well to get 7 tackles and crawl to 80, that's all his owners can ask when copping the extra attention. He faces Gold Coast next week and could easily go 150, let's not panic. Yet.
Petrucelle (33) – Five points. That's what Petrucelle managed from the 20 minute mark of Q1. There's no fear of him getting dropped yet, but he's not the answer if you need a forward rookie on the ground.
Sheed (65) – It was fun while it lasted, and when Sheed gets a full time midfield role he'll be a fantasy gun. Unfortunately there's too much competition at the moment. Chris Masten still looks like a high school janitor out on a wing, it's borderline depressing to see Sheed sacrificed forward. But that's the way it is. He goes.
Setterfield (70) – I'm on the fence as to where my anger should be directed here, and I don't think I can point the finger at Setters. I want my players chasing every +4 with intent, accidents are a part of the game. He sits on my bench unless a miracle happens (A forward rookie capable of scoring 50 actually gets a game).
Parker (30) – Vomit. Parker contributed sweet f**k all this game, his price has nearly plateaued. I'll try again, A FORWARD ROOKIE THANKS?!
Wingard (49) – Last and most certainly least was the Chad. Did you think Hawthorn missing their whole midfield would make him relevant? Think again. Highlights reel operator at the Hawks.
We have a head to head face off, of course I have neither!
P.Cripps 163 – He has 20 players on his back every week, and he still manages to clunk 5 contested grabs and lay 12 tackles. That's twelve consecutive tons for Crippa since posting a 96 in Round 16 last year. Who captained him?!
B.Grundy 153 – Word is the police are investigating into a potential manslaughter last Friday night, Tim English's whereabouts are currently unknown. 58 hitouts, 8 tackles and 3 brownlow votes. Signed ruckpig.
Who gets your vote?
This Game Sh*ts Me
One of the most frustrating aspects of being a fantasy coach is deciding which rookies to start on your field and who to bench. Luckily this season, our bench rookies have been so diabolical that we've hardly had a decision to make. That's rapidly changing. It's no surprise that the first week I had to choose between Jordan Clark and Scrimshaw, I got it horribly wrong. It was a trainwreck. The second Clark scraped his way to 30, you could lock in Scrimshaw for his best score of the season. By this stage it's not even anger or frustration, just a simple "That'd be right". Of course he f**king would.
Sydney Stack looked untouchable on debut, only to find himself on 12 points at three quarter time. Drew can't make 50, Parker dropped a 30 bomb, Setterfield is likely to be suspended, and Burgess is about to start losing money. DO NOT. Get me started on Marty Hore. Am I right in saying Nic Newman was a late in before going bonkers? What an absolute joke, Neville Jetta has just sucked off 36% of the competition. I had work, missed his late inclusion and the rest is history. I won't be surprised in the least to see him average career best numbers, it's history repeating itself. If you couldn't tell, this game sh*ts me……
The Other Bits and Pieces
2131. Clark over Scrimshaw hurt, but the core of my team continues to perform. I went 2196 last week, taking my ranking just outside the top 1000. Consistency is key! The lads have all lifted to help each other, this weeks score is my lowest for the season and last weeks was my highest. We're looking very good. Dunkley can go anywhere to anyone as long as he's not near the vicinity of my team next Thursday night. Once he's gone I should be rid of any spuds threatening to infect my team. Cue chaos Thursday night.
Scott -> Ross
Dunkley -> Heeney (Welcome back)
Nothing complicated this week. I asked two weeks ago whether Dunkley was Billings or Menegola. Well, Heeney was Menegola. As for Menegola, he now has his category of his own. Well done mate. It's a shame that I didn't get to write the washup last week as I traded Sheed and would have offered the same advice to everyone else. I'm usually a huge advocate for holding performing players, but role is key. If they lose it, don't be afraid to cut ties immediately.
This is the last week I'm ticking off any sideways trading, and at least one trade should be picking up a fresh rookie. Fixing rooks is a priority and cash generation now becomes key. It's downgrade upgrade from here on out! The premiums that sit in your squad today have a lock in contract until after the byes. Heeney is a perfect example as to why you just ride out the poor scores and take the good with the bad. See, I'm growing each year!
Good luck next week legends, it's going to be an awesome two weeks of Easter/ANZAC footy! Enjoy the break and let's make it a high scoring one, you don't want to be in a sh*tty mood over the holidays. Here's to hoping…