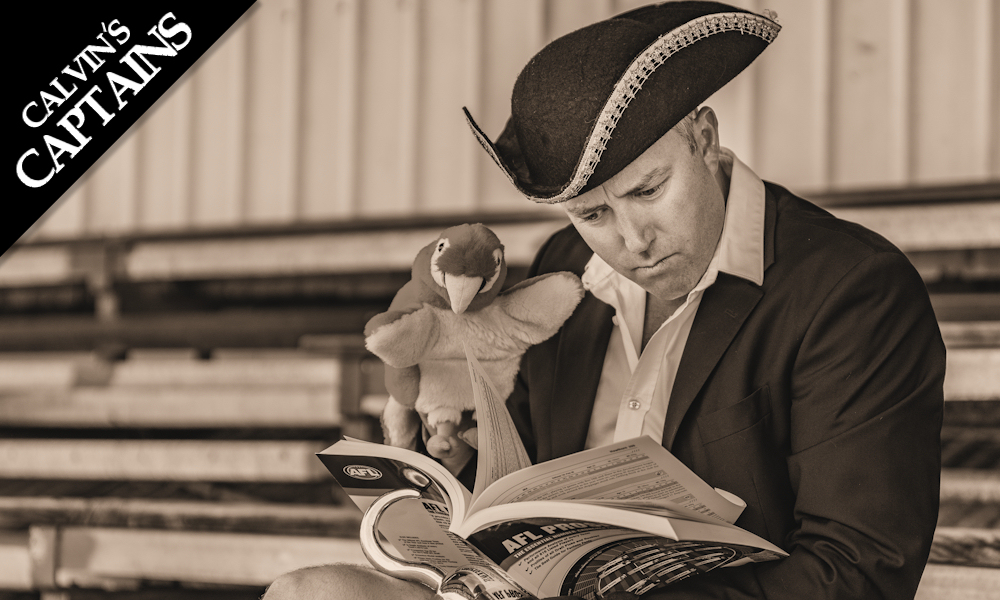 Welcome back legends!
Here we go again and after a terrible week from my personal position, I'm more determined than ever to find you legends some ripper captains here.
Dangerfield (38) was mine last week which hurt my overall average massively. Never again… will I have the Dramaqueen carrying my 'C'. Mark my words.
For others though, it seems many people enjoyed my #1 option that was Andrew Gaff (144) and as the third highest scoring player for the round, I'll take that all day, and so should you.
Enjoy this weeks CC – which I am very confident with, especially my top 4.
Watch @CalvinDT's broadcast: Here we are again on a Wednesday night. Join me for an #AFLFantasy chat and much more. https://t.co/euSVKaTMgB

— Adam 'Warnie' Child (@WarnieDT) May 8, 2019
RUCKS DOMINATE CARLTON
Before we continue, please make sure you have looked a the * mark next to those names, indicating their highest score for the year. Every ruckman who has played Carlton this year (expect for McEvoy) has had their highest score for the season.
Brodie Grundy scored 103 (Kreuzer/Rowe) and 141 (Kreuzer) against the Blues last year. Grundy had just 99 last week, but that was against Lycett who can be mega hard on his day, as Max Gawn found out earlier in the year.
Hey, if a picture paints a thousand words, then Grundy could score a thousand points this week.
WHO HAS IT EASY?
With Melbourne playing the Suns at Metricon, we really need to look at what the Demons could do.
Last week, Yeo (146) and Gaff (144) were both in the top 3 scorers of the round, and when you consider that Shuey (128), Redden (120) and Sheed (116) also racked up, we need to seriously consider a Melbourne midfielder as a captain for this week.
Angus Brayshaw only managed 65 but had 143 on them last year and Clayton Oliver who is averaging 106 this year, had 154 and 122 on them in his last two games. Nice!
Nat Fyfe meets the Tigers at home in what could be a huge day out for him. Fresh off 124 last week, Fyfe is averaging 113 and even had 128 on Richmond last year.
The Tigers are only second to the Suns when it comes to giving up points to midfielders and last week the Dogs posted 6×100+ scores against them. They have given up the most 100+ scores this year and if you are prepared to leave you captain to the final game of the round, you'll have a ripper finishing it off for you.
SHOWDOWN
As a Port player, Tom Rockliff has scored 127 and 69 in Showdowns against the Crows. As a Lion, he went bananas against them with 127, 140 and 180 which makes them one of his favourite teams.
This should be a high scoring game for the Power. A bad loss last week, meant that Rocky was thrown around the ground a bit for his poor 69, but will bounce back in this one. His record at home has been awesome this year and there is no one better who loves the big stage spotlight.
Travis Boak only scored 78 and 84 last year against the Crows, but we know he is traveling much better than that. He had 108 last week, and but will need to be watchful from a tag from Cam Ellis-Yomen who ran with Fyfe a little last Sunday.
From the Crows, it's hard to look past Matt Crouch who finally got back to the 120-mark last week. Now, the Power are the hardest team to score against for midfielders this year but Matt's record against them is rather impressive, with just one score over 120. His last five games are: 134, 97, 116, 111 and 118.
Last week, Collingwood posted 7×100+ scores on Port and Rory Sloane who is coming off a ton of his won will be looking to replicate the 106, 124 and 139 he has had in the last three Showdowns.
Should be a high scoring Fantasy game with both teams giving up 8×120+ scores between them in the last three weeks.
WHAT ABOUT THE OTHERS…
Zach Merrett v Sydney @ the SCG – Has been great but a poor record against the Swans with 99 and 86 coming in his last two. Brisbane did have 5×100+ scores on them last week though.
Dayne Zorko v Bulldogs @ MARS – 136 last week and 115 on the Bulldogs last year.
Dylan Shiel v Sydney @ the SCG – HEWETT TAG! Been too good not to avoid this one. Neale (84) copped it last week at stoppages.
Seb Ross v West Coast @ Marvel – Will he cop the Hutchings tag here or will it be Billings? Or maybe neither. Pass.
Jack Macrae v Brisbane @ MARS – 36 touches last week but only 2 marks and 2 tackles for his 99. Had 155 last year on Brisbane and loves MARS where he has scored 112, 151 and 149 in his last three. Can he be trusted?
Josh Kennedy v Essendon @ the SCG – 127 last week, playing well. Cats had 7×100+ scores on the Bombers last week, but JPK had just 75 on them last year.
Marcus Bontempelli v Brisbane @ MARS – 116 last week and loves the Lions with 117, 122 and 105 in his last few. Poor record at the ground though (61 and 56).
Patrick Cripps v Collingwood @ the MCG – Collingwood are bloody tough to score against. With that said, Cripps did have 146 and 89 on them last year. Be careful though.
Lachie Neale v Bulldogs @ MARS – Happy to back in Neale here for a 'comeback week'. Poor record (86, 88) against this lot though and form has been influenced by tags. He'll be right here.
Adam Treloar v Carlton @ the MCG – No Adams is a great thing for Treloar but his history v Carlton is horrific. He had 66 and 84 last year and 0x100+ in his last 5 against them. But still, he'll be fine… you'd think.
Jaeger O'Meara v GWS @ the MCG – DE BOER TAG! All day long here. He copped attention last week and struggled in a loss for the Hawks. Will happen again for sure!
Luke Ryan v Richmond @ Optus – Draft smokie… 112 last week with 7 marks. He'll be massive against the Tigers, like all defenders are!
Brayden Fiorini v Melbourne @ Metricon – 76 last week with a little tag from Hutchings which means he might cop a little attention from Harmes if the Dees go down that path.
Jake Lloyd v Essendon @ the SCG – dropped off slightly but will be back to his 100+ scores this week. Scored 94, 108 and 116 in his last three against the Bombers.
Patrick Dangerfield v Kangaroos @ Marvel – Don't make me laugh. His record though on the Roos is nuts though with 103, 139 and 187.
Scott Pendlebury v Carlton @ the MCG – #1 man for form averaging 122 in his last three and loves playing the Blues where he has gone over 100+ in his last 8 games. Favourite team!
Max Gawn v Gold Coast @ Metricon – No ruck has scored 100 on Witts this year who is the third hardest ruck to score against. Max does have runs on the board v the Suns though with 111, 111, 106 and 138. Witts is much better now, so I'll stay clear of this one to be safe.
Tim Kelly v Kangaroos @ Marvel – North are the third easiest for midfielders to score against and Kelly is coming off a nice 113.
Stephen Coniglio v Hawthorn @ the MCG – Injured hand = yes. Still attends centre-bounces with 17 and 15 in the last two weeks. 118 on the Hawks last year and loves the MCG (152 and 120 in 2018).
Andrew Gaff v St Kilda @ Marvel – 144 last week to be the third highest scorer for the round. Not at home this week which is a small concern. At home this year he has scored 134, 114 and 144. Compared to playing away with 91 and 97. Steele could also hunt him as well.
Lachie Whitfield v Hawthorn @ the MCG – 84 and 82 against the Hawks in his last two and if he plays he should be ok considering Hibberd (100) and Salem (97) scored well off the half-back last week against the Hawks.
Loading ...