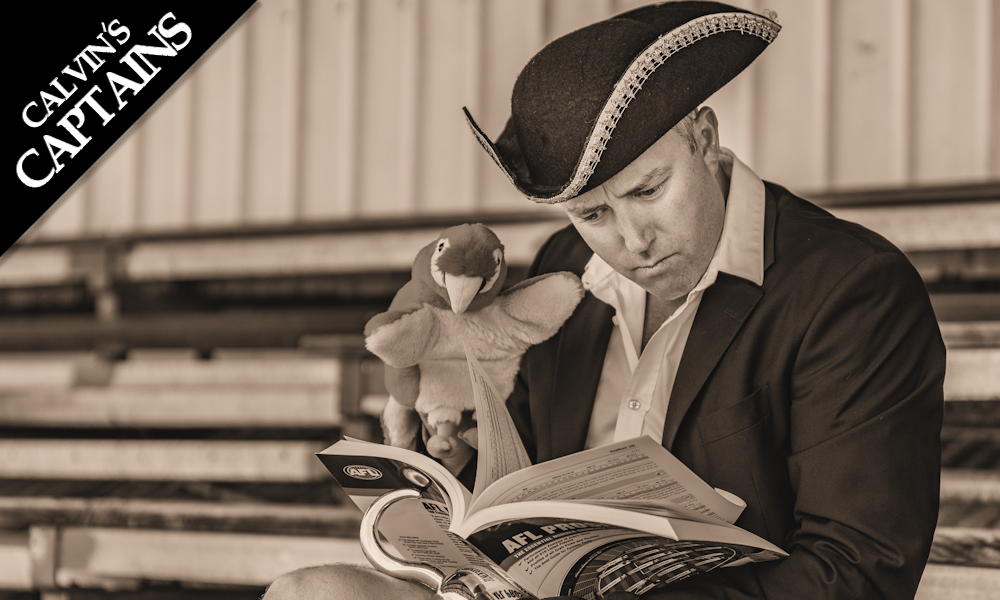 Welcome back legends!
It's a quick turn around and I've been up all hours of the morning to ensure we are ready to roll as the next round is nearly upon us.
It will look a little different this week due to time constraints.
Enjoy!
LAST LOOP HOLE – (Till Rd. 13)
Loop Hole is on again for the Wednesday and Thursday games due to the Partial lock-outs across both games.
We are looking at the Melbourne v Richmond and Essendon v Collingwood games.
Place your VC on a player in either of those games (Max Gawn).
If you like their score, put a non-playing player on the ground and put the "C" on them, and make sure you have also clicked the Emergency for the player you removed.
The captain (non-playing player) will count as a zero and your VC (Max Gawn) will be doubled. The Emergency you picked will also replace the zero.
You don't like your VC score?… Play-on as normal and pick another captain.
Confused? Re-read.
Still confused? Forget about it.
IMPORTANT – VERY IMPORTANT
If you are putting the VC on MAX GAWN, then you will need to put GRUNDY on the bench (with EMG) at the same time. This will give you the freedom to keep Max as VC (by putting the C on the R3 you put on field, make sure they don't play Wed/Thurs) and if Max sucks, you can captain another player as normal.
BEST VC OPTIONS:
#1 – Max Gawn (Wednesday) v Richmond
Max has the ceiling and the ability to be a great VC score for us here. Nank is the 4th easiest ruck to score against this year and Max scored 143 against the Tiger last year, and 142 before that.
#2 – Zach Merrett (Thursday) v Collingwood
Running hot at the moment with scores of 143 and 128. He will offer instant reward here with the Pies as his last scores against them are awesome with 124, 109, 105 and 137.
#3 – Brodie Grundy (Thursday) v Essendon
Grundy is very hit and miss at the moment with just 78 last week. Essendon are the 3rd easiest for rucks to score against though and he scored 122 and 110 on them last year.
#4 – Adam Treloar (Thursday) v Essendon
Treloar won the ANZAC Day medal last year with 122 and before that he posted 57, 144 and 129 on the Bombers.
#5 – Angus Brayshaw (Wednesday) v Richmond
As we know, the Tigers give up a truckload and Brayshaw could be the man to cash in.
VC LINE: 120 (if you have a player in my top 2) Outside my top 2, I'd be taking 115+.
TAGGER ALERT
We have dangerous taggers in out game at the moment and tracking their movements are very important.
Mark Hutchings plays in the final Sunday game against Geelong and although Dangerfield is their best player, good luck stopping him. He's too big and too much like a beast.
Hutchings will most likely look at their leader Selwood or even Tim Kelly.
All eyes though will be on George Hewett. Will he run with Coniglio or will someone finally stop Lachie Whitfield?
Coniglio has scored 106, 94 and 111 in his last three against the Swans, whereas Lachie has scored 124, 72 and 65…. Never once copping a tag. In those games, Hewett focussed some of his attention towards the departed Dylan Shiel and in the other two games he didn't tag anyone.
The thing is, Hewett put a hard tag on Laird (83) in round 2 instead of the Crow's midfielders which makes me feel that Lachie could be in trouble here.
With that said, I'm not touching any of these boys here though as it's far too dangerous.
Listen to the AFL Fantasy Podcast with The Traders at Apple Podcasts, Spotify and Google Podcasts.
CURRENTLY TRAVELING
My #1 Captain selection is currently averaging 122.6pts
My personal captains average is also 127.8pts
NOT INTERESTED
After sitting in #1 and #2 last week, this week I'm not overly interested in Jack Macrae or Jake Lloyd who still sits as the only guy to score over 120 in every game this year.
Macrae spent way too much time forward for my likely last week against the Blues and last year he managed just 99 on the Dockers. Macrae isn't a huge fan of the new stadium in Perth either where he didn't score over 100 on his two visits last year.
I'll call it now – "this will be the game where Lloyd doesn't reach 120".
No defender has scored over 100 against the Giants this year and although Lloyd is a cut above the rest, I'm not getting the same vibes as I got about him last week.
In his last few games he played against the GWS he has scored 76, 117 and 87. That ton there is the only 100+ score he has had on the Giants in his career 11 attempts.
THE TOP 5 CAPTAINS
#1 – Lachie Neale v Gold Coast (Metricon)
A poor game last week needs to be excused for the man who plays the Suns, a team that gave the Crows 7×100+ scores last week. Neale has a great record against the Suns where he has posted 93, 152 and 124 in his last three.
#2 – Tom Rockliff v Kangaroos (Adelaide)
Ballsy but I love it. Rocky will be my captain if all VC options fail. At home this year, the pig has scored 132 and 115. Last time he played the Roos was in the JLT game where he posted 178 and I know it's only JLT but it is slightly relevant. Last week, the Bombers played the Kanagroos and scored freely. The three big midfielders all top score with Zach (143pts, 4 marks), Shiel (127pts, 7 marks) and Heppell (123pts, 11 marks) racking them up. Friday night lights and the pig will be set for a big one, on the big stage.
#3 – Patrick Cripps v Hawthorn (UTas Launceston)
Highest scoring Fantasy ground in Australia and Cripper has been going about his business in recent weeks, despite a poor second half in the Blues' win last week. He scored 116 against the Hawks last year and should be great on Sunday.
#4 – Patrick Dangerfield v West Coast (GMHBA)
In his last game at home he broke his run of 130+ games with 66 but will be much better here against the Eagles, a team he scored 102, 116 and 113 against in his last few.
#5 – Andrew Gaff v Geelong (GMHBA)
115 and 134 in his last two games, just shows that Gaff is set for another elite season. He scored 120 on the Cats last year and although he's away from his beloved home ground, I'm expecting him to dominate like he has been.
Just missing the cut is Rory Laird who loves playing at Marvel where he has scored 115, 138, 120 and 124 in his last four. Against the Saints he has dominated recent games with 120 and 115. Yes, he's been down, but he'll bounce back this week.
Just like Rocky, I really love Boak as well. Fresh off being tagged last week, he'll enjoy the freedom against the Roos and returns home for a big one of Friday night. Fyfe is another who should be great with scores of 136 and 110 in his last two against the Bulldogs.