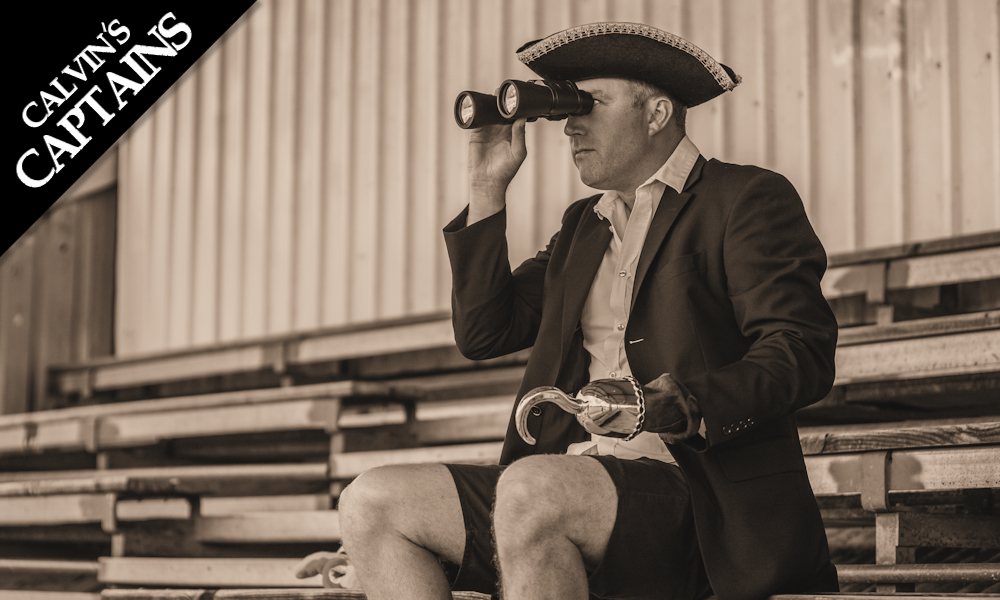 Welcome back you bloody legends!
Before we start, remember to join me for my LIVE Periscope at 8pm every Wednesday to answer any Fantasy questions you have. Can be about captains, trades or you currently relationship status, I don't mind.
Enjoy!
Let's get another win. Let's get another wicked captain. Together we can conquer. ? #AFLFantasy ? https://t.co/d8kI4aSYlK

— Calvin (@CalvinDT) April 3, 2019
TAGGERS ARE ON A MISSION
You must always be aware of the taggers, and when they might strike.
Take Mark Hutchings. Last week against Coniglio (50) he was awesome, holding the guy who scored 161 the week before to zero marks for the game. This week he will most likely run with Steele Sidebottom as he did all the time last year. Draft owners beware… or will he change and run with Adam Treloar?
If I was the coach, I'd be sending him to Treloar, the guy who scored 152 last week from 39 touches and a goal. Treloar scored 115 and 61 against West Coast last year and in recent weeks, the Eagles have only given up 2×100+ scores and just one score over 120.
George Hewett will run with Patrick Cripps. It's a given!
Hewett dominated him last year when Cripps managed just 57 from 17 disposals. However, last week Hewett could have gone to Sloane… but went to Laird off half-back.
This was surprising and didn't work as the Crows won. I'm thinking they won't so that again and if they did, Newman or Simpson might be the target. Extremely highly unlikely and Cripps owners should be a little worried heading into this one.
Matt DeBoer might run with Dustin Martin, after he went with Yeo (73) last week, but that's not really relevant as most people should have moved Dusty on anyway.
Finally, expect Jack Steele to put a little time into the unstoppable Nat Fyfe.
Fyfe scored 106 on the Saints last year and can't really be tagged anyway. Jack Bowes (who?) had a run with him on the weekend to no avail as Fyfe went onto score 119. But they lost… so maybe it did work to some extent.
CURRENTLY TRAVELING…
#1 Captain is currently averaging 142.5pts
My personal captain average is 142.5pts
NOTE: Excluding VC options here. Suggesting Treloar (152) last week as my #1 VC was 100% correct, but using this in my average isn't really fair, as it's just a free go on a Thursday night.
ANOTHER GIANT SCORE!
Ok… so after a hard tag last week which resulted in Stephen Coniglio being the only player on the ground NOT to take a mark… expect things to change this week.
He's back at home, up against the Tigers who are the easiest team to score against at the moment giving up 140 points per game more than the second most (Melbourne)… and 557 more points a game than the hardest (Brisbane).
Last week, Collingwood had a day out against them scoring 10×100+ scores.
This year, Richmond have given up 13×100+ scores in total. Treloar (152), Beams (128), Pendlebury (108) and Sidebottom (96) racked up as midfielders and after Coniglio scored 111 against the Tigers last year – he'll be back, if he can take marks across the ground like he did in round one when he grabbed nine for his 161.
Speaking of marks, this game has Lachie Whitfield's name written all over it after his 133 last week (13 marks).
Last week, 7 Collingwood players took double figure marks. These players were… Crisp (142), Mayne (131), Phillips (116), Mihocek (115), Roughead (106) and Howe (100). Not high quality names there, but they dominated.
Mark… my words. Whitfield will have a thumper here with 12+ marks. Just like he did on the Tigers last year when he posted a career-high 150. Look… he is my #1 pick this week and rightfully so. He's ranked #6 overall this year on total points, plays the easiest team (who suits his style) and has history to say he'll dominate.
Honestly legends… expect something nasty!
ROCKY RETURNS TO THE STY
After 79pts at the half from 24 touches, we could see another pig-like Tom Rockliff score coming. Will Setterfield put the clamps on him in the second half (36pts) as the pig mustered up 115. A very good score nevertheless.
This week he returns to the ground where he became famous, the GABBA, to play his old team. Now, he did play them once last year (78 from 19 touches) but early in the year when he was seriously finding his feet.
Things are different now with scores of 115 and 166 next to his name. The thing is… Brisbane are currently the #1 hardest team in the game to score against after they have played West Coast and North. In fact, compared to Richmond, they are giving up 557 points per game less than the Tigers.
Travis Boak will try to retain his mantle as the #1 player in the game with his average of 141, but he hasn't hit triple figures against the Lions in his last three games. This shouldn't concern anyone though as the Port game-style is different than ever before. Proving this, is Brad Ebert and his average of 115 for the year. Port now have 3 players in the top 15 players in the game.
Listen to the AFL Fantasy Podcast with The Traders at Apple Podcasts, Spotify and Google Podcasts.
LOOP HOLE – IS ON! (again)
Well done to those who played last Thursday night and pocketed Treloar's 152. A huge one! This week we have plenty of options as well.
Just don't mess it up and make sure that the R3/R4 that you might captain… are 100%, definitely not playing or even named as an emergency for their respective teams.
How it Works:
We need a Thursday game with a partial lock-out (Adelaide v Geelong).
Place your VC on a player in that game (Dangerfield).
If you like their score, put a non-playing player on the ground and put the "C" on them, and make sure you have also clicked the Emergency for the player you removed.
The captain (non-playing player) will count as a zero and your VC (Dangerfield) will be doubled. The Emergency you picked will also replace the zero.
You don't like your VC score?… Play-on as normal and pick another captain.
Confused? Re-read.
Still confused? Forget about it.
BEST VC OPTIONS:
We say it every year, Patrick Dangerfield loves playing his former team Adelaide. He posted a game-high 151 last year in Adelaide (where this game is) and before that he has scored 121, 112, 131, 118 and 129. He is scoring well at the moment with an average of 119.5 after 134 last week.
Even with just 19 touches, Matt Crouch somehow still managed to crack 100 last week. The good news for the Crows is, last week Clayton Oliver (130), Brayshaw (121) and Viney (113) all top scored for the Demons against the Cats and they were thumped. Matt has scored 130+ in his last three game at home and is a very good option again for VC honours.
Rory Sloane's ceiling is always a temptation, he managed 111 on the Cats last year. Rory Laird loves playing Geelong with previous scores of 122 and 127. Free from a tag last week, he'll be back amongst the points here.
Finally, you can have a crack at Brad Crouch or Tim Kelly if you really need to. The thing with Kelly is, his best score ever is 121. He does sit in the top 20 players in the game at the moment though with his average of 110, but you'd be better to run with one of the guys above who have one of those massive ceilings.
VC RANKINGS: Dangerfield, Matt Crouch… Sloane, Laird, Brad Crouch & Tim Kelly.
VC LINE: 120 (if you have a player in my top 5)
THE SUNS ARE UP
When I picked Jack Macrae in my Fantasy team at the start of the year, I had this game penciled in for a big one.
His start has been just ok with scores of 124 and 107, and to be honest, the Suns are fighting much better than I thought they would after giving up the most points last year. They currently sit as the 11th easiest to score against after playing Fremantle and St Kilda (not high scoring teams though).
Last year when Macrae played the Suns, he banged on 151.
After averaging 118 this year and scoring 123 last week, this game could be made for Lachie Hunter. He's unique with just 1% ownership and in his last games against the Suns he has scored 131, 115 and 110.
WHAT ABOUT THE OTHERS?
Max Gawn v Essendon @ the MCG: He's back and not sooking! 113 last week and scored 135 on the Bombers last year. If Rowan Marshall (103) can top score for the Saints against Bellchambers, Max can be much bigger.
Jake Lloyd v Carlton @ Marvel Stadium: 88, 77 and 104 are his last efforts against the Blues who have given up 12×100+ scores this year (#2 ranked). Lloyd loves playing at Marvel though where he scored 126 from 10 marks in round one.
Dayne Zorko v Port Adelaide @ the GABBA: 72 last year against Port and 71 last week. Nah.
Angus Brayshaw v Essendon @ the MCG: Did what he does last week with his 121 and should be awesome again against the struggling Bombers.
Brodie Grundy v West Coast @ the MCG: 112 last week, but his history against the Eagles hasn't been good with scores of 99, 110 and 68. Ruckman against the Eagles so far this year have been Martin 63 and Simpson 64. He'll be solid, but we have much better.
Lachie Neale v Port Adelaide @ the GABBA: A nice 146 last week was what we expect from this man although his history v Port isn't great with scores of 92 and 100 last year when he was a Docker.
Clayton Oliver v Essendon @ the MCG: 130 last week but his 78 on the Bombers last year bumps him down the list a bit.
Dayne Beams v West Coast @ the MCG: 128 last week, but then again, everyone scored well in that game. I'll need to see a little more before he climbs into my top 10.
Loading ...