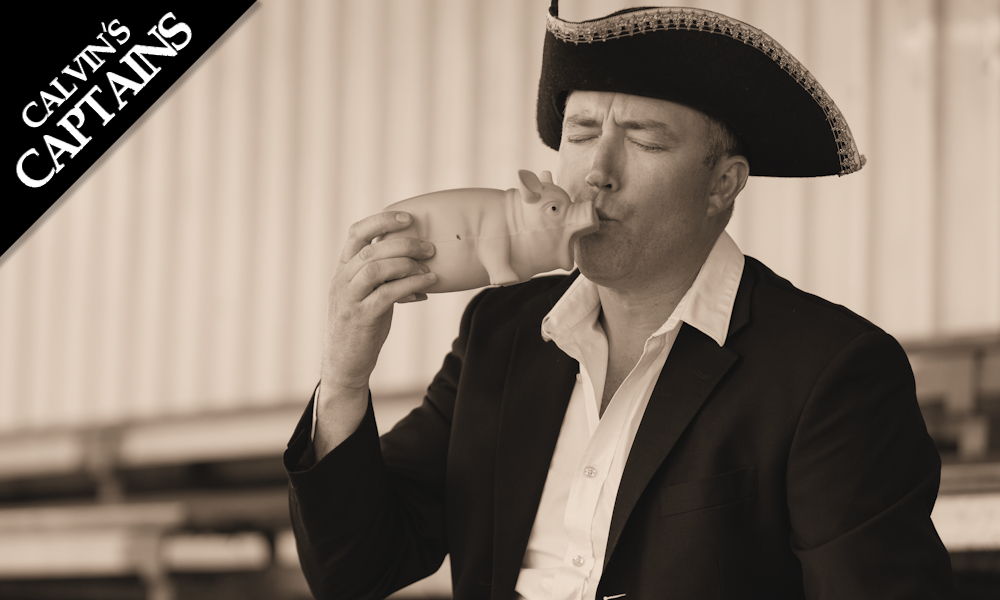 Welcome back to another edition of Calvin's Captains.
Here you will find the best players in the game, looked over by a one eyed-pirate as I cover every angle of what might happen each week.
After analysing the player, their opponent, form and even the ground they play on, I construct my top 10 players in the order I would pick them as my captain for each week.
I'll also be doing a LIVE Periscope at 8pm every Wednesday to answer any Fantasy questions you have, so be sure to join me. Had my wisdom teeth out yesterday so I'll see how I'm travelling for it.
Enjoy – and good luck you bloody legends.
Peri-punt is on tonight so join in the #AFLFantasy chat with a Boags as we talk news and captains. https://t.co/hMX0IuMenw

— Calvin (@CalvinDT) March 27, 2019
TAG ON THE COGS?
After a smashing game last week with 161pts and my No.1 captain option, how could I possibly turn my back on Stephen Coniglio this week? We'll… I will be.
He still sits at #7 on my rankings which is still fine, but I'm tipping a tag from Hutchings here.
He tagged Zorko last week to 94 (20 disposals) and will surely run with Cogs after his awesome game last week. He was so dominant and the fact he kicked 3 goals means he now attracts more attention.
He scored 104 and 111 on the Eagles last year and in those games, Kelly (89) and Shiels (78) copped the Hutchings' tag. No Shiels and potentially no Kelly…. You can now see my concern.
Add to this, even though the Lions won last week, they only managed two scores over 95.
The Eagles will be angry this week and they're back at home. The writing is on the wall for this to back fire, but I feel we have better and much safer options.
BACK IN JACK
Jack Macrae v Hawthorn… at the MCG, yes please.
Macrae loves playing on the MCG where he has scored 190, 133, 123, 116 and 139 in his last five games. He never played the Hawks last year but in his two most recent games he has scored 116 and 126.
He was solid enough last week without going gangbusters with 107 but let's not forget he plays the Hawks, a team the Crows lost too, but scored well against last week.
The major ball winners did their thing. Sloane (144) had 36 touches, Matt Crouch (132) racked up 40, Brother Brad (109) had 29 disposals and Rory Laird (103) collected 29. These are the four names you'd expect to be at the top of the list for the Crows… and they were.
Macrae is the same here. Expect big things people… he's my number 1, and my captain.
Listen to the AFL Fantasy Podcast with The Traders at Apple Podcasts, Spotify and Google Podcasts.
OK ROCKY… WE GET
Who wants to do it? Who wants to make Tom Rockliff captain?
His last two games (including JLT2) were amazing with 166 and 178. Last week he had 44 possessions, 10 marks and 8 tackles. He plays the Blues this week at home, who gave the Tigers 5×100+ scores last week.
His history against Carlton is rather impressive with 95 (with Port), 44 (tagged Gibbs), 174, 184, 143, 95 and 153. The thing is, if the pig is pigging, then these scores are all well and truly within his reach.
He ticks a lot of boxes this week and has proven in his last two games that he is back doing what he does best. Get on and even chuck the C on the swine if you like.
LOOP HOLE – IS ON!
For those asking about the loop hole… the answer this week is "you might as well".
Without decent rucks sitting at R3 and R4 for us – we can play this loop hole with ease.
Just don't mess it up and make sure that the R3/R4 that you might captain… are 100%, definitely not playing or even named as an emergency for their respective teams.
How it Works:
We need a Thursday game with a partial lock-out (Richmond v Collingwood).
Place your VC on a player in that game (Treloar).
If you like their score, put a non-playing player on the ground and put the "C" on them, and make sure you have also clicked the Emergency for the player you removed.
The captain (non-playing player) will count as a zero and your VC (Treloar) will be doubled. The Emergency you picked will also replace the zero.
You don't like your VC score?… Play-on as normal and pick another captain.
Confused? Re-read.
Still confused? Forget about it.
BEST VC OPTIONS:
Adam Treloar was one of 12 players over the weekend who scored 120+ and he might shake it again here. He scored 71 (third game back after his hammy) and 147 on the Tigers last year and even posted 127 and 115 before that. He's running hot and is a perfect VC option on Thursday night. In fact, he's the best.
Even though Brodie Grundy struggled last week with 84, he'll bounce back here. As I said last week, he started round one last year with 84, but bounced back with 127 in round two.
He loves playing the Tigers where he has scored 134, 147, 115 and 123 in his last four games. I don't have Treloar, so Grundy will be my VC in this one. You've got nothing to lose.
WHAT ABOUT THE OTHERS?
Dusty Martin v Collingwood @ the MCG – 81 last week was a disappointing start for Dusty. He scored 54, 80 and 101 on the Pies last year. Not a captain but a possible trade!
Jake Lloyd v Adelaide @ the SCG – 10 marks for his 126 was the perfect start. Amazingly there are two teams in the league that Jake has never scored 100 against…. The Crows and Suns.
Seb Ross v Essendon @ Marvel – 82 last week was Ross' lowest score at Marvel in his last 12 games. He scored 143 on the Bombers last year and after Coniglio (161) and Taranto (137) smashed the Bombers last week, I'll back Ross to turn his start around here.
Scott Pendlebury v Richmond @ the MCG – 72, 125 and 125 is what Pendles had on the Tigers last year. Only 90 last week. Pass.
Steele Sidebottom v Richmond @ the MCG – 84 in the opening round. Not for me.
Rory Sloane v Sydney @ the SCG – If you don't tag Sloane he'll monster you like he did to the Hawks when he posted 144 last week. 153, 109 and 112 are his last scores against the Swans, so surely Hewett will get the call up to stop him this week. If not, here comes another 130+.
Tim Taranto v West Coast @ Optus Stadium – 114 and 104 are his last two scores on the Eagles, and should be good once again.
Lachie Neale v Kangaroos @ Marvel – 91 last week and should be good here after the Roos gave the Dockers 5×100+ scores last week.
Rory Laird v Sydney @ the SCG – 89 last year on the Swans.
Zach Merrett v St Kilda @ Marvel – Loves playing the Saints with previous scores of 119, 144 and 126, but after his 50 last week, you just couldn't do it.
Patrick Cripps v Port Adelaide @ Adelaide Oval – Only played Port four times in his career for scores of 106, 121, 115 and 128. Very impressive and will be awesome here.
Patrick Dangerfield v Melbourne @ GMHBA – In his career 12 games against the Demons, his best scores are only 117 and 110. He had 103 last week and 85 on these guys in the Elimination Final last year.
Max Gawn v Geelong @ GMHBA – 92 v Abbott, and 91 v Stanley last year was Max's effort and after last week's 68 effort… alarm bells are ringing, especially when you consider Stanley held Grundy to 84.
Matt Crouch v Sydney @ the SCG – Never played the Swans in 2018, but did have 106 in his most recent back in 2017. A very nice 132 last week was awesome, but even with that, I still believe we have better, and I love the man.
Angus Brayshaw v Geelong @ GMHBA – 100 last week was solid enough, but his last two scores against Geelong aren't much good …94 and 88. Could be a whipping boy for those who want Rocky.
Nat Fyfe v Gold Coast @ Metricon Stadium – Ready for this. 32 touches last week for his 103 was a nice warm-up for Fyfe. He dominates the Suns and will again. With scores of 144, 132, 121 and 119 next to his name in his last four games – expect something special again.
Clayton Oliver v Geelong @ GMHBA – 73 last week – yuck. 99, 136 (@GMHBA) and 114 are his last efforts against the Cats. Very solid. Predicting a bounce back this week.
Dom Sheed v GWS @ Optus Stadium – Never scored 100+ v the Giants but then again, he's playing like he never has before. 133 last week and on fire at the moment.
Dayne Zorko v Kangaroos @ Marvel – Will be big. 154 and 128 on the Roos last year and his last two years under the Marvel roof have been pretty good with 61, 128, 115, 57, 48, 124, 157 and 117. Can you pick the games he was probably tagged. No tag here.
Loading ...