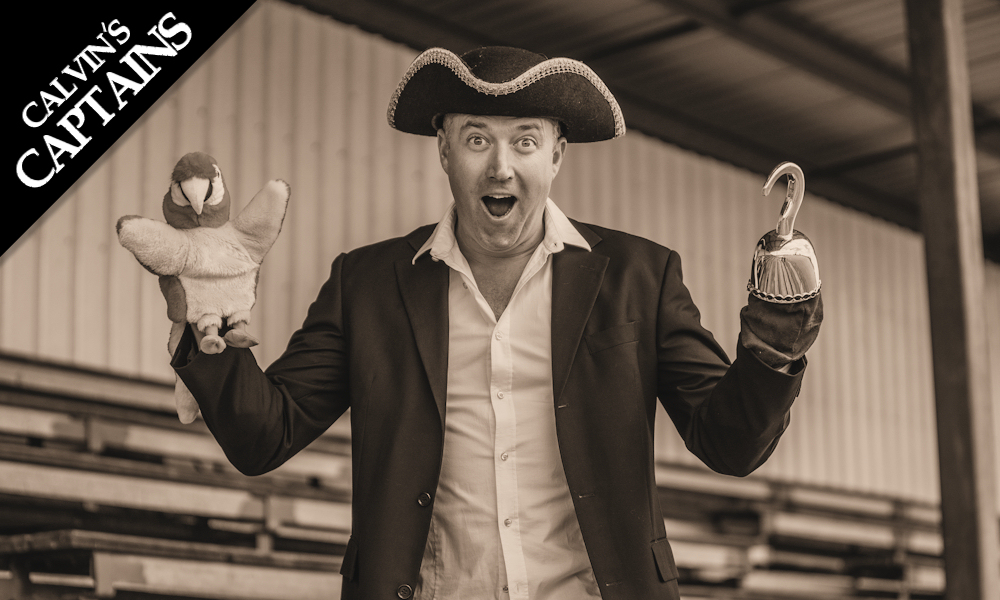 Welcome back to another year of Calvin's Captains.
Here you will find the best players in the game, looked over by a one eyed-pirate as I cover every angle of what might happen each week.
After analysing the player, their opponent, form and even the ground they play on, I construct my top 10 players in the order I would pick them as my captain for each week.
I'll also be doing a LIVE Periscope at 8pm every Wednesday to answer any Fantasy questions you have, so be sure to join me.
It's time legends. #AFLFantasy kicks off tomorrow night and I'm here with my Furphy chatting captains and much more. https://t.co/nqGUH0M19i

— Calvin (@CalvinDT) March 20, 2019
Enjoy – and good luck you bloody legends.
JACK, GEORGE & HORSE
Let's start off with the facts about what has happened from Macrae's perspective.
Last year against the Swans, Jack Macrae had a game-high 128 (round 4). In that game, Sydney won and Jack had 34 touches.
Macrae loves playing at Marvel (formerly known as Etihad) where he averaged 127 from ten games last year with a lowest score of just 107 – wow.
Interestingly though, in that round four game, Sydney did use a tagger (Cunningham) who ran with Hunter (48pts). The fact that they targeted Hunter that day and not Macrae is certainly a positive, but not one that I think they'll do again.
The thing is, will George Hewett tag him? The answer is… it's up to Horse Longmire, and I'm thinking the answer is yes.
Hewett never tagged last year between rounds 1-4, and only started doing it in round 5 onwards, after he played the Dogs. He tagged 14 out of the next 19 games, and always went to the oppositions best ball-winning midfielders and that has to be Macrae here.
The thing is… as the season went on, Hewett's 'tags' became less effective, with his last five opponents scoring relatively fine.
They were… Mitchell (101), Oliver (127), Adams (134), Zach (99) and Selwood (127).
What does this mean? I believe he is required to win more ball. Especially under the new 6-6-6 structure, I don't think you can have a guy in the middle clogging a position and not wanting to win the ball.
Macrae does come with a risk here though, as Hewett is a dangerous tagger (when he needs to be). But I just have the feeling (and data to support it) that Macrae should be ok here.
ROSS'N ROULETTE
Anyone have Seb Ross in their team? He plays the Suns. That should be enough said.
He scored 137 last year against them and averaged 118 at Marvel last year from 12 games. St Kilda will win this game and he will have a field day, along with Jack Steele. He scored 94 against the Suns last year and will be 110+ without breaking a sweat on Sunday.
Both gutsy outright selections in your team – but both will bring home the bacon in round one.
Listen to the AFL Fantasy Podcast with The Traders at Apple Podcasts, Spotify and Google Podcasts.
COGS TO FIRE
After 128 and 147 in the JLT, Stephen Coniglio has come out with a bang and ready to fire from the start. He plays the Bombers at home, a team he scored 123 and 120 against in his last two games.
At home, he averaged 108 in 2018 from seven games with a highest score of 123. The thing is, Cogs get's his thumping scores away, where he went over 140 on three occasions. This is not a concern here.
He has form and history and should score big with ease. Especially with Shiel gone and Kelly under a cloud… he'll be at every centre-bounce doing what he does best.
Expect a nice return from Lachie Whitfield as well. He scored 101 and 116 in his last two against the Bombers and averaged 110 at the Showgrounds last year. Instant reward for those rocking him in defense.
LOOP HOLE = NO
For those asking or for those who will ask at some point… the answer to the loop hole this week is "NO – DON'T DO IT."
You want all 30 players playing in the opening round. You want all players making money from the word go, even in your R3 and R4 – if we get them named and as an option. Therefore, I will not be covering the Loop Hole in the first week.
However, if we don't have any rucks to select, then yes, you can look into it and I'd be picking my VC in order from… Cripps, Dusty and Simpson.
How Does it Work:
We need a Thursday game with a partial lock-out (Richmond v Carlton).
Place your VC on a player in that game (Cripps).
If you like their score, put a non-playing player on the ground and put the "C" on them, and make sure you have also clicked the Emergency for the player you removed.
The captain (non-playing player) will count as a zero and your VC (Cripps) will be doubled. The Emergency you picked will also replace the zero.
You don't like your VC score?… Play-on as normal and pick another captain.
Confused? Re-read.
Still confused? Forget about it.
WHAT TO MAKE OF GRUNDY
There are a lot of parallels when we look at Brodie Grundy in 2018 and how he is tracking in 2019.
JLT last year he scored 65 and 89. It didn't matter as he went on to average 120. However… in the opening round against the Hawks, he scored just 84, his second lowest score for the year.
JLT this year, he scored 75 and 101 (from just 6 kicks) has everyone a little nervous.
BUT… he's playing Geelong, who don't really have a ruckman. This sounds great – until I crunched the numbers further.
Grundy loves playing the Cats with scores of 128, 93, 106, 122 and 105 occurring in his last five games. The 128 there was from last year (against Zac Smith). In that game he had 25pts at the half, and came home strong with 103 in the final half. Impressive.
Zac Smith wont play though, and he'll be against Rhys Stanley who rucked for the Cats in both the JLT games. So what do ruckman score against Rhys?
In the JLT (which isn't a great sample), Hickey had 54 and Bellchambers managed 68.
What about 2018, when Rhys Stanley managed 15 games?
His last four opponents are solid ruckman and they struggled. Ceglar (71), Stef Martin (71), Gawn (91) and Jacobs (76) didn't set the world on fire. In fact, against Rhys last year his last ten opponents only averaged 84.
So where do I sit? Grundy looks slightly under-done and just like in 2018, he came out slow out of the blocks in round one. He's against a team who can be restrictive but at the same time… it's Brodie Grundy. The ruckpig.
No one makes my top 5 just because of their name or without a lot of thought. I believe he'll be fine… but there are a couple of little alarm bells chiming in the back of my little pirate mind.
WHAT ABOUT THE OTHERS?
Dusty Martin v Carlton @ the MCG – Scored 110 in the opening game last year which happened to be the only time he played the Blues. In 2017, he scored 96 and 139 against them.
Patrick Dangerfield v Collingwood @ the MCG – 106, 126 and 76 are his last efforts against the Pies and even with a poor 2018 season by his standards, he still averaged 110 at the MCG.
Rory Laird v Hawthorn @ Adelaide Oval – Hasn't scored over 90 in his last three games against Hawthorn. Should change that this week. Or will it?
Sam Menegola v Collingwood @ the MCG – 121 against the Pies last year, which was a top score for the Cats. Jack Crisp topped scored for the game with 147. Anyone rolling with this smokie in their defense?
Max Gawn v Port Adelaide @ the MCG – Ryder should play. Be needed surgery on a busted cheek bone in JLT2 but should be right here. Gawn had 138 in round one last year and had a game-high 113 against the Power last year.
Elliot Yeo v Brisbane @ the GABBA – Loves the GABBA with scores of 107 and 110 and has scored 100+ in three of his last four games against the Lions.
Zach Merrett v GWS @ the SSGS – Who knows what Zach will do, but this will be a tough much up for him to start with. He scored 98, 106 and 105 in his last three against the Giants.
Clayton Oliver v Port Adelaide @ the MCG – Amazingly, Port are the only team he hasn't scored 100 against from his three games. He did have 93 last year. He'll fix up this record on Saturday.
Jake Lloyd v Bulldogs @ Marvel Stadium – Averages 104 in his last four at Marvel and scored 67 (on a wing), 122 and 113 in his last three against the Dogs.
Lachie Neale v West Coast @ the GABBA – JLT form wasn't overly impressive for handball-happy Neale but his record against the Eagles is with scores of 94, 138, 114 and 114 in his last few.
Angus Brayshaw v Port Adelaide @ the MCG – JLT pig and will keep it going here. He averaged 129 in his last four games last year and scored 103 against Port.
Matt Crouch v Hawthorn @ Adelaide Oval – Averaged 113 at AO last year and scored 106 when he played against the Hawks. Tom Mitchell had 40 touches that day, that's an extra 40 more to go around this year.
Tom Rockliff v Melbourne @ the MCG – 178 in JLT2, has Rocky's name in lights at the moment, but he only played against the Roos. Melbourne's midfielders are tough. Much tougher than Norths. Expect 160 ha ha… kidding, but he is a pig after all.
Patrick Cripps v Richmond @ the MCG – Is a beast and came out in round one last year with 130. I can't see him being any different this year. He's looking sharp will be 120+ in the opening round.
Adam Treloar v Geelong @ the MCG – Last year when the Cats played the Pies, Collingwood had 6×120+ scores. Treloar managed 113 and is coming off a JLT 140. Gun!
Rory Sloane v Hawthorn @ Adelaide Oval – I doubt Hawks will tag, as Shiels will need to win his own ball. Sloane could be anything here. He had 89 in his last (Howe tag, but Howe didn't play any JLT), and 152 before that.
Dayne Zorko v West Coast @ the GABBA – Hutchings will play and will tag him like he did last time when he had 74. Add to that the way Zorko started 2018 when he managed just 57. Not the way I want to start my 2019.
Devon Smith v GWS @ the SSGS – His 57 in JLT2 is enough to turn me off him. He did have 113 on the Giants last year though.
Loading ...