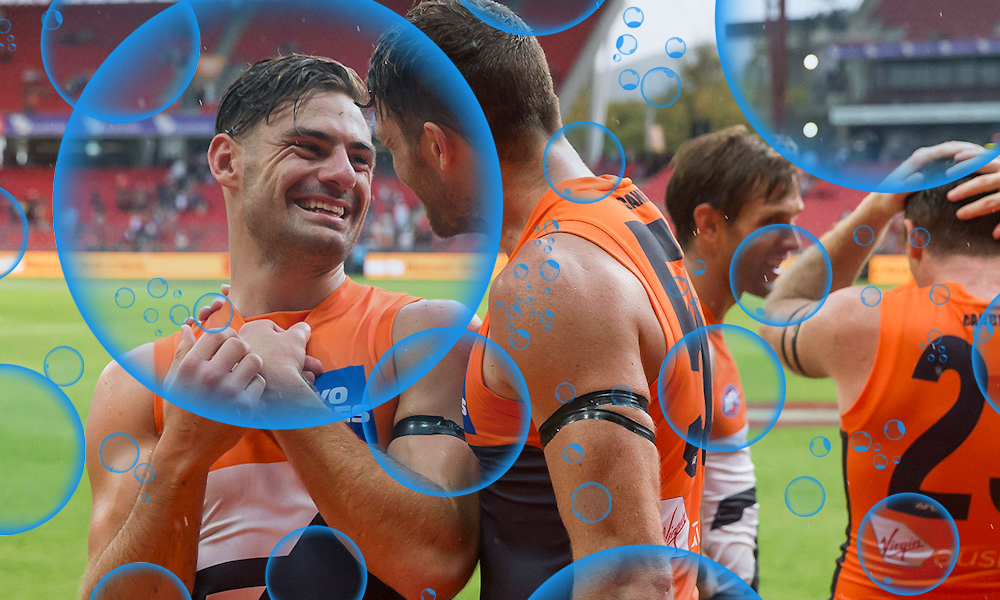 Our teams are locked in and the trials, tribulations and tears of another fantasy season are upon us. There's so many success stories to rave about. So many pre-season picks that came out of the gates firing. Yet there's still blokes who take it upon themselves to burn all our hard work to the ground. Captain hindsight is having a field day as we unpack the Round 1 action. It's time to rave. It's time to rant. It's time for the weekend wash-up.
Listen to the AFL Fantasy Podcast with The Traders at Apple Podcasts, Spotify and Google Podcasts.
Legends
Newman (115) – While the opening game of the season wasn't much of a spectacle, Nic Newman lead his coaches out of the gates with a blistering start. After a horrendous effort in JLT 2 many (including myself) jumped off and refused to entertain the idea of selecting somebody capable of producing a 20. I still have no explanation as to why he was so atrocious in that pre-season game, but he was everywhere on Thursday night. His 21 kicks and 9 marks lead him to a game high 115, with his price already on the rise. His BE is just 59 and he's in for me this week!
Houli (102) – It's hard to predict what Houli can produce for the whole season, but he started well in Round 1. There's value still there @$552k, but you just couldn't do it…
Treloar (125) – Adam Treloar wasn't kidding when he said the best midfielders would start posting huge numbers under the new rules this season. He's going to be right up there amongst the top 8 midfielders, if he stays fit Trelly is as safe as anyone.
Kelly (108) – Tim Kelly will live in the midfield this season and an average of 100 is very much on the cards.  The Eagles will be paying a hefty price for his services next year if that scenario pays out, he had 31 disposals, 9 clearances and dominated this game. The DPP is a blessing.
Rockliff (166) – Oh. My. God. You filthy, naughty, horny pig. Rocky did exactly what he did 2 weeks ago! That JLT was no fluke, the pig is well and truly back. He looks fit. Port are actually playing football. And he hasn't forgotten how to be a pig. Just go and watch the last 5 minutes of that contest, Rocky lived in the back pocket. The smart coaches got to enjoy his performance on Saturday, and now we get to enjoy watching everyone scramble to get him in. Which you should absolutely do. He's going to make a mockery of his starting price! OINK.
Boak (144) – Not to be outshone, Boak was back in the midfield exactly as promised and handsomely rewarded those coaches who took the punt. He did it all with 34 disposals, 9 marks, 8 tackles and a goal. Do we chase his score? Given his previous best effort over a season is an even 100, don't set your expectations too high. However if the Power keep producing that football every week, he should be a top 6 forward. Awesome value POD.
Salem (128) – Salem is right in the mix as a value defender, and he has always given glimpses of a fantasy friendly game. Then he goes and scores 30. He had 30 kicks on Saturday, but I have serious trust issues here. You'd be a brave coach to jump on in classic, but there's no doubt he was a great draft slider.
Westhoff (120) – Never doubt the Hoff. Why don't we ever learn. This may have been a much simpler solution to our ruck dilemma. Pick Westhoff until you can make the jump to a fallen Grundy/Gawn, then shift him forward. He needed 5 goals for this score and didn't register a hitout, so I think he's still set for an average of closer to 90-95. Even so, it's a hot start!
Ebert (109) – Draft alert. Ebert played the majority of the game as a forward, and I think he's a great chance for DPP in the first batch of changes. If he's sitting there on your wires, make a move.
Sloane (144) – Imagine not picking a fully fit Sloane priced at 90 because you're afraid of a 'possible' tag. That's me. With 36 disposals and 9 tackles, Rory was one of Adelaide's few shining lights. The problem is if you're shutting down anyone in Adelaide's midfield, it has to be Sloane. Hewett is a concern next week, but as long as he fights his way to a respectable score it's blue skies ahead.
M.Crouch (132) – Matty Crouch was my tip to be the second highest averaging player this season. It's a long way to go, but if it's possible to bet on him beating Tom Mitchell's disposal record then I'd be giving it a crack. He will never get tagged. He will always find the footy. There's simply no way he doesn't average 115+. Fantasy swine.
B.Crouch (109) – Lock and load. This was nothing we don't come to expect from Bradley, if he stays fit he'll push his average well into three figures. One of the easiest picks this year.
Sicily (106) – The fears of Sicily swinging forward were swiftly distant memories after he took 5 intercept marks in the first quarter. He's a gun half back and should average around the 100 mark this year. Awesome pick.
Worpel (101) – There's no harm in wanting to see a young player perform in the real stuff before you take the plunge. That was my stance on Worpel. He delivered in spades. Conversely to Cousins efficient 98, Worpel had 27 disposals, 12 contested with 6 clearances to go with his 2 goals. He was right in the guts and will stay there, and is close to a must have this week. I'm downgrading straight to him, there's no reason Worp can't average 90's. Gun.
Lloyd (126) – As a non-owner, he's a disgusting seagull. As an owner, it's disgustingly beautiful. I've done it two years in a row, and Lloyd is looking to make it three consecutive seasons that I don't pick the highest averaging defender. Sydney may have been down in the game, but that didn't stop Lloyd getting cheap kick to kicks in the final quarter, notching 50 points. Only 4 of his 35 disposals were contested, impressive.
Bontempelli (128) – I'm not saying anything we don't know by telling you Bontempelli is a gun. I think there's too much value in blokes that will avoid the attention that Bont faces, however if you gambled on Bont you're off to a flyer.
Sheed (133) – If it looks like a duck, quacks like a duck, then it's probably a bloody duck. Dom Sheed is a ball magnet. There can be no surprise that he gathered 38 disposals after having 39 and 40 in his two JLT games! He even laid what must be a personal best 3 tackles! Sheed will be huge again this week, and even if he's not quite as big with Gaff back, there's no reason Dom can't average 100+ and become a straight swap to a fallen uber premo. This is your last chance to get on board.
Powell (103) – Who? Will Powell. Somebody in the know is going to have to help me out here because I literally have no idea. He was priced as a rookie and tonned up, so we've clearly missed something! Unfortunately I have nothing more to add.
Coniglio (161) – What a jet. Coniglio threw the Round 1 rankings into disarray. It was those who had Cogs captain, and then the rest of us. He looks so good that it's hard to bet against him pushing an average close to 120 this season. The only thing that's going to stop him is the tags, and Josh Kelly isn't there to save him next week against the Eagles. Kudos to those who had him, but don't go chasing him now.
We apologise in advance for getting this song stuck in your head.
(p.s. It's Co-kneel-e-o)#SorryNotSorry pic.twitter.com/CUrjDpaLZ9

— GWS GIANTS (@GWSGIANTS) March 18, 2019
Taranto (137) – Can I just take a minute here to give Tim Taranto the praise he so duly deserves. This score was lost in the hype of Coniglio's monster, let's not forget that Taranto was priced at $660k! There's no reason he can't average 110 this year, all aboard. Bloody legend.
Whitfield (109) – A tick, but flagged. Whitfield actually started off a half forward flank and was rarely sighted around the ball in the first half. He still looked ok, but when he moved onto a wing in the second half it stood out like a Bomber amongst AFL players. He was everywhere, racking up +6's and looking like he could average 110+ this season.
Scott (97) – I usually ask a rookie to score 100 before they get a mention here, but Bailey Scott's 97 shone. He sits comfortably on my bench and I'm glad to have him, but he looks like he can even average close to 80. What I'm most excited about is DPP in Round 6. If I can swing him back into defence he becomes a starter for me until the byes! Good man.
MacMillan (118) – I have to admit I'm really confused. Jamie's career best average in his 10 seasons is 78.9 back in 2014. What is going on here? Does he have a new role with license to get leather poisoning? Or has he been possessed by the spirit of Joel Bowden, soon to crash back to earth. I will be surprised if he doesn't bounce back to his career average of 70 this week.
Losers
D.Martin (81) – Not good enough. Not even close. Dusty was great with his 30 disposals, but he hates cheap footy, refuses to lay a tackle and gave away a further 3 free kicks. It's the same story as last year. He'll be great for the Tigers, but his fantasy scores won't reflect that. He's an easy fix up trade this week.
Balta (29) – The classic Thursday night lockout rookie stitch up. I'd love to know the success rate. Kamdyn McIntosh aside it doesn't have good history. Balta will struggle to hold his place in the side with another performance like that one. He'll be lucky to hit $200k!
Curnow (41) – Charlie Curnow is desperately trying to become one of the most over rated players in history. For a bloke with such unreal natural talent, he rarely delivers. Don't get me wrong he'll have some huge games, but he should be starting to dominate the competition this year. At least that's what I'm lead to believe…
Fasolo (28) – Fasolo should have done Carlton a favour and broken his leg while he was at it over the summer. May as well have not been there.
Beams (90) – Treloar aside, those who worried Collingwood's midfield would share it too much were spot on. Beams had 23 touches, Pendles 24, Phillips 24, Sidebottom 26, Treloar 34 then Grundy is there with 18! There's only so many disposals on offer, and Taylor Adams is on his way back… That's a worry for every player mentioned here.
Grundy (84) – This is the pressure you face when you're priced at an average of 120. Grundy isn't quite at his best, and even if his toe is 100% his fitness base is a little behind where a ruckpig needs to be. He will still be the top scoring ruck , but his price could take a significant dip first. Hold strong, you've made your bed.
De Goey (54) – The highlight reel produced what he does best. A few minutes of magic and a couple of hours of f**k all.
Lycett (44) – When picking Gawn, I completely forgot about the best (only) tagging ruckman ever. Lycett did a job on him in the finals last year, and he did it again on the weekend. Sadly he sacrifices his own game, so it's just L's everywhere in fantasy land.
Gawn (68) – OK. So the rucks were an absolute train wreck this week. Let's talk about Max. His effort has to be one of the softest, most pathetic performances I've seen for a while. Usually if a team goes after you and you're 2 metres tall, capable of flooring every one of them you don't stand there and take it. If Gawn wants to be a f**king hippie, stroke his beard and drink coffees every day then good on him. If he wants to be a dominant force in the AFL, he needs to come out next week and take a sh*t right on Rhys Stanley's head. I expect him to do exactly that, because if I ever see a repeat of Saturday's effort I'll fly to Melbourne and shave his beard myself. It's Max. He's a gun. He'll bounce back.
Oliver (73) – I'm not exactly sure what happened here? Maybe he was tagged, but if he was he didn't spend enough time on my TV for me to notice. I had him locked to average 110+, and I still do. However if you missed out on Rocky and you're one of Oliver's few owners, I'd be saying this redheads goodbyes. You probably had midfield rookies on your bench scoring better than this for nearly one fifth of the price! Appalling.
Petracca (54) – Up there with Charlie Curnow for most over rated player at the moment. In fact given his experience now he's ahead of him. It's no good being a bull if you're just scratching 15 disposals and a goal every week. Those who took an early punt on him in draft should be concerned.
Viney (47) – Keep your eye out for a bargain in a few weeks. Melbourne won't be that bad again, and Viney was well underdone. The closer he gets to $500k, the closer he gets to becoming an easy stepping stone once fit.
S.Jacobs (73) – Let's get this straight. There was no proof of Jacobs suddenly getting back to his former glory. It was fantasy guru's presuming Adelaide will automatically become good again, therefore Jacobs average must return to where it was 2 years ago. He's 30 years old now. Having owned him (then dropped him) in draft last year, I can promise you it won't get much better. Mid 80's would be a good effort.
Smith (75) – This was a little concerning, however I thought on another day Brodie could have easily scored a solid 85-90. He was open for some extra +6's and still got his hands on the footy 21 times. Smith should be better for the run and I'm still hot on his prospects this season.
Dunkley (79) – Zero marks? Dunkley more like Drunkley. I saw him around the ball enough to give him a pass this week, but with players like Boak and Kelly performing at well below his price (Not for long), the pressure is right on Dunkley next week.
McLean (72) – For those that missed the memo, Toby is back in the forward line. Keep him on your watchlist, if one of the Doggies midfielders goes down McLean becomes target number one.
Heeney (85) – It took Heeney less than 5 minutes to enter another Mark of the Year contender. He started Saturday night like a house on fire, but here's the issue. It was at full forward. He will still be awesome don't get me wrong, but only Horse Longmire will hold his best player out of the game because he's a stubborn old c***. It's not the midfield move we had hoped.
Franklin (49) – Buddy looked like he had just come out of a coma to face the Dogs. He wasn't close to the explosive beast that has made him the best player in the competition for a decade. His stock is plummeting.
S.Martin (63) – Archie Smith wasn't named, but Martin's performance has to be concerning. Brisbane won't care and he still beat the Eagles half arsed ruck combo, but the scoring wasn't there. I can't see him matching his 100 price tag. F**k the ruck.
Billings (84) – I don't know who Billing's pissed off at the Saints, but I've never seen a player ignored more when completely open. I thought his role looked good, and he was at least trying to get the footy. But I was also getting flashbacks from last season. I'm not filled with confidence…
Collins (21) – I hear the people who were paying up for Sam Collins' job security. But I don't feel for those people. A key defender for the Gold Coast Suns?! I don't care how many intercept marks he took in the VFL! Sure Burgess was equally as pathetic, but at least he's not losing cash! The Suns are a train wreck. These two rookies are a train wreck. I'm not wasting any more of my time on them in this article.
Hanley (52) – Seriously. Never pick a Sun.
Williams (67) – Not good enough. GWS were doing what they wanted on Sunday, and Williams clearly didn't want the ball. He was rarely sighted and was probably lucky to scratch his way to 67. I think he'll have some good games and an average of 80 is still very much possible, but anything higher looks to be pushing it. No free rides here, he's gone for me this week.
Merrett (50) – I could have listed the whole Dons list as losers, but let's be honest they only have one relevant fantasy player anyway. Zach Merrett looked a shadow of his former best. You know what, that's being disrespectful to his shadow. I thought Max Gawn's effort would be unbeatable for soft flog of the weekend, but Merrett raised him one further. He's going to have to look like the second coming of Jesus before I even consider trading him into my team. Deja vu.
Brayshaw (66) – Second year hype only goes so far. With so many players performing around him, Andy's time is already up. We might see him next season…
Vickers-Willis (-1) – This is low even for me. It's terrible to see so many ACL's in Round 1 and I wish EVW all the best in his recovery. The Fantasy site sees him as pretty good $/point value though, at -312000 that's going to be tough to beat.
Whenever a popular player scores over 150, I usually just hand the stubby over. This week we have a head to head face-off.
Will it be Rocky, stepping up to reclaim his crown and fill the piggish void left by Tom Mitchell. Priced at just $600,000, he scored 109 points from halfway through the third term, including rolling around in the mud (back pocket) for the final few minutes. He finished on 44 disposals, 10 marks and 8 tackles.
Or will it be Cogs, Calvin's number one captain and a player backed by over a quarter of the competition for over $800k. He only needed 31 disposals after taking 9 marks, laying 7 tackles and kicking 3 goals. I imagine this would have been 322 points for most owners, and it sent my rank plummeting!
Who gets your vote?
This Game Sh*ts Me
It was so obvious, yet we still missed it? A question often posed after Round 1 is completed. Coniglio was under priced if anything. Rocky scored 178 in the JLT, he was back 2 weeks ago. Dom Sheed averaged 40 disposals in pre-season, why would he forget how to find the footy? Grundy was underdone. Worpel is a ball magnet. Everything is easier in hindsight, yet it still pisses me right off.
Those people who played it safe this week were NOT rewarded. Almost every answer was in front of our eyes all pre-season, yet there's still something so dirty about purely selecting a 'hype' team. After 3 months of planning, it's easy to see why we're guilty of overthinking things. That doesn't make it any easier to swallow. This game sh*ts me.
The Other Bits and Pieces
2153. It was business as usual from my lads on the back of a 69th place finish in 2018. I appreciate half of you are just here for the rants, and it's going to inevitably happen… But the less the better for me! The fact that score has me ranked out past 7500 is hilarious, anyone scoring over 2100 was right in the ballpark. As long as Coniglio doesn't average 150 I should be OK.
Nailing the rookies was an integral part of my success last year and so far so good, Constable and Scott even sit on my pine. Owning Sheed and Rocky is a bonus, and it's allowing me to luxury trade elsewhere.
Worpel is a gun and a mistake I'm happy to admit, he's in for Heeney. It's not to say Heeney won't be good, but don't be afraid to chase those bargains if they look awesome. Dunkley and Billings had a solid midfield role, Isaac did not. That cash freed up allows me to go Zac Williams to Nic Newman. I don't love it, but Williams doesn't look like he can break through a ceiling of 80 and Newman looks set to rise. The temptation to go Brayshaw to Coniglio is there, but you have to back in your premiums.
When people say don't worry about Round 1, it's true. I was ranked 30,000 after Round 2 last year. That put me over 300 points behind eventual joint winner Selby. I maintained that my team looked solid, critical injuries and a couple of poor picks needed patching.
By Round 11 I had caught up (Let's just ignore the byes). As long as the core of your team is strong and there's cash generation on your bench, the rest will take care of itself. That investment in your ruck stocks WILL pay off!
Good luck in Round 2 legends, let's make it another high scoring one…