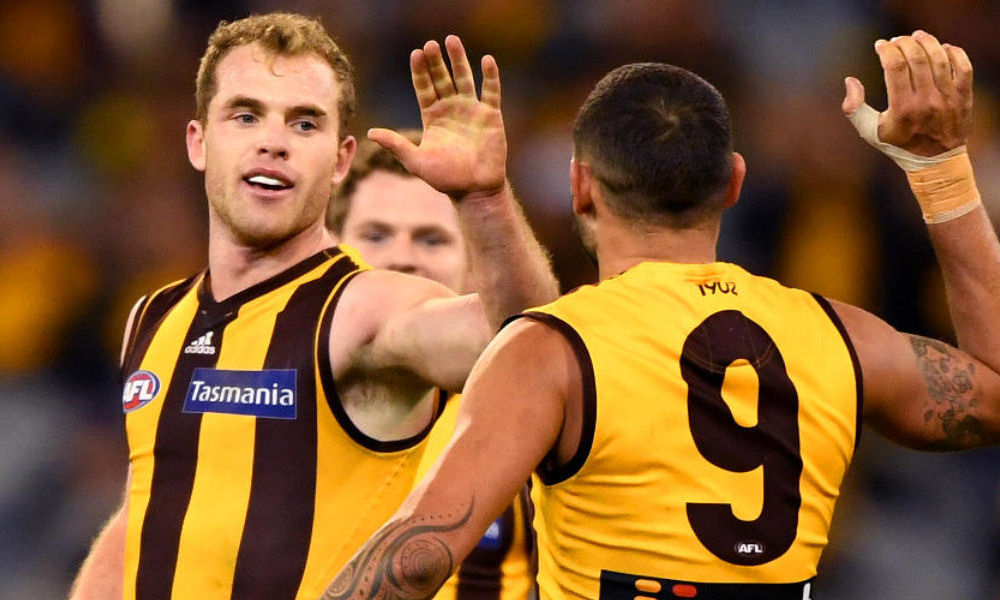 So that's it, the 2018 Fantasy season is over. What a year. While many teams had already hosted their mad monday celebrations, league champions were crowned across the nation over the weekend. It's time to take a look at the players who got us to where we sit today. That includes the good, and the bad… It's time to wash-up 2018!
Legends
Yeo (106.8) – Yo-yo no more. Not only was Elliot Yeo the second best defender this year, he averaged 116 after the Eagles bye. This included eight 110+ scores in 11 games and an average of 124 from his last 6. Sure he won't be a defender next season, but he could just become an uber premium midfielder. What's scary is there's improvement left in his game… Bloody legend.
Laird (107.8) – Despite a dip in form at the end of the season, back-to-back 138's during the finals made Rory Laird the number one defender and reminded us why he has been such a gun this year. I didn't start with him and it cost me big time, whether or not we pay up the big bucks for his services down back in 2019 is sure to be a popular dilemma. Especially with the Doch back! Legend.
Brayshaw (104.1) – I can name a few key turning points this season, and the Brayshaw v Rocky call is up there with the biggest. Hopefully a few people learnt a lesson, role changes are real! That being said, nobody could have predicted how good Brayshaw would be as a midfielder. After moving into the guts in Round 7 Angus averaged 112! In fact he tonned up in 11 out of his last 14 games. With Clayton Oliver also dominating he avoided the tag and looks to be a serious option in 2019. We took him for granted by the time he became so popular, but his 5 round average of 122 to end the season suggests he can be an uber premium mid for us next year. Leeeegend.
Lloyd (101.6) – It may have been a rough start, but Jakey Lloyd came good in a big way. Given he was priced at just over 90 to start the year, an average of over 100 is a big deal. It all stemmed from one of the all time great junks, his 163 vs Freo. Sure he may be a bit of a seagull, but as long as he's racking up +6's I'm not complaining! Legend.
Simpson (95.4) – Things may have gotten slightly sour late in the season, but Kade Simpson remains a Fantasy legend. Can he seriously keep going? Surely age catches up with him soon… For now not only does he remain a premium defender, he's an absolute jet footballer. Legend.
Sicily (95.6) – I'm not bothered by how things ended, James Sicily was a massive success this season. He continued to dominate at half back and averaged 100 after his second suspension. Has he learnt his lesson? Who the hell knows, but having been priced at $523,000 to start the season he has been an awesome pick. As long as you backed in your player during the tough times! Legend.
Macrae (122.6) – There was a lot of oinking about Macrae's Grand Final performance. Only a pig goes and posts 190 in the most important fantasy weekend of the year, including 43 disposals and 14 marks. Is he damaging enough to warrant tags like Titch next season, or will he be allowed to roam free and average these disgusting numbers? Regardless, he was nothing short of a genius pick. Kudos to those who got on early, what a gun. LEGEND!
Gaff (110.7) – Look, I'm going to steer well clear of the controversy. All I know is that Gaff was the third highest averaging midfielder in the competition. Of course he let us down and what he did to Brayshaw was horrific, but it's time to move on. In fantasy land there's no doubting he has the potential to post huge fantasy averages, even bigger than this year. Tags may become a problem and who knows where he'll be playing his football next year, but I loved owning him during and after the byes. Gun footballer and yes I said it, legend.
Coniglio (110.4) – I'm quietly stoked with my deck entires in 2018. OK fine, Blakely, Dahlhaus and Brad Crouch was a complete and utter disaster. BUT. Coniglio was the golden ticket. Starting the year priced at $663,000, we all knew he was under priced and had the potential to become an uber premium. That's exactly what he did. He did 'slow down' late in comparison to the numbers he pumped out early, but anyone who posts 150+ in grand final week is a hall of fame contender. Absolute legend.
Oliver (109.6) – I knew Oliver was a gun footballer, but his fantasy game has been incredible! He managed five 120+ scores in the last 8 games, in the other three he was tagged. Oliver ended up as the seventh best scorer in 2018, even better when you consider he was a differential! He's only 21 years old… What a gun. What a legend.
Cripps (109.3) – Getting Cripps after his bye is by so far and away the best fantasy trade I have ever made. Getting a player on the back of a 57 isn't easy, but Cripps was getting battered early in the season. After the week off, his numbers are genuinely insane. Despite being tagged he failed to ton just ONCE. That was a 96. He averaged 118.3 over those last 11 games and finished the year comfortably in the top 8 midfielders. Having started the year at under $700,000, I'd say that's a win for pre-season research. LEGEND.
Ross (107.3) – Seb Ross finished in the top 8 averaging midfielders. I'm going to be picking the egg off my face all off season. That included a 5 round average of 127.4 to end the season as he carried many coaches to finals success as a huge POD. You've got to give the man credit, he can play under a roof. Listen up because I won't admit it often, I was… Wrong. Well done legend.
Fyfe (102.1) – Despite a hamstring injury curtailing his form, Nat Fyfe began the season priced at $686,000 and was averaging over 110 before his hammy went ping. The best part? Those that missed out get a second chance next year. He's back to brownlow form. Legend.
Hunter (105.4) – Lachie Hunter began the season at $634,000 and would have slid in many drafts. I have to admit I just picked him up because he was the 'best of the rest' and had pedigree. He ended up going 130+ on four occasions and finished amongst the top 8 fantasy midfielders fit and playing come Round 23. Consistent, reliable, gun, legend.
O'Meara (95.8) – Don't forget about JOM, it was awesome to see him finally looking fit. How many traded him out when he was ruled out of Round 9 thanks to injury? Sometimes you just can't win. Having tonned just once in the first 8 games he transformed into a fantasy jet, averaging 103 from Round 10 onwards. Given he started at $438,000, he was an absolute bargain regardless and a brilliant pick. Legend.
Kelly (86.8) – I was going to leave the rookies out, but I just couldn't ignore what Tim Kelly did. Having been priced as a rookie, he averaged 99 over the last 8 rounds of the season. Even before that he was a gun for us and ended the season as the competition's biggest price riser. What a gun. Legend!
Grundy (120.0) – The ruck pig! I'm not sure I agree with Grundy being a pig, in the same way that Ablett and Dangerfield were just too good for everyone else. 19 tons out of 22. A five round average of 132 to end the season. We're just going to have to fork out the big dollars for him aren't we… LEGEND!
Gawn (111.3) – Maximus Gawn. Munta. What a man. Pricing him at under 90 was always going to end one way, but even the optimistic coaches couldn't have seen him averaging over 110! Having become so reliant on banking Gawn and Grundy at the end of the year, the start of next season may just suck. So consistent and so reliable. Legend.
Smith (106.6) – The number ONE forward. No arguments. Remember when he started priced at $575,000?! Not only was he the best forward, he would have been amongst the best midfielders by the end of the season. He averaged 111 after Round 6. In fact all three of Yeo, Brayshaw and Smith would have been amongst the top 8 midfielders based off their post bye form. Keep that in mind when they're classified as mid only next season. Devon broke the tackle record and it was no surprise that it ended up with him dominating fantasy land. Never under estimate a great hugger! Legend.
Westhoff (101.9) – The Hoff. He scored under 90 just once after Port's Round 10 bye, and that was an 87. Consistency personified before he dominated the prelim's and grandy. Say what you want about him, never pick him again, it doesn't matter. What a season. Legend!
Dunkley (95.8) – Role changes. The biggest key to success in fantasy! I don't think it was a coincidence at all that Toby McLean injured his shoulder in Round 13 and moved out of the midfield to make way for Dunkley. Didn't Dunkley take his chance! From Round 15 onwards Dunkley averaged 113 including a lowest score of 96, incredible numbers. Given his couple of goals resting forward in the final round I think there's a big chance he's classified as a forward next year. If so, you know what to do. Legend.
Taranto (91.2) – There's not a whole lot of love for players who dominated early, mainly because there was hardly any who did. However Tim Taranto was a key cog in many teams up until and during the byes. Priced at $433,000 to start the season, he was awesome, particularly while Josh Kelly wasn't in the team. Can he break into the midfield next year? Only time will tell, but there's no denying he was a raging success in 2018. Legend!
Mitchell (129.2) – You always leave the best until last. The undeniable, undisputed GOAT. I've already gone through Mitchell's numbers when he's not tagged, it's insane. Seriously, he could have averaged 150. If you don't tag him he will have 40+ disposals. Guaranteed. That's just rude. Could we have our second pig brownlow medallist? He's a massive chance! He'll be priced at a similar number to this year at the start of 2019, but unless he plays Sydney Round 1 there's a 100% chance he'll be in my team. He will never leave my team. I just hope he plays forever. L.E.G.E.N.D.
Losers
Hannebery (59.9) – This is now a bigger fall from grace than O.J. Ok maybe not quite that bad, but Dan Hannebery was an uber premium midfielder. Now what is he? Nothing short of a disgrace. I doubt anyone owned him, but that doesn't make his season any less pathetic.
Hibberd (68.8) – Michael Hibberd can now sit next to Heritier Lumumba in the Dees backline hall of shame. Where did this come from? Hibbo completely forgot how to football. He scored under 70 in 13 out of 18 games. This is the same guy who averaged 90 in 2017. I'm not sure what else to say? Impossible to explain.
Rockliff (82.7) – You could say it was a… Rocky season… This guy is supposed to be a pig? Injuries aren't an excuse. Fitness isn't an excuse. I paid $725,000 for him at the start of the year thinking he was a bargain! Port Adelaide definitely has something to do with it, he couldn't have picked a worse destination. That being said, I don't think it would have mattered. He looks 50 years old when he tries to run. The game has gone past him. I'll still cherish the good times though…
Walters (80) – I won't be cherishing anything here. After I traded Walters in (before his bye) he averaged 68. This is why we have 2 trades per week, because if I was stuck with Walters I may just have deleted my team. Never again. Ever. I mean that.
Gray (84.3) – Another for the never again list? I don't think so. He was averaging 106.7 after Round 6. This is so unfair. If Gray was allowed to play in the midfield WHERE HE IS A GUN, he can average 105-110 with ease. Perhaps even contend for a brownlow. Instead? He's enjoying mad monday with his teammates today after one of the greatest capitulations by a team in recent memory. I'm not upset about it. The sooner Hinkley is gone the better for us Fantasy coaches…
McDonald (70.3) – Who you may ask? Fair question. Luke McDonald was in my team during pre-season. To this day I still don't know why. Anyway, he averaged 49 over the last 5 rounds, so bullet dodged there… One for the pre-season hype crew.
Burton (62.0) – I'm really struggling to explain a few players seasons. Ryan Burton was a jet in 2017. He's young. Why did he suddenly become a crab? In a fantasy sense of course. I never noticed him when playing so I don't have the answer, but I'll be wielding my 10 foot pole when I get tempted to pick him next year.
Martin (92.9) – Dusty. Dusty, Dusty, Dusty. I thought he was just about as safe a pick as you could make this season. So much so that I brought him in after Round 6 when he was averaging 99. Little did I know it would be all downhill from there. I don't think he's injured, I'm just not sure he can be bothered. Fair enough too, he literally accomplished everything in a single season. He just puts the foot on the gas when he has to, and it won't be a surprise to see him turn it on again in finals. Just think about us fantasy coaches for a second Dusty. He's still owned by 35% of players, that amazed me. That's how many ghost ships there are?!
Bontempelli (92.4) – Forget the end of his season, Bontempelli had a shocker. He was averaging 85 up until the last 4 rounds, and credit to him he stepped up during draft fianls. HOWEVER. As a season long owner, it did not make up for the trash I witnessed beforehand. I'm a forgiving person though, so he's back in next year.
Barlow (informally retired) – Ah the Gold Coast. Sporting capital of the world. Where teams go to die. Apparently players do as well, after Jarryd Lyons and Michael Barlow couldn't break into the worst midfield in the competition. There's something in the Dew up there…
Cotchin (80.0) – Yes, that's Trent Cotchin. I can't wrap my head around Richmond but fair play to them. Their captain just goes out there to put on some pressure acts and it works like a charm. They are the fantasy anti-christ.
Dahlhaus (78.6) – If he wasn't on the never again list before this season, he's there now. I'm not sure Luke ever realised you can actually kick the ball and not just handball. That's why it's called FOOTball. There was no Libba and still no hope for Dahl. Shithaus.
Sheed (74.3) – I had Dom Sheed down for a breakout season. Instead I think he's lucky to be even getting a game. There's a fantasy game in there somewhere, and one season we might just see it. For now you need a pretty good microscope to see it because he has been bloody awful this year.
Zorko (96.5) – How ironic. One of my best pickups for the year who sat in my midfield for two thirds of the season is a loser. Between Round 7 and Round 20 Zorko averaged 116. He averaged 67.5 for the other 9 games. It was as though the first 150+ score he posted reminded him that he was a gun footballer. Then the second 150+ he posted reminded other teams that you can transform him into an angry midget by just putting an opposition player within 5 metres of him. He was awesome for me, but try telling that to those who paid over $800,000 for his services at the start of the season. By services I mean 50's and 60's with the odd 40 thrown in there. Of course I'll do it all again next year.
Parker (95.6) – Luke Parker was starting to make up for his abysmal season having averaged 108 in his last 5 games leading into grand final week. What does he do? Not play. That's the cherry on top of one of the worst cakes ever baked. Surely he's a candidate for being a forward?! If not, be sure to wield that pole when he inevitably dominates a soft pre-season game.
Jacobs (81.5) – This could almost have been Ben Jacobs average. That's how bad Sam Jacobs has been this year. Sauce got lost in the sauce. In the wise words of Gucci Mane, it was an overdose of sauce. No meat just sauce. I still don't understand what this means, but Jacobs was bad.
Kreuzer (79.3) – Even though Kreuzer is a walking hospital ward, if he's standing on two feet at the start of next season then he's probably in my team. That's a 20% chance to be the case, and even that may be generous. Poor bloke. Poor Carlton.
Ryder (74.8) – Could this be our go to ruck combo next year? Ryder looked backed to his best with 121 against Essendon on Friday night having struggled with injury all year. I can't stress how lucky we were to have two gun ruckmen that were reasonably priced. It could be an absolute shambles in 2019.
Liberatore (9.0) – Never forget.
Billings (85.2) – Undoubtedly taking the crown for biggest loser of 2018 (Just ahead of his coach), Jack Billings please step up to the stage. You absolute flog. Having averaged 74.8 until his axing in Round 10, everyone with a free trade who hadn't already done so waved goodbye to Billings and said never come back. Of course he racked up 50 in the VFL, returned as a midfielder the very next week and averaged 96.8 for the rest of the season. Typical. Cross him off the never again list because he'll be back next year. Just leave an asterisk there. That stands for prick.
This Game Sh*ts Me
I do hate to be that guy, but what could have been for me this season. It all started with Tom Liberatore. 9 points and a $50,000 loss is not exactly an ideal start. What's less ideal is when you trade him to Matt Crouch ($762,000) for 33 points and another $50,000 loss. Over the next 20 Rounds, I hardly had a forced trade. Let's be honest with each other, it was a pretty cruisey season. Unfortunately nobody got the message to the coaches to let them know they had a bye in the middle of the year. EIGHT OUTS during bye week one. Witherden aside, I don't think I had a forced trade after that Round 12-13 capitulation.
After the byes I averaged 2505. A 9 week average of over 2500… Just think about that, if it isn't a record then I'll be damned. Until I'm ranked number one, I'll still be complaining! This game sh*ts me.
The Other Bits and Pieces
Sure that was the closest end to a #AFLFantasy season ever, but don't let that distract you from what I achieved with my cap… pic.twitter.com/82ZFgfRc7F

— Matt Craig (@MattCraigDT) August 26, 2018
2719. 50,747. Rank 69. I have the best cap outside of the top 10. Who could have seen that coming after my start? Sure its been a little boring without anything for me to complain about, but personally I've enjoyed the change of pace. Sorry to anybody who I've let down…
I've learnt many lessons this year, and prioritising rookies and cash generation early propelled me up the rankings once my team was near completion. There was one other team in our league in a similar position, and that was Selby (The Goat). I'll take that.
I was surprised when going through the list of legends this season, players post bye averages compared to pre-bye are incredible. Perhaps that analysis is best saved for another time next pre-season, but I can't wait for 2019.
Got a Finals horror story? Happy with your season? Somewhat disgusted? I definitely missed some players so feel free to brag or vent as you wish. Thanks for the support this year legends and I hope to be back at it again in 2019. See you then…