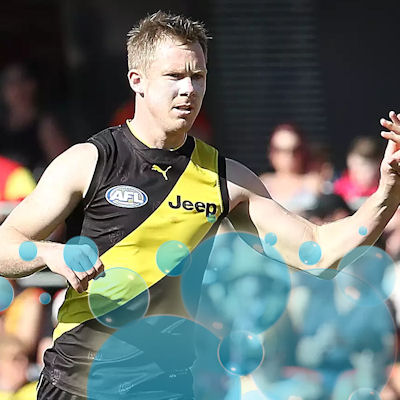 There's some fantastic stories going around at this time of year. What spud cost you a final? What freak of nature turned a sure thing into you packing your bags for season 2018. Sadly I've only got winning stories at the moment so I'm probably not the guy to be writing this article, but I'll do my best! It's time for the weekend wash-up.
Legends
Heppell (132) – D.Hepp was a bargain post byes and certainly hasn't let his coaches down. He never does enough to get tagged yet continues to post solid scores, doing it nicely.
Smith (125) – Devon's form shouldn't be underestimated, he has a 6 round average of 118! Clearly the most reliable forward option and a luxury we won't have next season. Gun.
Merrett (119) – Zach is more than back, he's ready to go piggish again next year. Sure it would be nice to see him go huge but this is his fifth 110+ score in 6 weeks. Massive.
Ross (143) – This is hard to swallow. With a 3 round average of 136, I can't really laugh at Seb Ross anymore. It was fun while it lasted. A huge small part of me wants him to spud it next week, would anyone be surprised? His Etihad form is hard to ignore.
Mitchell (130) – Hard tags? Not a problem mate. His last 12 games are out of this world, averaging 142 over the past 3 months. Insane.
Ablett (152) – Bald jesus was the obvious option in hindsight. I went Taylor Adams and didn't even consider Gary for a second, how wrong I was. Geelong's fixtures are nasty, let's just hope there isn't a tag! I still think Gaz is good enough to warrant being shut down.
Menegola (126) – I haven't got to watch much footy over the past few weeks and it's really bugging me, because what has happened to Sam Menegola?! Earlier in the season he was either scoring 120 or 60, now there's some sort of weird consistency to his game. More midfield time or just better form? Strange but I'm not complaining.
Dangerfield (126) – Danger's back there's absolutely no denying that, that's 79 disposals over two weeks! I seriously doubt we'll get him as a forward next year and I don't think it matters. Must have.
Riewoldt (192) – Talk about a freak event, if anyone traded in Jack Riewoldt as a Hail Mary then I want them to be knighted.
Yeo (122) – I think you'd be doing yourself a dis-service if you're not considering Yeo as a midfielder next year. His 5 round average is 116 and he seems to be discovering just how good he can be. He's only 24 and getting better! Legend.
Witherden (123) – There's no doubting who's in the top 6 defenders now. Witho has a 5 round average of 105, putting Kade Simpson to shame. He's only 19! Has to be a serious shout for the rising star, may be worth a punt.
Whitfield (135) – Out of this world. Whitfield is averaging 129 in his last 5, lynnsanity. He has averaged 114 since Round 8, what a turnaround. He needs to be careful though, if he gets any better the tags will come back. Find the right balance Lachie.
Hunter (142) – Hugely underrated in all forms of Fantasy this season, Lachie Hunter has been just about my best draft pick. He's super consistent and has a huge ceiling, Hunter had 44 disposals on the weekend! To go to the next level he will have to follow Andrew Gaff's path into the centre of the park though. Not the other path…
Macrae (118) – Just get him. There's nothing to think about, no reason to get tricky with it. Macrae is an out and out Fantasy gun.
Oliver (127) – The tag came, and Oliver brushed it off like it was nothing. 12 tackles, what a bloody machine. Will you pick him next year? There's just so many uber premium midfielders at the minute and I love it. Hutchings a guarantee to tag him next week, let's see how he fares.
Lloyd (117) – Jakey Lloyd reminded us he's still a must have defender with a beautiful triple double. Despite losing a few DPP options, we'll be ok down back next year. There's plenty of fantasy talent around at the moment.
Losers
Goddard (10) – Fingers crossed for BJ?
Fingers crossed for BJ.

— Mark Stevens (@Stevo7AFL) August 10, 2018
Stanley (31) – Thank you for nothing Rhys. It's an unfortunate injury and certainly no Scott Lycett, but it hurts just the same in a draft final.
Ryder (49) – Another potential draft killer. There will have been some horror stories given the injury list last week.
Rockliff (85) – Mediocre is being generous. Here's an interesting one, do you start with Rocky next year? He's averaging 84 for the season, 85 in his past 3 and 87 in his past 5. So you'd say that's about right. Most certainly a former pig and a shadow of himself out there at the minute. A luxury trade option for sure.
Darling (38) – I was SO close to getting Darling earlier in the year… If the Eagles draw is kind at the start of next season, I may still do something silly. Doesn't look quite right.
Pendlebury (74) – Have we seen the end of a fantasy great? 28 disposals for 74, YUCK. This is his third score of 70 in the past 5 weeks. Not even close to good enough. Dependlebury no more.
Phillips (79) – I'm just glad to be rid of him. That's the risk when you punt on an uncontested player, even though he's not quite Brent Stanton. No tackles. Not one.
S.Martin (84) – You just can't carry Stef any further. 105kg is a lot to lump around. He hasn't tonned in the last 6 weeks and has a 3 round average of 76. The Oscar effect. No good.
Zorko (61) – Well this hurts. I didn't get to pump up Dayne for his 150, and now he dishes this tripe up. Collingwood NEVER tag, yet they send Greenwood to Zorko. Does he get tagged again next week? There's an argument to say Dayne Beams also needs to be shut down, and there's potential for both to be tagged. Fiorini and Miller, look out. With the Eagles and Hutchings in Round 23, Zorko is suddenly looking like a dangerous option to own.
Kelly (67) – KOTD. Most others weren't so lucky. I was tossing up between getting Josh Kelly last week and saving cash to afford Dunkley. I got extremely lucky. At least he wouldn't have been a unique in most matchups! Not all of them though…
Gibbs (96) – Remember this guy? Bryce Gibbs has been average at best. He's not doing a lot wrong, it's just that he's not doing a lot right either. Boring.
Ahern (39) – Still a rookie.
Fritsch (48) – Still a rookie.
Clarke (43) – Might as well be a f**king rookie. I swear to god I have played Ryan Clarke for an average of around 40 points in draft. I bench him and he scores 100. Every. Single. Time. I don't get it? Some weeks he just doesn't bother to rock up, I'm honestly not sure how he even gets a game.
Gawn (78) – Another 2019 dilemma. Do you pay the big bucks for Munter Gawn? He has been a no brainer all year and still carries a 5 round average of 97, but he's slowing down. I don't think he's a Goldy flash in the pan but it's a huge season to backup from.
Parker (89) – Luke Parker, we hardly knew you. Did you know he's only 25 years old? Two years ago he was averaging 110 and an uber premium midfielder. Is this a case of Trent Cotchin, or a role change that can be reversed? Either way I'm not going to be the one who finds out next year.
Walters (69) – I didn't bat an eyelid when I saw Walters season was gone. In fact there was a smirk. He cost me over 150 points in one week, I'm too scared to check where that would have me ranked. NEVER AGAIN.
Simpson (72) – Lastly it's with a heavy heart that I must announce the end of Kade Simpson's premium Fantasy career. Surely not even Doch can bring him back from the dead, he'll be 35! What a great servant he has been. A loser this week, but still a bloody legend! Can you tell I don't own him? It's your own fault for going to the nursing home…
This Game Sh*ts Me
While my Fantasy may be flying, my draft team is doing anything but. To prevent injuries from ruining matchups we have set our emergencies to replace anyone playing under 25% TOG. It was perfect then that I got Rhys Stanley off the waivers for 29% TOG and 31 points. I also had a chance to make up for my shocking Ablett draft, give him the armband and watch him carry me to the grand final! Cogs got the nod. There's always if's and but's, what really hurts is the 7 month wait until next season after it all goes tits up. This game sh*ts me.
The Other Bits and Pieces
2441. It's almost getting a bit boring? I'm up to 71 and if I don't get a hat from here, there will be a rant like none before. I can finally get rid of Hurley this week and Witherden is in. I even dodged the Josh Kelly bullet, god it feels good to have a great team! I'm sure there was some horror stories out there, you know I love to hear them. Trust me, it feels better to let it all out. Good luck in the penultimate round legends!