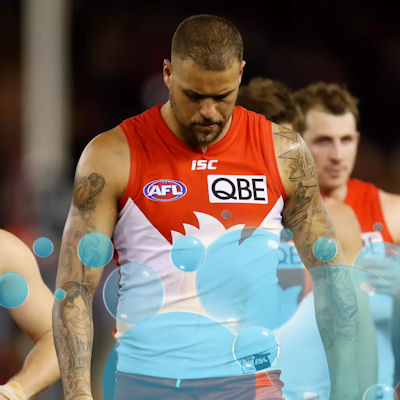 While it's not to say there's no bullets going around, our fantasy frustration levels must be at an all time low. There hasn't been a significant late out… Not really. However it's finals time so strap in, it's time for the weekend wash-up!
Legends
Grundy (147) – In the time I went out to grab lunch Brodie Grundy had gone from a respectable looking score to an absolute monster. Those who played russian roulette without Brodie got shot this week, make him your number one priority for week 1 of finals. Absolute bloody legend.
Phillips (116) – Tom Phillips had shown nothing since I brought him in, so it was no surprise that he dominated the week I dump him. To his credit 33 disposals and 10 marks is a fair effort.
Ablett (130) – Maybe we haven't seen the last of bald jesus? Gaz is winding back the clock, racking up another 38 disposals, 8 marks and 8 clearances. He's 34 years old!!! Legend.
Beams (129) – Just another lazy 37 disposals for Dayne Beams this week. I'm surprised he's avoiding the tags because he's absolutely dominating at the moment. Still owned by just 6% of coaches, Beamer is killing it.
Whitfield (130) – Sicily going down has been a blessing in disguise if I've ever seen one. As much as I love Sic dawg, Whitfield is a must have. He's carrying a 5 round average of 117, dirty numbers for a defender.
Kelly (126) – Josh Kelly owed his owners a good score and he delivered. I'm not sure how many other teams will choose to tag Ward over Kelly but enjoy this score. He could score something disgraceful next week and I'm scared. It's a great week to get him in…
Cripps (162) – What a machine. Given how good some of these scores are I'm just going to have to sack the stubby. Tom Mitchell goes next level beast every week, now Cripps posts 162?! Cripps is averaging 122.4 since his bye. That's over seven weeks! He's clearly an uber premium and quite frankly I think he's going to be cheap again next year. Leather poisoning, tackles, marks, goals. He does everything. Nat Fyfe eat your heart out, Cripps is a brownlow smokey for sure.
Murphy (139) – Priced at $668k, you could do a whole lot worse than Marc Murphy. There's no way he's getting tagged with Cripps in such hot form, and Carlton have a great run home. Sure they might still get belted by all four sides but Murphy should come home like a steam train.
Crouch (123) – Matt Crouch is just so good at fantasy football. It'd be nice if he could up his ceiling, but if he did that he'd be oinking. Crouch had 21 contested disposals on the weekend, he's not just an accumulator! Crouchy is one of my first picked next year and should be in your final squads for 2018.
Cunnington (147) – Fair play to those draft squads who picked up Ben Cunnington late. I thought I'd offer him up as trade bait and I'm being punished for it. That's 4 tons in 5 games!
Goldstein (123) – At this rate Goldy is going to get alarmingly close to Stefan Martin's average. He's currently operating at 111 in his last 5 games and doesn't look like slowing down. It's nice to see he can still play ball.
Ahern (118) – Excuse me? 37 disposals, 22 contested, 12 clearances all of which was from just 75% TOG?! If only Ahern was playing in Round 1!!! That was as good a game from a first year player that you'll see. 3 votes.
Yeo (136) – Yeo looked disinterested in the first half, but he was the only Eagle to come out of the race after half time. His 93 point second half is exactly why we all own him, but he still didn't hit 30 disposals. In fact Yeo has had 30 disposals just twice all year. There's room for improvement.
Dunkley (116) – Credit where it's due, Dunkley looks at home in midfield. It will be interesting to see what happens if Liberatore is back in 2019, I wouldn't mind if Dunkley sat forward the last few weeks to ensure he keeps his DPP next season! Most definitely a differential worth considering heading into finals.
O'Meara (118) – Jaeger is about to surpass $700k! What a pick he has been. Do we consider him cheap again next year? O'Meara currently has a 6 round average of 113. He's pumping out uber premium numbers and it's awesome to see. It'd be even more awesome if I hadn't had to trade him after a month of consistent garbage though.
Mitchell (160) – Fact: In every game that Mitchell hasn't had a tagger run with him for at least a half, the pig has had 40 disposals. Every. Game. Forty disposals. That is laughable. Long may teams let him run free, because watching him pig out makes my weekend. Delicious.
Losers
Franklin (40) – I thought Buddy was bad last week… His 5 round average is now at 67. He has to be injured, at least I hope so.
Crisp (65) – Jack Crisp has been nothing short of a disgrace in the past month. His 5 round average now sits at 66. I'd be disappointed at that return from a rookie. If you paid $691,000 for those services I think a royal commission is in order. I've seen more competent efforts on the 9D footy field.
Scharenberg (49) – Poor bloke. Putting Fantasy aside for a second, to see him go down with a third ACL at the age of 22 is shattering. Just when he was getting going, again.
T.Kelly (57) – Tim Kelly has been superb, but you were running the gauntlet. Considering how well the top 10 midfielders are currently performing, Kelly has to be a priority upgrade this week. He's on my 2019 watchlist for sure!
Selwood (64) – Never will I be seen with Joel Selwood in my team. Somehow he finds a way to ruin every season he plays. Having carried a low of 87 all season, he now has a three round average of 69. Pathetic.
Dangerfield (66) – Even worse. I'm starting to think Danger isn't even injured, his head has just got lost so far up his own ass there's no turning back. It's all eyez on Danger in a top of the table clash next week so expect a performance, let's just hope it will be one that involves him laying a tackle.
Witherden (77) – If it needed confirmation, we got it last week. Witho is a jet and a future star, but a top 6 defender? Not yet. The fact that he's 19 is amazing, he's a lock next year.
S.Martin (77) – Fatality. Stef has been nothing but dead average since his bye and I've put up with it for far too long. Captain hindsight is a bastard but he's right. We definitely should have traded Stef last week. G.A.W.N.
Billings (75) – I hope nobody ever regretted trading Jack Billings. Don't be fooled, he's still a spud. Having said that, bargain next year anyone?!
Laird (72) – To his credit, this was Laird's first score under 80 all year. He has been amazing. Fun fact though, since round 4 he has 'only' averaged 100. Stupid fact actually forget I ever said anything. He'll bounce back.
Seedsman (18) – So, Paul Seedsman is going to be cheap next season…………..
Hogan (58) – Spare a thought for those playing limited trade games that are stuck with Jesse Hogan. My team is in that boat, along with a whole host of other spuds that I'd need 50 trades to be rid of.
Fritsch (47) – I'm guessing we've all thanked Fritta for his services and sent him packing? If you haven't you deserved every gruelling second of this 47 for being a terrible coach.
Gaff (83) – Let's just say Gaffy isn't an uphill skier. When the Eagles get smashed he manages to go missing completely. I didn't notice a tag, it was just one of those days. The problem is I think we might notice a tag in next weekend's derby. My Andrew Gaff forecast has taken a nasty turn.
Bontempelli (61) – I've had some shocking draft picks, but Bontempelli takes the cake. There hasn't been a more overrated name since one day ago where Paul Ahern was adjudged the best 8 game player of all time. It's about time the Bont pulled his finger out.
Shuey (-) – How was your bench cover? I've got to be honest, mine is nothing short of disgraceful. If I was in your boat I'd have Joel Smith storming out onto the park. While Shuey's was a freak event, there will be more late outs in the next month I can promise you that. Unfortunately my bench is averaging 40, and I wish that was an exaggeration. Look out.
Hurley (38) – The saying usually goes save the best for last, not in this article. Sure there has been a lack of relevant spuds recently, and that's probably still the case. In no way shape or form should Michael Hurley be fantasy relevant, yet here I am with a player scoring me 38 in Round 19. I must have missed the memo where Hurley had become Simon Prestigiacomo. Seriously he had no interest in getting near the footy, it was a pure lock down role of Buddy. Yuck. I have to hold him this week so if there is a Fantasy god out there, please don't let this be the reason I don't get a hat. What a f**king disgraceful performance by the best player on the ground. Does he not know there's Fantasy coaches out there that need him?!
😁#DonTheSash pic.twitter.com/gA8jL0TUIt

— Essendon FC (@EssendonFC) July 29, 2018
This Game Sh*ts Me
The 50/50 calls are always the toughest, and somehow we seem to stuff it up every time. That's only because we remember the bad ones. I've had a good run of it, but I couldn't have gotten my trade choice any more wrong. Should I get Grundy? Should I trade Hurley? Should I dump Phillips… *Buzzer* WRONG. I wouldn't have been the only coach in that boat. Do I go and check how much higher I'd be ranked if I had just made the right (obvious) choice? We've all been there. And it all adds up. If only I'd made every right call I'd be ranked number one!!! We love to live a lie. But that trade sucked. This game sh*ts me.
The Other Bits and Pieces
I ended up on 2374. Vomit. Hurley's 38 combined with no Grundy was a recipe for disaster. I've just got to hope that Hurley can turn it around this week, I still believe! Grundy is finally in for me, pending none of my players being visited by 'The General'. He's coming for us, mark my words… And when he strikes it will bring fury upon us all. Good luck next week legends, let's hope for more drab high scoring!