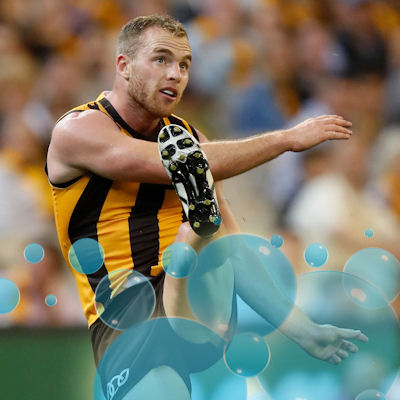 It was another uneventful weekend of fantasy football, with most premiums continuing to dominate and injuries not of any real relevancy. This is almost getting too easy! Perhaps the fantasy gods are cooking up a storm. In the meantime let's sieve through everything to catch the eye in Round 18. It's time for the weekend wash-up.
Legends
Ross (121) – Seb Ross had his one game for the month. Good on him and his draft owners, moving on swiftly.
Adams (135) – Taylor Adams finally remembered he had arms on Saturday afternoon, re-discovering his ability to tackle having not laid more than 5 since Round 8. He averaged 126 in the final 5 games of 2017 and could be a potential differential for those looking to make up ground. I won't be doing it but it does have merit… At least he still can't kick so tags won't be a problem.
De Goey (119) – As a draft owner I can vouch for the fact that De Goey's fantasy scoring doesn't often match his ability. Will be you brave enough to take the plunge in 2019? The foundations are there.
Clarke (114) – You have to be kidding. How? He's edging closer to Walters territory at this rate.
Kennedy (134) – In his heyday JPK was known as a backend specialist. Who knows what you'll get from him or the Swans at the moment but you could do worse at his price.
Parker (119) – Sydney may have lost but at least Parker made up for his tragic effort last week. There's a long way to go before he's ever forgiven by his owners, but at least that's a start. Unless of course you traded him last week… Who wouldn't have.
Witts (132) – I don't know why he's so sporadic, but Witts loves a huge game. You'd never let him near your team but it's good to see nonetheless.
Smith (121) – My trust in Devon's is slowly recovering. Smith dominated yet again and is comfortably the best forward going around. That is until Danger has his say. He has a 5 round average of 114!
Merrett (112) – Zach's back. Just another solid score from an uber premium. 85% TOG is hugely significant for Merrett, he's turning a corner. Complete lock for 2019. Throw away the key already.
Witherden (138) – There's no doubt in my mind that Witho is going to be a future fantasy star, but he may be becoming that already. Brisbane's form has clicked and he's thriving in a competitive team, making him the in-form defender in the comp. Rising star value.
Crouch (121) – His 40 disposals may not have produced a monster score, but he will be as consistent as anyone in this final month. Get on board.
Duncan (124) – It's about time Duncan produced a half respectable score. Even so, where are the tackles? It's all uncontested business on the wing which is a pass for me.
Hawkins (118) – He may not be Fantasy relevant but that was one of the best quarters of football I've ever had the pleasure of watching. Someone might need to organise an exorcism because he looked possessed. Beast.
Menegola (115) – Menengola produced a much needed ton after a few quiet weeks. I still cannot believe commentators can't get his name right.
Kelly (113) – Tim Kelly is just realising how good he can actually become. His last month has been outstanding, averaging 100. If only he had produced that a little earlier…
Dangerfield (107) – I don't know why Dangerfield passed away at half time, but as a forward this is still a fantastic score. He's averaging 102 in second gear, you're insane if you don't do everything in your power to get him in for next week. Lock.
Oliver (136) – Just how good can Oliver be? His 3 round average has now hit 133 and from nowhere he has his hand firmly up as a top 8 midfielder. He does it all and racks up 40 disposals while doing so. Bloody legend.
Mitchell (187) – Just the goat doing goat things, AGAIN. Those stats a few weeks ago were no lie. If he doesn't get tagged, he's having 45 disposals and scoring 150. Just stop and have a think about that. It's insane. We've never seen a fantasy pig like this before and may never see one again. Unfortunately he may have been too dominant for his own good again, the tags are surely coming back. Tommy gets the stubby again this week. Obviously. We're not worthy.
Cripps (116) – I'm not exactly sure how Cripps got to this score but it was hugely impressive after Howe clocked him one early. He's top 8 midfield ready.
Yeo (134) – This score was owed and in fairness, Elliot delivered it. You just have to beg the question why he can't produce these scores more often given his marking and tackling ability. If he starts to find the pill more he has another level in his fantasy game. I'll be a big chance to select him as a mid only next year, gun.
Redden (110) – The real Jack Redden has finally stood up! It's awesome to see, maybe less so for anyone who traded him out.
Rockliff (106) – I took a gamble in trading Rocky last week and it seems his form has steadied. It's good to see the pig hugging again, now we just need some 40 disposal monsters to see him oinking again! TOG is still an issue.
Coniglio (116) – Cogs is as consistent as they come. You'd be silly to not own him, pick your battles and this isn't the right one. Gun.
Kelly (115) – Regardless of his recent lacklustre form, Josh Kelly is still a top 8 midfielder. The risk of a late out might be there subconsciously, but the risk of him scoring 150 while you don't own him is definitely scarier.
Whitfield (114) – Lock and load. If you don't own Whitfield then you're playing the game wrong. There's too much class in the GWS team for him to be targeted by taggers, there's no doubt Josh Kelly's return has helped that. Legend.
Losers
Sinclair (61) – I shipped off my final midfielder in draft thinking I had found a cheeky little gem in Jack Sinclair. I don't tend to watch St Kilda so I've not got the fakest idea why his scoring has dropped off but I'm not hanging around to find out.
Savage (65) – I'm not missing these scores.
Crisp (44) – You've seen better efforts in a game of masters, at least they still know how to kick a ball. Crisp obviously covers the ground like a 40 year old because it's hard to see that little of the footy as a half back flanker in a comfortable win. 60's are bad enough, 44 is nothing short of a shameful disgrace.
Phillips (82) – Does Tom Phillips know a game of AFL goes for 4 quarters? It might be a decent idea to get that message across to him. It's either 40 in the first quarter or the last, and complete mediocrity for the remainder. Gawn.
Lloyd (73) – I want to give him a reprieve due to his recent form, but consider this a warning. No McVeigh was meant to be a benefit, it was anything but.
Franklin (71) – How pathetically average from Buddy yet again. An underrated Fantasy asset no more, his 5 round average of 78 seems about right.
Heeney (65) – So much for being a great differential against the Suns… If Luke Parker can ton up then there's no excuse. Ugly stuff but he should bounce back.
Walters (78) – This is actually a great score for Walters. How bright was that flash in the pan?!
Ryan (45) – Luke Ryan is a pack of beanboozled jelly beans. This definitely wasn't peach.
Goddard (53) – The sooner that BJ retires the better. I don't want my memory of 2008/09 Brendon Goddard ever tainted. Just remember the good times we had…
Hurley (61) – I was trying to get away with this for 2 more weeks, but my luck caught up. The stars were aligned for Hurley to be solid this week, but this was as solid as my post Splendour in the grass…. Never mind.
Hogan (64) – Key forwards, just don't do it to yourself.
Selwood (70) – As good as Joel has been this season, he's going about it the right way to ruin everything. It's ton or bust for Selwood next week.
Macrae (76) – The Hutchings tag was always going to be a red flag this week and Macrae struggled. However it's too late in the season to worry about high breakevens. $736k is value and Macrae looks set to go huge this week. I'm all aboard.
Taranto (76) – This score really isn't the end of the world but I'm struggling for losers this week. Regardless, there's no room for complacency when every other top forward is tonning up. No baggage!
Wingard (81) – I've backed you over a pig and the current owner of the highest fantasy average in a season. Now that I say that back to myself, I feel really damn stupid. Don't make me look stupid Chad….
This game sh*ts me
I love Fantasy classic, but there's no denying these last couple of months can get a bit dry once our teams are complete. I might have 10 relevant players and even that's a stretch. Most league matchups will have perhaps 7-8 uniques and finals is basically a lottery. Just ask last year's winner Selby who couldn't even take out his league! Draft is a massive winner from here onwards, other competitions just tread water. We haven't even had anything to get upset about in the last month! This game sh*ts me.
The other bits and pieces
It doesn't really though does it. 2484, that's four in a row! Thanks Titch. It's just 30 points between me and a hat now, having said that it feels like I'm due a meltdown. Tom Phillips goes to Macrae this week, these trade decisions aren't proving to be much of a headache… Maybe we'll have something to get riled up about next week, until then you guys hardly even need me! Good luck legends, let's make it another high scoring one.