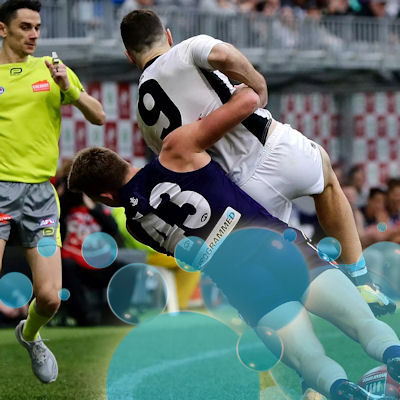 I'm back this week but let's be honest, there hasn't been much need for a wash-up lately! After the bye carnage it has been smooth sailing for the last few weeks. In fact I'm not sure I can remember a period of Fantasy with such sustained high scoring. Even I have nothing to complain about. The only thing on my mind is a hat, but others may not be so lucky. Trust me, I know the feeling all too well! Strap in, it's time for the weekend wash-up.

Click here to subscribe on iTunes.
Legends
Dangerfield (151) – You could tell from minute one that Danger was up for this game against his old side. Will we see that kind of dominant performance on a weekly basis? I don't have the answer as to why he has been so poor so it's impossible to say. However his DPP addition to the forward line makes it an absolute no brainer. He will be the top scoring forward, just get him in. No questions asked.
Laird (122) – I don't think it's a co-incidence that my team has turned it's performances around since Laird has returned to fitness. He's the barometer of my Fantasy team. 43 disposals off half-back is just ridiculous, a big win for those who held strong during the byes.
Cripps (122) – Sometimes your team just needs a player who shows courage and passion every week, regardless of whether he's tagged or if his team is belted. For Patrick Cripps it's both of those most games and he's dominating. His 5 round average is up to 116, that's ever since I got him in off his bye. Don't sleep on Cripps, he's in the top 8 midfielders on form at the minute. Absolute gun.
Billings (120) – If my team has been getting better since I got a tough nut like Cripps, then it has gotten infinitely better since dropping all my soft as sh*t Saints players. However they had a field day against Carlton, and Jack Billings is back. Is he an option now? Yes. Is he in the top 6 forwards? No. However I'll be back to do it all again with Jack next year. Looking forward it.
Mitchell (157) – The goat just doing goat things. When Titch was on 117 at half time I was almost certain he would go 200+ without a tag, but I was also certain Brisbane wouldn't allow him the freedom they did in the first half. Even though Robbo and Berry ran with him in the second half he still posted the highest score of the round. Just captain him every week. Seriously, make the game easier for yourself. Sure he may get tagged to an average score, but he's averaging 126! Why miss out on a 150?
O'Meara (123) – On one hand I've always loved O'Meara and I'm stoked to see him killing it. On the other hand, WHERE WAS THIS 2 MONTHS AGO? I traded him after Round 8 having scored one ton averaging 85. Since then he has averaged a whopping 107 with 5 tons. It's infuriating to say the least, congrats to anyone who persisted!
Beams (116) – Beams has been so dominant lately that you'd think the tags have to start coming his way. Who gets tagged more out of Beams and Zorko could end up being a critical difference in the final 6 rounds of the year. That's seven 110+ scores in his last eight games, we all know Beamer is a Fantasy legend!
Brayshaw (128) – Here's a new Fantasy legend. Brayshaw has also tonned in seven of his last eight games, and has averaged 119 since moving permanently into the centre bounces. It's official, Gus is an uber premium mid and I'll be starting him next year. LEGEND!
Oliver (121) – Clayton Oliver is in a similar mould to Patrick Cripps. They're in every centre bounce, at every contest and will give you 100% every week. After seeing Dusty's efforts this year I'd say Oliver is an underrated fantasy gem. I'm taking Clayton every day of the week.
Macrae (133) – Guess whos back?! I bet a few of you completely forgot about getting Jack Macrae back into your sides. I'll be waiting one more week for him to play Hutchings, then he's straight in. Break evens are less relevant at this stage of the season, if you think a player will score well they're in regardless of price.
Merrett (138) – God it's good to have Zach Merrett back. I was going to announce his official return last week but this works even better. He has averaged 119.4 in his last 5 games, having been priced at $633,000 before that. I just hope you played with common sense, Zach was always going to outplay that price tag and is a no brainer for me next year. This could also be the first time I've seen him have over 80% TOG!!! Legend.
Smith (122) – I don't think many of us thought Devon was going to be quite this good. The best way to repay a poor game is with a 150 and a 122 to follow up. Only 35% of the competition own him which is astounding. Must have.
Heppell (125) – Heppell was a bargain a few weeks ago following a concussion, and there was no better week for him to cash in than against the Gold Coast. Great pick up post bye.
Whitfield (150) – Wow. This is the first time I have really been burnt not owning somebody. Whitfield was literally everywhere in that third quarter, in fact it was so good that tags may again become a concern. He dominated this game and repaid his coaches faith in spades. I do love a triple double.
Redden (135) – Where has this come from? This is more of what I expected from Redden at the Eagles! Having not scored a 100 for two months, Redden has gone 143 and 135! Fair enough Collingwood aren't accountable but it's seriously impressive nonetheless. If you traded him, it's just one of those things. Could not have picked this.
Gaff (109) – Sure Gaff's score this week was nothing spectacular but his recent form is exactly that. He has become an elite midfielder and should be in everyones team as soon as possible. You have to love a kick to handball ratio above 2! Gun.
Shuey (116) – Bargain alert. My 2019 watchlist is filling up nicely. Shuey is finally over his injury problems and continued to dominate this week. His three round average is up to 109 having been priced at $510,000. A great pick to help finalise your squad early!
Goldstein (125) – Could it be… Goldstyne? A few tipped Goldy to be back to his best this year, sadly it took until Round 14 after his bye to produce it. That will be no comfort to anybody who traded him, he has since averaged 117. Massive.
Heeney (103) – Chasing differentials may not always mean going after a guy owned by a low % of coaches. For example Gaff is owned by under 15% of the comp, but those coaches who are switched on up the top of the rankings mostly own him. Heeney may still be owned by 40% of the competition, but I guarantee a lot of coaches chased points and offloaded him last week. I did. Now might be the chance to get him back as he faces the Gold Coast Suns. I could get a touch against the Suns, it's pathetic. All aboard.
See ya soon Melbourne. You too Mr. Grundy, Mr. Richo, Mr Maxy and Mr. Ox & Broom. https://t.co/5zD9iHVyck pic.twitter.com/rqP1FsXlhM

— Calvin (@CalvinDT) July 16, 2018
Losers
Seedsman (68) – There's not a lot of popular losers this week, but there's still some familiar faces. Welcome back to planet earth Paul.
Doedee (70) – This is by no means a poor score for a rookie, but it goes to show why you need to upgrade your rookies as a priority. Brayshaw outscored him by 58 points this week. Even Simpson outscored him and he had a poor game. Thank Doedee for his services, then give him the boot.
Gibbs (84) – Ever since that 142 against GWS two months back, Gibbs has been going backwards every week. His last ton has been followed by a 93, 92 and now an 84. Yuck. To make things worse, his career average against Brisbane is 70. He doesn't tick a single box.
Duncan (83) – Just mediocre. Nothing more, nothing less. Mitch Duncan is getting less midfield time and paying for it, often playing closer to half back and pushing up on a wing. With Tim Kelly getting better every week, it's hard to see a route back for Duncan short term. Thank god, he was getting very over rated…
Menegola (82) – Again, mediocre. The problem with Menegola is that I feel as though a 60 point game could be around the corner. Then again, so could a 120. I want to offload him to Heeney next week, but that might be getting pretty…
J.Selwood (73) – It was back to reality with a thud for Joel this week. It's strange, as good as he was playing it just feels like this kind of crap is always around the corner for Selwood. You'd think he'll dominate the next few games at Simonds but tags may be an issue. Expect a big score next week.
Kreuzer (11) – Draft killer. NEVER trust Kreuzer unless you have a damn good backup ruck. The bloke is more brittle than glass.
Simpson (72) – Old man calves. I don't want them within 50 feet of my team. I don't care how good Simpson has been, there are a plethora of great alternatives that aren't one accident away from a nursing home. I'm very happy to not own him as a difference, watch that bite me in the ass.
McLean (84) – Toby we need to have a discussion. Either your shoulder is good to go or you're gone. I need an answer! That's three poor scores in 4 games after… the incident. I have Dangerfield and Heeney to bring in and somebody has to make way! The brownie points are diminishing.
Fritsch (76) – Fritta is in a similar boat to Doedee now. I will never forget all the amazing times we've had purely because I couldn't trade his sorry ass back in Round 4. Those times are gone. You can't put up with four 70's in a row, he should have been gone weeks ago. Pack your bags!
Goddard (68) – That's a weird way of spelling irrelevant…
Kelly (88) – This feels good. I needed to make up ground and every man and his dog was getting Josh Kelly in, so I had to be different. I don't even know if he was tagged or not this weekend but that's three games in a row with less than 3 marks and 30 disposals. Of course he's a top 8 mid and I'll need him before his next 150, just hold off a couple of weeks thanks Josh.
Cotchin (48) – Is it bad that we're not even talking about Cotchin being in a form slump right now? He has literally become a role player, managing 20+ touches in 2 out of his last 6 games. Good for him.
Adams (83) – Treloar's injury gave Taylor Adams a chance back in the middle of the ground and he hasn't taken it. Not even close. Sure he won 10 clearances but what good is that if you only lay 3 tackles Tay! A massive bargain in 2019.
Crisp (78) – This makes me ill. Jack Crisp has literally sold us a dream and shoved it down our throats. He has a three round average of 75. Vomit. To think he was nearly $700k, bye champ.
Pendlebury (75) – Dependlebury no longer… He's averaging 97 in his last 5 which is about right. Pendles is still a gun, but not the ball winner he once was. Not even close to the top 8 midfielders anymore.
Sidebottom (48) – I nearly missed his name as he was that far down the scorers list. What a steaming pile of… Get out of my sight.
Yeo (76) – Honestly, no idea what happened here. I missed most of the game but Yeo only managed 17 disposals against the most un-accountable midfield in the competition?! I'll choose to believe this was a one off. He should smash the Dogs this week.
Naitanui (32) – I don't really want to talk about this. Life sucks sometimes.
Parker (59) – What an utterly disgraceful performance by a has-been. Luke Parker is 25, which judging by Hannebery's career is when the Swan's midfielders start going into retirement. Inexplicable.
JPK (27) – Just do yourselves a favour and get a restraining order on any Swans midfielders. Heeney aside of course. He probably has about 3 years of good footy left in him. Ok fine this was injury affected but I'm making a stand.
Clarke (29) – Guess who I got BACK in draft this week! Thank god my Fantasy team is performing because my draft side is a complete and utter disgrace. I sit third on the ladder with 900 points less than the bloke in fifth. Given I was the highest scorer by 1000 points last season only to lose in disgraceful circumstances to a free agent merchant I'm calling this even, but my backline are all special needs. Ryan Clarke. F**k me.
Walters (63) – HAHA. Walters early season form will remain a mystery to me. His suspension may have cost me another donut but honestly, I think things have worked out for the best since then. If a crippling disease forced 99% of the competition to retire and Michael Walters somehow escaped unscathed, he still wouldn't make my Fantasy team. I'd pick James Magner instead.
Gray (25) – Oh dear Robbie. That was a nasty tackle but it wasn't nearly as nasty as Gray's disgusting excuse for a performance beforehand. The fall from grace can be a long one. This was a blessing in disguise.
Rockliff (80) – No. Passengers. The top 6 forwards are tough to crack into and at the moment Rocky is out for me this week, 2 weeks after being traded in. You're right that's probably insanity but he's not quite in that top 6-8!
This Game Sh*ts Me
This month leading into fantasy finals can be a tough one. If you're focusing on your league then every matchup is important, but if you had a great start you may be able to plan longer term and set yourself up for Round 20. If you're playing for overall ranking, then it can feel like you're stuck in quicksand and sinking a little further every week. If you didn't have a complete team after the byes, you will have been scoring well yet still losing ground on those above you. It sucks. I've experienced it for the past 3 years. There's not a lot you can do to catch up now aside from taking some serious gambles. Long term thinking can assist your team later in the season and early sacrifices can be well worth it. Unfortunately it's about 2 months late to realise that. This game sh*ts me.
The Other Bits and Pieces
Fantasy doesn't really sh*t me at the moment if I'm honest. It may not be as entertaining, potentially boring in fact. However it does feel good to have a good team for once! I scored 2467, my third consecutive 2400+ score… I've been ranked in the top 1000 weekly scores for the past five rounds with nine games. The bye carnage killed my car chance but a hat is a serious possibility. Having fallen to 658 during the byes I'm now at 139 and less than 50 points out of the top 100. BELIEVE!
Danger has to come in, Rocky is out at the moment but that could change to Menegola quite easily. I'm worried about a Whitfield tag this week, maybe that's wishful thinking. Grundy, Macrae and Kelly are the only other players I want now but they're plummeting. The years of pain are worth it… If you've not been as lucky as I have, don't worry. One year it will click! At the very least have your team ready and raring to perform for Round 20. Finals aren't far away now… Good luck legends.