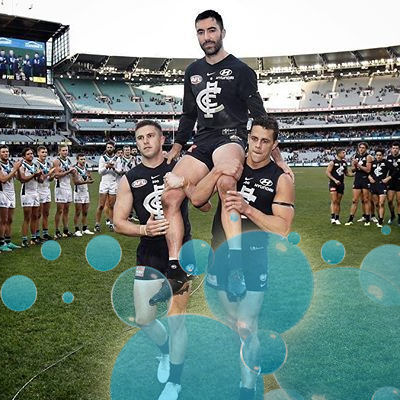 How good is it to have 9 games of footy on a weekend?! Or should I say 8… The less said about Thursday loopholes the better. As awesome as it was to have 22 players back on our grounds, the fantasy gods weren't done with us yet. Where carnage is about, my team is never far away. The bullets were flying so strap yourselves in, it's time for the weekend wash-up!
Legends
Nankervis (131) – This was Nank's second score of 131 for the season! Sadly it was preceded by a 58 and a 60. Moving on swiftly.
Lloyd (125) – If there has ever been a bad 125 in Fantasy history, this might have been it. Lloyd was a popular VC choice for myself and many others, and in a normal week it would have been a perfect score to bank. Hindsight is a wonderful thing. Jakey continues to dominate though, this is his fourth 120+ score for the year. Keep going you uncontested beast.
JPK (119) – Kennedy was up for the contest this week, winning 36 disposals and laying 9 tackles. However he didn't take a mark and hasn't tonned up in consecutive weeks since Round 7. Hard pass.
Kelly (119) – What. A. Quarter. We would have been dancing in the streets if this score had come a month ago, but Tim Kelly's 19 disposal (70 point) quarter still had me smiling. What a legend.
Selwood (120) – Lesson learnt this year, underpriced premiums are the way to go. Most have been a raging success, and Joel Selwood is no exception. Having started the season at $670,000, he's averaging 108 and is ranked 11th for points scored, carrying the 8th best average of any midfielder. Lock and load.
Menegola (107) – Menegola still isn't getting as much midfield time as we'd hope, but he's performing nonetheless. He had 8 marks, 6 tackles and 2 goals to ton up for the fourth time in the past 5 rounds, carrying an average of 108 in that time. It goes to show the value of playing 'the long game', earlier in the year I was kicking myself for picking him over Robbie Gray. I got it right the first time. Bullet dodged.
Mclean (114) – If Toby McLean's shoulder was of any concern, that was laid to rest after his 11 tackles on Friday night. He's currently a bargain and a must have forward, 78% of the competition need to take note.
Simpson (112) – Congratulations to Kade Simpson on a brilliant 300 games. We've had our ups and downs and 2015 was a tough time in our relationship, but all is forgiven. He completely dominated this game, gathering 37 touches and going 110+ for the fourth time in five weeks. Boom. LEGEND!
Westhoff (113) – The Hoff can do no wrong at the moment. He dominates up forward, swings down back when the game is in the balance and can backup in the ruck. There's nothing the man can't do. Apart from play out 4 quarters. If he did he'd be nearing a pig nomination…
Wingard (102) – I was very worried about Chad's fitness after last weeks second half, but those fears were put to bed in this game. Wingard played the majority of the contest in the middle and recieved coaches votes yet again. He should be around the top 6 forwards for the rest of the year and is still cheap!
Gaff (148) – He has done it again. Andrew Gaff has the ability to go 140+ which very few midfielders do. He's also averaging 111 for the season and is as consistent as they come. So why is he owned by only 9% of the competition? Bizarre. It's hard to deny that he's a Top 8 midfielder, especially given he has added tackling to his game! He comes in for me this week, if you're going to go for a differential they might as well also be a gun.
Crouch (120) – Matt Crouch was a bargain last week and he remains one this week. He looked as though he was going to score 150 at half time, but his owners will take 120! Expect more of this to come now that Crouch is fully fit, he's a ball magnet and knows that a hug = +4. We learnt that he's a 115 average midfielder last year, don't let his hamstrings cloud that fact.
Shuey (114) – Bargain alert. Luke Shuey is down to $500k which is insane really. It's a shame this score wasn't heading into Round 13. I think it's too late to be bringing him in now unless it's on your bench as backup. I think a 95 average is about as good as you can expect. A bargain in 2019 though…
Grundy (151) – The high scoring Pies may not have rocked up against the Gold Coast, but you don't need to worry about Brodie Grundy. This is now clearly the best fantasy season ever put together by a ruckman, and most of us don't own him. That $40k between Stef and Grundy really does seem like a lot now… This is all Mason Cox's fault.
Lyons (113) – Jarryd Lyons has bottomed out and is far better than his price tag suggests. However he may come up against Ben Jacobs (if fit) this week, meaning it's back to the drawing board. See if you can get a good deal in a draft league next week.
Ward (125) – Callan Ward was absolutely brilliant, managing his second 120+ score in three weeks. Of course I benched him in draft on the back of his 59 and cost myself the game.
Coniglio (118) – Welcome back lad. Cogs is still a top 8 midfielder, regardless of his recent form following concussion. A win for the holders this week, but we need a few more to make up for lost time.
Gawn (135) – This is Big Max's fifth 130+ score already this season, if it wasn't for Grundy we'd be hailing a Fantasy god. We should be anyway. We're going to have to fork out millions for these rucks next year so enjoy it while it lasts!
Brayshaw (116) – Brayshaw was into the guts last week and everywhere against St Kilda on Sunday. He sat out the last half of the final quarter on the bench while the game was in the balance, and he usually dominates final terms. Is he carrying an injury issue? That was concerning but his score certainly wasn't, he was going 130+! Gun.
Heppell (116) – There's no doubting that Dyson Heppell is underpriced, in good form and has a great run of fixtures to come. Yet there's still something that feels off? That's Essendon for you. Great trade last week!
S.Martin (110) – It's incredible to think we're wishing we hadn't selected a player averaging 106. Stef has been an absolutely gun and continues to not put a foot wrong, it's nothing against him! He goes up against Andrew Phillips this week and is surely a chance to run him into the ground.
Langdon (112) – It's about time I paid homage to Ed Langdon's season. He has scored 7 tons, only bettered by Heeney, McLean, Menegola and Westhoff who each have 8 up forward. In fact since Round 2 he has averaged 99! Here's the kicker. Freo play 5 of their last 7 games at home. His last 5 home scores at Optus? 112, 106, 106, 130, 120. Brilliant POD.
Mitchell (195) – GOAT ALERT. What kind of animal goes out and gets 50 disposals, 9 marks and 13 tackles?! A pig. Seriously, if Mitchell didn't get tagged he would be averaging 45 disposals this year. That's not as exaggerated as you'd think. That's right ladies and gentlemen it's time for the Tom Mitchell appreciation hour. Guess how many disposals/fantasy points he has averaged when not tagged for at least a half this season. Answer – 45.3 at 150.3 points per game. Do not scratch your eyes. Nathan Jones, Ben Jacobs, Devon Smith, George Hewett, Mark Hutchings, Tom Rockliff and Touk Miller all did their best to stop him and to be fair most succeeded. If Rocky hadn't tagged him in the second half or if Luke Dunstan didn't tag him in the third quarter, we could have seen three 180+ scores quite easily. My point is… He is by so far and away the Fantasy GOAT it's unreal. As good as Rocky and Swanny were, they were never good enough to attract a tag. It's hard to pig on uncontested footy with a bloke hanging off you like a bad smell. Forget past history. Forget how many points teams give up to the opposition. Only one thing matters. If Mitchell leaves the first bounce without an opponent, you can pen in 40 disposals and 140+. LEEEEEGEND.
Losers
Heeney (18) – Sometimes this game just sucks. Really badly. Not only did Heeney sit out most of the game with concussion, he's also a major doubt this week. The only positive here is it's a Thursday game so we'll know whether to hold or trade. If you don't have any rookies left on your ground then he has to go if named out. As a bonus present on top of his 18 points, he also lost $42,000. At least everyone's got him, right?!
Franklin (64) – Buddy always seems to be underrated by serious Fantasy coaches, however it's scores like these which makes us turn our heads the other way. This is Buddy's third score of 65 or below for the season. Unless you can pick the right week that he goes 140, it's a tough option to take.
Cunico (36) – Let's just say I got lucky that this score came one week after his bye and not one week before… Ugly stuff.
Parfitt (60) – Ever since BT began pronouncing his name as though he's dyslexic, Parfitt's scores have plummetted. His mid role was always going to be a short term fix and it's back to normality with a thud.
Gray (62) – I have nothing more to add here. Unless the Power face a midfield crisis then Robbie Gray doesn't hold much Fantasy relevancy. He has to be your first player on the chopping block if your team is semi respectable.
Ryan (25) – Given we don't know the full details of his car crash I'll leave that be. His recent scores have also been a car crash though, havng been brought in by some to generate cash he's now losing it. Massive fail.
De Goey (64) – It was always a dangerous game to presume the Pies would throw De Goey straight into the midfield without Treloar, especially with Sier debuting. They love him as a key forward and it's not hard to see why, especially given their depth in midfield. In anyone benefits it's Taylor Adams… I'd fix this mistake up ASAP, although it's fair to give him a week at home. It's that time of year… No deadweight!
Crisp (79) – Given the high scoring from premiums this week, paying nearly $700k for a 79 doesn't cut it. Jack Crisp had an outstanding month, but it's hard to tell whether that was an anomaly or a new norm given there wasn't an obvious role change. Big game next week.
Shaw (46) – HAHA. I've lost count the amount of times I've been reminded how well Heath Shaw was doing this year. And he had been. Thankfully he hadn't done anything special enough to get a mention here, until now. 46 points. Suck on that heater owners, it has been long overdue! Bit rough… He goes this week though.
Taranto (66) – No. Dead. Weight. Taranto hasn't tonned since Round 8, two months ago. He has averaged 76 over that period, that's similar to Doedee and even Gray. Just admit it's over! Its been a great run and we'll have T.T back in our squads in the very near future.
Burton (68) – I'd love to see something from Ryan Burton to suggest we can consider him next year. Anything. I'm still waiting.
Fritsch (77) – This may seem a little harsh, but you already know what I'd say next. Fritta played at full forward, a significant change from his previous wing role. He only managed 9 disposals and it's lucky he's an absolute gun, scoring 53 in the second half. I want to turn him into a premium ASAP if he's not on the wing, last chance this week. Please don't score 40.
McDonald (39) – I guess that's what you get for picking Tom McDonald. A 60 wouldn't have surprised me, but a 30 seems a little excessive. Tragic effort.
Salem (48) – Someone explain this to me? Christan Salem is not a player I will ever understand. He seems to have a good role, good game time but just goes missing. This is the fourth time he has scored 40 this season. I don't think I could ever trust him, in the same way I wouldn't ever trust anything on the streets of Bali.
Rice (26) – Bayley Rice should have stayed on the sidelines. Another score that you can be grateful came this week and not during the by… Oh wait.
Guelfi (45) – Our rookies fell to pieces this week, proving once again why completing your team ASAP has to be the number one priority. Given how the Bombers have treated their rookies this year, Guelfi will probably get the sack after his 3 behinds.
Smith (69) – Devon… What happened to Mr. Reliable?! It was a thrilling game, but unfortunately I wasn't able to watch it. 15 disposals and 1 mark doesn't make for great reading though, is he sitting forward? On notice this week.
Ryan (35) – It was good to see that Luke Ryan walked into Connor Blakely's role on the back of his absence… In other words sitting on the couch. We need to stop overthinking this game. I checked to see if he had Nathan Brown covered but even I could have got to 16. Still, it wasn't far off. You have left this one onto middle and off. Howler.
Walters (73) – Is Walters an option. NO. I thought I had made that very clear. Is Walters an option without Fyfe? Probably, just like I thought he'd score well the week Fyfe was suspended. Look how that turned out. Don't do it to yourself.
Robinson (65) – If we're going to get around Robbo when he scores well then you have to get around his suspension followed by a 60. Classic Robbo.
Fyfe (36) – I hate this game and everything it stands for. There are some coaches out there that couldn't catch a bullet if they tried. I typed this out, then thought about it, then realised how stupid my attempted metaphor was. Anyway… Nathan Fyfe did his hammy early in the second and my team gets crippled even further. Give it a rest. There would be some coaches out there who have gone Coniglio -> Macrae -> Treloar -> Fyfe. Just know you're in my thoughts and I hope things get better soon.
Nominations time…
A.Gaff – … Or not. That's what I get for blindly typing. Tom Mitchell you oinking legend, add this to your cabinet of stubbies. Just a lazy 50 touches and 13 tackles for Tommy on Saturday night, he's the best. Full stop.
This Game Sh*ts Me
Lady luck was back at it again. There were three significant differentials this week. Some wouldn't have captained Titch. Always captain Titch. Some had Heeney. Some had Fyfe. Some had both. Of course I'm in the both camp. I was genuinely eying off 2600 this week if not for injuries, but that's part of the game. We move on.
The part of the game I wish I could change is the price annihilation your player receives after they have already ruined your score and wasted a trade. It's a double whammy, why make it a triple?! In overseas Fantasy formats, if a player gets a red flag signifying an injury, their price gets locked. How hard would that be? So far I have had Liberatore, Crouch and Fyfe lose $50k the week I had to trade them. Add Heeney to that list if he's out as well. Others lost the mortgage they took out to get Macrae in for Round 13. Luck will always play a part in Fantasy, but there are some measures that could be added to minimise the carnage your team receives. On top of that, those lucky enough not to own them get an unrealistic free bargain a few weeks later!
For now our teams sit completely in the hands of the Fantasy gods, and that makes me sick to my core. This game sh*ts me.
The Other Bits and Pieces
2412. What should have been a beast score ended up only being a solid score, and I needed more given most will be completing their teams over the next couple of weeks. Scores will tighten up and my rank of 300 places me on the cusp for a top 100 chance. I'll need some luck… Yeah what a stupid thing to say I know. Grundy should have been in for me this week, instead Gaff replaces Fyfe and I'll grab Narkle to sit next to Sier. I could go Josh Kelly, but I need to be different to catch up! That groin must be a pain Josh, give it a rest… Good luck this weekend legends, let's make it high scoring once again! And injury free…