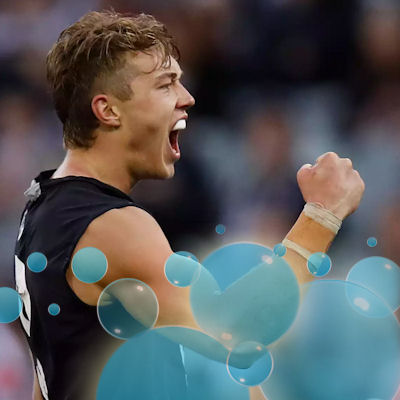 Goodbye donuts. Goodbye rookies. Goodbye to all the pain and misery heaped upon us during the byes and say hello to a full squad of 22 premiums! Or close enough. I'm sure we're all looking forward to a full 9 games this weekend, it's time to wash-up the final bye week.
Legends
Yeo (117) – Elliot Yeo didn't have his best game, managing just 22 disposals. However 12 tackles got him to another solid ton and further proclaims his status as a must have 'defender'. He's a midfielder through and through. Shocking cliche.
Gawn (113) – Any thoughts of potentially trading Gawn to Grundy were silenced after his 53 hitout performance. As reliable as they come. Bearded legend.
Brayshaw (103) – Many people jumped off the Angus Brayshaw bandwagon after one poor score. He's in the top 6 defenders without any doubt in my mind. He moved into the guts this week having previously played on the wing. This was highlighted by the 8 tackles and 7 clearances, his role was simply awesome. All aboard!
O'Meara (121) – Well this is seriously annoying. Ever since missing Round 9 when I like many others traded him out, Jaeger has dominated. He has three 110+ scores in 4 weeks having tonned just once in his first 8 games. It's great to see him putting together some consistent footy, he can still get better!
Hodge (140) – It was awesome to see Hodgey wind back the clock, but this was his first ton of the year. Enjoy it for what it was. A freak accident.
Kelly (138) – If Josh Kelly's groin issue is ongoing, I haven't seen any sign of it in the past two weeks. In fact I wouldn't mind this groin issue myself. He's covering the ground better than anyone else on the ground, playing solid TOG and completely dominating. There are no taggers in sight and he'll be above $800k before you know it. I'll have to avoid watching GWS games in the near future.
Gowers (119) – Are we really believing there is a significant role change here? It was a great performance, thank your lucky stars and cash him in.
Goldstein (118) – In another low scoring week, Todd Goldstein wound back the clock to 2014. This legends section is largely irrelevant at the moment, it's no wonder we've been struggling over the byes.
Sidebottom (111) – Sidey is the king of junk and he did it again on Sunday, scoring 47 in the final term. It's a shame Phillips couldn't get in on that action, but all the popular Pies performed again. It's Gold Coast up next, get up and about!
Simpson (127) – You can tell when Kade is on early and he was feeling it on the weekend. A triple double and 127 points is an awesome return, although it looked like it was going to be a 150 at three quarter time. Usually I'd say he's just as likely to score 67 next week, but it's his 300th! He's the very definition of a legend and good luck to him next week!
Cripps (146) – I love you. Not in a weird way or anything, but there are feelings there for sure. I got him in after his bye and the week off was exactly what he needed. I love the fact he played 93% TOG, he's everywhere. Cripps is literally putting 20 players on his back. On top of his 29 disposals he had 7 marks, 9 tackles and 3 goals. This was his third BOG in a losing team, and we all know there's nothing better than scoring a ton in a losing team. Not even a Premiership. He plays Port next week who he averages 121 against, and plays at the MCG carrying 146, 140, 93 and 138 in his last 4 at the home of football. LEGEND.
Losers
Ryan (30) – Many jumped back on Liam Ryan thanks to his early bye and low breakeven. It had merit, however a few may have forgotten he's still a rookie. He's not 100% match fit and when your team is being belted by Essendon, things aren't going to be pretty. Has to go.
Waterman (30) – Thanks for your service Waters but he has overstayed his welcome by 3 weeks. No room for sentiment, he should be gone.
Gray (62) – Yuck. It's nearly becoming an Alex Rance phenomenon. We all know Robbie Gray is a gun, but the commentators will applaud him for literally anything. A simple tap onto an on running teammate apparently makes him a footballing genius. How about you dispose of it Robbie! While everyone is frothing his 15 disposal and 2 goal performances he'll probably remain up forward with pinch hits in the middle. The bye grace is over and he needs to go. Cue him playing in the guts for a 120 next week. Port are a DT nightmare.
Rockliff (73) – What was even wrong with Rocky? He sat out the whole final term and I didn't think there was anything seriously wrong with him. Correct me if I'm wrong. Either way it hurt. I watch him in the guts and think I need to get him in my team, then he disappears off to the bench and I remember why he's a nightmare to own at the moment. I still think I'll bring him in but we need more.
Wingard (73) – OK, what was going on here? Sure Chad wasn't having his best game but he was on 47 at HT and on for another great score. Next thing I know he's back up forward, scores 26 points in the second half and it's another headache. Was it fitness? I was reading earlier in the week he wanted to make the switch permanent. If he's not in the first centre bounce next week against Carlton I'm turning the TV off.
Hogan (57) – The wheels have fallen off. Jesse Hogan was playing inspired footy early in the season, pushing up into the midfield and winning plenty of the footy. Now he has forgotten how to be a key forward all together. He didn't take a contested mark and managed just 2 for the day, failing to kick a goal for the second game running. It's 50 or 110 for Jesse and there's no room for that at this stage of the season. Gone.
Smith (27) – I had half a mind to give Tim Smith a whack after sitting out the last quarter (again) because of a head knock, but it was his namesake Joel that really took the cake. Our rookies have been absolutely dog meat lately. Twenty-seven. Utterly disgusting.
T.Mitchell (84) – I don't like giving Tommy a whack just because we expect a 120+ every week, however he seems to have forgotten he can tackle! The tags are annoying, but laying just 2 tackles when spending nearly 90% of the game in the guts is sub par. He'll bounce back next week, the Giants won't tag and it will be an oinking field day.
Ainsworth (35) – Good lord almighty what was that. Thank god I could palm this score off and pretend it didn't happen because this was nearly as big a train-wreck as Gold Coast's recruit management. I needed him to score 50 this week to afford Josh Kelly. Feel free to let the door hit you on the way out Ben*. Advice to all, no matter how bad things get… Never select a Gold Coast player. I don't care how desperate you are. *I'm sure I'll be backtracking on that comment in two years time.
Coniglio (71) – We waited 3 weeks for this?! Isn't hindsight a beautiful thing. Having averaged 112 with a low of 92 previous to this score, Coniglio had to be held. It turns out that was the wrong call so far, all eyes on his form next week. We need more than one tackle Cogs…
Cameron (61) – I don't believe in co-incidence, and Cameron is a repeat offender. Did Jeremy Cameron intend to knock Harris Andrews out and cause the damage he did? Of course not. Did he want to leave one on him? There was absolutely no need for his forearm to be away from his body, tuck your arm in. It needs to be rubbed out of the game. Bye mate.
S.Martin (67) – The need to get Grundy in escalated this week. Stef was awful against Dawson Simpson. That bloke would struggle to cover the ground at anything more than a light jog and Stef could only manage one mark, 14 disposals and no tackles. The last time he scored a 60 he backed it up with 177, but good luck doing that against Sandy.
McLean (75) – In the 5 weeks leading up to the Doggies bye McLean averaged 119, importantly averaging 9 tackles per game! Since injuring his shoulder early against Port he has laid 3 tackles in two weeks. That's 60 points gone. It has to be a concern, he had 26 disposals for this score. On notice.
Dahlhaus (59) – After his 150th game Dahl can look back and celebrate how far he has fallen since that freak premiership. I hope he keeps his premiership medal close because he has nothing else to fall back on. Awful.
Bontempelli (67) – I thought Bontempelli was meant to be a star. If the Dogs want to know why they're struggling so badly, they can take a close look at Bontempelli's season. He has been shocking. He's not playing forward, he's just not doing anything at all. I'm very close to saying he's over-rated. Whoops, too late.
Kreuzer (42) – You can't ever trust Kruze's body. It's a shame but you can put him in the Fantasy bin this year. I'm a sucker for pain so count me in next year!
Curnow (77) – Reality check. Ed Curnow is still a tagger. He's not even close to the top 8 midfielders at the moment. I'm probably going full Tom Browne on that call but we got blinkers after his early scores. That's now three games without a ton and his value is tumbling. Ouch.
Treloar (66) – Ugh. That's not even a word but it's the exact sound I made when I saw this score. I'll give him this. There's aren't many things more painful than a double hamstring cramp. It has happened to me in the shower post game and I kid you not I nearly drowned. Seriously. I don't know how to explain that image but it's a true story.
Your muscles are usually sore for a few days and he'll definitely miss this week. But confusing cramp for injuring both hamstrings severely? Please. He said that it felt OK on Monday. Yet he also told his mates he tore his hamstring off the bone? If he did he'd be in a wheelchair the way he's reacting. Jon Ralph's leaks are nothing more than the leak I take every morning. Having pulled a hamstring or two there's simply no way he'd be walking around normally if there was serious damage, so I'm still optimistic for his owners. Of course this could all look really stupid if scans get released today showing he's out for the year. Let's wait and see. If he does miss the season those doctors massaging his hamstrings on the bench should be sacked.
And the nominations are in…
J.Kelly – Some coaches got cute last week and it backfired big time. Kelly does it all. He had another 30 disposals, 8 marks, 5 tackles and 2 goals. 3 votes.
J.O'Meara – If you held onto Jaeger thanks to his Round 12 bye you're laughing. He scored 114 and 121 over the byes and laid 10 tackles on the weekend.
K.Simpson – 18 kicks, 13 handballs, 11 marks and even 4 tackles! Simmo was awesome and a perfect pick up after his bye, scoring 111 and 127. Well worth your vote!
P.Cripps – Of course Patrick gets my vote. He's unstoppable on his day, but you know you'll get effort from him every week. He's averaging 18.7 contested possessions per game, insane.
You know it's a bad week when there isn't even a fifth nominee, but I'm not giving a player recognition for the sake of it! Who gets your vote?
Loading ...
This Game Sh*ts Me
What are our damn rookies doing?! Let me ask you this, when and who was the last solid rookie to debut? Since those St Kilda defenders came through, everyone has failed. Tim Smith can't catch a break. Ridley was awful. Dylan Clarke is a whipping boy. Wilson stunk. Ahern is trending downwards. Gold Coast's rookies might as well have not debuted. Now Joel Smith drops a 27 and Redman is potentially injured. There's hardly any cash generating on our benches and it's a concern if you haven't yet completed your team. Whatever that means. Can the Saints just throw Freeman in before he gets injured?! Then again, he'll be lucky to last a half. I'm potentially looking at Jacob Dawson this week on the back of a monster 31. This game can sh*t me.
The Other Bits and Pieces
1716. Not bad, but in reality my team had an absolute stinker. I was lucky to drop off Smith's 27 and Ainsworth's 35. What the hell was that. He goes to Matt Crouch this week, leaving my team looking real solid. I should have been able to afford Josh Kelly but thanks to Ben Ainsworth's stroke I'm $9k short. My rank was 226 heading into the byes, and I now sit at 445. Considering how badly my team was belted over the first two weeks I have to take that. There's 300 points to make up on the top 100 and looking at my team this week I'm quietly confident. Get me back to 2300s please! Good luck this week legends, we've got some pain to make up for. Let's make it a high scoring one!