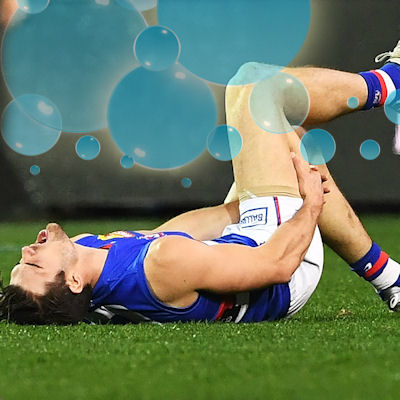 What can I say about last week… The less said the better. I told you I was a chance to have 15 or 16 if things didn't go right on Thursday, and things didn't go right. At all. When you have 18 red or blue dots there's only so much that can be salvaged. Frankly the byes can go to hell. Let's get into it then shall we! It's time for the weekend wash-up.
Legends
Wines (137) – Captain hindsight calling. Port Adelaide had three games in a row at the Adelaide Oval. It was time to load up! Ollie Wines dominated yet again with his second consecutive 130+ score. What a brilliant trade he was in Round 12. I'm not chasing him now, put it in the bad miss category.
Rockliff (128) – The pig is back! Or is he? Answer, it doesn't matter. He's priced at an average of just over 80 as a forward. An average of anything around 100 is a win and that's surely on the cards. One more performance like this and I'll need to make room for him!
Wingard (124) – The Chad is back in a big way. He has gone from left right out to a pure mid and it's glorious to watch (if you own him). The difference is evident given he has laid 16 tackles in the past 2 weeks, compared to a grand total of 9 in his first 10 games. It's risky and a role change could see him back to poor scoring, but given he was amongst the coaches votes again I think he's nearly a must have. Absolute bargain.
Yeo (136) – Speaking of must haves, Yeo is exactly that. Gone are the days of him being a defender, the Eagles require him in midfield and he has changed the dynamic of the whole team. Make room for him if you're still a non-owner, he's not getting any cheaper.
Neale (127) – His 3 round average of 115 has slightly eased the pain of that 60 a few weeks ago. While he may not be the 110+ player his owners had hoped, I think a huge score is always around the corner with Lachie.
Fyfe (125) – Always hold your premiums! Fyfe looked back to his best after the week off and should be in everyone's plans after his bye this week. This score could have been a 150 if he wasn't pushed forward late. Top 8 midfield lock.
Simpson (111) – Kade Simpson is 34 and still puts his body line the line. Every. Single. Time. You have to admire him, and that third quarter was epic. 18 disposals from half back?! Legend…
Ross (137) – I contemplated leaving Ross out, but you have to appreciate a triple double. Gold Coast really must be awful.
Mitchell (120) – The pig just did pig things and I'll never fail to appreciate him. There could be something disgusting on the horizon against Gold Coast.
O'Meara (114) – Jaeger has averaged 102 since I traded him, it's yet another win for team hold. We still haven't seen the best of him mark my words.
Sicily (109) – The Mo'fockin sic dawg put on a third quarter masterclass, it's what he does. I never know what I'm going to get from Sicily but I love it all the same. Aaaaand that's it. Long list of winners this week!
Losers
Byrne-Jones (52) – Where do I even begin with the losers. DBJ was looking like a stroke of genius just 7 days ago. Now you've got another problem to deal with. Hopefully he bounces back well next week because he packed up and went home at half time. Port won by 10 goals and he didn't get a single touch in the final quarter! No junk no party.
Hunter (68) – Lachie Hunter is prone to these kind of scores, just as the Bulldogs are prone to these kind of games. It's the risk you take when selecting a player from a bottom eight side and Hunter was truly awful.
Daulhaus (58) – You'd have to see something pretty remarkable to ever consider selecting shithaus again.  I'm just enjoying these bye rounds when I don't have to deal with him in draft…
McLean (49) – Thank god for Port's forwards on Friday night because my goodness the Bulldogs were an absolute disgrace. Luke Beveridge said Toby was brave to come back on and play out the game and given how well he has played for me all year, I'm happy to let this score slide. If you traded him in last week however, you're probably wondering to yourself why the hell you play this game. Welcome to my last two weeks.
Macrae (44) – … I mean what more can I say. Last week 3,967 coaches paid $875,000 to bring in the highest scoring player of 2018 averaging 127.4. Not only did he go down injured on just 44, he now misses next week and leaves some with a potential donut, or at the very least another forced trade. This season has sucked. This game sucks.
Parker (75) – Oh so you thought Luke Parker might score well against his favourite team that he had 127 against in Round 1? How naive. Unsaveable.
Hannebery (53) – Remember this guy? Me neither. If you ever think you've had a mare of a season, Hanners has averaged 58.9 this year. That has resulted in a drop of $266k and him being priced under $400,000… Even for that price you wouldn't consider him for a second. Worse than a rookie.
Sheed (35) – Also worse than a rookie. I had penned Dom Sheed down to dominate this season after his breakthrough into the midfield late last year. He'll be lucky to break into East Perth's WAFL side given the form he's displaying at the moment. It was just lucky he doubled his score in the final term.
J.J.Kennedy (55) – Any Eagle experiment would have failed. Badly. To make things even better, he's in doubt this week! He's struggling with an achilles problem and we can put this down as a howler.
Shuey (53) – Luke Shuey is still under a fitness cloud, and if it stays overcast any longer he'll be under $400k. If you're already planning for 2019 then Shuey should be on the watchlist.
Hurn (58) – It was clearly a dark night for the Eagles… Shannon Hurn has been great, absolutely fantastic. BUT, he's not a top 6 defender. Hopefully he has a day out against Essendon, then he can pack his bags.
Rischitelli (19) – Just thought I'd throw this score in here. Embarrassing.
Miller (49) – Gold Coast could've had their bye and even have an extra game up their sleeve and you should still avoid their players. Touk Miller has completely burnt anyone who took that gamble, roasted.
Savage (58) – There was a lot of irrelevant names this week, mostly because the relevant names weren't playing. Shane Savage can join the list of irrelevant names after this week. He goes. I do not care what it takes. I do not care who you have to hold to make it happen. St Kilda chip it around the back and Savage is meant to be one of their best kicks. It doesn't add up to points when he's jogging around in the middle of no mans land all game. Awful, bye champ.
Austin (30) – Logan Austin scored 7 points in the last 3 quarters. Let's just be thankful he played the first quarter otherwise we may have seen a Nathan Brown style single digit score. Seriously, if you keep Austin with Carlisle back in the team then you are basically holding Nathan Brown for $392k.
Rice (35) – Rice was one St Kilda player that could hold his head high at half time, so of course it was him who copped a head clash and missed the rest of the game. Why couldn't it have been Austin. I think you can afford to hold Rice but that doesn't ease the pain of this score.
Webster (11) – Here I was thinking Jimmy Webster going down may have helped his St Kilda team mates get some more ball across half back. Hopefully it's not a serious groin and the week off helps him because Jimmy has been a draft steal. Surely no one had him in Classic… Right?
Shiels (70) – I seriously considered Liam Shiels, so this is just a self warning. Don't be stupid. If you really put your mind to it you can convince yourself of anything in this game, and I had convinced myself that Liam Shiels couldn't possibly go wrong. That's when you know there's a problem.
Seedsman (44) – Ok, NOW can we all agree that the Seedsman experiment is over? You had to hope he could make it to the bye without too much damage… Aaaaand it's gone.
Duncan (70) – Some of the Sunday scores were vomit. There were a few people (Mostly Fantasy coaches) calling for Duncan to be placed in the same bracket as Dangerfield, Ablett and Selwood. Crazy! Ok, maybe Danger is a fair call. They're on par. He's a good player. Not great, yet.
Dangerfield (75) – I just about give up. Is he injured? Does Chris Scott not want to win? It's bizarre. Seriously somebody help me in the comments because I don't have the answers you're looking for.
D.Martin (76) – Welcome to 2018 everybody, where Dustin Martin and Patrick Dangerfield would hardly qualify as premiums if they were positioned as forwards. Dusty hasn't tonned since Round 6. Coincidently that was when I traded him in. They're just names at the moment because if you take a close look at the scores it's unrecognisable. What a year. Forgive the consistent pessimism and cynical attitude this week, but three weeks of this pain is too much!
Caddy (56) – On a less surprising note, Josh Caddy has gone back-to-back 50's. Don't let that guy convince you he's worth trading for in draft. They know full well how much arse there is in every good score he gets.
I hardly had five players to choose from this week, but here they are…
O.Wines – Over 2000 coaches took the gamble and were rewarded with 35 disposals, 6 marks and 7 tackles. All round gun!
T.Rockliff – The pig posted a 90 point second half including 3 snags. He still only played 70% TOG, just imagine how big that half could be if he wasn't on restricted game time.
C.Wingard – When over half the stubby nominees are from Port Adelaide you know there's a problem. Chad had 30 disposlas including 24 kicks and 8 tackles. 6000 coaches got it spot on.
E.Yeo – Yo-yo no more. He had 23 kicks, 8 tackles, 2 goals from outside 50 and a perfect 10 coaches votes. He gets my coaches vote as well this week!
S.Ross – Why not… There must be some draft leagues playing over the byes! 33 dispsoals, 10 marks, 10 clearances and 7 tackles. Not half bad.
Who gets your vote?
Loading ...
This Game Sh*ts Me
Nothing happened over the weekend that I didn't already know was coming this time last week. Sometimes, no matter how many hours you waste researching your Fantasy team, your fate is taken out of your hands. It's no good your players averaging 100 if you only have 15! I couldn't have been more prepared for the byes, and I couldn't have come out any worse. I'm not the only one. Many would have traded in Macrae and/or McLean this week and it's just not fair. Sorry if I seem a bit flat, you try eating three donuts. One thing we can all agree on is that this game seriously bloody sh*ts me.
The Other Bits and Pieces
1490. What a trainwreck of a weekend. In fact the whole week was a shambles. I was over the anger last week, it just took a long 7 days until I could look at my team and not feel like fetching a noose…
St Kilda aside my 15 were pretty impressive. Did I mention I had fifteen players? On a positive note, my Saints are ALL GONE this week. Thank god, it couldn't come quickly enough. My top two trade targets are Josh Kelly and Lachie Whitfield, but I can't afford both and for my sanity I have no choice but to chase points. Tom Phillips is a gun and I'm all over him this week against Carlton. Michael Hurley is sliding under the radar in defence. I think he's a fairly safe 95 and he's currently priced at $574k thanks to his hamstring setback. Playing for Essendon is obviously a major concern but it's a gamble I'm willing to take this week. Joel Smith also comes in for Savage, Austin and Cunico. Good luck legends, can we PLEASE have some good news on Thursday for once!