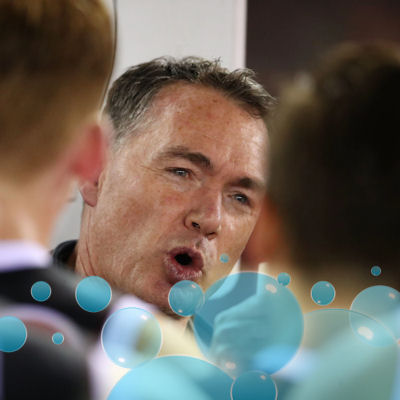 Hello darkness my old friend… I've come to talk with you again. They say a week is a long time in football. Well it can be an even longer time in Fantasy. I don't want to be here. I don't really know what to say. I just hope nobody reading this article is sensitive because I'm not holding anything back. Whatever. Strap yourselves in, it's time for the weekend wash-up.
Legends
Wines (138) – Forgive the salty tone as I go through all the players I wish I had last week. Wines is an interesting one. I've been eying him off for this exact round, but his TOG% is strange. He had been averaging around 70% for the previous month, including just 67% against the Suns. On Friday he spent even more time on the bench, playing just 65% of the game. He just happened to bloody kill it after being on 9 at QT. It still leaves a question mark for me. Given he averaged 80% last season, I'm still wondering what's up. Rocky's time is down as well. Too much rotation through midfield? Either way he looks a great option this week with 2 more games at the Adelaide Oval to come during byes.
Wingard (121) – At the first centre bounce on Friday night I only noticed one thing. Every single serious Fantasy coach should have noted it as well. Chad Wingard was back in the middle! Sure enough he played the whole game there, and sure enough he killed it. It seriously begs the question why he's being wasted up forward? At least Gray is kicking goals, although I think they should both be in the guts personally. Regardless, I'm on board. You can't say no at $470,000 having had his bye, he was awesome. Roll the dice.
Bryne-Jones (108) – I was put off by Pittard's inclusion, but DBJ was superb. Port clearly love the Adelaide Oval and it ticks all boxes for the rest of the byes. Great trade pre-byes and still a great option.
Westhoff (106) – By half time it seemed like every Westhoff owner in the country was creating a twitter account. They had their pants unzipped and ready to go before he even reached the ton. I was going to flag his game last week against Hawthorn when he was on 80 at the start of the second quarter, it's a strange trend. He just goes missing in the second half. Regardless you take this ton every day of the week. Winning trade.
Ablett (137) – Bald Jesus was back with a four quarter performance on Saturday. 34 disposals, 7 clearances and 8 tackles signified his return to form in the middle. He's under $700k… It would take serious guts. It would probably be really stupid. But Gaz will be awesome IF he stays fit. A make or break option.
Kelly (166) – I'd heard rumours that Josh Kelly still wasn't 100% fit, but those were quashed without question thanks to this dominant performance. He had 40 disposals and was literally everywhere in the second half, scoring 107 points if you don't mind. He's a bargain coming off his bye in Round 14 and in my trade plans for sure. Jet.
Whitfield (120) – When GWS smell a kill, Whitters smells cheap touches. As a Fantasy coach that's the first thing you teach your squad in pre-season. The tags have gone and there's little doubt he'll be in the top defenders at the end of the year. Get on board next week! At the end of the day it was Gold Coast, and quite frankly it could have been witches hats. If Matt De Boer can score 128 then the rest of the scores are irrelevant.
Heeney (118) – Under appreciated player of the year award goes to… I just bank Heeney's scores every week and forget that he was actually cheaper than Jack Billings. His 5 round average is now above 105. Never take premiums for granted, legend!
Franklin (118) – There's no doubting Buddy is ripe for the picking, unfortunately his bye is yet to come. This could have easily been a 150+ monster had he taken his opportunities. A match winner on his day, and he has a lot of those.
Witherden (127) – Witho has been disappointing this season, however he looked done for the day in the third quarter with a nasty looking knee injury. He then came back out on the ground and scored 49 in the final quarter alone! He knows how to Fantasy footy, taking 12 marks along with his 25 kicks. When Brisbane (one day) come good, he'll be a gun.
Stringer (133) – I am not in the mood to even converse about Jake Stringer and fantasy football in the same sentence. In fact anything Jake Stringer related at all. He has gone 93 and 133 in the past 2 weeks with career best clearance numbers. Good luck if you do it! You couldn't pay me to get him.
Merrett (126) – I was thinking to myself watching this game, Zach would have gone 150 here in 2016/17. There was no tag, Brisbane were awful, Heppell went down, all the stars aligned. It's unfortunate that he didn't get involved in any junk at all, but this score proves why he's still such value at $653,000. His 5 round average is 103 and he'll be around the mark at the end of the season. Gun.
Gibbs (112) – It wasn't a massive score, but at his discounted price Bryce would have pleased his owners no end. Particularly given how a certain Crows teammate of his performed… Gibbs is still serious value. Just another Round 14 bye pain.
Sidebottom (121) – Tick. Sidey is an absolute gun, say no more. Massive POD in the run home.
Treloar (110) – Trelly just keeps getting it done and doesn't look like slowing. The Pies are a force at the moment so get as many as you can!
McDonald (114) – I was being serious last week! Tom McDonald is a monster up forward and his DPP could be very handy if you also own Sicily. You could do a lot worse…
Oliver (135) – Just when you thought Clayton was slowing down, his 3 round average jumps back to 120! He's averaging 107 this season, yet still remains under 5% ownership. I love the way he goes about his footy. What a gun, what a legend!
Losers
Gray (66) – Let's be honest, this is why you're really here this week. Robbie. We can all see you're playing forward, we can also all see that purposely playing like you've never held a football hasn't convinced Kenny to put you back in midfield. Playing forward is not an excuse for scores like these! This game can seriously suck sometimes, you're stuck with Gray for the byes and I can't see a miraculous return to midfield while he's kicking goals. Pathetic.
Ainsworth (78) – There was a clear turning point in my weekend. I had peaked. Ainsworth was on 67 at half time and absolutely killing it. He was in the guts, he was tackling like a man possessed… Genius move. What did I go and do? I tweeted about it. Matt you f**king moron. I even said I'd jinx it! I don't think a single thing went right for me after that moment. Not only did Ben get 3 disposals and no tackles for the second half, he injured his hand at the end of the game. He's injured. Another one. Yes, THANK YOU. Breathe… If he doesn't play next week I'm packing my bags and rafting to Somalia. Seriously.
Walters (Could not care) – You know what I can't wait any longer. Two players I lasted. If you ever think you have hated a human AFL player then think again. What Michael Walters has done to me in the last year should be considered a jail-able offence. The mental pain I have experienced is unfathomable. Let's firstly take a throwback to 2017. I trade him in after scores of 137 and 118. He scores me 38 and 59. Fantastic. I deserved it, why would anyone ever do something as stupid as getting Michael Walters? The answer was because he averaged 124 over the next month, while the player I traded him to for $300,000 (Rocky) scored less points and didn't have a bye.
Now let's fast forward to 2018. In 8 games when he was fit, he had scored under 90 once and averaged 100. So yes, the 60 point score sucked. HOWEVER, I could swallow that pill if he was running out next week against Carlton with a huge chance to post a ton and regain my faith. No. No, instead he's just brain dead. What a c**t. That's one donut ALREADY for me next week, because Michael wanted to roundhouse a bloke in the stomach while his team was winning for no reason. Why me? I have adopted the tactic of holding my premiums for two week absences, but I'm making an exception. Never again. I mean it. You could put a gun to my head and I'd say pull the trigger. That's if I don't do it myself before then. OK that was dark… Time to move on before something bad happens. Never pick a dickhead Docker.
Steven (49) – It's great to see Jack Steven has learned to handle a tag in his 10th season of playing AFL. What a pissweak effort. It's not hard to see why St Kilda are struggling if this is what your leader serves up when somebody stands next to him.
Coffield (54) – It was a minor miracle that Coff made it to 54, but I'm not confident in the slightest he'll be in the team next week. Even if he is, I'm not confident he'll score me more than 40. I paid over $270,000 for him. I'm sure he's a good kid. I just wish he was good at football.
Savage (80) – Should I whinge and complain some more? Ok. You're not getting away from the microscope just because you junked it late Shane. How do you score 19 points in a half of football? The worst part about this carnage is that I'm not even close to getting rid of Savage, not before Round 16 anyway. If he doesn't perform against the Gold Coast next week… Let's not go there. If my Saints can't post semi respectable scores in that game they can all go and rot in Fantasy hell.
Beams (50) – FIFTY?! There may have been a tag from Devon Smith, but it certainly wasn't a hard one. Inexplicable. Unexplainable. I've seen more consistency on the golf course after I put my first ball on the wrong fairway. Hot tip: It's bad. You just have to hold Beams and hope he has an exorcism over the bye week.
Goddard (57) – This puts a smile on my face. I really do pray nobody got on board the week of DPP. Not since Brendan Fevola thought he'd have 'one more' at the 2009 Brownlow has a poorer decision been made.
Heppell (42) – This is nearly a delete team moment. It's bad enough having a player averaging 104 go down injured when on track for a massive ton, to happen in the middle of the byes is just not fair. Then again, watching the way he attacked that ball he's lucky Hodgey didn't decapitate him completely. Bizarre technique. He'll be better for the week off.
Ellis-Yolmen (51) – Crouch is back and it's straight back to the scrap heap for CEY. Don't be afraid to cull him in draft, I'm in that same boat.
Crouch (67) – I don't think my trade targets/recommendations could have been worse last week if I tried. Matt Crouch is usually so consistent, he hasn't had a score this bad (Discounting injury) since Round 8 2016. That was 45 games ago. In fact he hasn't even gone under 80 since his breakout year! Call it a one off, but it's a massive stitch up given his bye is still to come.
Seedsman (68) – Do we still think Seedsman can be a top 6 defender? You've likely got bigger issues to deal with, but Adelaide are in free fall and the Seed is suffering. That's back-to-back 60's and he plays for his spot next week against the Hawks.
Jacobs (75) – I nearly put Sauce in the legends column for this score, his season has been that awful. A safe 100 we said. Age has hit hard, 30 is a mental barrier. Sure Stef is 31 but his body was carved in heaven by angels.
Hibberd (55) – Hibbo's fall from grace is starting to rival Lance Armstrong's, at least Lance got some screen time with Oprah while he was at it. Hibberd wouldn't make the late hour with Tom Browne at this rate. Somebody get on that idea by the way, potential gold mine.
Wells (31) – At least when Danger fakes an injury and feels sorry for himself, he comes back onto the ground and saves the day. I hope Wells enjoyed the tears from Pie fans as he walked off like his career was finished. Spell.
Hogan (53) – If you look up stinker in the dictionary it comes up with video highlights of Jesse Hogan's Queen's Birthday effort. Right next to another teammate of his. The Dees will bounce back but this was ugly. Tom McDonald is looking like their number one target at the moment.
Petracca (53) – The high scoring Dees were quelled this week, but Petracca never really fell in that category in the first place. It's about time he stepped up.
Phillips (61) – Jesus this week sucked so many *****. Fill that in yourself. Tom Phillips and… A Demon matched up on a wing and nullified each other completely. So I might've called him a top 8 mid lock a little prematurely. Everybody makes mistakes. He's still on my watchlist. He'll make up for this score.
Brayshaw (47) – What on god's green and blue Earth was that Angus. That's a two week average of 90 which is still better than Rocky, so I'm not going to write this off as an error. However I can safely write that game off as one of the great individual shockers of all time. The ball could have fallen into Brayshaw's lap and he wouldn't have known what to do with it. There was no sign of a calf problem. There was no tag. Phillips and Brayshaw did cancel themselves out slightly being able to run both ways with each other all day. However when moved into the centre, Brayshaw still couldn't buy a touch. He couldn't lay a tackle. Fritsch managed 9 marks on the opposite wing. There's no excuse really. It was pathetic. The best part? I had him captain in RDT. I'm ranked 15th. That's one of the great blunders of the 21st century. Read on, we haven't even turned the gas on yet.
Here's some nominations for those with players that actually rocked up in Round 12…
C.Wingard – If you took the gamble on Wingard last week then you're either a psychic, have inside information or you've just got massive balls. Huge respect either way. He was second best on the ground with 31 disposals, 5 marks and 8 tackles!
O.Wines – Second best to this man. Ollie had 29 disposals, 7 clearances, 12 tackles and 10 inside 50s. Even better given he was on just 2 disposals at quarter time. They were both options coming off their byes, show them your love people!
I.Heeney – It's about time I gave Isaac the recognition he deserves. He may not have posted a massive score yet, but it's consistency our teams really need. 27 disposals, 8 marks and three votes from me.
Z.Merrett – Zach is back! This was clearly Merrett's best game of the season with 29 disposals, 7 marks and 8 tackles. He did it all.
J.Kelly – It has to be a certainty right? 1,541 coaches are rightly calling themselves genius this week. 40 disposals, 8 marks, 7 tackles and a goal of the year contender. Class personified.
Who gets your vote?
Loading ...
This Game Sh*ts Me
Let's turn the gas on. Why is it that you can tell what kind of weekend you're going to have before it has even started? From the 10 minute mark of the Dees game last week I knew I was on one. Well from Monday afternoon this week I knew the karma bus was coming. That being said, I wasn't prepared for what was about to occur. Nobody could. When it rains it pours. I don't like to think luck plays a massive part in this game, I wore the Libba and Crouch bumps well. However, after what I've witnessed this week (at the very start of the byes)… Luck plays a huge bloody part in this game. You haven't seen one team take so many bullets in a single week in your Fantasy career. 7 outs. SEVEN. Do not scratch your eyes. One team can only take so much carnage before it breaks. The rubber band has well and truly snapped.
It started with Fyfe. I thought he may get off but it was probably a deserved week. Not ideal in the first week of byes Nat, but I was still looking at fielding 22. Of course Coniglio had been rested for the last quarter but surely that was all pre-cautionary? He'll be right. I then read a comment on my article last week saying Laird had a broken hand. Sure enough the rumours were true. By this stage the ball was rolling. So while we're at it, how about Dusty sits out with a calf injury as well! Is that why he has been so poor? I have my doubts. So now I potentially have 4 premiums out in one week and it's only Tuesday. It looks like Jack Billings is going to survive another week, again! Thursday evening rolls around and I'm sitting there quietly shitting myself. Fyfe already gone. Bang, Coniglio OUT. Dusty OUT. Laird OUT. Ridley OUT. Tim Smith OUT. Billings… Dropped.
I should have been fielding a strong 22. Instead I had 15 players before trades. That would have left me with a guaranteed donut even in a normal round. I'd have gladly eaten it if I knew all this wouldn't take place in the FIRST BYE ROUND. Potentially the most important 2 rounds of the season.
Of course now I'm completely Harley Bennell'd for next week, there's a chance I'll be fielding 15 or 16 if there's any carnage. Who am I kidding, of course there will! My team is in more strife than the review system. To think I actually thought I was going to be allowed to have a good season!!! F**k me. This game sh*ts me.
The Other Bits and Pieces
I don't want to look. My squad has more holes than a block of swiss cheese at the moment. I somehow made it to 1653 with the bare 18, including Brayshaw, Coffield, Walters and Guelfi all contributing sweet f**k all. How those Saint players got to the scores they did is beyond me. I thought I was going to score 1500. The score itself isn't a complete disaster. What IS complete and utter disaster is the state of my teams carnage. I had planned to even up my bye numbers last week, instead I had 15 starters and had to trade any 3 players just to avoid a donut. I'm not convinced Laird will be back, there's donut number one. Michael Walters is a complete fuckwit. What's the point in censoring it anymore! Mitch Crowden in, please? That's where I'm at. If Ainsworth really is injured then I think I can safely say I've completed the worst week in Fantasy history.
I have no idea how this article turned out, there was enough tears for a whole season. Maybe it made you feel a little better about yourselves! I'm still feeling pretty shit. I might be back next week. I might be hanging in the shed. We'll find out next Monday on another episode of Matt takes it up the arse. See you then.