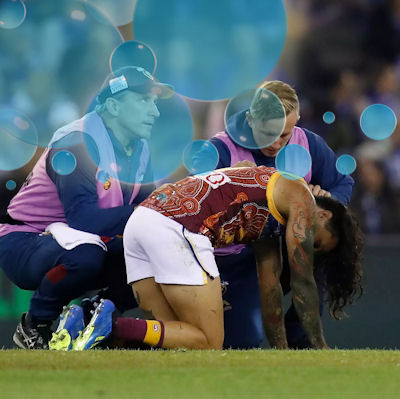 We're undergoing a new recruiting process at wash-up central, the current mob are getting a little too good and forgetting why they were here in the first place. It was a tale of two stories on the weekend. You got Rocky, or you got Brayshaw. If you passed on both then questions have to be asked as to why you're playing in the first place. The Fantasy community is on edge this week, and I don't like it! There's plenty to clear up, and I think some of us just need a good laugh. I'll do my best to provide that. It's time for the weekend wash-up!
Click here to subscribe on iTunes. (Please leave a rating and review to help us move up the charts).
Legends
Gawn (141) – Maximus GO BIG! This is Gawn's fourth score over 130 this season, having failed to ton up just twice. L.E.G.E.N.D.
McDonald (141) – Get on Melbourne! It's no fluke that certain teams score better than others. The Dees and Pies are playing a Fantasy friendly game, the Tigers are not. It continues to show every week. I would usually say that getting Tom McDonald is ridiculous, and due to his bye it probably is. However he's seriously in contention to be a top 6 defender and I mean that. Playing as a key forward… What a strange game we play. He carries a four game average of 110. Legit.
Brayshaw (133) – OK, this is a big W for the wash-up. I'm not sure I could have sold Brayshaw much more than I did last week. This is real. He had another 39 disposals with 8 marks, including a 55 point last quarter. That's now 114 points he has scored in his last two Q4's. That is a Fantasy player I want in my team. He's a must have, no question about it. Get on!
Fritsch (126) – Bloody Melbourne. Your weekends will never be the same after you get to enjoy it with a heap of Demon players in your team. Every time they get the ball going forward it's to either Brayshaw or Fritsch on the wing! It's pretty to watch and fruitful Fantasy scoring at the same time. Oh yeah, Bayley Fritsch has been pretty amazing. He stays for me, the way he's playing an average of nearly 100 is not out of the question. In fact I'd almost say it's likely. He's still cheap!!! Absolute jet.
Hogan (123) – Ok the Melbourne jerk fest is nearly over. This is Jesse's fourth score over 110 in his past 5 games. You can't go wrong! This was a genius pick early, congrats to anyone who took the gamble.
Mitchell (145) – He's too bloody good. Seriously, if he wasn't SO dominant in first halves then he'd finally get a chance to push for a 200. He was on target in this game, sitting on 104 at HT with 21 touches and 2 goals. Just like when he played St Kilda down in Tassie, he was so good in the 1st half they sent a tight tag to him in the second. He who must not be named did a pretty good job on the pig for what it's worth*. Tommy has reinstated his claim as the top Fantasy player in the game over the past few weeks and I'm going to be lost without him this week! *Not a lot.
Selwood (136) – How easy is this game in hindsight… Joel Selwood was primed this season. He continues to dominate. What would the odds have been for Selwood to average more than Danger, Duncan and Ablett at the start of the season? Awesome pick.
Menegola (125) – AGAIN. There won't be a week for the rest of the season that I don't mention Sam Menegola somewhere, aside from his round 14 bye. Remember when I was crying about picking Menegola over Gray? Forget that ever happened please. Don't kid yourself, this rollercoaster isn't over. However these scores make the 60's far easier to swallow.
Holman (88) – Doesn't this suck. Holman not only plays through the byes, he has gained forward status, has scored 108 and 88 and carries a BE of 25. If you had to hold him for whatever reason, you're a genius. Well done.
D.Smith (129) – I said that one day Devon is going to rack up big disposal numbers and score 160. If only he had tackled like he has been he may have made it! Sometimes we can overthink this game, and not picking Devon Smith would be one of those times. No brainer.
J.J.Kennedy (111) – I feel as though my opinion actually counts a little these days. Watchlist JJK. He has averaged at least 80 the past 4 seasons and is currently priced just over 60. If you get desperate during the byes, he could be a cheeky cash grab, if only a straight swap from a rookie. This was clearly his best game of the season, not surprisingly after Darling went down.
J.Sinclair (121) – For the record his name is Jack Sinclair. That's never a good sign when suggesting a player, but hear me out. Since returning from the VFL the wingman has scored 103, 85 and 121 and looked brilliant on the weekend. He's just $567,000 and is owned by 0.2% of coaches. Sometimes you need to take a leap, and I think there's worse options out there… Just a thought.
Austin (112) – Where has this come from? I was at the game and I honestly didn't even notice him. I guess that's a good thing. I'll leave this one to the rookie experts, but I can't pass up on a rookie scoring this well. He must be doing something right! Bailey Rice owners will be filthy.
Beams (137) – Who got the Jacobs tag in the end? I had no idea. It seemed Beams and Zorko rotated forward and rotated the tag, whatever they did it worked. Beams is back baby. He carries a 3 round average of 128 and faces Essendon at the Gabba this week. If anyone was brave enough to back him in then this is just rewards. Forever a legend!
Zorko (128) – I thought I was just being a positive Zorko owner last week, but we got through the Jacobs tag! It's surely smooth sailing ahead. Zorko has a 5 round average of 133, do not scratch your eyes. That's second to only Jack Macrae. However Zorko started at $556,000, he's now $726,000. Sometimes the obvious option is the best option.
Phillips (143) – Like Brayshaw last week, this is very real. Unfortunately I was about a month late to the party. Tom Phillips will be in the top 8 midfielders from here on, I say that confidently. Every great Fantasy player has a breakout season and this is Phillips, get on board before the tags come down the road. Current and future fantasy legend!
Sidebottom (131) – The Man of Steele is back with a 5 round average of 111. While I'd prefer to own Phillips, Sidey is as reliable as they come. Can't go wrong!
Grundy (131) – I bet Grundy owners are just getting bored of these scores now. He has averaged 125 since Round 1. That is genuinely stupid. It should place him in the pig conversation, if he starts learning that there's more points to feast on past 140 then look out. He could get even better. FYI he was on 13 at quarter time. Insane numbers. LEGEND.
Crisp (114) – Again, picking players from Fantasy friendly teams pays off. I don't know what Collingwood changed a month ago but Crisp is benefitting big time. He has averaged 120 over the past month having been priced in the mid $500k bracket. Opportunity missed, well done to those who jumped on!
Gibbs (142) – After the first month of the season everyone had Gibbs pinned as a must have. He's now priced under $700k and pumped out a 140, why aren't we all scrambling to get him in?! I'm $1,000 short of getting him in this week. I haven't been this flat since Swanny came runner-up in I'm a Celebrity Get Me Out Of Here. Gun.
Crouch (116) – Never fear, because Matt Crouch is here. Rocky round 2 worked well last week, so I might as well go for Crouchy round 2 this week. You can only base your trades off the evidence at hand, and Crouch must have just had a tight hammy two weeks ago because he has returned firing. He has gone 103 and a whopping 116 with 36 disposals. $658,000 is honestly laughable. You'll never get him this cheap again, all aboard!!! He has the potential to average 110+ from here on with ease.
Losers
Cripps (57) – The bye came one week too late for Patrick Cripps. He has been a machine all season but proved he was still human on the weekend, looking extremely sore. He probably had more than 50% of his body strapped up. Unfortunately sympathy doesn't come easy in Fantasy, and this score dragged his average back down to 100. Don't worry, he should be better for the rest and make it up during the byes!
Thomas (60) – Daisy was looking a solid differential playing off half-back, but this score proved he's not going to be anywhere near the top 6 forwards. This game lacks sense at times, he didn't get defender DPP because he already has two incorrect positions. Anyway… Still a good draft option.
Nic Newman (44) – Where was this form last year Nic? The NEAFL beckons.
T.Smith (46) – OK, so it wasn't quite perfect. I brought Tim Smith in and played him on field, and I'd do it again. Sadly Macrae decided to clean him up off the ball and injure his neck, then he injured himself in a marking contest. I was just glad he played out the game and got close to 50. I'm a little worried he could be rested this week, but I'm still confident the potential is there!
Gray (69) – I nearly made the whole Port team losers this week, but let's go through this trainwreck one by one. Robbie Gray is now a permanent forward, and when he kicks four goals I suppose it's hard to argue. However they're removing their best midfielder from the action, and the most important thing in footy is to actually win the ball out of the middle and get it forward in the first place. He was averaging 107 until Rocky returned to the midfield, the rest is history. Even with his bye you can't touch him, and if you own him… Take the brace position. You're going down. Three home games on the trot is surely a chance for him to get close to 100! Pray.
Wines (64) – How do you explain this? I was eyeing Wines off thinking he was a safe bet to average close to 100. Clearly not, his 5 round average is now below 80. Big no.
Wingard (49) – Port are doing a great job at making superstars completely irrelevant. When Gray and Wingard are in the guts they dominate. Surely they can find some other small forwards to do the job, because their midfield clearly can't. That doesn't totally excuse Wingard's form, it's tragic.
Rockliff (43) – That was karma hahahahahaha sucked in, how did you not see this coming? Rocky might as well be getting around the ground in a fucking gopher he's looking that past it unlucky. Here we are. This is where we are at. A Fantasy pig is tagging another Fantasy pig while scoring 8 points in the second half. This is the same guy who holds the AFL record for average Fantasy points in a season. Let's admit it, those days are long gone. It's hard to explain how he is THIS BAD though. If he was scoring 80's or 90's you'd be disappointed but at least it's something. Fourty-three…… It makes me violently ill. What I want to know is why his game time is so low? He only played 68% TOG against the Suns which should have been a warning sign that things weren't totally back to normal. In his 35 point first half he played just 60% TOG. He managed ok nearly playing a full second half running around with Titch. I don't get it. I'm just glad I don't have to deal with this issue again. Will he come good? Maybe. I won't be considering him until I see his TOG back to normality!
As far as the abuse from the Fantasy community goes, it's just a game. Don't worry, I sometimes need to remind myself that! Keep your thoughts to yourself, or at least for the wash-up counselling sessions. That's why I haven't said what I really think of Rocky at the moment having drafted him first pick. Just remember the good times…
Hall (36) – In fairness, Aaron Hall looked pretty solid for the first quarter… This game can go to hell. Gutting for those coaches willing to make a brave call, I honestly think you would have been labelled geniuses if it wasn't for his weak shoulders. BUT. He has weak shoulders. And you're now looking pretty stupid. That's the nature of the beast.
Zaharakis (12) – This bandwagon didn't just lose its wheels, it has slid of the damn cliff. Having averaged 109 before this game, he was in contention for a top 8 midfield spot. Seriously bad luck. No sugar coating it unfortunately, sorry about that.
Ridley (27) – This couldn't have gone much worse. If he gets dropped before Round 14, which is a serious chance, then it's a complete butchery. That was a pathetic effort. Rule this guy out of your best 18 this week, he's a pro dodgeballer.
Billings (54) – How to have your Saturday night ruined feat. Jack Billings. I don't know who to blame here. I was watching him all night and he doesn't get near the midfield, and therefore he doesn't get near the ball. Billings is supposed to be one of the only A-graders in the Saints team, so why are they not getting him around the footy? Secondly, they cannot hit a target to save their life. The amount of times Billings was free only to be missed by 10 metres had me questioning why I wasn't out on the park myself. Thirdly, he still sucks. How has it gotten this bad… No matter what I think he goes for me this week. I just can't take it anymore.
Darling (5) – This just bloody sucks. Darling is finally showing his full potential and suffers a potentially serious ankle injury. Hopefully there's no serious ligament damage, that won't help those few thousand coaches who traded him in though. That's a relationship killer. Anybody who traded him two weeks ago will be shitty all week, and rightly so. Leave them be.
Fyfe (76) – Not only did Fyfe fail to score against the least accountable midfield in the competition, he goes and gets himself suspended during the first week of bye rounds. Brilliant. The ever consistent MRO has come out and stated that any raised elbow is likely to be intentional. Well I guess I'll just leave this here then… (For what it's worth I think he deserves a week, but Nat Fyfe gets no favours unlike some players…)
Christensen (-3) – I knew this day would come. I'm trying not to laugh, really I am. At least you can move your negative three into midfield now? For Bundy owners this would have been the darkest day in Fantasy since Swanny's career ending injury and Dean Cox retiring. Potentially even worse.
Seedsman (63) – While Melbourne and Collingwood's stocks continue to rise, other bubbles burst. Seedsman was a hot commodity early and a great pick, but you need to know when your race is run. The round 14 bye is ideal to trade Seedsman, unfortunately he may bleed some cash before them.
It's nominations time and there's some big scorers again this week…
M.Gawn – 7 marks and 57 hitouts, just another day at the office for big 'Munta' Gawn. We can't ask for anymore.
T.Mitchell – It's good to see Tommy has remembered how to tackle, laying 8 hugs along with his 8 marks and 2 goals on the weekend. He actually had a quiet day with just 28 touches, thanks a lot Rocky! Non-Macrae owners would have loved this score twice as much!
B.Fritsch – Let's not forget Fritsch is a rookie. He posted 26 disposals and 14 makrs. FOURTEEN! He gets my vote.
A.Brayshaw – Just ahead of Brayshaw. Three of the nominees are Dees, shock. 39 disposals and 8 makrs, another lazy effort from Angus. He used to only tackle, it's a shame he only laid 1 on Saturday!
B.Grundy – His owners must love him to death. Grundy had 48 hitouts and 8 tackles, and flat out refuses to be upstaged by Max or Stef.
Who gets your vote?
Loading ...
This Game Sh*ts Me
Fantasy is often a game of circumstance. What do I mean by that? Sometimes you can be a victim of wrong place wrong time. For example, let's say you had luxury trades in Round 5. Bayley Fritsch had been dropped, scored back-to-back 40's and his BE was over 50. Guelfi had debuted in Round 4. It made sense. If Petracca wasn't out, I probably would have made that trade myself. Fritsch has since averaged 94.5 and risen $220,000. Don't worry, I cried about Nic Newman for 6 months.
If every player in the competition had the luxury of making more trades last week, then nearly 100% of coaches would have taken that bargain. Of course I'm talking about Rocky. He was in my trade plans this week and it's nothing but a bullet dodged. Fantasy can be a cruel mistress… This game can sh*t me. But not this week!
The Other Bits and Pieces
2384. If I went bang from 50 last week then I've just torped one from 70. I have a good team? This goes to prove anything is possible. I'm still salty about those first two rounds because since then it's feeling like my season. Hey, at least a cap is in play! The bye rounds are upon us and that's going to separate the men from the boys.
Currently I'll need all 3 trades to have 18 for Round 13, barring no injuries, if Coffield isn't back. The main job this week is to fix up the non-playing rookies. Pray for the Coff! If he's back then I can drop Mutch and Crowden to Austin and Ahern to carry a full team, while upgrading Billings to Walters. Boom.
If Coffield is still out then he goes instead of Mutch and I probably chase Matt Crouch over Walters. Here's a bye conundrum. Do I pass on Ahern for Giro who played 87% TOG and covered the most KM's against the Pies, to sure up Round 13? It has been a pretty good run and I feel as though a karma bus is coming for me, we'll see.
Next week should be a high scoring round, even with Fyfe and Cogs potentially missing out. DO NOT TRADE THEM. I can't stress that enough. Keep improving your teams and you'll be better off coming out the other side. Good luck fellas, let the carnage begin!