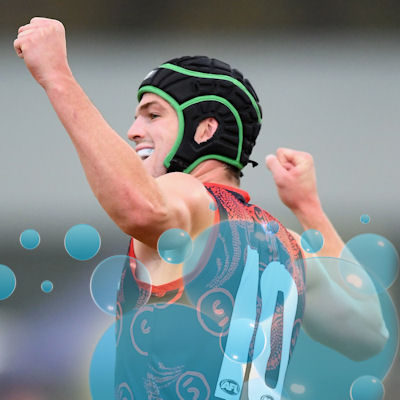 Walk into the club like what up I got a big… AFL Fantasy score this week. Massive in fact. So big that there was nearly no reason to write a wash-up. However that would be completely hypocritical and there's always a coach in need of an extended arm, and that's what I'm here to give. Also, nearly half the competitions defenders were out in the same week. The par scores are rising but byes are around the corner, and more carnage is to come. It's time for the weekend wash-up!

Click here to subscribe on iTunes.
Legends
McLean (152) – That is as good as it gets! He started the season playing around 75% TOG, last week he was up to 88% and he's looking the part next to Macrae. Not only does Toby find plenty of the footy, he tackles and loves a cheap +6 as well. He's a gun midfielder, and an absolute no brainer up forward. Legend.
Treloar (130) – Remember that time people wanted to trade Treloar after a few 90's? As long as your premiums aren't scoring 70's, then tough it out. Trelly is now averaging 112 and looking every bit a top 8 midfielder!
Grundy (124) – It says a lot about how good Grundy is these days that he 'only' scores 124 against the ruckless Bulldogs. This week he may come up against a ruckless Freo. He's the third best player in the game behind Macrae and Mitchell and that sounds about right. Unreal.
Caddy (139) – Is this really some form of consistency being shown by Josh Caddy? Surely not. DON'T DO IT. Please. Admittedly his last 5 games have been awesome.
Steven (134) – I had been under the impression that Jack Steven wasn't having a very good season. One 65 against Geelong aside he hasn't gone below 90, and this score takes his average to 104. Not bad Jack.
Ross (133) – Is it bad that I get bored even mentioning his name? Seb Ross is just as likely to score 80 as he is 120, but it all seems to work out in the end. Moving on.
Geary (126) – I mean, come on. Seriously.
Webster (118) – A rich mans Shane Savage.
S.Martin (137) – Mr Under-appreciated. He's now averaging 111 and reproducing the form we saw back in 2014/15. Even though Grundy is dominating at another level, Stef has been so brilliant that it doesn't even bother me. Legend!
Beams (127) – In his past five games, Beams has gone 110+ four times. Who does Ben Jacobs go to this week? Surely it's Zorko, but Beams is their spiritual leader. Ok let's be honest that's just a hopeful Zorko owner talking, Beams is a gun pick.
Robinson (120) – Robbo hasn't gone below 85 and averaged 98. That's the real deal. He had 26 contested and 13 clearances on the weekend, we can hardly fit everyone in the forward line! If Danger does get DPP, there will be no room for under performers.
Zorko (110) – Sure enough the Hewett tag went to Zorko, and he was well held to 21 disposals. That didn't stop him laying 12 tackles and kicking a snag. Self belief and confidence is a funny thing, oh how a players form can turn. Since he was $576k a few weeks ago he has averaged 120 and increased $118k. Boom.
Menegola (120) – Again. Are you kidding me. For my mental state this man needs to find a middle ground. He isn't getting much midfield time and I wouldn't be bringing him in, but I'm stuck on the rollercoaster. I must admit, that last goal made me smile.
Dangerfield (117) – I don't think you can go wrong with Dangerfield at $700k. He doesn't seem to be at 100% but that won't stop him from scoring tons. Lock and load.
Simpson (124) – As I seem to say every week, one way or the other, this is what Simpson does. It all averages out in the end. You just have to hope you get on during the right week! A likely upgrade target for me during the byes, unless we get some DPP surprises.
Zaharakis (143) – Is this… Real? He is the second most in-form player in the comp!!! There's no way he's ever getting tagged, so it's reasonable to assume he'll continue to go about his business. Very rogue, but worth consideration.
Smith (113) – The tackling machine. He's not going anywhere from my team for the remainder of the season, one game he'll rack up 30 and score 160! Three hugs is as good as a mark and goal at the end of the day.
Coniglio (123) – Cogs isn't going anywhere. Sitting on 84 at HT I thought he was going for a double whopper this week, but you can't complain with another 120. Absolute beast.
Gaff (154) – Everything is easier in hindsight. We say this every week. Seriously though, Gaff has the perfect round 12 bye. He hasn't gone below 86 this season, and he's averaging 111. Consistent, tick. High ceiling, tick. I wasn't a fan when he was purely a winger, but he has moved into the centre this season. Gaff has increased his tackles per game by 1 and contested possessions by 2. Tags are now the only concern. A perfect upgrade target in the byes.
Mitchell (135) – Sure Titch had Hutchings for company but it wasn't a tight tag. It wasn't a Jacobs tag. It wasn't a "I'm not going to let you touch the ball even for a cheap mark in the back pocket" tag. In fact Jacobs and Hewett aside, there aren't too many hard tags going around. Sure Tom might not be allowed to rack up 50 every week but he'll go close. The pig will be just fine.
Brayshaw (166) – W.O.W. Capitals definitely necessary this time. Not only is Brayshaw back in the midfield, he's finding career best form. By a long way. Let's have a look at the pros and cons this week. He has a breakeven of 23. He's the most in-form 'defender' (Not really) in the comp. He's still a differential. Did I mention he scored 166 on the weekend? I don't think there's much doubting he will be amongst the top defenders at the end of the season, and he won't be under $600k next week I can promise you that much. The negative? His bye, but round 13 defenders aren't exactly flying through the door. You'd be stupid to not seriously consider making room for him this week!
Laird (125) – I'm finally a proud Rory Laird owner!!! God it feels so good. Don't take it for granted, 30% of coaches still don't own him! Bloody legend.
T.Smith (107) – I didn't get to watch the game, but Melbourne are playing awesome footy and Smith is a mature age rookie. That spells out bye must have to me. I'm doubling up on the Dees!
Fyfe (128) – There were some massive scores this week, but Fyfe's 128 on Jacobs is nearly as impressive as any of them. I thought Dusty was untaggable, but that's Fyfe this year. You can't stop 24 contested disposals and 8 tackles! Contested marks are just a bonus. Must have.
Walters (125) – Bargain alert. It's a damn shame that he doesn't have an early bye because I would be all over him. Since his 11 in the derby he has returned with scores of 99 and 125. In fact that injury affected score aside, he's averaging 100 this year! $557k is an absolute steal. Rockliff is obviously the better option, and Brayshaw is legit, but if I could grab all three I would! I don't even know what that means or how that helps… He's cheap. Consider.
Losers
Howe (57) – Collingwood had another field day. Crisp and Scharenberg dominated yet again, but old mate Jezza Howe scored 57. You can't really complain, but it still hurts. The Pies are scoring well and Howe will go alright, but a top 6 defender? No chance.
Bontempelli (60) – I wasn't the only one who thought the Bont was back last week. 126 others thought so too. Our prayers are with you at this tough time.
D.Martin (82) – The most annoying part about this is that Dusty had a pretty awesome second half. His 26 disposals came with no tackles, one mark and another shit score. How did he average 113 again last year? Because I can't see it. He's now $575,000 and that's utterly depressing. Either he comes good and everyone gets him cheap, or I'm taking the biggest L of the season.
Parker (67) – Luke Parker has 1 ton in his past 6 games. He has had three 70's and averaged 81 over that period. How has it gotten this bad? Like I said last week, whenever you think it can't get any worse, it probably can. A shadow of his former self.
Franklin (51) – Many are jumping off Franklin after last week but conditions didn't suit. He's plummeting  in value and we're not short on forward options, but he will be a game changer at some point. At least that's what you should tell yourself when you see that score sitting there. It was still rank.
Ratugolea (0) – This was gut wrenching to watch. He had the puffer out to take away the pain and I get the feeling his owners might have been reaching for one too. Wishing him all the best and I pray he can return from this injury with the same raw power!
T.Kelly (57) – It's funny how a players body language can say everything. I could tell 5 minutes into that game Tim Kelly would be lucky to reach 50. I must admit the 21 he was on at 3 quarter time was still a tough pill to swallow. Thank god he made it past 50, it's time to go.
Taranto (50) – Act early. Read the signs. He lost $29k this week, Josh Kelly is back, a lot of his midfield time is gone and his break even is 125. Given his bye, a "downgrade" to Rockliff seems a perfect fit. I'm not sure he'll be that consistent 90+ player with a full strength team.
McKernan (59) – I don't mind playing the breakeven game, just don't be stupid about it. Please. If you're still playing that game, will he reach his new target of 47 this week? Consider it a lesson learnt.
Darling (58) – A little bump in the road sure, but he's still well and truly on my radar. St Kilda at home this week, Darling will be back with vengeance. You wouldn't want to come up against him as a unique this round…
Gunston (44) – My draft team had one of the all time mares this week. 1600 from 21 players, including a captain. No donuts. Christ almighty. Gunston was just the tip of the iceberg. Bloody useless.
Jacobs (49) – Why is Sauce still owned by 11% of coaches? There's no ketchup and there's certainly no sauce. Are they all ghost ships? I've got him in draft and it's a nightmare.
Blakely (62) – If Freo are struggling then it seems Blakely will struggle as well. So now what I'm saying is Blakely might struggle a lot. Their youngsters were up and about early in the season but are looking understandably fatigued. Perhaps some fresh blood this week will help. Anyway, back to Blakely. His last 3 away games read 62, 59 and 84. Not brilliant. He's on notice.
Neale (62) – Last and definitely least this week, Lachie Neale. He has one score above 106 this season. ONE. I bet many would have hoped he'd at least average that. Nat Fyfe looks like he's on another planet in comparison.
There's no passengers this week! Here are the nominees…
S.Martin – Callum Sinclair was made to look petty by big Stef, monstering him for 58 hitouts and 137. Huge.
A.Gaff – Gaff had his usual outside numbers with 35 touches and 12 marks, but 7 clearances?! He has added another side to his game and this score was massive.
T.McLean – 23 kicks, 10 marks, 9 tackles… Dream teaming doesn't get much better than that.
A.Brayshaw – It does get a little better though. Brayshaw had 37 disposals, 14 marks and 3 goals! Even better still, he's usually known for his tackling prowess. That was pig like.
A.Treloar – I don't like to use the term 'making up the numbers', especially after a 130… But Treloar is making up the numbers. Still, 40 disposals and 2 goals ain't a bad night out.
Who gets your vote?
Loading ...
This Game Sh*ts Me
Uhhhhh… What am I going to complain about this week? Libba's weak knees? No. It's these under-performing premiums that continue to shovel us the same shit every damn week. And I continue to eat it. The only place you'll find less accountability than my selection panel is at the MRO.
Luke Parker should have been a safe pick. Sure he might not have exploded back to the 110 average midfielder he has been, but a 5 round average of 83?! Dustin Martin, don't get me started. A 5 round average of 79 and a 3 round average of 68… Those are rookie numbers. No seriously, Guelfi has outperformed him on my bench. He averaged 113 last year. How does Lachie Neale not get tagged and only score 62? Jack Billings finally played a half of football and thank god he did. They're not just underperforming, they're ending seasons. And it's the SAME culprits every week. I'm an advocate for holding your premiums, but these guys are borderline midpricers now and I don't see an end in sight. Wankers… This game sh*ts me.
The Other Bits and Pieces
2352. I have gone bang from 50 and it has gone through goal post height. That's 8 rank increases on the trot since Round 2 and living proof that miracles happen. I guess good things happen to bad people. There's no doubt that luck plays a huge part and I have dodged pretty much every bullet since that start, and it sucks for anyone who got an unavoidable donut last week. Just imagine this for a second. What if those outs were in Round 13 or 14, we'd be lucky to field 15.
I'm prioritising the best rookies given they will all be playing on our fields for the next few weeks. I missed Tim Smith last week so he's a must have in my opinion. I've then got to decide between Brayshaw and Rocky and I'm going with the bloke coming off a 166 with a BE of 23. It's a big call but Rocky has burned us so many times in the past I just want to see one more week of evidence!
Good luck next round legends, after this weekend it's going to be a month of pain.