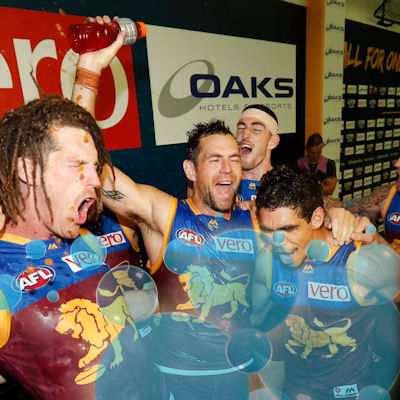 Another Round down and the first of the byes is finally upon us. It's not quite best 18 or three trades per week armageddon, but it's time to get our planning sorted. There was some monster scores this week, and if you didn't happen to strike gold on at least two of the stubby nominees it was probably ugly stuff. We're about to see a second player cross the $900k mark and it's not the man we all thought would be there. It's time for the weekend wash-up!
Legends
Macrae (144) – Ah Macrae you've done it again. Not much more I can add here. Good luck getting him in, he plays Collingwood this week and that could be anything. He plays 90%+ TOG, tackles like a machine and will always find the footy. It has pig written all over it and I can see him pushing at least an average of 125 for the full season. All time.
Witts (125) – He's only relevant in draft but old mate Witts keeps getting the job done. He loves these big scores, taking his 5 round average to 102 as he continues to serve his owners well. Quiet achiever.
Hall (115) – This takes me straight back to 2017 and I still have nightmares about it. Aaron Hall will be coming of his bye priced well below what he's capable of averaging, down $124k this season. This ton takes his 3 round average up to 100 and he presents himself as an option after the bye. The problem is that he's just as likely to score below 40 as he is to score 140. In fact no, he's more likely to do the former. Last season he tonned up just two times after Round 11. It's a massive risk, but it could pay off. One for those who are in big trouble for the byes… I'd be taking a donut instead.
Rockliff (106) – Absolute no brainer after this week. He may not reproduce his stunning averages of 130, but priced at $545k as a forward… Say no more. Welcome back pig.
Boak (113) – Rocky aside there's still a few Port options available and I can't bring myself to do it. Boak is carrying a 5 round average of 98 and looks a safe 90-95 average forward. The problem is he's definitely not going to be near the top 6 players, especially after DPP. I'd be sticking with Rocky and Robbie.
Zaharakis (133) – It has taken a while for my radar to finally pick up Zaharakis this season. You're not going to select him in Fantasy, but he has been a draft steal. He currently averages 105.4 and has averaged 109 in his last 5. With all the attention going to Merrett, Zaha is free to do as he pleases and should continue this form for the remainder of the season.
Heppell (113) – It's a similar story for Dyson Heppell, currently averaging 106. That's very respectable and poor Zach should continue to take all the close opposition attention.
Selwood (115) – Same again! Selwood is currently averaging 107 and hasn't gone below 90 all season. There's a lot to be said for selecting midfielders who should avoid the number one opposition tag. Guys like Dusty, Zorko and Merrett have been struggling big time with so many taggers going around. Joel is often allowed to go about his business and just gets the job done. What a fantastic pick he was @$670k.
Lloyd (163) – Jakey Lllllllllllllllllllllllllloyd! WOW! That makes it three 120+ scores in four weeks. Bizarre. Lloyd must have nearly broken the uncontested disposal record with 36. Thirty-six! Tag on 15 marks and it was as pure a DT performance as you could hope for. That's two career best disposal efforts back-to-back, his numbers have been Rory Laird-esque. Am I confident he will keep it up? No. Will he be a top 6 defender? Yes. Bloody legend!
Franklin (112) – It may be time to revise our top 6 forwards with Lance Franklin back and Paddy Dangerfield surely in line for forward status. To be fair there's a host of names averaging 95+ and you can add Franklin back to those! He also has his own set of 'guidelines' with the MRO so that's handy.
Cripps (140) – Just when you think Patrick Cripps is slowing down, he goes bang! The tags will prevent him from reaching his full potential just yet, but he's at least going to average 105 this season which is a massive win for his owners. Another successful pick from the underpriced premium category.
Fritsch (96) – My hero. I wanted Fritsch gone, now suddenly he's a winger and absolutely dominating. Billings will be worth the same as him next week and only one can go to Rockliff… The bloke worth $450k less at the start of the season will be getting the nod to stay!
Mitchell (149) – OINK. Please don't ever underestimate how good this bloke is. Like I said last week, you can't do 'piggish' things when a player follows your every move for 120 minutes, even into the back pocket. He has had over 40 disposals 5 times this season. FIVE out of NINE games. If he wasn't ever tagged, he would genuinely be averaging above 40 disposals per game. Ridiculous. The GOAT.
Zorko (134) – You can't tell me this game isn't played above the shoulders. Dayne Zorko couldn't put a foot right all season, but one huge game and suddenly he can do no wrong. He carries a three round average of 142, leaving him second to only Macrae as the competitions most in-form player. A couple of tough tags may be coming, but he is primed to fight through them. After these two scores I'd happily take 80's given what I paid for him, what a bargain he was. I'd say it's almost too late now, there's a lot of risk involved…
Yeo (110) – Rise from the dead. I traded in Yeo last week, so it was no surprise to me to hear he was down the race in Q1 and probably out of the game. What I saw in the second half was nothing short of astounding, not since Chris Judd have I seen a midfielder dominate like that live. What a performance. No longer a Fantasy whipping boy. Of course that's until he misses out next week!
Darling (151) – We missed this boat BIG TIME. I said last week that he was "Obviously not a top 6 forward." I'd like to retract that statement please. There are 422 geniuses out there who walked into work yesterday with smugness written all over them. He was already carrying a 3 round average of 112, had a low BE, was in career best form and still underpriced at $588,000. Everything is obvious in hindsight. Their bravery was rewarded with 151 points. That's a complete game changer for your side. Is it too late? Nope. He's a dominant force and is going to be hard to stop all season. Get on board.
Collingwood – After last weeks dominant display, Collingwood racked up again. Sure it was only the Saints, but regardless they're posting HUGE Fantasy numbers. Grundy (135) has been one of the picks of the season, not going under 110 since Round 1. Unbelievable. Jeremy Howe (132) is mirroring Jake Lloyd's form, with 3 x 120+ scores in the past month. Consider him. Jack Crisp (119) got plenty of cheap footy again and is suddenly a brilliant pick. All together they had seven tons, six of those were 110+. Massive.
Losers
Cumming (22) – There's plenty of rookies on the losers list this week, and it's of greater importance with the byes coming up. Every rookie we bring in from now on will be required to be fielded for at least two games. Those with Isaac Cumming probably won't get that luxury as it will be a miracle if he even makes it to the byes on the back of this disgrace. He only played 53% TOG and might as well have not been there. Back to the two's.
Keefe (41) – Keefe may suffer the same fate. Goldy dominated that second half and a ruck partnership of Lobb/Keefe simply isn't working. The big question is does Patton's form him coming back in? Surely Dawson Simpson gets a chance. Keefe is on the chopping block for sure.
Whitfield (70) – I'm letting Taranto off given his prior form, but Shitfield posts these scores all too often. GWS are all over the shop and don't even look a top 8 team at the moment. Whitters is a bit of a downhill skier and I can't see him getting near the top 6 defenders at this rate. Perhaps his form will turn around once the Giants get their guns back, but who knows when that will be!
Ballard (13) – I was looking at getting Charlie Ballard for the sake of having a Round 10 bye rookie. Thank god I didn't. Brayden Crossley (29) did make it into my side and let's just say I'm preparing for 2 ruck donuts in Round 13. How can you be that bad, seriously? Both played over 70% TOG, maybe it was the air pollution…
Lyons (83) – I have been praying for Jarryd Lyons to show me some form that warrants selecting him after Gold Coast's bye. They're back at Metricon and Lyons has gone 130+ three times this season. The sad truth is that his next best score is 84. I don't want to put a line through him but it seems like you're just selecting him for the sake of the bye.
Polec (69) – No matter how good their short term form is, picking a Power player just rarely ends well. Jared Polec isn't the messiah. He just had one great game. Even so, his three round average of 78 still beats my Dusty pick so who am I to judge.
Gray (61) – I'm starting to learn that form trends are fairly reliable, and if Robbie's role since Rocky has returned is anything to go by I would be very worried. He kicked 5 in a quarter and only just cracked the ton against Adelaide, now he has 61 with 15 disposals and 3 behinds against the Gold Coast cunts Suns. Given how dominant he was in the midfield it's hard to believe, but we've seen this before. Let's just hope he had an off game…
Menegola (71) – For just ONE WEEK, could you play an average game please Sam. An even 90 will do. There's no point in his 120's if he ends up cancelling it out with a shocker the very next week. I'll let you in on a secret. The second that Danger gets DPP in Round 12 (Which I think is highly likely), Menegola is G.A.W.N. Awful pick.
Ablett (47) – Excuse me Gary? That is rude. I saw more life in Prince Phillip on the weekend than I did in Ablett. Truly ugly stuff.
Crowden (23) – You can say what you want about Ross Lyon, but he does his fair share of charity work for the Fremantle community. How the hell Crowden is still getting a game of AFL should give anyone, male or female in the Fremantle region hope.
Sinclair (64) – If I'm going to pump up big Cal Sinclair when he performs well, you should know that these kind of scores still happen. You're not missing out.
Billings (70) – I'm running out of words to describe just how badly Jack Billings is playing now. Seriously he's not tackling, not marking, not kicking straight, basically doing NOTHING right. One more week. Then he is gone. So far f**king gone. And never again. EVER. He could get concussed 5 times on zero and I still wouldn't bring him back next season. Disgraceful.
T.Adams (78) – Zorko paid off, Redden paid off, Merrett hasn't paid off, Adams hasn't paid off. Yet. The break even game is a dangerous one, especially with players out of form. I'm not giving up hope.
Simpson (61) – You have to expect this kind of trash from Simpson, it's what he does best. Just go to your happy place and remember that he will end up averaging in the 90's. Eventually.
Hogan (61) – Melbourne enjoyed a 109 point thrashing of Carlton, and Jesse Hogan kicks one goal and scores 61? That really hurts. When a rookie, Oscar McDonald and Michael Hibberd are the only three players below you, you've had a shocker.
Hibberd (36) – Well done Carlton. Wankers. Hopefully tagging Hibberd worked out as well as you had hoped. Ridiculous coaching call.
Sicily (71) – That's the life of a Sic Dawg owner people! Brisbane targeted him, beat him and won the game. That's not a great sign for future matches… I'm a little worried. His Round 12 bye is still a winner and I'm backing him in to bounce back against the Eagles. He won't be tagged, but he may have extra defensive responsibility.
Cotchin (67) – I'm a big believer that if you shut down Cotchin you shut down Richmond. Sure I'm a hugely biased Dusty owner but Cotchin's 14 disposals told the story of the day. What am I talking about, we're meant to be discussing Fantasy players. So sorry.
D.Martin (73) – He is quite simply dogshit. I don't know what else I can say. 26 disposals and NO TACKLES?! No tackles. Fun fact, Round 2 aside Dusty has just 11 tackles in 7 games. He dropped an uncontested chest mark inside 50. I don't know… I loved it as an Eagles fan, but christ almighty this is the biggest trade fail since Gold Coast gave up pick 2 for Lachie Weller. Useless.
It's nominations time and wow do we have some contenders this week…
J.Lloyd – 41 disposals and 15 marks. Fantasy doesn't come much purer than that, +6 central. The junk time king! Clearly my vote.
D.Zorko – Zorko is a tackling machine, laying another 12 on the weekend. Exceptional performance, even better if you got him for under $600k!
P.Cripps – 31 disposals, 8 marks and 9 tackles. When Patrick Cripps gets it right, he covers every stat line similar to a Nat Fyfe. His owners must absolutely love him.
J.Darling – If you're a Jack Darling owner then be loud and proud. You bloody genius. 20 kicks, 15 marks and 6 snags helped him to a whopping 151!
J.Macrae – Macrae just scores no matter what. He was only allowed 11 uncontested disposals in the wet, so had 25 contested and 13 tackles instead. He is the real oinking deal.
Who gets your vote?
Loading ...
This Game Sh*ts Me
Form lines do not lie. Ever. I had the choice of going Jack Redden or Dusty Martin a couple of weeks ago and I simply couldn't justify going against Dusty. Again I took a name before form, and I don't think I'd do it again. It has since been a $210,000 and 114 point turnaround. One single trade has probably cost me any chance at getting near the top 100. I wouldn't be the only one with a captain hindsight call like that. Dayne Zorko hasn't put a foot wrong after his breakthrough game. Jack Billings downward spiral continues. I could have chased Macrae last week but I didn't think he could keep posting 140's. Of course he could. As tempted as I am to get a guy like Adams, until we see at least a couple of weeks form you have to stay away.
When you think a player can't get any worse, I've learnt they can. I thought that when Billings was averaging 80 and Dusty was averaging 95. I was horribly wrong. Learn how to ride the wave. Don't get dumped on like me. This game sh*ts me.
The Other Bits and Pieces
2209. O'Meara going down was my chance to get Macrae and I absolutely butchered it. On top of that a poor bench decision cost me another 29 points, I'm not sure why I ever thought fielding an extra St Kilda player would be a good idea. Stupid. Regardless, it was the Lloyd, Mitchell and Zorko show. Some big scores got the job done this week, just ask Macrae owners every week. It's a double downgrade for me this round to setup Rocky (and Laird) next week. Ridley looked brilliant and is straight in for Finlayson, while I'm backing in Clarke regardless of his slow start. Hope you're preparing for the byes! It's already looming on the horizon… Good luck!