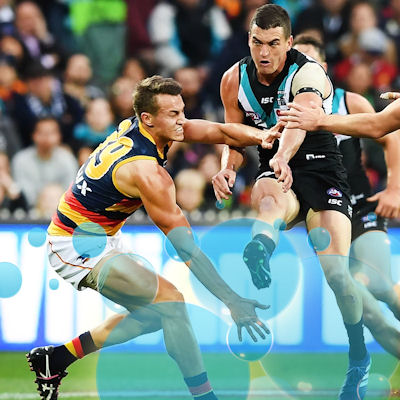 So, how did your Round go? Just take a look at the top 10 scores and that should give you a rough idea. There's 10% of the competition riding the wave of the competitions in-form player, there's those that have the guts to ignore an ugly name like Ed Curnow, and then there's the rest of us. Nick Vlastuin. Ed Langdon… JAMES HARMES?! What a crazy season. If you want to know the tone for this wash-up, just remember I traded in Dustin Martin two weeks ago. Let's get it over with. It's time for the weekend wash-up!
Legends
Ronke (121) – That might be just about the best 11 disposals game in VFL/AFL history. 10 tackles and 7 goals straight!!! Ben Ronke had a night to remember and so did his owners, seeing his price skyrocket and his BE plummet. Complete ass of course, but you take it!
Lloyd (120) – Jake Lloyd celebrated game 100 with 36 disposals, 9 contested! That's more like it, now if he could only play like it's a milestone week every game we might be onto something…
Coniglio (111) – These scores shouldn't be taken for granted simply because Coniglio has been averaging 120. He was an absolute bargain pick and continues to prove he'll be amongst the top 8 midfielders come the end of the season. Legend!
Yeo (112) – Sure you can't just remove a players score, but Yeo's tragic 46 was due to him playing full back for most of the game. He was on 6 in the final quarter before moving into the midfield… He's finally becoming the gun midfielder everyone thought he could be, and Adam Simpson has taken note. I can't see him being sacrificed again. Without that 46 he's averaging 106, carrying a 5 round average of 108 and a lowest score of 90. He has the Round 12 bye. All boxes are ticked and he's in for me this week! Amazingly, it's a safe pick.
Darling (121) – I've never considered Darling's name relevant in Fantasy, but his form this season now warrants the attention he's getting. He has 5 tons in 8 games, including three on the trot. His confidence is sky high and I'd almost say he has taken the number one key forward mantle of JJK. Obviously not a top 6 forward, but a brilliant late draft selection!
Redden (97) – I wasn't going to include Redden but I had to mention his game. Absolutely bizarre. He was on 22 at HT with 4 disposals and I was glad I'd dodged that bullet. Next minute he gets 25 second half disposals, 13 clearances and probably two brownlow votes. Who knows which Redden will turn up, but it makes for an exciting ride!
Curnow (142) – Unbelievable. Tackles are just so valuable in Fantasy. Ed had 24 disposals, 5 marks and 2 goals. All in all a solid outing. If you add 13 tackles into the mix you get yet another piggish score, his fourth 130+ score this season. FOURTH. Equal with Jack Macrae and Tom Mitchell. Elite.
Thomas (128) – Daisy Thomas has flown under many radars, but those in draft leagues will not have missed his sudden uplift in form having moved down to half back. He racked up 26 kicks and 14 marks, thriving in a similar role to Kade Simpson. That's consecutive 120's. Monitor.
Kreuzer (129) – It's understandable that coaches without Grundy or Stef may be struggling to reach their towering price tags. Kreuzer is nice and affordable and still a ruckman capable of averaging 100+. He had 20 disposals, 31 hitouts and 7 tackles, not a player that should be ruled out of your trade plans if you're in need of a gun ruck.
Smith (117) – It's not exactly been pretty by Devon, but wow he can tackle! He's often playing a defensive midfield role on the oppositions best player and while that's probably not we got him for, as long as he's averaging around 100 we don't care! Keep tackling Dev.
Harmes (131) – Seriously? This is 2018 Fantasy for you.
Hogan (110) – That was some supreme junk by Jesse, scoring 62 points in the final quarter. Definitely a top 6 forward smokey!
Oliver (122) – Clayton Oliver is averaging 107 this season and was only quietened by a couple of hard tags. He will get another one this week so watch out, but he's a gun and should be fine. Awesome pick.
Salem (118) – Salem's midfield time was clearly increased this season, making those first two scores of 40 all the more baffling. He has averaged 94 in his last 5 and is proving to his owners why they selected him as a midpricer in the first place. Unfortunately, half of them probably traded him out. Rightly so. A soft legend call.
Rockliff (127) – Sweet baby jesus… this could be the easiest trade of all time come Round 11. We want our pig back, and we might have him. AS A FORWARD. I don't want to jinx it but he looked good… Real good.
Westhoff (115) – It's round 8 and The Hoff still hasn't put a foot wrong. Not sure what else to add here. This season is insane. Completely insane.
Macrae (155) – … Can I get an oink? While this brings a proud tear to my eye having owned him as a differential way back in 2015, I'm still kicking myself for not believing he had another level in him. The man has gone supersonic! There aren't many players that can ever boast a three round average of 150, and Jackson Macrae can be added to that list. My biggest regret by far, and I picked Johannisen and ignored Rory Laird. What a bloody legend.
Zorko (115) – Dayne Zorko was tagged and he fought through it! Oh how form can change a players attitude. He didn't take a mark but managed 24 disposals (18 contested), 9 clearances, 7 tackles and 4 goals (Again)! I'm not counting my chickens just yet, but Zorko looks to be back. If he is, he's still an absolute bargain. There is a Ben Jacobs shaped figure on the horizon however. That could be a 20.
Blakely (131) – Now that's a fair response! The difference between himself and Goddard is quite laughable. One scored 130 and the other, well just 30. That's a 50/50 killer. Blakely will be very good and I'm still tipping him to be a top 6 defender. It's just a shame I can't afford anymore Round 14 byes…
E.Langdon (130) – What is it with Ed's this year? Strange. Ed Langdon has gone 120+ in two of his past three games and was a brilliant draft pick up. I think you'd have to be insane to get him in Fantasy, but so far this season it's the leftfield calls that are proving to be winners.
Cunnington (139) – Honestly some of the winners this week, what is going on! In this game Cunnington had 32 contested disposals (A new record). WHAT IS THAT?! Nick Vlastuin second top scored with 131 thanks to a triple double. Even Trent Cotchin scored 100. Some unique operators getting the job done in 2018 and I'm a thrilled Cunnington owner in draft.
Menegola (121) – No matter what happens, Menegola seems to find himself in this article somewhere every damn week. I said he owed us a big score and that's what we got. It always balances out with Menegola, just don't expect a comfortable ride. This was a nice surprise.
Collingwood – I didn't get to see this game, but I always admire a team who puts Fantasy before football. Collingwood NEVER tag. And apparently they junk it big time. Jack Crisp (147) suddenly returned to his base average. Taylor Adams (124) is back. Grundy (128), Scharenberg (132), Howe (123), Treloar (113), even Chris Mayne (128) tonned up. CHRIS MAYNE. What has the world come to. I don't know what we can really take away from this game other than some outliers. They play St Kilda next round so who knows, maybe they can get 10 tons next weekend?
Losers
Mitchell (58) – OK, let's get it out of the way. For the first time since his debut, I truly feel let down by his royal styness. That's was pretty bad. Sh*t infact. Sydney have always known how good a player he is and always manage to shut him down, but he did a good job tagging himself to score as badly as 58. That's the kind of travesty I'd expect from Zach Merrett. We have to think twice about our captain now, even me. Of course I'll be backing him in as always next week. He's still averaging 116, but we need a piggish effort this effort please Tommy!
O'Meara (78) – It's time for O'Meara to be shipped on. With plenty of undervalued premiums to choose from, it's an easy upgrade when you get the chance. JOM just can't seem to put it all together. He only managed 13 disposals and saved his score with some late tackling. For a midfielder that's pretty ordinary.
Kennedy (62) – Remarkably JPK actually saved his score at the end of the game. This is his third score under 70 this season alone. The consistent, reliable midfielder we once knew is no more. Potentially a former premium rather than a fallen premium.
Merrett (81) – Thankfully Zach tackled his way to 81 and I guess when under a heavy tag that's OK. We need more though. Just 16 disposals and 1 mark isn't even close to good enough. He plays Geelong this week and a big score is an absolute must.
Hurley (54) – Junk time didn't arrive for Hurley this week and his score suffered big time. He has still been a decent pick averaging 91, but a hamstring injury really adds salt to an already gaping wound this week.
Goddard (36) – Speaking of a lack of junk time, Goddard was denied his junk ball and his dummy spit was evident. Pathetic. SEVEN points in the second half. An absolute pretender and I feel for anyone stuck with this mess. Any Essendon player for that matter. I just miss Grand Final BJ so much, what happened.
Hibberd (64) – So Hibbo hasn't completely got this sh*t out of his system. I very nearly traded him in last week so I'll move on swiftly, nothing to see here.
Petracca (58) – Must trade. His hand injury was a cruel blow but he just hasn't looked like taking that next step anyway. A good player but not a Fantasy player in any sense of the word. His 19 disposals only yielded 58 points, simply not good enough.
Swallow (41) – I've been a big advocate of David Swallow this year, so this score hurts. Having averaged 104 over the first 6 Rounds, Swallow has gone 76 and 41 and is nearly back at his starting price. He has a bye after this week and I'm not sure you have any choice but to hold and back him in. Just get to 80 please David. 70 on a bad day. 60 on a shocking day. 40's affect lives.
Gibbs (74) – It's a fine line we tread in Fantasy. Many of us are sitting back wondering why we didn't just pay top dollar for Macrae while he was flying. Well tell that to those coaches who got Gibbs at his peak, he has gone from >$800k to <$700k within a month. That just kills your team growth. Must hold.
Jacobs (53) – Trade, trade, trade! I thought I had snared a draft bargain getting Jacobs after the 4 gun bigmen. Turns out I was wrong. He'll be back but too late for your Fantasy team! Apparently he was playing sore? I hope so.
Beams (69) – This would have sucked me right in. I thought Beamer was back. That effort would suggest otherwise. The premium minefield this year is ridiculous, good luck not stepping on one!
Dahlhaus (55) – SERIOUSLY MATE. Do not even get me started on this worthless bulldog. This is his third 50 of the season. Third. Genuinely pathetic. Never again will I even consider drafting him. Straight onto the list.
Crowden (27) – There is absolutely nothing worse than wanting a rookie to get dropped because they're playing SO Badly you're losing cash. First it was Zach Guthrie. Now it's Mitch Crowden. It turns out I got the Esava decision very wrong. Back-to-back 20's is nothing short of disgraceful. Would love nothing more than to see him in the reserves this week, leaving me with no forward cover. It's not like I had any regardless…..
Billings (58) – This doesn't deserve me wasting my time or breath. I'm still going to hold him and hope he somehow scores an 80, but he shouldn't even be getting a game. His season has been an absolute f**king disgrace to the game of football.
Savage (71) – I could sense this was coming from Shane. He had been ok, but his true colours are starting to shine through. His 5 round average is down to 75 and I cannot wait to be rid of him. Sadly, that might have to wait until his bye. He may not be worth $500k by that time. Let's hope St Kilda can pull a rabbit out of… Never mind. We're doomed.
D.Martin (48) – I feel sick. You shouldn't go this wrong owning Dustin Martin. He's meant to be the best player in the league. He's not even close to it. In fact over the past two weeks he has been SO FAR off it I'd contemplate trading him straight out. Enjoy these stats. Dusty has had 7 contested disposals and 4 clearances in the past two weeks. For comparison, Fyfe has had 51 contested with 25 clearances. The two played on each other last week and there's one rather startling difference. Fyfe wants that Brownlow, and Dusty couldn't give two sh*ts about what he's doing. Seriously he couldn't care less if he tried. Fair enough I guess the Tigers are still winning, he has a Brownlow, Norm Smith and a Premiership medal so who am I to talk. But as a fantasy owner, something more than a slow walk would be nice. Disgusting.
The reason for the late upload… I may have forgotten the stubby! In all honestly if Macrae doesn't win it then I give up but hey, no bias!
E.Curnow – Macrae's biggest challenger for pick of the season. The scores he's posting are ridiculous, it has gone beyond just a laugh now. He's averaging 120! What a gutsy selection.
J.Crisp – I didn't really want to include him given the state of his season so far, but I guess a score as big as 147 makes up for a lot of it! If you held him of course… Maybe a few great draft trades were made? So much junk!
B.Grundy – Brodie Grundy is averaging 118 in his last 3 games, last 5 games and 117.8 for the season. He does not put a foot wrong. Just when you thought he was in for a shocker, he scores 103 in the second half! Great call to pick him with Cox.
B.Ronke – When a rookie scores you 120, there's a spot saved for him in your AFL Fantasy Hall of Fame. What. A. Game.
J.Macrae – As I said at the start of the article, there's those of us with Macrae captain, and then there's the rest of the competition. He's single handedly sending smart coaches flying up the rankings and it's well deserved. What a gun.
Who gets your pick?
Loading ...
This Game Sh*ts Me
Do we pay too much attention to players names? Over and over again I ignore form lines and take the player who has been better 'in the past'. What bloody good is that? I got Dusty truly believing he was going to revert to his 110-115 mean without any evidence of form, or a care in the world. He has been disgraceful. Danger continues to play full forward averaging around 100. Zach Merrett could be the next Brent Stanton. Did you really think Michael Hibberd was back? Guess again.
Jack Billings… I really do hope he pulls his finger out. Not just for my Fantasy team, but for his families sake. If things don't change there could be a homicide over in the west in Round 11. It's these big names that are really letting us down this season and it's less favourable names that are stepping up.
Sure owning a Mitch Robinson or Ed Curnow is dirty, but it will get you results. My team needs to get dirty.  They're a bunch of pretty boys. This game sh*ts me.
The Other Bits and Pieces
2027 from Pretty Boys FC. I've got a solid core of players and thank god I do, because some of the deadweight this week was insane. Dustin Martin. I thought he was untaggable? Just throw him at full forward? Apparently not. Tom Mitchell. Less said the better. Jack Billings. Gutless. As much as I'd love to fix up my St Kilda tragedies, I've still got other rookies scoring 50's. This week Ed Phillips is looking a must have so I'm thanking Cunico for his quick cash, then turning Finlayson into Elliot Yeo. It's time that we started preparing for the byes, so Round 12 players are a great get. Good luck this week! For many, Friday night can't come quick enough.